First impressions are everything, especially when it comes to grabbing attention in your customers' inbox.
To help your customers recognize that your email survey is coming from a trusted source – your brand – right off the bat, we're excited to announce our new Sending domain feature.
Now you can set a custom domain for your From email address, right in the Delighted platform.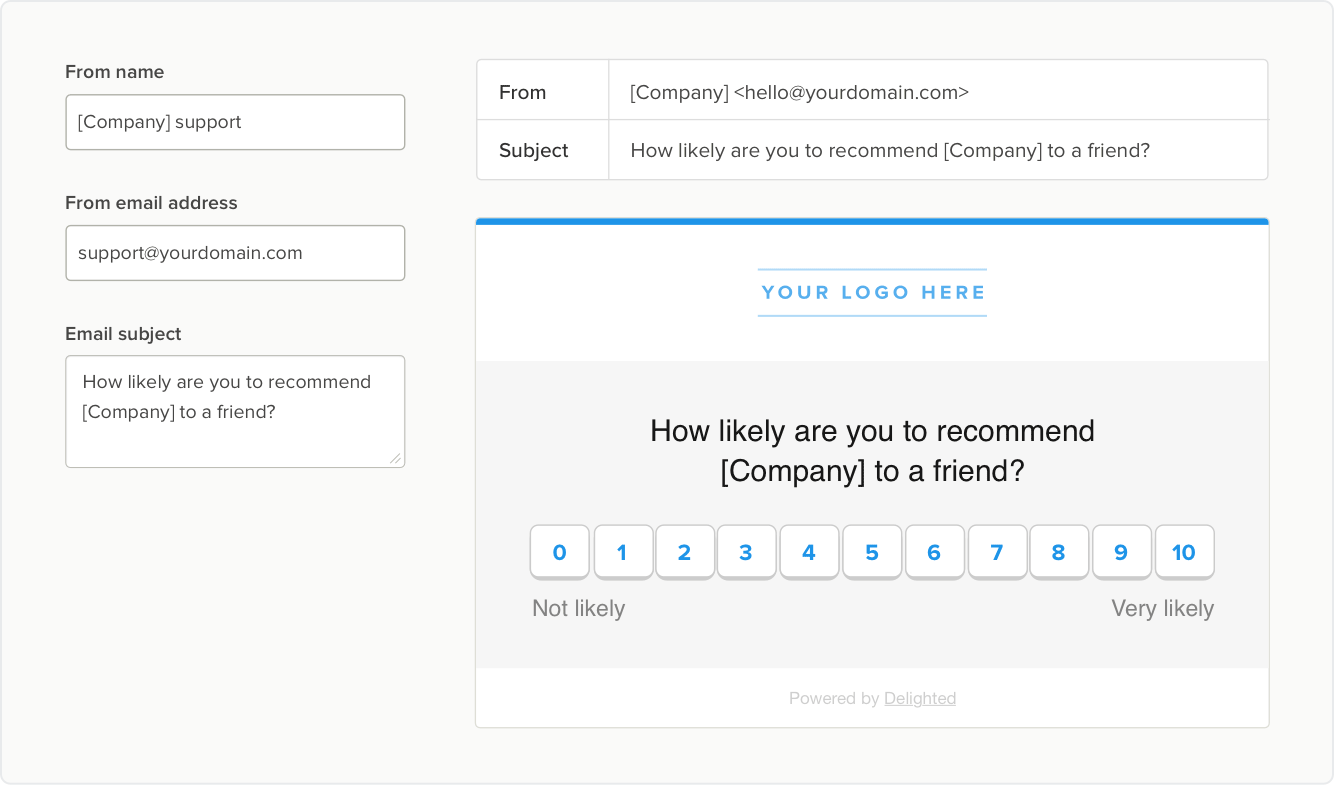 In short, if the default state of your Delighted email survey is:
yourbrandname@delighted.com
You can now make it:
anythingyoulike@yourdomain.com
Why a custom email "from" address can boost response rates
Successfully getting feedback from your customers often depends on what type of relationship you have with those customers – the crux of the matter being that they have a relationship with you, not with Delighted.
Your customers will see your email surveys coming from a trusted, familiar name.
Since your customers know your brand, they'll be more confident when opening the email survey and clicking to respond, which means more feedback for you.
While the default email surveys sent from the Delighted domain have high deliverability and follow the strictest sending policies, this one small change can make a difference in email open and response rates due to brand recognition.
Pro tip: It's an email marketing best practice to specify a subdomain for your various email programs – usually the split occurs between transactional emails (think support or confirmation emails) and sales or marketing emails.
Our new Sending domain feature would also support specifying a subdomain specifically for your surveying program (e.g. feedback.yourdomain.com), to separate your survey program email reputation score from the ones that your other teams use.
This way, if the email sender score drops for one subdomain for whatever reason, it won't affect the deliverability of emails from the others.
A completely secure, authenticated way to send emails from your own domain
To ensure Delighted has permission to use your domain when sending email surveys, we'll provide you with a CNAME/TXT and DKIM record to enter into your DNS email management tool.
While domain verification is taking place, Delighted will continue sending email surveys using your old email "from" address, so that you still have an uninterrupted flow of feedback.
We'll notify you within 72 hours if domain verification is complete. Then, all you'll have to do is:
Activate the feature
Check that all the customization you'd like is in place, including your From name
Send yourself a test email – this isn't strictly necessary, but highly recommended
And presto! You'll be sending surveys from your own domain.
Get a detailed walkthrough of the process in our Help Center guide.
Accessing the Sending domain feature
Setting up a custom domain is a Premium feature.
Already have access? Head straight into your Delighted account to set up your custom sending domain today.
New to Delighted? Sign up to start surveying customers for free. The feedback will be rolling in within minutes.