Have you ever sent or received an annual employee experience survey that asks questions such as "How satisfied are you with your physical workspace?" or "How likely are you to recommend this company to your friend?"
Employee experience management programs are common, though studies have shown that, in actuality, many companies have not made focusing on employee engagement a priority [1].
Now, more than ever, organizations are shifting their experience models from a "need to work" to a "want to work" mindset to capture and keep the best talent while competing with companies that are doing the same [2].
In other words, a once-a-year survey as part of your human resource management strategy is no longer enough to understand your employees' real needs, meet your business goals, stay competitive, retain talent, and maintain successful output. In fact, true job satisfaction and happiness among your workforce can help you achieve notable growth in your industry.
To help you get started in mastering employee experience, we will break down the definition of employee experience and employee experience management, why employee experience management is important, the key stages to measure, real-world employee experience examples, and how to improve employee experience as a whole.
---
What is employee experience?
From the first moment a candidate applies for a job at your company to the moment they conclude their exit interview – and at every touchpoint along their employee journey – the employee experience encapsulates what someone thinks, feels, learns, and does during their work life at your organization.
Jacob Morgan, four-time best-selling author of The Employee Experience Advantage, categorizes employee experience into three sectors [3]:
Technological environment
More than ever, the employee technology experience is synonymous with the employee experience. As such, it's important to pose the question – do my employees have access to the right technological tools and digital solutions to do their job successfully?
Morgan encourages employers to focus on making sure their employees are provided tools that are not only functional, but also modern, easy to use, and attractive. Staying up to date with technology in the workplace can help make the employee feel more confident, build their capabilities, and be productive in their role.
Physical environment
To improve an employee's everyday work experience, employers should take into consideration how the physical workspace looks, what it offers, and how it makes employees feel.
What does the employee see when they walk in? Is it inviting? Is their desk comfortable? Do they have food and meals provided throughout the day? Small improvements to one's office space helps increase collaboration and motivation and drive productivity throughout the day.
Nowadays, the physical environment might mean an employee's home office, so it's equally important to ensure that workers have what they need to be happy and productive, no matter where they are working.
Culture
Many may think of culture as simply how companies approach social events and conduct celebrations, happy hours, activities, and so on.
Though those professional events are a cultural aspect, Morgan describes company culture as how employees feel inside the company, and this includes assessing benefit offerings and leadership.
Do employees feel heard by leadership? Do they feel supported by their manager? Optimizing the employee experience requires human resources and business leaders to dive deep into their structure to make sure it's putting the employee, and how they feel, first.
---
What is employee experience management?
Employee experience management is the overall effort of measuring and improving the employee experience at your organization. This includes gathering real-time feedback from your employees with pulse surveys, open feedback platforms, engagement surveys, ongoing performance review conversations, and exit interviews.
As you gather feedback, you'll collect valuable insights that will reveal gaps in your employee experience. These gaps represent specific opportunities for improvement. Your organization can then use the data you've collected to take meaningful action – from minor adjustments to company-wide policy changes.
---
Why is employee experience management important?
Employee experience management lays the foundation for attracting and retaining engaged employees, as well as improving your business performance. Sustaining customer experience efforts, improving products, and building a strong and reputable brand all require the help of your employees.
And why is employee experience important? Ultimately, it is their experiences – positive and negative – that will impact how hard they work day to day, how much they collaborate, or whether they are invested in improving operational performance.
In this new wave of employee experience management, studies have been conducted to see if increasing employee engagement does in fact yield better results for businesses.
Data shows that companies that put employee engagement at the forefront have:
41% decrease in absenteeism
17% improvement in productivity
10% increase in customer ratings
21% uptick in profitability
In addition, Morgan shared findings that support the idea that an improved employee experience translates to a better customer experience. He reports that companies who prioritize employee experience management are also two times as frequent in the American Customer Satisfaction Index and more than two times as likely to be on Forbes' World's Most Innovative Companies list [4].
Business leaders are now prioritizing employee experience and realizing it is a long-standing, profitable requirement instead of a nice to have. Featured in Deloitte's Global Human Capital Trends report, a high-level retail executive noted:
"We used to prioritize our stakeholders as shareholders first, customers second, and employees third. We now realize we had it backward. If we put employees first, they in turn take care of our customers, and they in turn take care of our shareholders."
Secondly, there's a war for talent in a post-pandemic world.
Since the start of the pandemic, people have been working longer hours without a clear start or end to the workday. So, it comes as little surprise that a recent study by Qualtrics revealed burnout and stress among the top reasons why employees say they will look for a new job in the next year.
That means now is the time to take action; to listen to what your employees need, learn how to measure employee experience, and use those insights to improve their experiences.
---
What are the key stages of the employee experience?
Now that we've covered the importance of employee experience management, let's dig into what it looks like across the employee experience journey.
There are five key stages in the employee experience: recruitment, onboarding, learning and development, retention, and exit. Within these stages are myriad moments that matter; ones that make (or break) the employee experience – and thus, should be measured for experience improvement.
Recruitment
The recruitment stage involves everything that's needed to hire a new employee. This typically can be further broken down into four steps: application, screening, interview, offer [5]. Each of these steps will leave an impression with the candidate of how they were treated.
To attract and hire the right talent in the right way, you'll want to consider (and continually improve on) areas like:
How long does it take us to hire?
How much does it cost for us to hire?
Were our job ads attractive and clear enough to catch the attention and applications of the best candidates?
Did our interview process engage and reassure great candidates so they quickly accepted your job offer?
What's our offer acceptance rate?
Did we hire the right person to do this job?
How was the entire candidate experience?
Onboarding
During the onboarding stage, a new hire gets up to speed with the systems, tools, and processes as well as the expectations of their new role. An effective onboarding process translates someone's initial enthusiasm for their new job into a more meaningful, long-term connection to the brand and a commitment to doing great things at work through positive employee experiences.
Learning and development
During this ongoing stage, employees will develop at different rates. To understand and master the employee experience, you need to quantify employee productivity, the ability to be a team player, and promotion aspirations.
You also want to offer employees the chance to expand their skill sets. Research from Qualtrics revealed leadership opportunities, especially for women, are a top expectation for a better work experience.
Retention
At this stage, employees are fully integrated into the organization. With a strong people retention strategy, you can keep your employees performing, developing, and contributing to the company's success, as well as ensure they're inspired by and connected to the company's core vision.
With 44% of people saying they'll look for a new job in the next year, this is the time for organizations to do the work; to take a hard look at their retention strategies and provide employees with the tools they need to be happy and productive.
Exit
Employees leave organizations for a myriad of reasons. Finding out why employees leave is a critical opportunity to improve and develop the employee experience for current and future employees. Always conduct exit interviews to understand the key drivers as to why employees are leaving; they may feel they have nothing to lose by being totally transparent.
---
How to get started improving the employee experience
Understanding and improving the employee experience takes listening to your people. Knowing what employees' expectations are can help organizations understand what matters most to them at each stage of their employee journey – and then take action on those expectations.
And yet, tackling new initiatives to improve the overall employee journey can pose challenges that seem daunting, especially if you're not sure where to start.
In our research, we've found that the most successful employee experience-driven organizations share two important traits: they have a strong focus on leadership, and they use employee experience management software to measure employee experience.
Start with leadership
A successful and meaningful employee experience starts from the top. Deloitte's Global Human Capital Trends report suggests assigning C-suite-level decision-makers to support the employee experience cause and lead the team to employee experience-related deliverables.
"For us, the focus around employee experience is on creating a seamless experience around the things somebody needs to do as an employee while allowing them to focus on the business we hired them for—development, sales, leading new products [and so on]. We've actually created a VP level role to strictly focus on the employee experience."

– Adam Khraling, VP of Global HRIS at American Express
The Deloitte report elaborates further, saying that the employee experience team should also roll out functions dedicated to "engagement, learning, career development, organizational design, analytics, and culture" with an added new focus on "leadership development, performance management, workplace design, and rewards" [6].
Not only is it important to have an executive-level focus on employee experience management, but the expectation that the entire organization will be trained to prioritize a strong employee experience is also as essential.
Measure results with employee experience management software
Deloitte reports that roughly 79% of companies only send annual employee surveys and about 14% do not send out surveys at all [7].
With this limited data, how do you know if your employee experience management program is working?
Instead of using an annual survey to measure employee satisfaction, it's crucial to gather employee feedback routinely through the employee lifecycle with regular pulse surveys for capturing real-time employee issues or concerns.
Here are our recommendations for easy-to-use, self-serve employee experience management software to help you get started:
Employee Net Promoter Score (eNPS): Measure how an employee is likely to recommend your workplace to a friend with an eNPS survey template and have them share the "why" behind their answer in a free response question. Then, use Additional Questions to dig deeper into the ways you can improve their overall experience, based on their suggestions. Learn more about how to customize your eNPS survey here.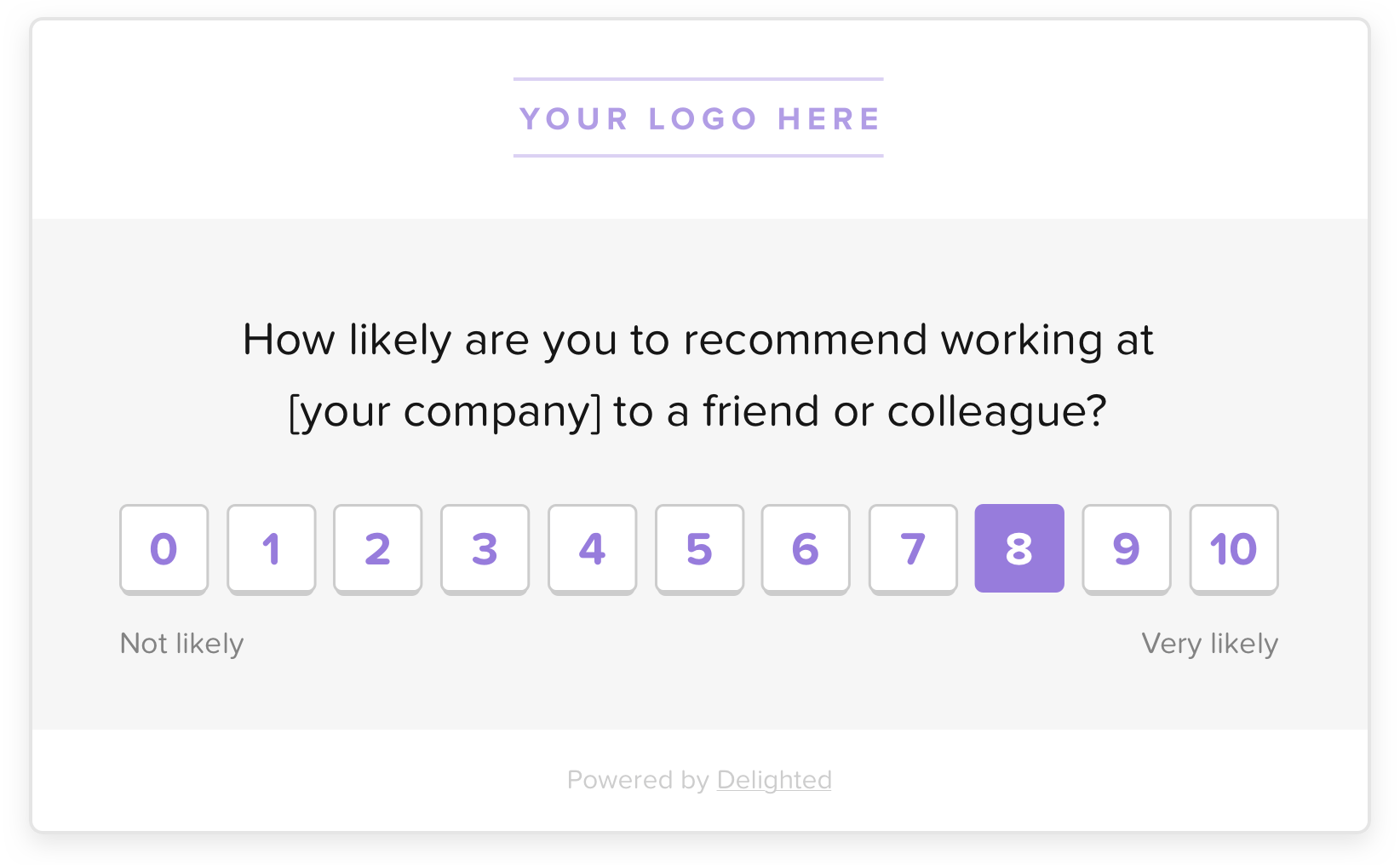 Customer Satisfaction Score (CSAT): More than ever, employees want to know that you've heard their concerns. Customize a two-part CSAT survey template to ask employees how comfortable they are with their remote, in-office, or hybrid work environment using our customer satisfaction survey software. Then, when you start to bring employees back to the office, you can use the same CSAT method to ask and understand if they're satisfied with the workplace updates.
Whether you are looking to implement policies to improve employee experience overall, or need immediate insights into how your employees are feeling about getting back to the office, you have the tools you need to get started on your employee experience management journey.
Remember: The key here is to not only ask about employees' needs and preferences, but to also take action on those insights. Always communicate to your people about what you're doing based on their feedback. Doing so not only keeps them safe, but also keeps them more engaged.
Try Delighted's self-serve experience management software now and begin prioritizing employee experience for a sustained increase in employee and customer happiness.
---
References
[1] Deloitte
[2] Forbes
[3] Forbes
[4] Qualtrics
[5] Qualtrics
[6] Deloitte
[7] Deloitte