We founded Delighted 10 years ago with a simple mission – to create an effortless solution for collecting NPS feedback. Unable to find a suitable tool in the marketplace, we took matters into our own hands and built a customer experience management platform used by companies like Allbirds, Doordash, Paypal, and 15,000 more.
Today, we're very excited to announce that we've applied that same design philosophy to another aspect of feedback collection: the all-purpose survey.
Surveys is our most-requested product, and we have spent the past year closely collaborating with our customers, understanding their pain points, and developing a product that we hope will exceed their expectations.
Introducing Delighted Surveys.
What is Delighted Surveys?
Delighted Surveys is our latest survey experience designed to make creating and sharing online surveys easy and enjoyable.
The straightforward tool allows you to create and customize surveys from scratch, as well as conveniently report and share feedback findings, all within a single platform.
With Surveys, you can easily collaborate with your team to:
Conduct demographic and market research for your next campaign
Ask your customers what they'd like to see on your product roadmap
Discover what competitors your customers are interested in
Understand your audience's needs, preferences, and habits
And so much more
Take a look at the demo below to see the product in action!
Want to learn more? Visit our Surveys Help Center for self-serve guides.
Delighted Surveys' game-changing perks
Now, let's explore the key advantages of leveraging Delighted Surveys.
1. Intuitive design for fast survey creation
Delighted Surveys is designed to be user-friendly and intuitive, allowing you to create and manage customizable surveys quickly and effortlessly. You can create, publish, and share your survey in just minutes!
"The survey experience is very smooth – the Delighted product is easy to figure out, and creating and publishing a survey is so much simpler than what we've used before!"

– Rachel Black, Customer Experience Manager at Chubbies
2. Seamless team collaboration
We believe in the power of collaboration, and our survey tool enables you to easily work together with your team at every step of the process. From fellow survey editors to external stakeholders (or any non-Delighted user), everyone can provide input using a shareable link. Plus, our Slack and Webhooks integrations take collaboration to a whole new level.
3. Easy brand customization
With Surveys, you can customize your survey's logo, colors, and fonts, putting your brand front and center. Create a cohesive survey experience from start to finish with a personalized welcome and thank you message that reflects your brand identity.
4. Flexible survey question types
We understand that different types of information require different question formats. Delighted Surveys offers a wide range of question types, including multiple choice, text, numerical scale, and graphic scale options. No matter what kind of data you're looking to gather, Surveys has you covered.
5. Recommended questions for guidance
Not sure where to start? Refer to the recommended sentiment, marketing, product/service, and demographic questions built directly into the interface. These questions are pulled from our community's most commonly asked questions and are tried and true for generating actionable insights.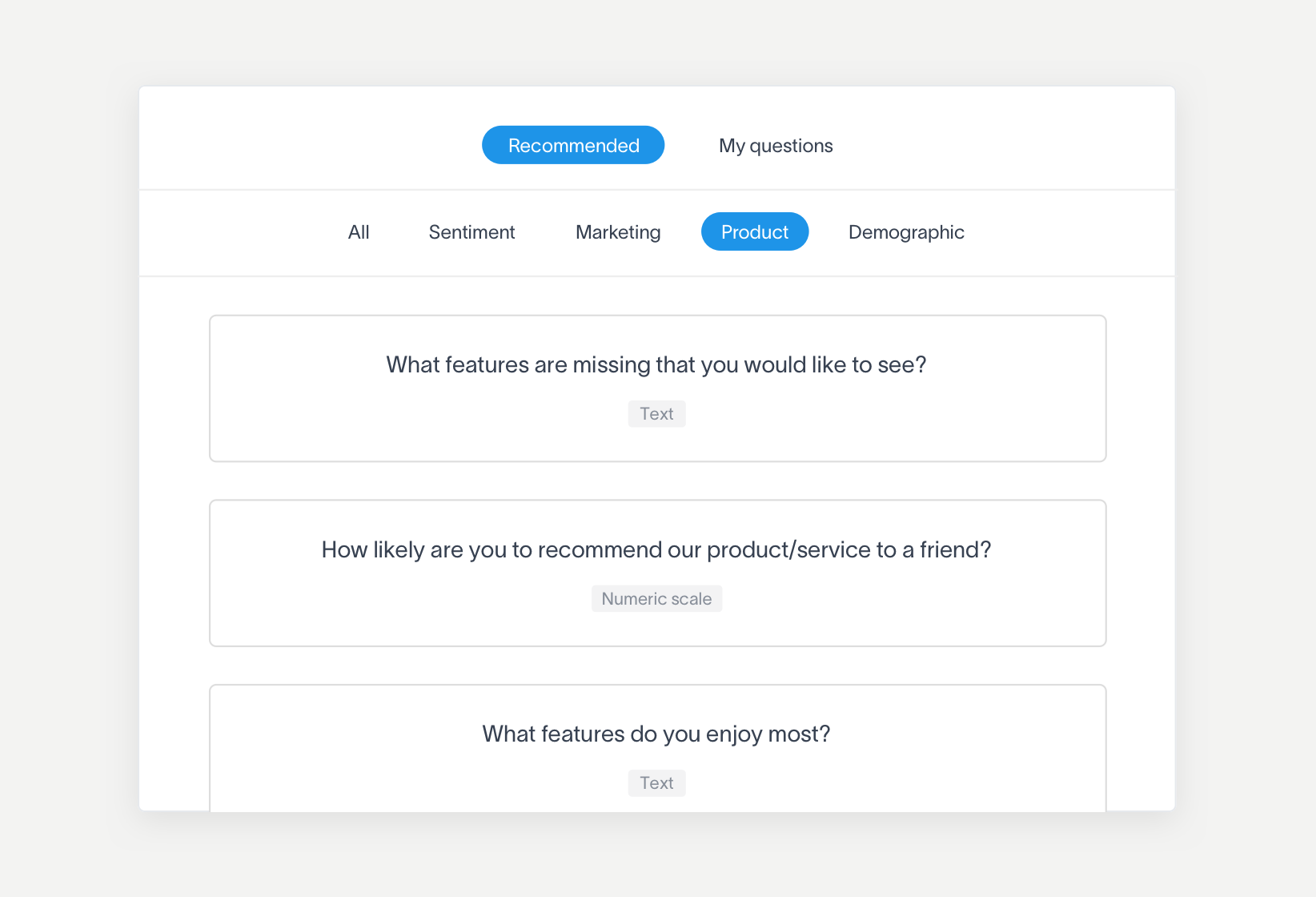 6. Fully customizable question flow
Create a seamless survey experience by tailoring the question flow based on previous answers with Logic. This helps reduce survey bias and improves respondent engagement. You can even randomize answer options or provide an "other" open-text option for greater flexibility.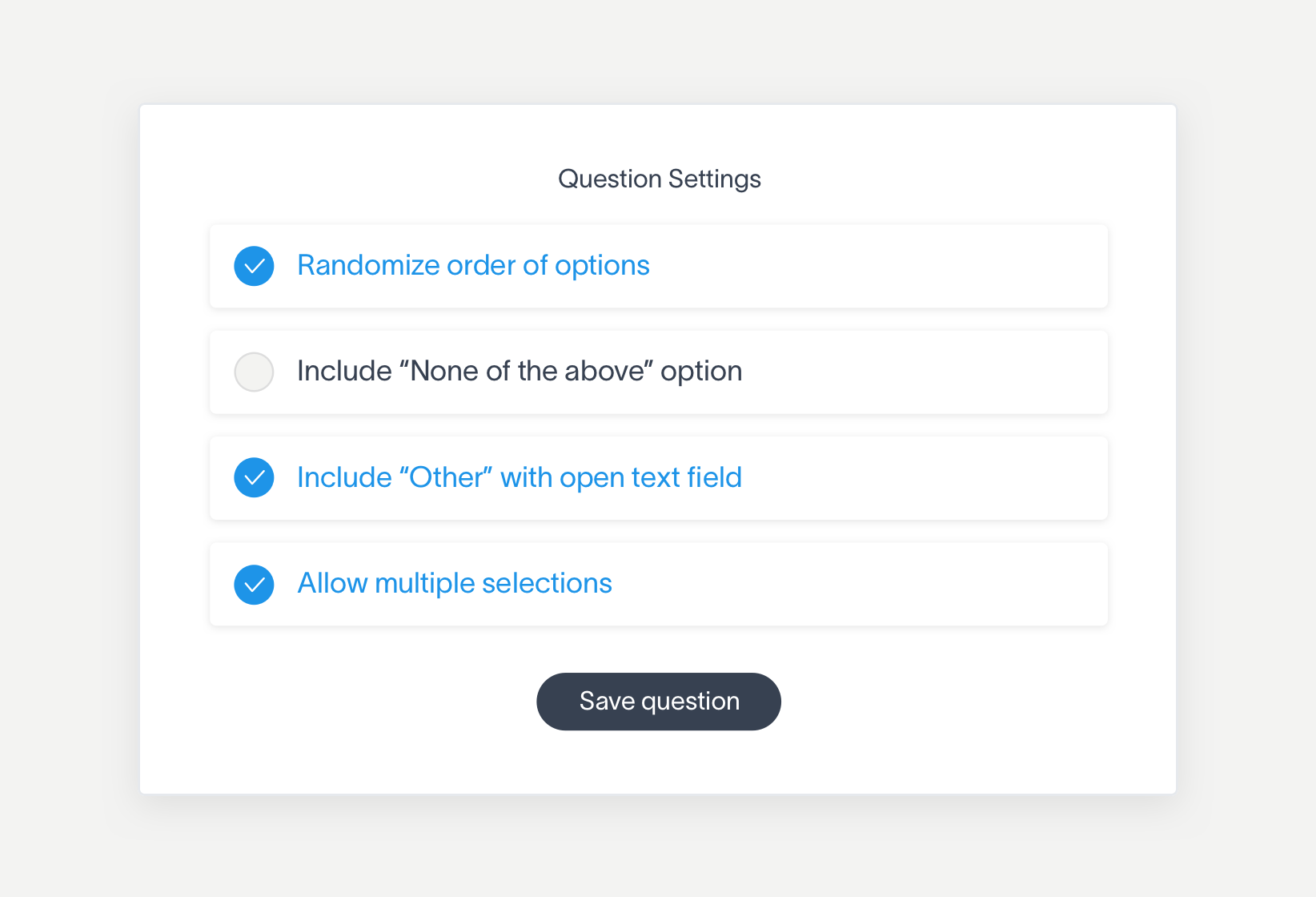 6. Enhanced mobile survey experience
In today's fast-paced world, being able to work on the go is crucial. Delighted Surveys is optimized for mobile, allowing you to create surveys and discover feedback trends directly from your smartphone. Stay on top of feedback throughout your busy workweek, no matter where you are.
7. In-platform results analysis
See how results to two questions compare to one another to draw correlations directly in the platform. For example, you would be able to see if customers who used a particular service were happier with their overall experience.
You can also categorize free text responses with tags in order to summarize and visualize any key takeaways for your team. Learn more about Surveys analytics capabilities in the Help Center.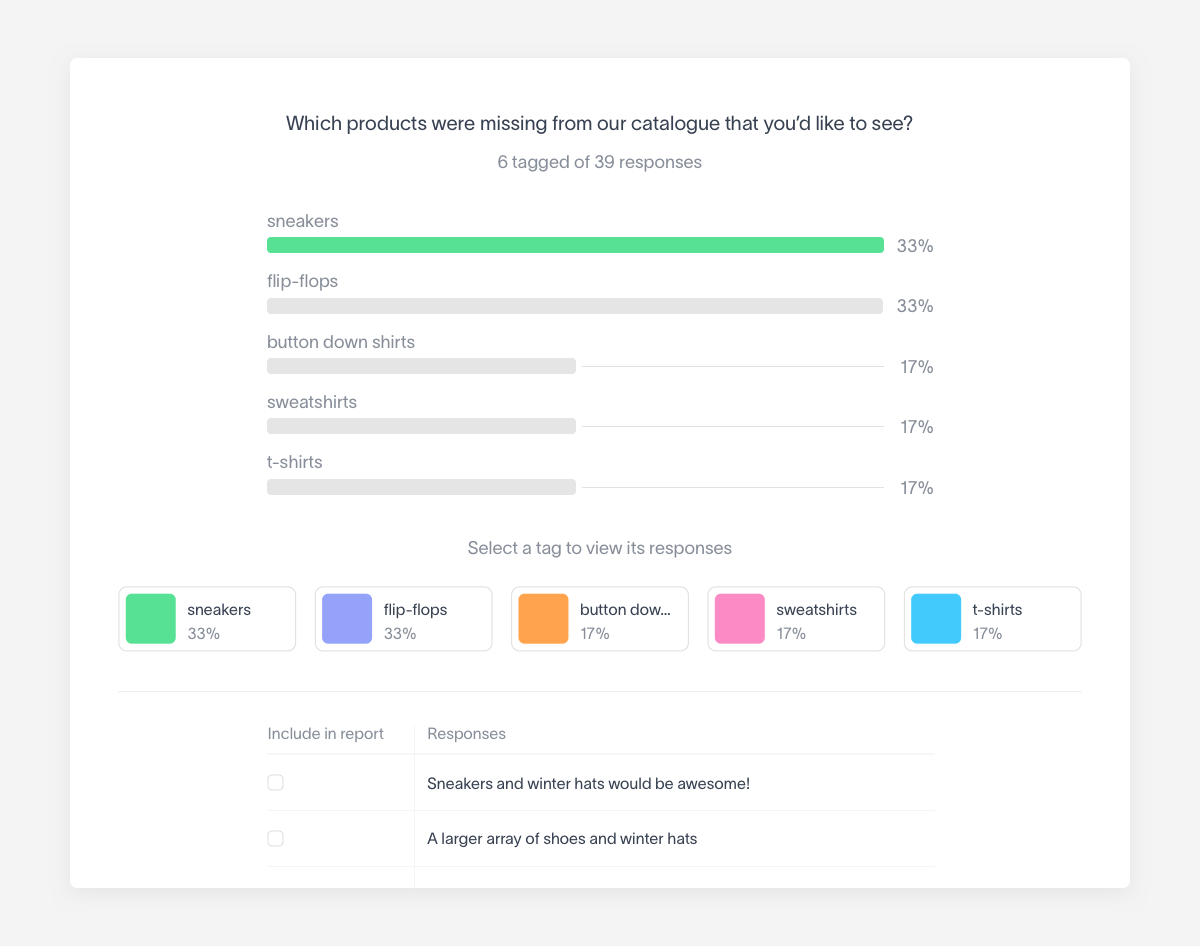 8. Visually intuitive reporting and easy sharing
Analyzing survey results shouldn't be a chore. With Delighted Surveys, we've built beautiful automatic summaries and attractive charts into the platform.
"Delighted reporting provides great visuals of our responses, all in one dashboard – the entire reporting experience is very user-friendly."

– Suzanne McGrath, Customer Care Manager at Wild Fork
Visualize your survey responses easily and share the results with your team. Team members can even comment directly on the reports for quick reference and team discussion.
9. Rapid-fire feature releases to come, including AI
Based on user feedback during the early access period, we've already made over 20 updates to Surveys in the past 4 weeks. We have an exciting product roadmap in the works to ensure Surveys is what you need it to be.
Delighted is quickly advancing its Generative AI capabilities, which will make it faster and easier to create high quality surveys and get value from them over the course of the next year. These upcoming innovations will offer Delighted customers an even more simplified survey creation experience while delivering powerful insights from their feedback.
Delighted Surveys vs. Delighted Templates: What's the difference?
You may be wondering how Delighted Surveys differs from our customer and employee experience templates like NPS, CSAT, CES, Smileys, etc. Let's break down the top differences between both survey experiences.
Delighted Surveys
A from-scratch survey experience
Great for ad hoc survey projects, like collecting specific insights on your customers' preferences, habits, and interests so you can better align your products and services to their needs
Quick and simple report-building and sharing
More flexibility with survey question design
Available only on the Link platform (for now)
Delighted Templates
A pre-built survey template experience centered around time-tested best practices to create an ongoing customer experience program. These templates include NPS, CSAT, CES, Smileys, Thumbs, 5-Star, eNPS, and PMF
Best for long-term and automated feedback collection that helps you close the loop and improve your customer and employee experience
Great for keeping a steady pulse on customer/employee sentiment at all times
Learn more about Surveys vs. Templates differences and use cases in our Help Center.
Get started with Delighted Surveys
Ready to experience the benefits of Delighted Surveys? Collect and act on feedback up to 2x faster than other online survey tools, streamline your survey process, and unlock valuable insights.