Whether you're expanding into a market for the first time, or securing your foothold in international territory, understanding cultural differences and how that translates to audience expectations is business-critical.
Our latest feature, Translations, aims to help you scale your global customer experience strategy while maintaining a local and even personal connection with every customer and employee.
With Translations, you'll be able to customize survey translations within the Delighted platform. Localize everything from the Intro message to all of your Additional Questions for real-time insights on local sentiment and preferences.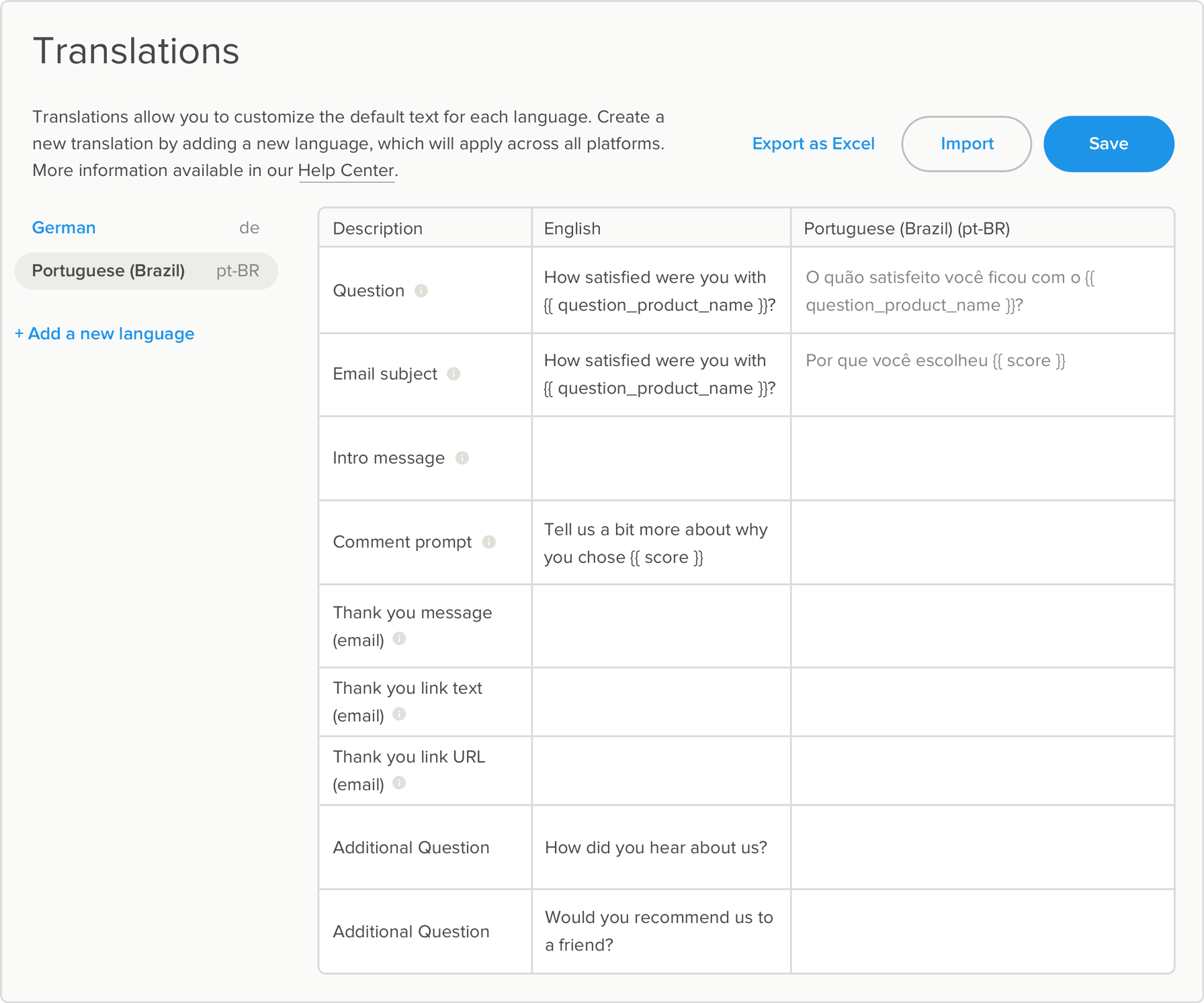 Creating survey translations in Delighted
Delighted comes with 30+ ready-made translations for the initial survey rating question (Net Promoter Score, employee NPS, Customer Effort Score, Product/Market Fit, etc.) and Comment prompt. When you first access the Translations feature, that's what you'll see in the auto-populated field. 
Note: Our professional translations for the initial rating question ensure the localized phrasing stays true to the intent of the original English question and is easy to answer. When customizing these questions, we recommend personalizing the question with the service/product purchased, and not necessarily changing key verbs or the rating scale descriptors.
To translate other components of the survey, all you have to do is fill in the form fields manually or via spreadsheet upload.
You'll be able to translate every aspect of the survey for higher response rates and more nuanced insights into your audience.
Use cases by survey type
As your business makes the leap into uncharted territory, leverage any of Delighted's out-of-the-box surveys in the local market to understand customer and employee sentiment in our customer satisfaction survey software.
Segmenting survey results by language
Easily see localized feedback on the Delighted Dashboard. Simply select "Locale" under the filters on the left-hand side of the Dashboard analyze data by language, and create Trends using those filters for quick-access reporting.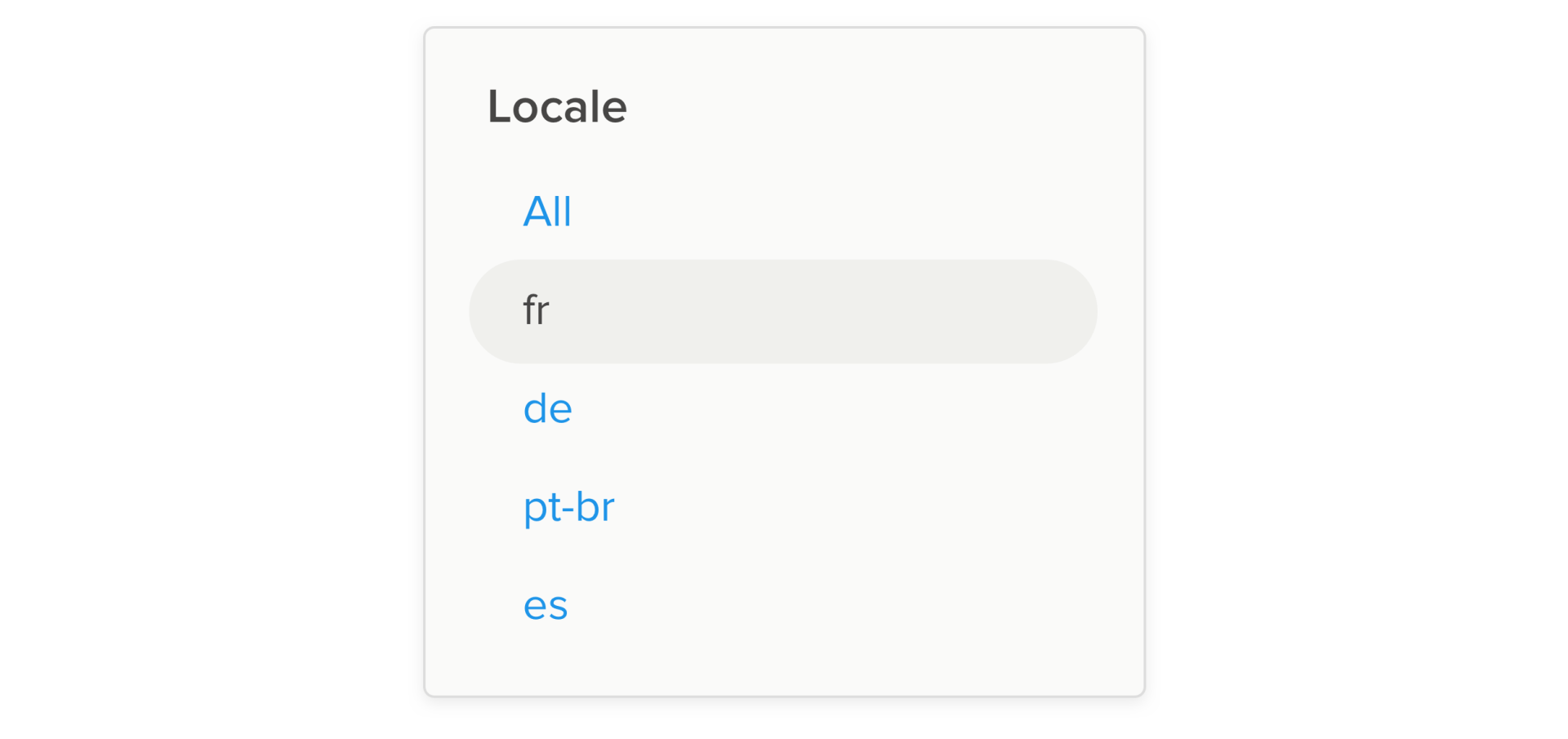 Accessing the Translations feature in the app
To access Translations, Click on the gear icon under the Project dropdown menu, and select "Edit Translations." Head directly in-app to set up your survey translations here.
For more detailed instructions on using Translations, check out the Help Center guide.
Best practices for survey translations
Translating your survey has immediate benefits – you'll be reaching your audience on their terms, opening the door to feedback collection from your entire audience, instead of just the English-speaking subset.
However, to realize those benefits, your survey needs to be translated well. You'll also need to interpret the results through a cultural lens.
Here are some tips to follow when translating your survey:
Involve a native speaker.
Have someone from the local team proofread your survey or work with a professional translator. If you work with a translation service, provide context for your survey: the goal of the survey, a discussion on any expressions or concepts that could be lost in translation, when and how the survey will be administered, audience demographics and reading level, level of formality, and whether regional dialects will be needed.
Check with a back-translation.
Translate your survey from the target language back into English to make sure everyone on your team is on the same page.
Take formatting into account.
If you're using any formatting to emphasize specific words, such as capitalization, check if that's the most effective way to do so in your target language. This resource has some illustrative examples for Chinese and Spanish.
Set internal benchmarks per market.
Instead of aiming for a global goal, set individual targets per market. Also consider if your current core benchmark metric, such as NPS, is appropriate for use worldwide. The Qualtrics XM Institute's study on NPS as a global metric breaks down where you may want to use a metric other than NPS.
Translations is available on Delighted Premium paid plans. New to Delighted and want to start collecting global feedback? Sign up for a free trial of our experience management software and start sending out multilingual surveys today.