There's no sugarcoating the fact that achieving and maintaining product/market fit is a constant struggle. And it doesn't matter what stage of growth you're in – no startup lucks into PMF, and no enterprise holds onto it forever.
To support you in making your product experience a cornerstone of your brand along with your customer and employee experience, we're thrilled to announce the newest survey template to our lineup: Product/Market Fit (PMF) surveys.
Also known as the "Sean Ellis test," PMF surveys ask users a simple question:
"How would you feel if you could no longer use [product]?"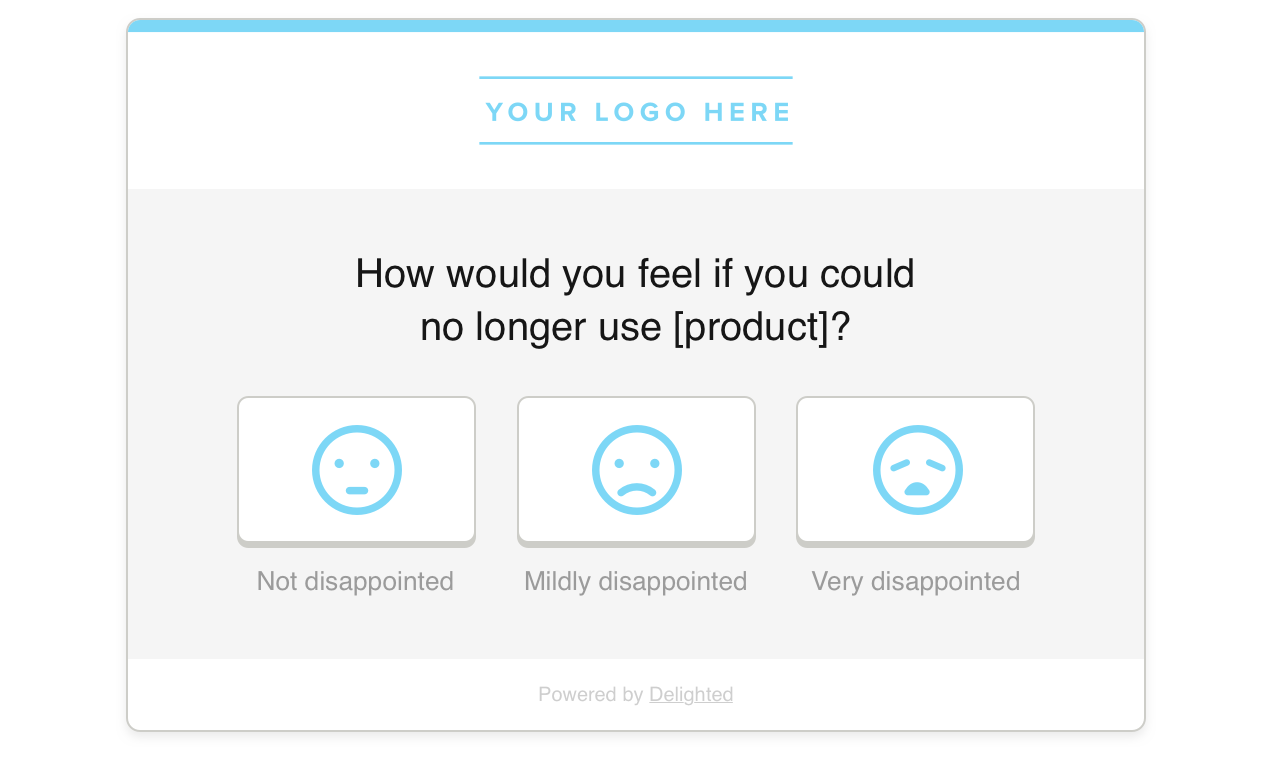 Customers answer on a 3-point negative scale. The more people who answer "Very disappointed," the stickier your product is, and the closer you are to product/market fit.
Delighted PMF surveys are not the magic bullet to achieving product/market fit, but they will make the journey that much easier – the Delighted way.
Why Delighted PMF surveys are so powerful. Hint: Minimal effort for you and your customers, maximum impact.
By asking your customers directly for product feedback, you're tapping into customer sentiment towards the core of your business: your product experience.
While there are quantitative metrics to measure product/market fit, such as your retention curve, expected usage frequency, churn rate, and the overall growth rate of your business, what these metrics lack is the qualitative, visceral "why."
Delighted PMF survey responses can help you pinpoint what it is customers love about your product or wish you did better. You'll then be able to apply that raw feedback to your larger product strategy:
Prioritize your product roadmap: Find out what your most valued users want, so you can appropriately invest your time and energy in the right product lines and feature sets.
Fine-tune your value proposition: Align marketing to exact user needs for improved audience targeting and brand differentiation.
Know whether it's safe to scale: Discover how your minimum viable product (MVP) should be refined before expanding operations and going to the next step.
How Delighted PMF works
1. Customize a simple 2-question survey to fit your brand and use case.

If you're on a Delighted Premium paid plan, you'll be able to configure recommended Additional Questions that shed light on who your customers are, what competitors they're considering, and more. We'll suggest the most effective additional questions to ask.
2. Decide who should receive your survey, when, and how. PMF surveys are available on all of our survey distribution channels (web or email survey, in-app via SDK, link URL, and kiosk). Set custom triggers with the free Delighted Rest API and pre-built integrations.
Important: Get the timing right. Send your survey to people who have:
Experienced the core of what your product has to offer
Used your product at least twice
Used your product recently (the past two weeks)
3. Delighted calculates your PMF score: the percentage of users who answer "Very disappointed." A score of 40% or more means you've achieved product/market fit. Anything less means there's still some work to be done.

4. Analyze your feedback with Delighted's complete suite of reporting features. Tag the feedback manually to create Trends, or let Smart Trends parse your verbatim feedback for you. Don't forget to associate Properties with your customer contact list so you can easily segment your feedback by customer cohort.
5. Integrate findings into your product development processes. Delighted's 40+ integrations make sharing feedback a cinch. Or, get your team directly involved by inviting them into the Delighted platform and keeping them abreast of the latest feedback with tailored email digests.
Learn more about setting up your Delighted PMF survey in the Help Center.
Get to product/market fit faster with Delighted PMF
New to Delighted? Start sending PMF surveys for free. Get the user input you need to refine your product, understand your audience, and achieve product/market fit.