Delighted Kiosk, our newest survey experience, collects point-of-service customer feedback at physical retail locations in real-time. Like the rest of Delighted's customer experience products, Kiosk features simple setup and easily syncs with your existing Delighted account and dashboard, so all of your customer feedback is in one place.
A complete survey experience, Delighted Kiosk joins our portfolio of survey methods (web, email, link) as a purpose-built iOS app for iPad. Delighted Kiosk is an end-to-end way to gather feedback from customers in your physical locations or when you are out in the field.
With Delighted Kiosk, you can survey customers via the method of your choice: NPS, CSAT, CES, Thumbs, Smileys, and 5-Star. Moreover, the Delighted Kiosk is totally customizable and supports up to 10 additional questions, helping your team capture the insights you need most.
Optimized for high completion rates, our customers are already using Delighted Kiosk to gather actionable in-person feedback. Wild Fork Foods, for example, uses Delighted Kiosk in their stores to collect customer insights in real-time. The ability to easily deliver these surveys and the speed at which customers can complete them make Delighted Kiosk a perfect value-add to any retail CX efforts.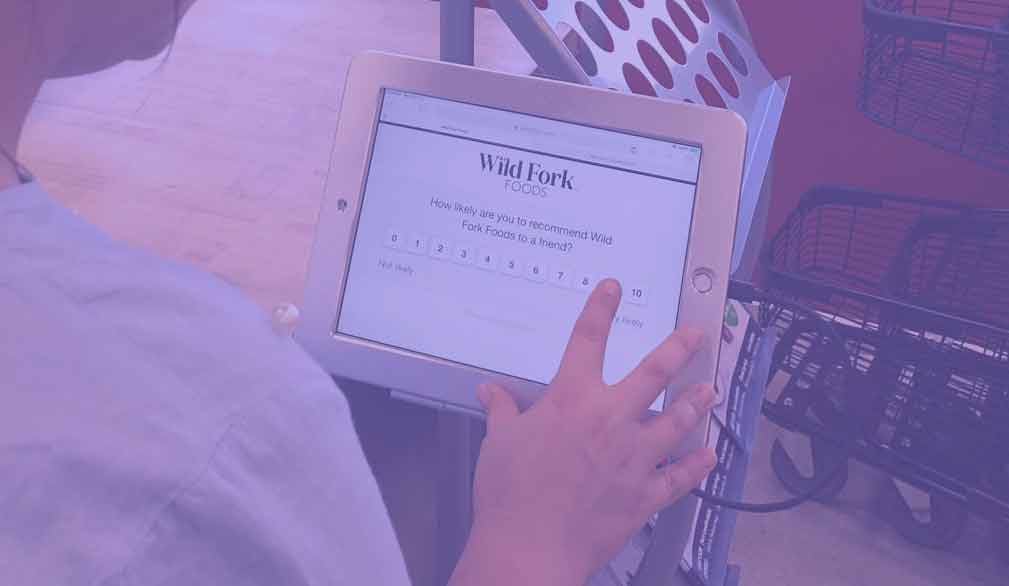 "We are on a mission to transform the way our customers shop and eat their proteins. That's why customer feedback is at the top of our brand values. With the Delighted Kiosk platform, we are able to capture real-time, in-store feedback from our customers and implement any suggestions or service fixes quickly!"

— Jonathan Zuniga, Customer Experience Manager at Wild Fork Foods
---
Survey Kiosks collect feedback anywhere
Delighted Kiosk makes it easier than ever to collect feedback in physical retail locations and in-person experiences. With Kiosk, consumers don't need to scan a code, save a receipt, or go to a website on their own device. All they need is a few seconds with Delighted Kiosk to share their feedback.
What this means is that you'll be able to see that feedback, positive or negative, and flag team members in real-time to implement suggestions and fixes on the spot.
Delighted Kiosk is an easy-to-deploy iPadOS app that captures customer feedback quickly and painlessly with a user-friendly survey experience.
Here's a breakdown of Kiosk survey features:
Deploy Kiosk in multiple locations with their own unique Properties to make analyzing the feedback super powerful.
Quickly connect to our Kiosk survey with a simple code or by scanning your unique survey QR code.
Automatic reset to the initial rating question after survey completion or 10 seconds of inactivity, so the survey kiosk is always ready for the next customer.
A branded survey experience with your logo and colors.
A front-and-center initial rating question to catch your customers' attention. Delighted supports 30+ languages, which means you could collect feedback worldwide.
An open-ended follow-up question so customers can explain their rating. If you have Additional Questions enabled, you'll be able to add up to 10 multiple choice, free response, or scale questions.
A customizable Thank You page.
Partial response capture, so you don't lose any feedback from half-completed surveys.
Kiosk is perfect for restaurants, cafes, coffee shops, retail stores, retail finance, spas, salons — practically anywhere that can benefit from collecting customer insight in person and immediately after a service has been received.
Delighted Kiosk can be set up on counters, carried by tour guides, or mounted near store entrances for easy access.
---
How to set up a Delighted Kiosk survey
Set up a survey Kiosk all by yourself in minutes with the Delighted platform (no extra engineering or design resources needed)!
Start using Kiosk in a few easy steps:
Select the type of survey you want to use (Kiosk works with any of our six survey types, including Additional Questions).
Select Kiosk as your survey delivery method.
Name your Kiosk and add properties like store location, so you can easily segment and analyze any incoming feedback.
Download the Kiosk app from the iOS App Store to your iPad or tablet.
Provision the Kiosk by scanning a QR code or sending a link to the store.
For more detailed information on setting up your survey kiosk, check out the Help Center guide.
No matter how large your business, Delighted helps you manage and collect all of your kiosks from one easy-to-use platform. When used with other survey delivery methods, you'll be able to capture feedback for every step of your customer's journey.
---
Get started with Kiosk surveys today
New to Delighted? Sign up to take Delighted Kiosks for a test drive. Put our experience management software to the test by surveying customers via the survey method (Web, Email, Link, Kiosk) of your choice! In addition, you'll get to test out Delighted's easy-to-navigate dashboard and explore real-time feedback from your customers.