Most of our customers start their customer experience journey with Delighted tracking a single metric like NPS or CSAT. As they experience the power of customer feedback to drive actionable insights and improvement, they often want to expand to understand other parts of their customer journey.
Today, we are launching Projects so that you can expand beyond a single customer experience (CX) metric. Now, you have the power to layer in other survey types for new touchpoints, different teams, and more. And all of this with the ease and simplicity you expect from Delighted.
Using Projects
We've redesigned our main navigation to bring Projects to life and make it easy to switch between projects, manage existing projects, and create new projects. Plus, if you only have a single project, the experience will be nearly identical to before.
The project menu is conveniently located at the top left of all signed in pages. So you are always just a few clicks away from switching to the project you are interested in.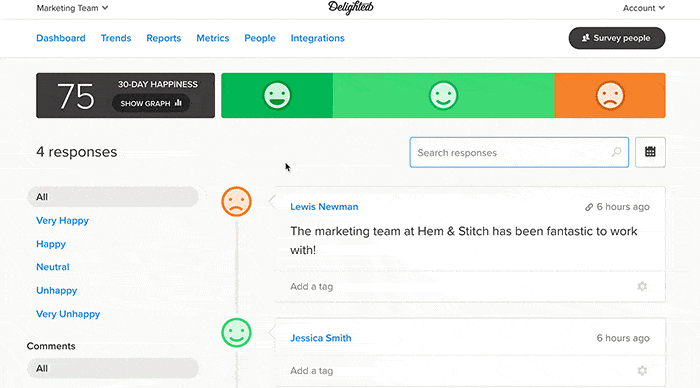 Managing Users
We've built Projects so it's clear to account owners and admins who has access to which projects, and so that it's easy to invite new team members to the right projects. You'll have complete control over granting access, increasing permissions, or removing folks from survey projects.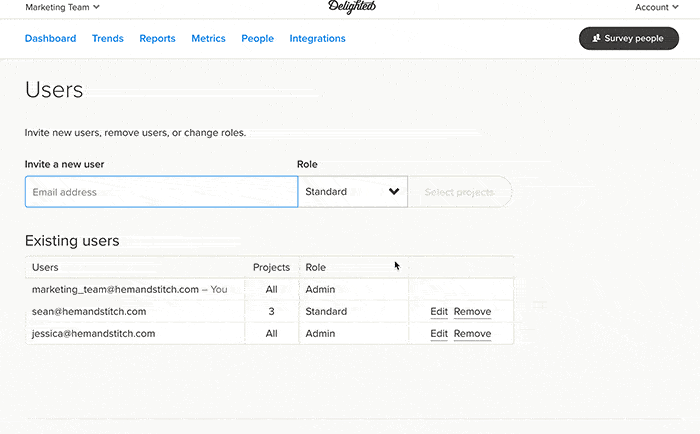 Billing
Billing is fully transparent with Projects, so you can always know how many surveys you have available in your account along with other plan-specific features and limits. Your subscription capabilities are shared across all of your projects. For instance, if your plan allows for 10,000 surveys per month, you would be able to survey 5,000 people in your NPS project and 5,000 people in your CSAT project.
Navigation updates
As part of this refresh, we have elevated Integrations to the main navigation, and the Settings menu is now the Account menu. All of the features that were under Settings now have a new home elsewhere in the platform. If you are looking for a specific feature and can't find it, this help doc outlines all of the changes.
Start using Projects
Our currently available $249/month plans and higher include up to five projects.
If you are interested in using Projects, head here to upgrade your plan.