When you think of your customer, who comes to mind?
Can you name their intentions, motivations, and pain points? Better yet, do you know why they are choosing your company among competitors?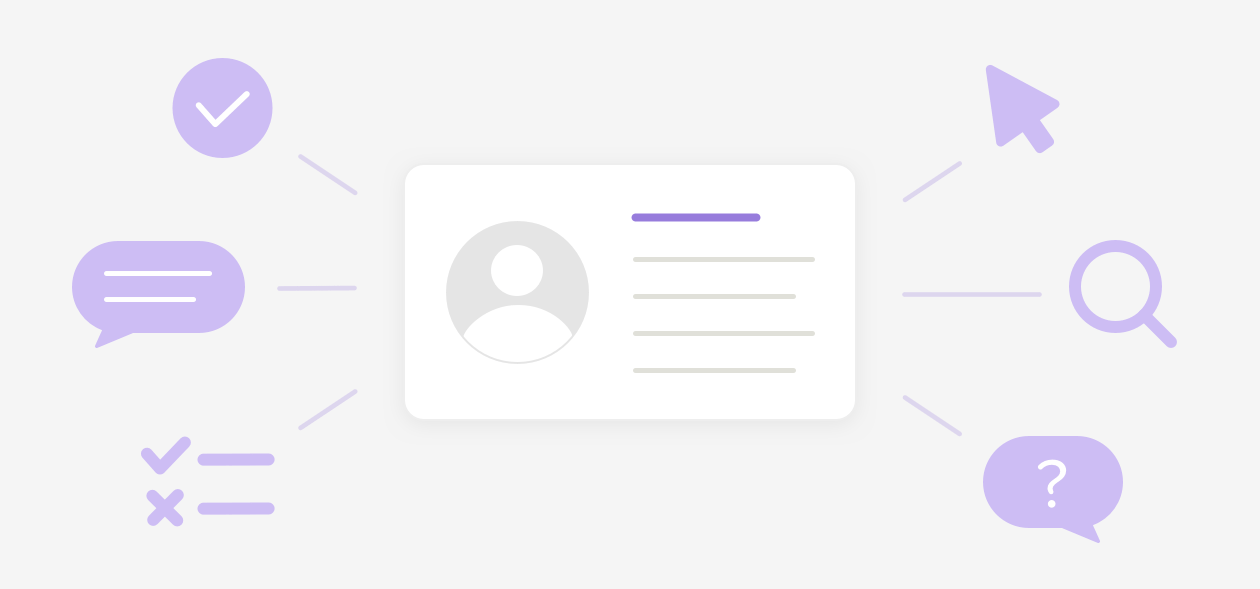 Defining customer needs, problems, and interactions with your company may seem overwhelming and at times, unnecessary. However, understanding every customer's experience at each stage of the customer journey is crucial for turning business insights into long-term improvement strategies.
Creating a customer journey map can help you and your company visualize how customers feel at all brand touchpoints so you can avoid potential issues ahead of time, increase customer retention, and discover key information to make the best decisions for your business.
In this post, we will cover:
What is a customer journey map?
A customer journey map is a visual storyline of every engagement a customer has with a service, brand, or product. The customer journey mapping process puts the organization directly in the consumer's mind to better understand the customer's processes, needs, and perceptions.
A journey map lays out all touchpoints that your customer may have with your brand – from how they first heard of you through social media or brand advertising, to their direct interactions with your product, website, or support team – and includes all of the actions your customer takes to complete an objective across a period of time.
A visual representation of the entire customer journey can provide valuable insights into the thoughts of your customers. This can then lay the groundwork for essential changes to your product or service, or overall customer experience, marketing, and business strategy.
---
Using a customer journey map to improve the customer experience
Outlining your current processes helps to visualize what the customer is experiencing in real time and may unveil common pain points that need to be addressed.
Through this mapping process, you'll also be able to connect with your buyer and in turn, influence your organization to prioritize the customer experience (CX) through shared understanding.
Gaining a deeper understanding of your customer
"Experience maps look at a broader context of human behavior. They show how the organization fits into a person's life."

-Jim Kalbach, author of Mapping Experiences
How does your customer feel when they can't get in touch with customer service on an issue they're experiencing? Or, if their package doesn't arrive on time?
You may be imagining a situation where those instances happened to you outside of the workplace and can remember feelings of frustration. You assume this customer may feel the same and can relate to their sentiment.
The ability to establish empathy for your customers and identify how they're feeling at every turn is what makes customer journey mapping, a powerful exercise.
A customer journey map – or customer experience map – expands that empathy on a broader level so you have a true understanding of their experience and can be meaningful in your organization's customer experience improvement strategies. Utilizing this approach allows you to take your customer's perspective and use it as an opportunity to find solutions to any problem they may face when interacting with your company.
Your map can help answer questions such as:
Is my online interface user-friendly and matching customer expectations? Why is the user navigating away from the site so quickly?
How often is my customer reaching out to customer support and is the team able to address the issues in a timely manner?
How is the customer interacting with my brand before they decide to make a purchase? How are they feeling at this stage?
Understanding the customer journey from an empathetic, bird's eye view will give you deeper insight into customer needs at every touchpoint so you can take the steps to meet their expectations.
Creating a customer-centric company
Aligning towards the same company objectives is essential for strategic customer experience goal planning and success tracking. When you build a journey map, you have a customer-centered tool to refer to and distribute across the company.

With your customer journey map, you can:
Use your map to train team members on CX standards and best practices
Present the visual diagram in company-wide meetings to map out customer-focused quarterly goals
Include the sales team in your map assessment to improve onboarding flows
Review the map with your customer service team to explore ways you can reduce obstacles throughout the customer lifecycle
Using visual mapping to tell a story to your company not only sets a united standard for exceptional customer care, but also benefits customer experience and customer retention in the long run.
---
Customer journey map design
There's no correct or incorrect way to create a customer journey map. However, before you begin, consider aligning your map with a chosen customer persona and think through which journeys and stages make the most sense for your business to measure.
Creating a customer persona
A customer persona (or buyer persona) is a fictional character that represents your average customer based on user and market research. Imagining this persona's age, job function, personal goals, etc. can help you step into the customer's shoes and thoroughly develop the customer journey story.
Start by creating three personas at most to help in narrowing your character and design focus.
Deciding what to measure
Next, you will need to decide what you want to measure and what goal you're trying to achieve.
Perhaps you want to revisit current customer success processes or take a closer look at your prospect's experience through the selling timeline. Whatever you choose, your customer journey map is customizable and should evolve over time to meet your business needs. You may also create multiple journey maps in the future as new opportunities shift your curiosities and goals.
Organizing with touchpoints and stages
As you begin your customer journey design, you may want to organize your map with touchpoints and stages: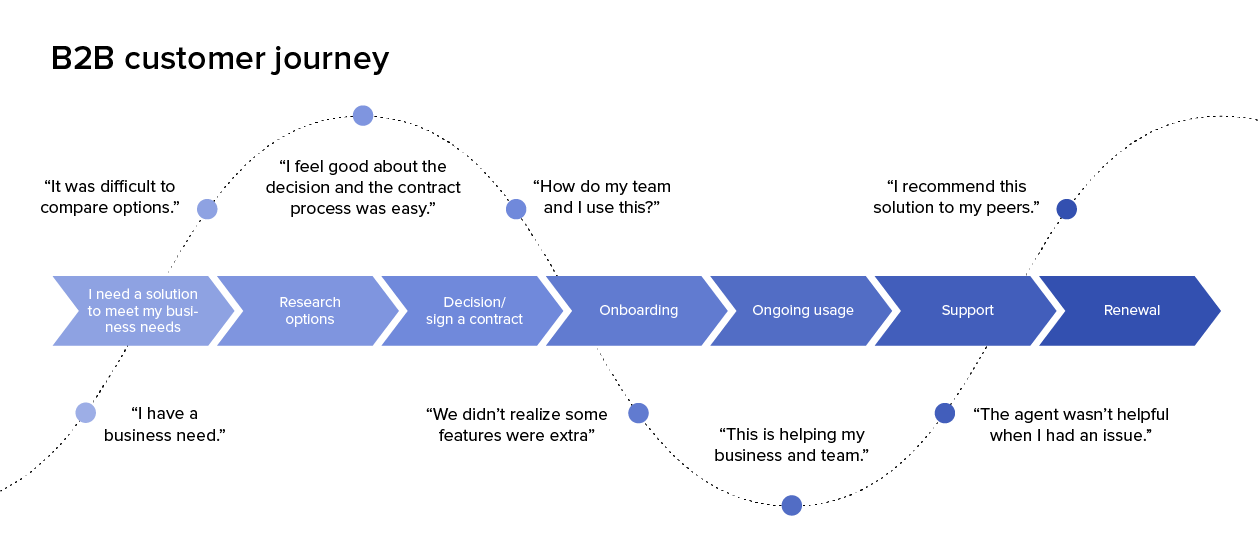 Identify touchpoints: A touchpoint is any moment a customer interacts with your brand. From advertisements, to a thank you note they receive after a purchase, consider including these touchpoints within your map so you can collect feedback and identify patterns on how they're feeling at each interaction.
Write out the stages: Every time your customer engages with your brand, there is a goal-driven action behind it. Break down the customer journey in stages (or phases) based on the customer's need throughout their journey.
Customer touchpoint mapping and journey mapping go hand in hand, but mapping out personas and defining specific customer touchpoints can seem time-consuming. Use Excel documents to organize your map or work from customer journey templates such as Qualtrics' Journey Map Template to set a simple foundation for your diagram creation process.
---
Using survey data to boost your customer journey map
Research is crucial to learn your customer's motivations, roadblocks, continued pain points, and successes. If you don't have the survey data to answer these questions, you could be building your map from assumptions, leaving room for misguided strategic planning down the line.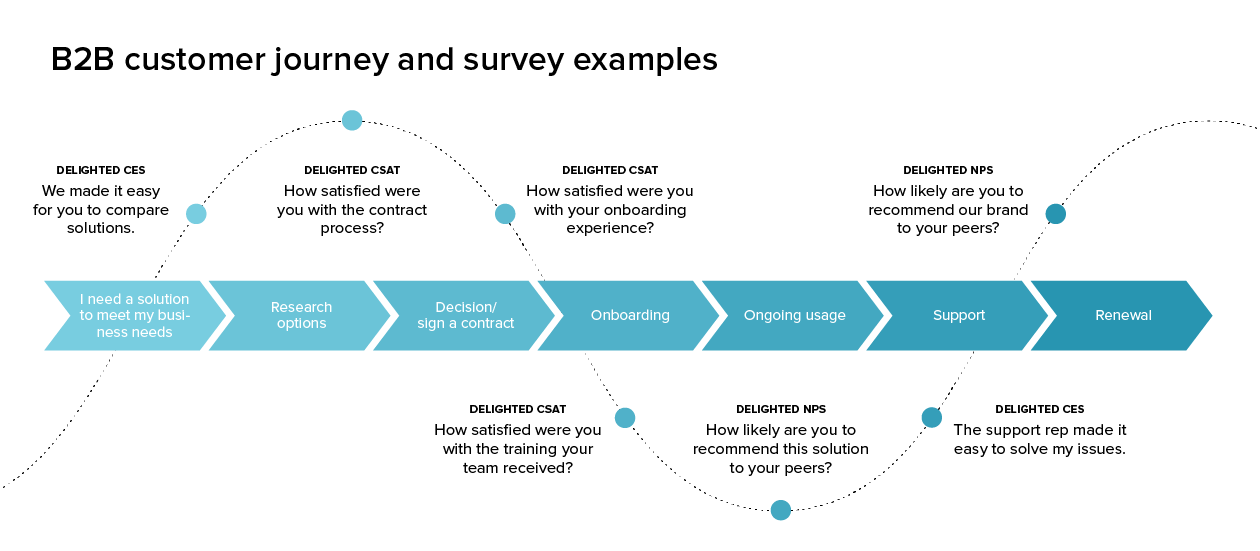 Consider using Net Promoter Score (NPS), Customer Satisfaction Score (CSAT), or Customer Effort Score (CES) surveys to capture first-hand customer feedback to include within your customer journey map. Then, choose between a variety of surveying channels (Email, Web, Link, or SDK) to reach your audience wherever they are.
Here are some question examples to include in your survey:
[CSAT]: How satisfied were you with your onboarding experience?
[CSAT]: How satisfied were you with our checkout process?
[NPS]: How likely are you to recommend this solution to your peers?
[NPS]: How likely are you to recommend this store to your friends or family?
[CES]: The website made it easy for me to compare options
[CES]: The support reps made it easy to get my questions answered
After you select your survey, question, and channel, specify when and how often surveys are triggered throughout the customer lifecycle. Before you know it, your customer journey map includes up-to-date feedback for you to start analyzing and acting on CX feedback regularly.
TIP: To get greater context behind a customer experience at each journey stage, create customized follow-up questions after your initial survey question. From free response to multiple choice, craft up to 10 Additional Questions to ensure your journey map (and future state of customer experience) gets a boost with detailed verbatim feedback.
Delighted makes it easy to ask the right questions at the right time. Use Delighted Survey Templates to craft impactful, automated customer surveys to include in your mapping journey.
---
Additional customer journey map resources
For additional resources, check out these articles on how to optimize your customer experience program, and the questions you can ask at each stage of the customer journey: