The thrill of seeing customer feedback roll in never gets old – in fact, more than a few of our customers have referred to our real-time feed as "addictive." But, after reading all of that feedback, it raises the question: "How do we share this awesome feedback with the rest of the world?"
Today, we're excited to announce our answer: Testimonials. Now, not only can you gather more feedback than ever before using our previous feature updates (Projects, Smileys and Thumbs surveys, Link and QR code), you can turn all of that feedback into social proof on your website, too.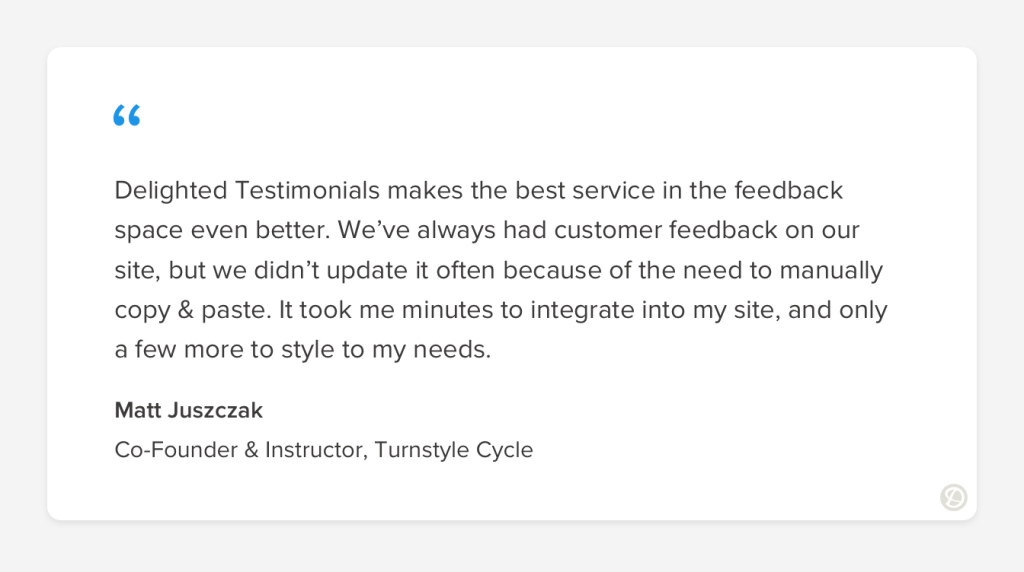 Add Testimonials to any page on your site, whether that's the homepage to help you establish credibility right off the bat, or a purchase-oriented page to reassure potential customers that your solution is the way to go.
You can even create a dedicated testimonials page and showcase all your customer reviews in one place. You can check out our testimonials page here.
Testimonials help you do more with the great feedback you are gathering with Delighted, and further grow your business by sharing real customer experiences on your site.
---
How Testimonials works
For a detailed step by step guide, check out the Testimonials tutorial in our Help Center. Here's the gist:
1. Set up your Testimonials widget
Like everything else in Delighted, it's easy and requires minimal dev resources.
To get started, access Testimonials from the Integrations page. Then, customize the branding of the testimonial card by selecting a font style, brand color, and card shape. Your widget is now ready to add anywhere and everywhere on your site with a single line of JavaScript – it's as easy as embedding a tweet or Instagram photo.
2. Customize your permission request email
For Delighted feedback to show up on your site, you'll request approval from the customer who gave you the feedback. You can customize the request to ask your customer to leave their first and last name, as well as their company and title.
3. Choose the feedback you'd like to display
Delighted will automatically pull your most recent, positive pieces of feedback with open-ended comments into the Testimonials workflow. You can also request publishing permission from your Dashboard by clicking on the feedback timestamp, then clicking on the curly quote icon.
4. Turn on your widget
The final step is to drop the JavaScript snippet onto your page wherever you want the testimonial to appear and turn on the widget. Approved feedback automatically shows up on your site.
---
Why getting customer testimonials is better with Delighted
The process of asking for customer feedback and customer testimonials have a couple of similarities, but running your reviews program through Delighted has one key advantage: the ability to manage and act on the responses from one central hub. Let's go through the similarities first:
Timing the ask
For both, the timing of the ask must be perfect. Too early, and your customers won't have anything substantive to say. Too late, and the excitement they had when they first started using your service may be diminished, or completely gone. Delighted lets you control and automate the timing, so you can set it and forget it.
Optimizing the send
Then, there's also the channel you use to ask your customers. Which works best? Text, email, in-app, or chat links and QR codes? The beauty of Delighted is that you're always capturing customer impressions when they're fresh because you can reach them wherever they are.
Our pre-built survey templates are optimized for high response rates so it's super easy for customers to provide feedback. The surveys look great in every channel to boot.
Of course, getting the feedback isn't where the process ends. After that, there's still work to do.
Putting the feedback on your site
Request publishing permission for any feedback you receive straight from your Delighted dashboard, or through the Testimonials workflow. You can easily customize the Testimonials widget so that publishing the feedback on your site is as simple as dropping a snippet of code onto your page.
Reviewing and managing feedback
This final step is where you will benefit the most from running your customer testimonial program through a customer experience platform versus a reviews tool. With a CX platform, you're all set to close the loop, whether the feedback is positive or negative.
Any constructive product feedback can still reach your product development team, instead of being siloed within a reviews platform. You'll also be set up to analyze the responses, isolate root causes to poor experiences, and invite customers to post reviews elsewhere on the web, further amplifying that positive sentiment.
Testimonials are currently available in $249+ plans. If you would like access, upgrade your plan.