Attracting customers in a competitive market can feel like an uphill battle. So, how do brands stand out from the competition? One powerful tool in today's marketplace is customer testimonials.
By highlighting the positive experiences of customers on your website or other online platforms, you can validate your brand's awesomeness to potential customers and persuade them to purchase from you. In fact, 78% of shoppers say the presence of social proof – like a positive customer testimonial – increased their likelihood of purchasing from that brand.
Not sure how to ask for customer testimonials or where you should display them for maximum effect? Don't worry – we have you covered with all of the essential details about customer testimonials, below.
In this post, we'll cover:
---
What is a customer testimonial?
A customer testimonial is an endorsement of your product or service from a satisfied customer. Testimonials detail the positive aspects of your brand in the form of written reviews, case studies, social media posts, or videos to increase your trustworthiness to new customers.
---
Why are customer testimonials so important?
Customer testimonials play a crucial role in marketing as they allow past and current customers to share their experiences and highlight how a business not just met, but exceeded their expectations.
These testimonials also serve as social proof, or the psychological concept of influencing people to follow the actions and opinions of others. When potential customers see positive feedback and success stories from real individuals, it provides them with the confidence that your business is truly loved.
By showcasing these success stories in your marketing materials or on your website, you can attract prospective customers and ultimately increase your conversion rate. After all, nothing convinces new customers more than genuine evidence that others adore your business.
Here's what research studies show:
These stats highlight the importance of online reviews and testimonials. Good testimonials help you build (online) credibility, and customers will get the social proof they need to trust you.
---
8 types of customer testimonials with examples
While all customer testimonials are positive by nature, there are different types you should know about in order to up your chances of attracting as many new customers as possible.
1. Quote testimonials
Whether you are new to the market or a well-established brand, customer quotes are easy testimonials to acquire (more on how to do so in the next section). To grab customers' attention, combine these quotes with an image of the customer or brand logo, as well as a call to action (CTA), when possible.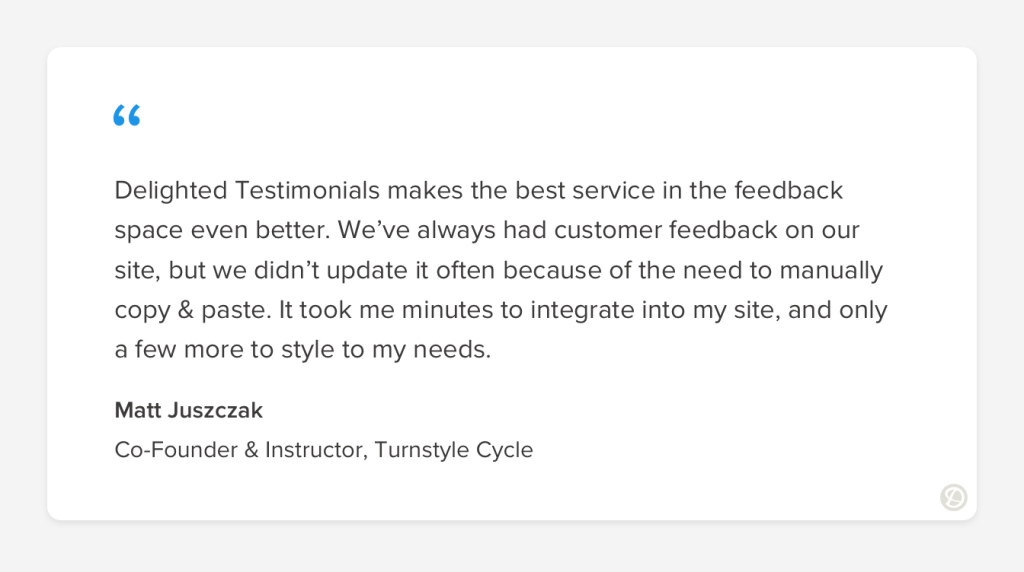 2. Social media testimonials
Ask customers to leave feedback on your social platforms after they've purchased a product or service. They can tag you, use a unique hashtag, or leave it directly on your page. Embed that social feed of user-generated content on your website, so newcomers can easily see this type of social proof right away.
3. Customer reviews and ratings
In addition to being displayed on your own website, customer reviews can also appear on marketplaces (e.g., Amazon) or review sites (such as Yelp or Capterra). When possible, you can display badges from these sites with an aggregate rating or score to show that you are a trusted vendor. Take a look at an example of a customer review of Delighted on G2 below:
4. Influencer testimonials
Think of influencers as the celebrities of your industry. An influencer is trusted by your market, so getting an on-the-record endorsement of your company's offering would be substantial social proof.
5. Case studies
Case study testimonials are another way to capture social proof and relay it to your audience. They typically include an in-depth explanation of how a customer uses your product with detailed examples of use cases. Case studies are different from interview testimonials in that they convey the analysis and results of using your product or service, whereas interview testimonials focus on a variety of experience topics in a question-and-answer format – usually with little rewrite needed.
6. Video testimonials
Showcase your customers' positive experiences with your company using video testimonials. Not only do they tell a story visually, but viewers can see real customers talk about what makes your brand successful in their own words. Check out this video testimonial below from return software and reverse logistics company, Happy Returns.
7. Interview testimonials
Much like case studies, interview testimonials take a deep dive into customers' experience with your product or service. The question-and-answer format of interview testimonials prompts the customers to provide details on certain aspects of your business – from customer service interactions to the quality of your product.
Check out this interview testimonial with Delighted + ChowNow.
8. Blog post testimonials
Asking customers to detail their testimonials in a blog post is an excellent long-form format of social proof. Many companies will review products or services in the form of a blog post and compare them to other solutions on the market.
Whether you ask your customers to write a blog post for you or simply get their testimonial to include in a blog post, your blog audience will better understand what your product offers. 
"Before we started using Delighted, we were sending email NPS surveys that just sat in our customers' inboxes. Our response rates were so low that we couldn't get an accurate NPS score with high probability.

We realized we needed to embed the survey into our customers' normal workflow and make it very easy to give feedback.

With Delighted, a pop-up question appears on the website that our users can complete in a single click.

After maybe 10 days, we had six times the responses that we'd had within the last six months. It made a huge difference, and now NPS is something we actively participate in improving across the whole business."

– Ido Breger, VP of Product at Cynet
---
How to get customer testimonials
Ready to put your knowledge of customer testimonials to work? Here's how to get started asking for testimonials from happy customers.
Automate customer feedback surveys
Skip the manual process of sending surveys one by one by automating customer feedback survey delivery. Set up automatic email surveys to send a few days after a customer order is delivered or purchased so that you have a steady stream of in-the-moment feedback to use for a potential testimonial.
Or, if you want to automate the entire testimonial process – collecting feedback, requesting permission, and publishing the testimonials on your website – try out a testimonial software. That way, you can save time and trust that social proof is already embedded into your experience management program.
Identify promoters with Net Promoter Score surveys
Net Promoter Score (NPS) surveys ask customers how likely they are to refer your company to a friend or family member. If the answer is "Very Likely," that customer is considered a promoter. Sending NPS surveys helps you identify these promoters so that you can follow up with them to ask for a potential testimonial.
Note: Customer endorsements must have certain elements to maintain credibility. Be sure to ask for approval to reference all or some of the following elements:
Customer name
Title and business (if applicable)
Location
Product or service purchased
Customer picture
Brand logo (if applicable)
You can capture this information using Properties in Delighted's Survey Templates or by creating your own custom demographic questions with Delighted Surveys.
Send customer satisfaction surveys
In general, Customer Satisfaction Score (CSAT) surveys measure how impressed customers are with their experience with your company and your product or service. Once you know how customers rate their satisfaction with your brand, you can identify satisfied customers to request a testimonial from.
Ask loyal customers for their input
Your most loyal customers – those that spend the most per order, make the most purchases overall, or have been with you the longest – are great candidates for testimonial requests. Find these customers in your database and reach out to them for their input. You can even offer them a discount code or early access to new products to thank them for their testimonial.
---
Testimonial design best practices: Tips for good testimonials
Wondering what makes a great testimonial? No matter what type of testimonial you choose, we've outlined some common best practices and tips for crafting top-tier customer testimonials.
Request specific details. Ask your customer about specific products or features and how they helped make their life a bit easier. When a customer provides specific details about the benefits of a product/feature in their testimonial, potential customers who read it can visualize how they too will experience similar benefits.
Highlight top features and use cases. If you want the customer to include certain keywords or features in their testimonial, prompt them by including these details in the customer survey question or by asking them directly.
Try using "reverse testimonials." By asking about common customer doubts in the testimonial request, you can prompt them to share their concerns or pain points in your industry and how your product solved them.
Use the right testimonial software. As mentioned above, comprehensive testimonial software allows you to collect feedback, request publishing permission, and easily publish testimonials to your website.
Ready to put these testimonial best practices to the test? Get started for free and start collecting testimonials from customers in minutes.