7/15 update: Additional Questions, including all the feature updates outlined below, is now also available for Delighted Web feedback surveys.
We are excited to announce that Additional Questions now has 7 new feature enhancements that will help take your customer experience program to the next level.
Now, you can create an "other" answer option for your multiple choice questions, share additional questions answers directly in Slack, randomize question order, and more.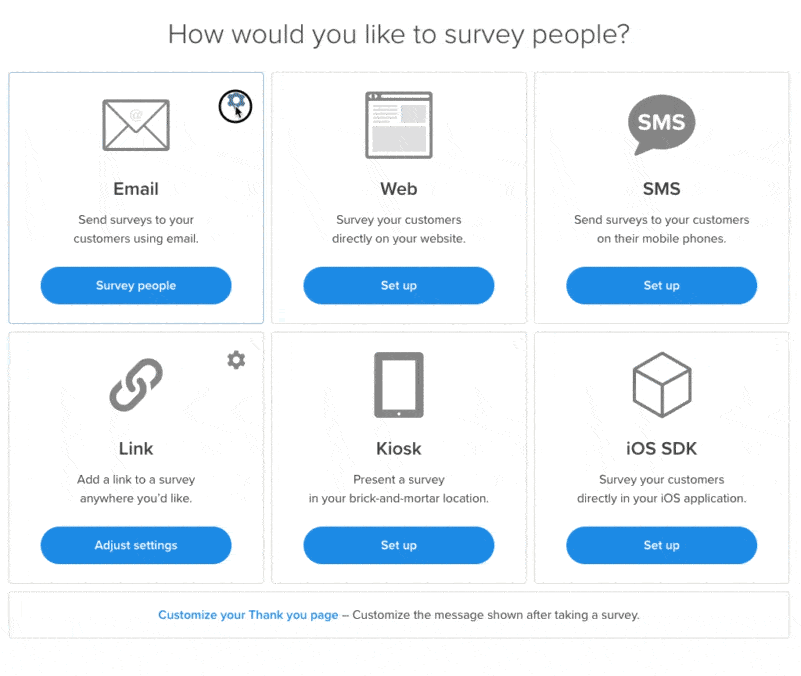 First, a quick recap. In a nutshell, Additional Questions lets you:
Add up to 10 follow-up questions (scale, multiple choice, or open-ended) to your email, link, kiosk, or iOS SDK surveys
Use conditional logic to customize which additional questions appear based on how your customers answer the initial NPS, CSAT, or CES survey question
These new features improve feedback quality, as well as your ability to report and act on insights.
1. Multiple choice "other" option
When people don't see an answer option that fits how they feel, they're likely to skip the question or drop the survey altogether. The "other" option gives you a failsafe, and your customers, a voice. Letting your customers share something you didn't think of gets you that much closer to understanding their true needs.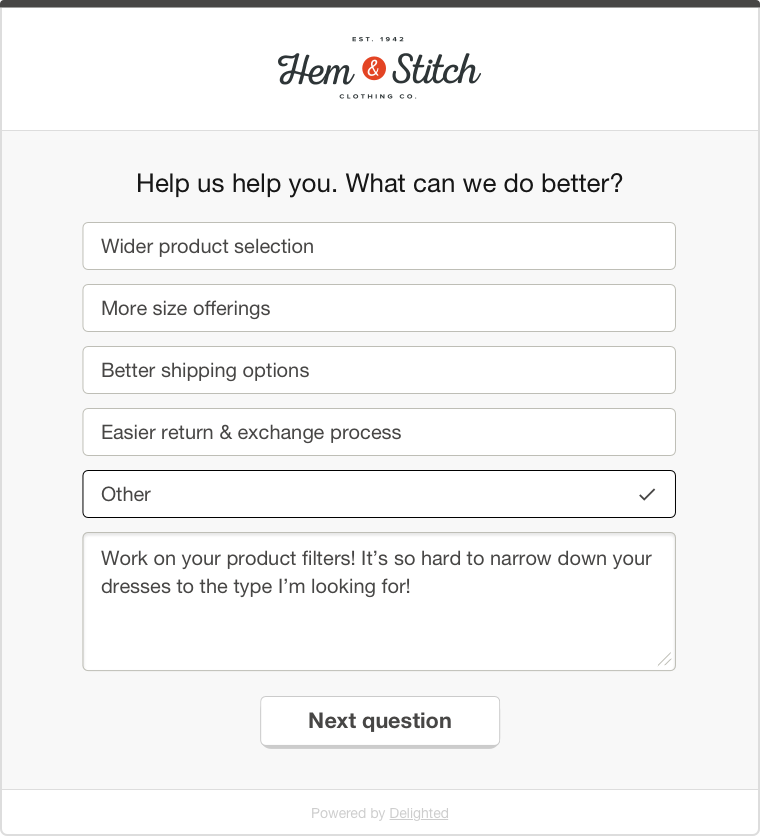 2. Slack integration update
The Slack integration is one of the most popular ways for our customers to share feedback in real-time. With this update, any answers to additional questions will also pop up in Slack, along with the answer to the initial survey question. That's instant context for following up with the customer.
3. Additional questions report
We're introducing a brand new report that displays all your additional question responses for easy analysis. You can also export all the answers if you want to do more. Check it out in the demo environment.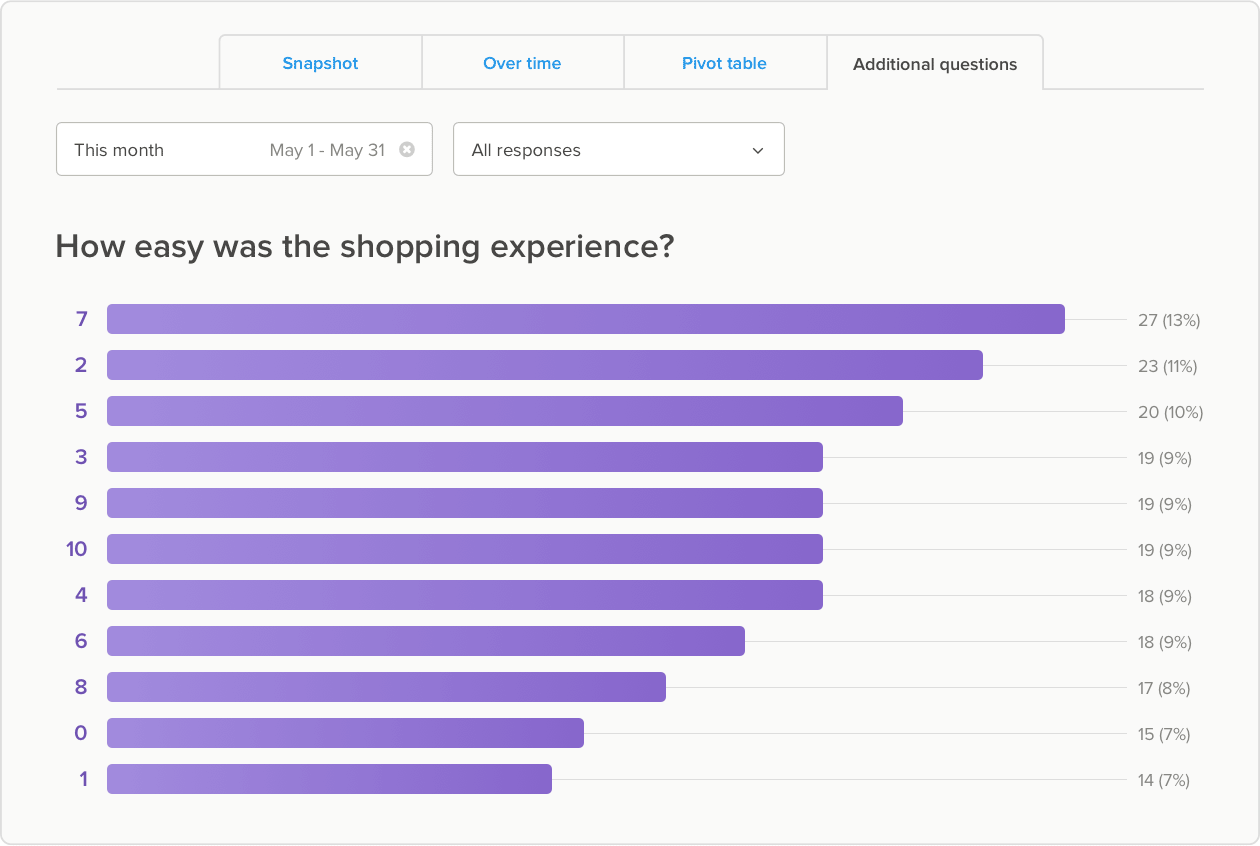 4. Question randomization
Longer surveys run a risk of people dropping off halfway through. This can lead to a lack of responses for questions that come up later in the survey. Sometimes, initial questions can also impact how customers answer subsequent ones.
Randomization safeguards you from order effects biases and equalizes visibility, so all your questions can help surface insights and drive strategy. Note that the initial survey question is always locked in as your NPS, CSAT, CES, 5-star, Smileys, or Thumbs survey.
5. Multiple choice answer randomization
Answer option randomization protects against two types of biases: primacy and recency. Primacy is the tendency to select the answer option that comes first. Recency is the exact opposite – the tendency to choose the answer that comes last, since it's the one that was seen most recently. With answer randomization, you'll bypass these biases.
6. Rating scale customization
For rating scale questions, how you orient your scale can impact survey results as well. This update lets you customize your rating scale by inverting it. Start with the most positive response on the left, or the most negative. It's up to you – just stay consistent throughout your survey so your customers don't get confused.
7. Name and Email question templates
The game-changing factor of this update is that the platform will automatically update the Delighted customer record with the name and email your customer provides. Collecting feedback via anonymous link surveys? You'll have pre-built questions to identify who these customers are, and the means to follow up with them.
The question form enhancements are available for surveys sent via email, link, and kiosk. We are working on Additional Questions for web surveys and updates for SDK. The reporting enhancements apply across the board.
For more documentation on setting up Additional Questions, check out the Help Center guide. Also be sure to check out our best practices on writing survey questions, complete with examples of biased questions.
Additional Questions is available in $224+ plans. Learn more about our pricing plans here.