Up until now, the Additional Questions feature has been available for Email, Link, SDK, and Kiosk distribution channels. Today, we're extremely excited to announce a highly requested addition to that lineup: Additional Questions for Web.
Tailored specifically for the web experience, Additional Questions for Web includes all the features from our last Additional Questions update. It's easy to set up, integrates seamlessly with your website, and most critically, can even help you identify anonymous website users so you can close the loop on feedback.
Here's the breakdown of what to expect, and how you can start using Additional Questions for Web.
Setting up Additional Questions for Web
To implement Delighted web surveys, all you have to do is configure your survey in Delighted with Additional Questions, and then drop the provided snippet of code onto the pages where you want to collect feedback. The preview in the survey interface is pixel-perfect, so you'll be able to see exactly how the questions will appear on your site.
If you're already running Delighted web surveys, just publish the additional questions you want to ask, and your existing survey will update to include them. There's no need to update the code snippet on your site.
You can configure when your survey triggers, whether you're surveying new or repeat visitors, and more. Head to the Help Center for more detailed documentation.
Fully customizable for a seamless experience
Style the survey interface to match your brand by updating colors and the finish on the survey buttons. The additional questions default to appearing over a light background, but if your website is darker in color, you can easily switch to a dark overlay. Find out how here.
To make the survey as user-friendly and minimally disruptive as possible to the browsing experience, the initial survey question still appears at the bottom of the screen. Once your visitors have opted into taking the survey by providing a rating score and comment, your additional questions will appear in the center of the page.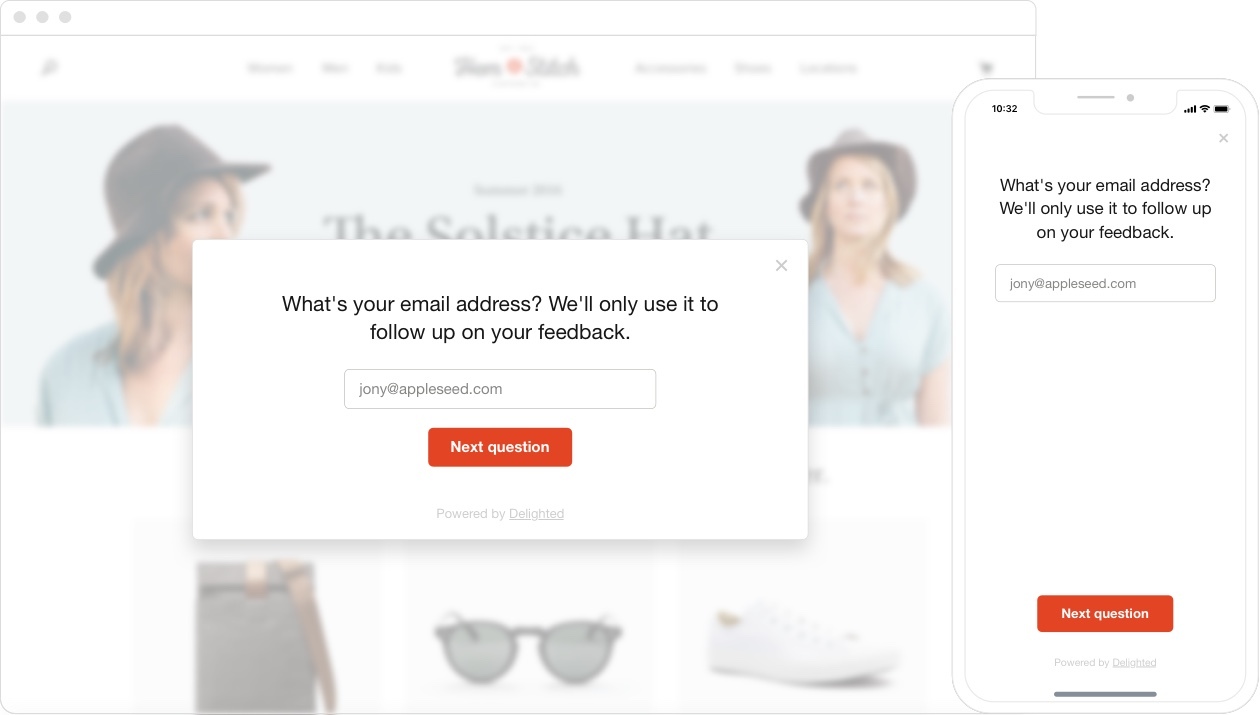 All the visitor has to do to return to browsing your website is complete the survey or click outside of the interface. The experience is fully optimized for mobile as well. Delighted saves the responses to any questions your site visitors have answered, even if they don't finish the entire survey.
Deeper insights on your digital brand experience
Regardless of which survey template you're using (Net Promoter Score, Customer Satisfaction Score, or Customer Effort Score), Additional Questions can help you dig deeper on issues of content quality, churn, cart abandonment, and more. Here's a handy guide on collecting web feedback, complete with examples of popular website survey questions to get you started.
On top of that, Additional Questions can help you address a deeper pain point common to most web surveys – identifying who your web visitors are so you can follow up on feedback. Our templated Email and Name questions automatically update the People record in Delighted, so your team can easily close the loop.
In an era where brand interactions are increasingly taking place digitally, it's more important than ever to focus on refining your web experience. Start by collecting feedback using Delighted web surveys with Additional Questions, available on $224+ plans.