Digital survey distribution methods (think email, chat link URL, and web intercept surveys) get great response rates and high-quality feedback for two reasons: they're user-friendly and timed to catch folks while the experience is still fresh.
QR code surveys, now available with our Link survey distribution method, extend those same exact benefits to feedback collection on real-world physical interactions. With QR code surveys, it's easier than ever to get opinions on the go.
A QR code survey is a feedback collection method that allows users to scan a unique code with their smartphone to gain access to a survey. Not only are they easy to create, but they can be placed anywhere – physically and digitally – for customers to answer the survey anonymously.
For example, say you have brick-and-mortar locations and would like to get post-purchase feedback. All you would have to do is print your QR code survey on the receipt. Try scanning the QR code below to see what we mean:
Thank you for your purchase!
Scan the QR code with your phone camera to provide feedback on your experience.
Survey link: https://delighted.com/t/mVkznW1o
Or, imagine you've just finished a presentation at a conference and see mixed reactions from the crowd. What would be the best way to ask for feedback then and there?
While you could provide a link to your survey on a slide, the audience would still need to go through the trouble of typing that URL (typo-free, no less) into a mobile browser. However, if you put a QR code survey in your presentation, all folks would have to do is whip out their camera phone and scan the code to access your survey. Great user experience? Check.
You could also follow up on the presentation with an email survey, but the experience would no longer be fresh (and you would also need everyone's email). In-the-moment feedback? Check.
Using QR code surveys, you'll be able to gather point-in-time feedback for customer touchpoints that are traditionally difficult to assess. In this post, we'll walk through everything you need to know about QR code surveys, including top use cases and some quick best practices.
---
A brief history on QR codes and their popularity
But wait, what are QR codes exactly? QR code (QRC for short) stands for "quick response code." You've probably seen them before — they're the square-shaped barcode commonly found on receipts, product packaging, or printed ads. Scanning one with your phone usually opens a web page or app.
Even though QR codes were invented in Japan in 1994 to track the manufacturing process, they've since been widely adopted for making payments, adding friends on social media, and you guessed it — distributing customer experience surveys.
But wait, are QR codes still a thing? Yes! At first, QR codes saw slow consumer adoption, especially in the US. This is because you needed to download a separate scanner app to read the code, which is a pretty big hurdle. However, both Android and iOS phone cameras are now smart enough to recognize QR codes, no scanner app required. In fact, an estimated 11 million US households are projected to scan a QR code in 2020. When people in the US and UK were asked if they increased QR code usage in September 2020, 46.75% agreed (source).
What's more, QR codes have been quite popular in China, where they're the go-to way to make mobile cashless payments. Usage is also increasing in Japan and Southeast Asia. If you have a customer base in Asia or are thinking of expanding there, QR survey codes could help increase survey response rates, since consumers already use them regularly.
With the advent of touch-free COVID-safe experiences, QR codes have also seen explosive growth over the past couple of years, enabling people to order and pay for food without ever having to touch a physical menu. Creating a QR code has also gotten easier for businesses – many free online solutions can turn any link into a QR code.
---
The case for QR code surveys
QR code surveys fill that niche for real-world feedback. After all, digital isn't the only way for people to discover your business, and online follow-up may not even be possible if you don't have access to personal contact information. Events and in-person transactions are both examples of customer experiences where a QR survey code can garner quality feedback.
While printing out link survey URLs can also work, a QR code makes gathering feedback in these situations painless. If you use Delighted link surveys, you'll be able to generate a QR survey code for free.
Delighted QR survey codes can also be used with any of our customer experience survey types: NPS, CSAT, CES, 5-star, Thumbs, and Smileys. Add up to 10 customizable follow-up questions to the survey template for more detailed feedback. That way, you can tailor your QR survey for the insights you need.
---
Common QR code survey use cases
We've already mentioned a couple of use cases for QR surveys in passing, but let's dive in a bit deeper.
Product or service experience feedback
Since QR codes are so versatile, you can easily use them to gather feedback on experiences as they happen.
Printed receipts: Add a QR survey to the bottom of a receipt to kick off the feedback process.
Signage: Post QR code surveys on flyers or signs for people to scan as they leave your store or venue. For example, car washes can put a sign up at the end of the wash for customers to scan and provide feedback.
Menus: For restaurant owners, print a code on your menus to gather feedback on food selection or service.
Assembly instructions: See in real-time if customers are having a hard time assembling a product by adding a QR code to the manual. Folks won't even need to contact customer support — if their experience is negative, you can have someone reach out to help.
Product packaging: Include a QR survey for more general product feedback
Conference and event feedback
In addition to following up with attendees via email after a conference or event is over, gathering real-time feedback throughout is key to understanding if things are going well, or if you might need to pivot and address an unexpected issue.
Here are some ways to incorporate QR code surveys into an event:
Presenter slides: Beyond capturing feedback on the presentation itself, QR surveys can also add an interactive component to a lecture or talk. For instance, if you're doing a talk around customer service, kick off the presentation with "On a scale of 1 to 5, how would you rate your last customer service experience?" Watch the feedback come in live on the Delighted iOS app and then recap the results prior to digging in. This is also a great way for professors and teachers to gather feedback and get students to participate.
Printed banners: Increase the prominence of your feedback surveys by printing them on conference banners, placed throughout the venue.
Printed ad and marketing material feedback
Ads in the wild only capture attention for a moment. If you can't ask for feedback right then and there, your chance to understand if your marketing material is resonating well with your customers vanishes.
Here are some common marketing materials that could accommodate QR surveys:
Retail catalogs, brochures, and newsletters
Flyers, posters, and ads in subway stations or at bus stops
Commercial space and facilities services feedback
Gather tenant feedback with QR surveys displayed in prominent areas on the property, such as restrooms to monitor cleanliness, and outdoor spaces to gauge maintenance quality. The happier your tenants are, the less likely you'll need to spend valuable time searching for occupants.
Now that we've covered some common use cases, let's go through some tips on how to get the best results for your QR surveys.
---
QR survey best practices
As versatile as QR code surveys are, there are still a few best practices to follow:
Clearly state what scanning the QR code will do. Since QR codes have many applications, you'll want to let your customers know that this particular code will take them to a survey. For example, "Scan this code with your camera phone to answer a 1-minute survey on your experience."
Include a user-friendly link to the survey. If you're worried about setting context, another way to prime folks for what to expect is to put the link version of the survey under the QR code image with readable url text. This also ensures that people who aren't familiar with QR codes still have an avenue for providing feedback.
Use responsive formatting for your survey. Folks who scan the code will probably do so from a mobile device, so you'll want to make sure your survey renders as intended to avoid biasing the results.
Test the QR survey code to make sure it works. With printed materials, it's worth verifying on a sample if the QR code is rendering correctly and can be easily scanned. While the codes do account for a degree of distortion, an overly obscured or damaged QR code will not render correctly and could lead to a poor customer experience (e.g. someone dissatisfied with a product getting frustrated at a receipt QR code that doesn't work).
---
How to make a QR code survey from a survey link
Like all other things Delighted, generating a QR survey code is easy. All you have to do is:
Create your survey if you haven't already
Select Link as your survey distribution method
Download the QR survey code in PNG or SVG format
Add it to printed marketing materials, receipts, SlideShare presentations, and more
You'll be gathering feedback wherever your customers are in no time.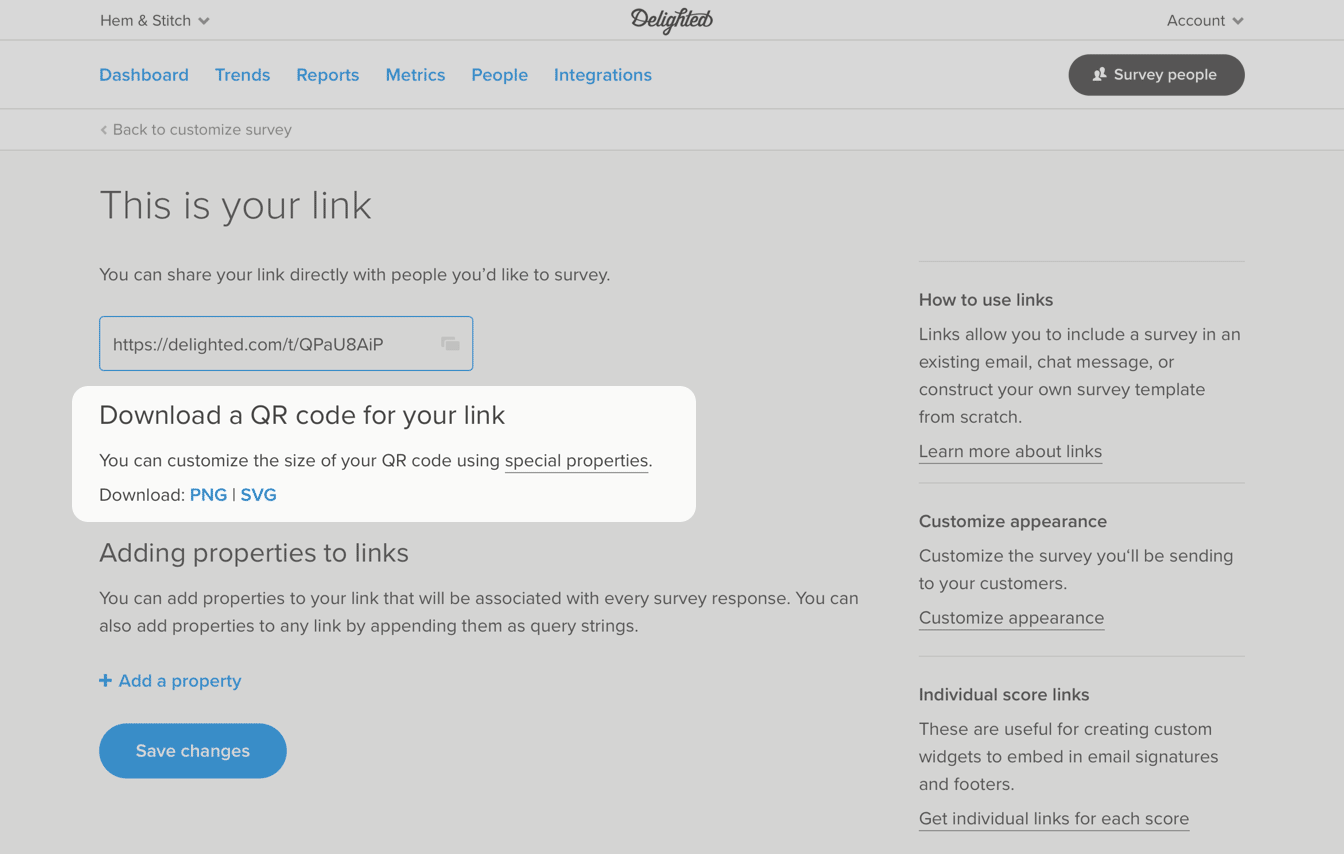 You can also associate properties to your QR code, so anyone who answers is automatically segmented for easy feedback analysis in our experience management software.
Not using Delighted to gather customer feedback yet? Gain access to all of our survey types and distribution methods with a free trial (no credit card required). You'll have customer feedback in minutes.