It's no secret that Net Promoter Score (NPS) is a leading customer experience metric, used by hundreds of businesses around the world to measure customer loyalty and brand perception. Quick-to-implement and easy-to-analyze, NPS software is the gold standard for tracking and acting on feedback – and at Delighted, we know it well.
That's why we thought it was time to dive into the world of employee experience and use the same NPS logic towards bridging experience gaps, internally.
We're excited to introduce a powerful new metric available to all Delighted users: Employee Net Promoter Score (eNPS) surveys.
eNPS shares all of the same benefits of the customer-facing NPS metric, but perfected for keeping a recurring check on employee satisfaction, and using the insights over time to influence widespread organizational change.
A glance into the Delighted eNPS benefits
eNPS surveys provide you insights behind employee sentiment that you wouldn't have known otherwise. The verbatim data can positively affect decisions involving benefit offerings, company policy changes, managerial effectiveness, and so much more.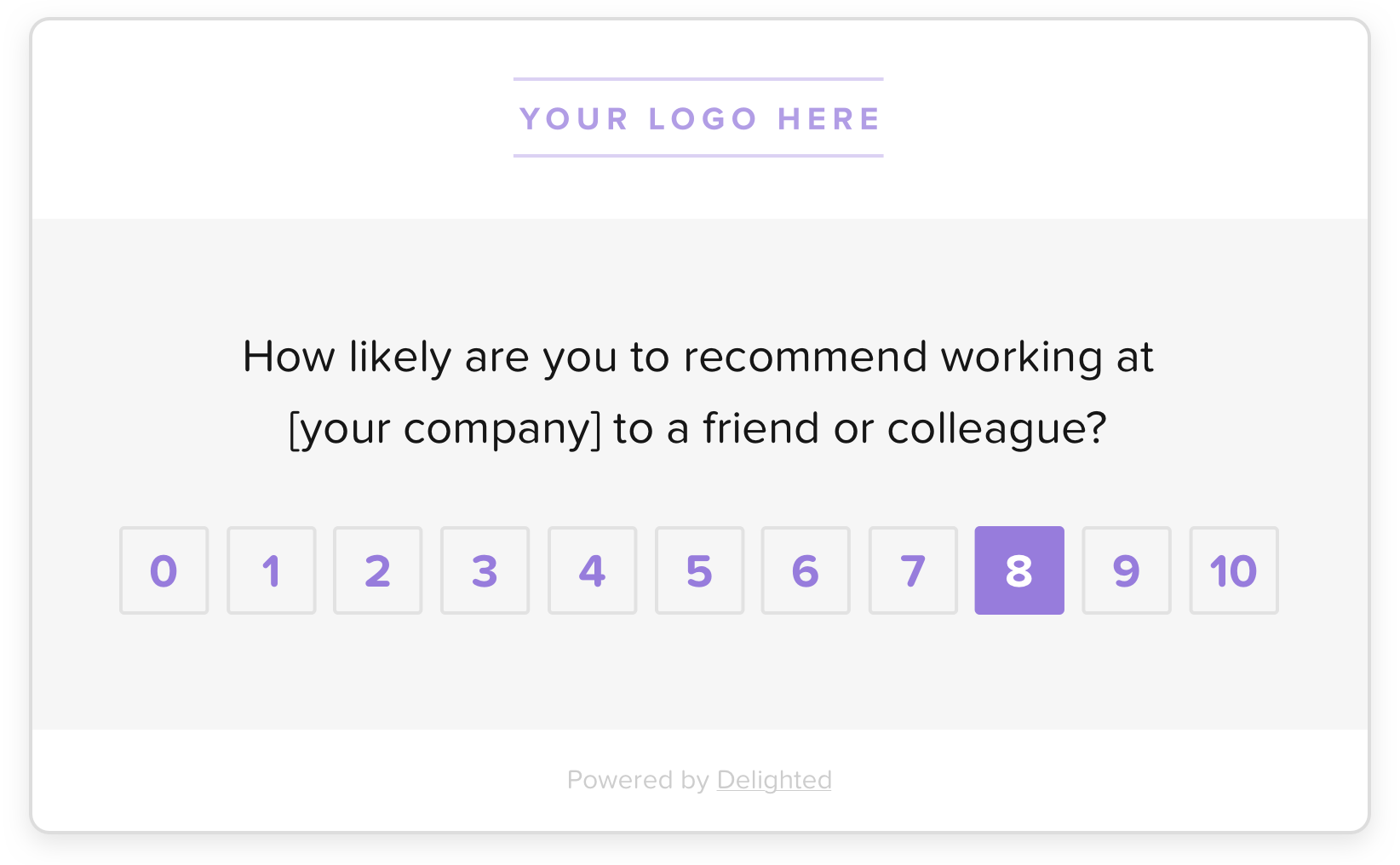 Delighted eNPS surveys are simple and easy to set up
An eNPS survey includes a single rating question and an open-ended follow-up question. Quick for employees to complete, you can discover and address the root cause of employee concerns faster than ever.
Dive deeper into answer reasoning by adding up to 10 Additional Questions, available on all premium plans. Use our guide of follow-up questions prescribed by Qualtrics research to give your survey a boost with expert-backed insights.
Match your survey to your company's image, customize a follow-up, and personalize a Thank you message, all within minutes. No coding experience needed.
With eNPS, you can survey employees confidently and securely
Planning out what to say and when to send your survey every month, quarter, or year can be unnecessarily time-consuming. With Delighted eNPS's Autopilot feature, you won't have to worry about manual sending – Autopilot does the work for you.
Delighted's eNPS surveys are anonymous by default, so employees can feel safe to be transparent, open, and unbiased with their feedback.
Take action swiftly with real-time employee insights
With Delighted's reporting features, you can watch live employee feedback roll in and catch major employee concerns as they happen. Use Properties, tags, keywords, and more to organize, sort, and filter the employee data for easy reference.
Stay on top of employee feedback by triggering surveys through the tools you already use. Try out Delighted's numerous free integrations including BambooHR, Greenhouse, and Zoho Recruit for full EX program automation.
Learn more about how to use and set up eNPS surveys within our Help Center.
Create and send free eNPS surveys today
Measuring and acting on employee insights can lead to an increase in employee happiness, engagement, productivity, and in turn, a better-delivered customer experience.
Start building a foundation for exceptional employee experience with Delighted eNPS surveys.
What are you waiting for? Start acting on employee feedback today.