Can you name a brand that makes you feel special? A brand you've made repeat purchases from, you're proud to wear their logo, and when you receive a compliment, you're more than happy to share where you bought said item? If so, you've experienced customer loyalty.
And likely, if something in your customer experience with the brand has gone awry in the past, e.g., your order didn't ship when they said it would or the item that arrived did not look like the item you ordered, the brand was eager to make it right – and in turn, that earned your loyalty even more.
You can see why brands want to foster customer loyalty. All of these feel-good moments build up customer trust over time and therefore increase customer retention. In fact, onboarding a new customer is between 5x and 25x more expensive than retaining a customer you already have.
Below, we take a closer look at what customer loyalty is, why it's important, how to measure customer loyalty, plus our tips for keeping your customers loyal for longer.
---
What is customer loyalty?
Customer loyalty is the trusting relationship people have with a business after a period of positive interactions. Customers who are loyal to companies or brands are often more willing to make repeat purchases, choose the company over a competitor, and advocate for the brand.
When customers are loyal, they will also refer others to buy from you and continue to buy from you, even after a poor experience (when that experience is corrected, that is).
---
Why is customer loyalty important?
Brands and companies want to build customer loyalty for several reasons.
1. Loyal customers will keep coming back to spend more money
Repeat business is good for business. When customers are loyal, they tend to keep spending money with your business because they not only trust your product or service, but they also feel like they're getting value from the transaction.
Many times, they've developed an emotional relationship with your company (often thanks to a positive customer experience or customer loyalty program) so they're motivated to maintain that feeling.
2. Happy customers will champion your brand
Word of mouth is a powerful marketing tool. When your customers naturally talk about you to their family, friends, or their followers on social media, they're not only introducing your product or service to a new audience, but they're also endorsing it. It's a win-win for your brand advocacy efforts.
3. Keeping existing customers is easier than acquiring new ones
Brands that are trying to cut through the noise of the internet and reach new customers face a lot of obstacles. And even when you do reach potential new customers, making a sale is not guaranteed.
In other words, new customer acquisition takes a lot more work than building customer loyalty with your existing customers. The more repeat customers you have, the less time and money you have to spend trying to find new ones.
4. You can learn a lot from your customer retention rate
You can't change what you don't measure, and that certainly applies to your customer experience. If you're only looking at, for example, what a customer spends, but not monitoring other customer data points like customer satisfaction or customer retention rate, you're not getting the whole picture.
In order to improve customer experience and encourage customer loyalty, you have to ask your customers for feedback. In the next section, we'll cover how to do this, as well as what your options are.
---
How do you measure customer loyalty?
One of the best ways to keep customers returning to your brand is to measure how they feel about your products and services.
Here are six ways to get started gathering this data.
1. Net Promoter Score
Net Promoter Score (NPS) is a proven methodology for measuring customer loyalty through first-hand feedback. NPS is a popular customer experience metric because it is simple, effective, and correlated to brand loyalty and revenue growth. Net promoters are customers who feel positively about their experience (and may be loyal customers already!); detractors are those who report having a negative experience.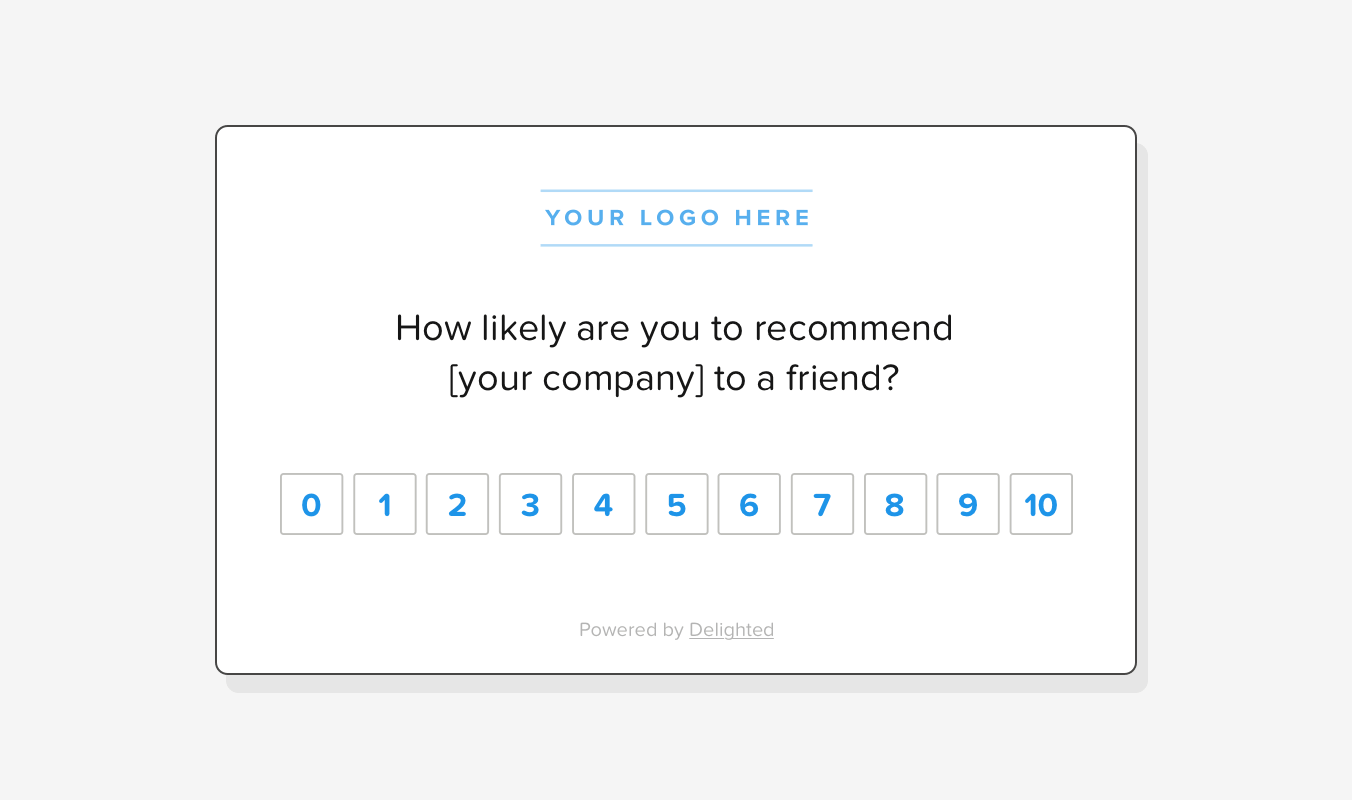 Delighted's NPS software enables you to collect, analyze, and act on customer feedback in order to improve customer loyalty.
2. Customer lifetime value
Customer lifetime value (CLV) is a calculation that measures the long-term stability and sustainability of your business model. In particular, it tells you what your average customer is worth to your business throughout the course of the relationship.
If you have a low lifetime value, your business may be failing to deliver on customer expectations – and as such, losing loyal customers.
But if you've got a high figure, it tells you that your customers love to shop with you and that they're satisfied with the service you offer. Most importantly, a high lifetime value shows a degree of brand loyalty.
Knowing the difference can help you decide what you need to continue doing – or do differently – to keep your customers happy and loyal.
3. Customer retention rate
Customer retention is the ability to keep your customers coming back over a period of time. Retaining a customer's business indicates that your product, service, or brand is satisfying enough for them to stay with you rather than switch over to a competitor.
Indeed, customers who stick around tend to be happy, which makes them walking billboards for referrals. But loyal customers are more than good word-of-mouth advertising; their loyalty adds up to more revenue, too. According to Fundera, 43% of customers spend more on brands that they are loyal to.
By calculating and monitoring your customer retention rate, you can better understand customer sentiment and what they like/dislike, and then refine your approach to better meet their needs.
4. Customer churn rate
Customer churn, also called customer attrition, occurs when a consumer chooses to stop utilizing your product or service. Ultimately, for one reason or another, they've decided that they no longer want to be your customer.
Customer churn rate is the primary metric used for measuring customer churn and is expressed as a percentage. You can use this churn calculation to scope your rate over time, i.e., measuring your progress on a month-over-month or quarterly basis.
And when it comes to customer loyalty, measuring your churn rate over time will expose a lot about the relationship you have with your customers. Is it them, not you? Is it you, not them?
Of course, there are bottom-line impacts, too. Fundera found that the overall profitability of a business can increase by 25 to 125% when its churn rate is reduced by 5%.
Measuring your company's churn rate progression will help you improve overall customer satisfaction and reduce churn.
5. Referrals
As noted above, word of mouth is a highly effective customer acquisition tool. And new customers are more likely to trust your brand if they know someone who already trusts your brand.
That's where referrals come in: Loyal customers are more likely to refer their friends and family to brands they love.
Have referrals coming in? That's your cue to track who's referring (and who's buying) so you can not only reward those customers' loyalty, but keep those easy-to-convert leads coming.

In fact, an easy way to automate this process is by creating your own referral program. Or, by using tools like the Delighted + Friendbuy integration to track and automatically provide referral links to customers who respond favorably to a feedback survey.
6. Customer Effort Score surveys
Customer Effort Score (CES) surveys help you measure – and reduce – the amount of effort your customers need to interact with your website or make a purchase. Reduced customer effort is a key driver of customer satisfaction and loyalty, and is also tied to improvements in time-to-resolution for customer service tickets.
Delighted's CES survey software allows you to measure customer effort, calculate CES scores, and take action to improve. The detailed data you gather can be used to not only track feedback progress over time, but present critical loyalty findings to your teams through numerous reporting options.
---
How to keep customers loyal
Now that we've covered how to measure customer loyalty, let's turn our sights to how to keep customers loyal, for longer.
1. Show your long-term customers what they mean to you
Customer loyalty programs are one way to show your gratitude to long-term customers, but they're not the only way. You can keep it simple by acknowledging who your loyal customers are and what they mean to you.
Our advice? Show your appreciation in ways that are reflective of your brand. Whether it's through customer storytelling on your social channels, contests, and giveaways, handwritten thank-you notes, or swag, choose how to say thank you in a way (or ways) that feels meaningful to you – and your customers.
FIGS, a direct-to-consumer medical apparel company, understands the importance of showing customer appreciation and provided us with a successful example of how they do it:
"One program we're really excited about is our FIGS Love/Surprise and Delight program that we launched in Q1 of this year. We take the special conversations we have over the phone, email, text messages, chat, etc and find unique ways to follow up with a gift.

For example, if a customer lets us know (or we happen to find out) that they've started a new practice, we'll send them a bottle of champagne or cider as a surprise. The FIGS Love program is an opportunity for us to thank them for all that they do, for all humans."

– Michael Bair, VP of Customer Experience at FIGS
2. Create a customer journey map
From the moment customers become aware of your business to the time they leave, they are on a journey with your company. A customer journey map helps you understand each micro-experience throughout the customer's lifetime.
When you're able to recognize (and measure) these customer touchpoints, it enables you to provide the right service at each stage. As a result, you're better equipped to turn your business into a customer-centric brand and influence lasting customer loyalty.
3. Measure customer loyalty to support more positive experiences
As we covered in the ways to measure customer loyalty section above, you need to gather data about how your customers feel about your brand in order to keep (or start) giving them a reason to be loyal.
Once you've collected customer feedback, you can get started taking action to create even more positive customer experiences – and inspire customer loyalty for many years to come.
Start gathering feedback and understanding your customers with Delighted's experience management software.