We're teaming up with Square, a payment processing solution trusted by millions of businesses worldwide, to automate customer feedback surveys.
With this free integration, collecting feedback will be as easy as taking payments.
How it works: Once a customer pays through a Square payment processing system, whether online or in-person, credit card or Apple pay, Delighted will send that customer an embedded email survey after a custom time delay.

The Square integration takes care of a couple of components that often hinder the success of customer feedback programs:
Custom survey timing for more useful feedback
Pre-built reporting for action-oriented analysis
Let's dive in.
Setting custom survey timing with the Delighted | Square integration
We can't stress enough how much survey timing matters to getting customers to respond. Send your survey too early, and your customers won't have anything to say. Ask too late, and you've missed the moment.
The Square integration solves this problem by letting you customize when the survey is delivered after a payment has been processed.
Set up a completely custom delay time, or select from default timing options: instantly, in a day, in 1 week, in 2 weeks, or in a month.
When to delay survey delivery
When there's lead time to your customer realizing value from your product or service, you'll want to delay the survey send.
Ecommerce store
Set a delay that takes into account delivery time. For most of our retailers, a delay of a week or two does the job. You can also try various time frames to figure out what works best for you.
Professional services: Health and fitness
Set a delay that allows enough time for members to realize value from their subscription – a couple of weeks, or even a month. That way they have time to experience all the services you have to offer, whether they're online or in-person.
When to send surveys immediately
In a service that provides instant gratification? Ask for feedback while the experience is still fresh. If you want to have a bit of buffer time, delay by just a day.
Retail, Restaurants, Beauty, Home & Repair Services
Send a post-transaction survey immediately for insights into your in-person experience. Customize your survey with Additional Questions to ask specifically about quality of service, COVID precautions, and more.
Remember: Your survey timing isn't set in stone. If you find you're not getting enough responses, or that the feedback isn't as informative as you had hoped, try switching it up.
Keep context with the customer feedback record
The Square integration syncs key business data, such as the store location and customer ID, to the survey feedback. For a full list of the meta-data the integration can pull in, check out our Square Help Center guide.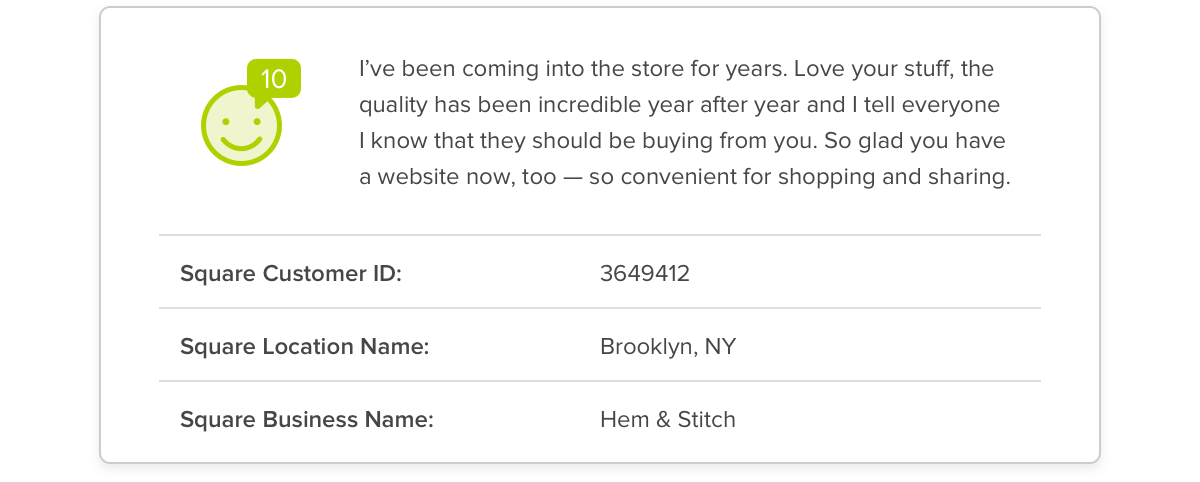 The synced business meta-data (what we call Properties) becomes your framework for feedback analysis. Hone in on the customer experience at specific store locations in your Delighted dashboard, and set up email digests for location managers so they can act on the feedback collected.
Automate your customer experience program with Square and Delighted
Delighted is a complete customer experience platform. In addition to survey customization and spreadsheet-free reporting, we also help businesses:
Already have a Delighted account? Set up the integration.
New to Delighted? Sign up to start collecting customer feedback with surveys today.