As of 1/1/2022, SMS is no longer a Delighted distribution channel. For any questions, please contact us and we're happy to help you explore other sending channels, or SMS options with our parent company, Qualtrics.
We started Delighted to help businesses deliver great experiences based on feedback. Customers want to share their experiences with businesses, and in turn, businesses want to use customer feedback to improve. Before we started Delighted we noticed a problem; the feedback experience was often frustrating – poorly timed surveys that were far too long, contained irrelevant questions and were hard to use on mobile devices. We wanted to fix this, so we set out to create the best possible experience for providing feedback.
We focused on email first. Businesses like Uber, Bonobos, Blue Bottle Coffee, Slack, Cisco, HotelTonight and countless others use Delighted, delivered via email, to gather actionable feedback from their customers.
But an email survey is just one of many ways businesses and their customers connect and communicate. And we want to ensure that sharing feedback can happen anywhere and anytime.
That's why today we are launching Web and SMS – allowing you to gather feedback directly on your website and from customers instantly via text message. Now, you can gather feedback across the three major platforms of email, web, and SMS all within a single, unified, easy to use product.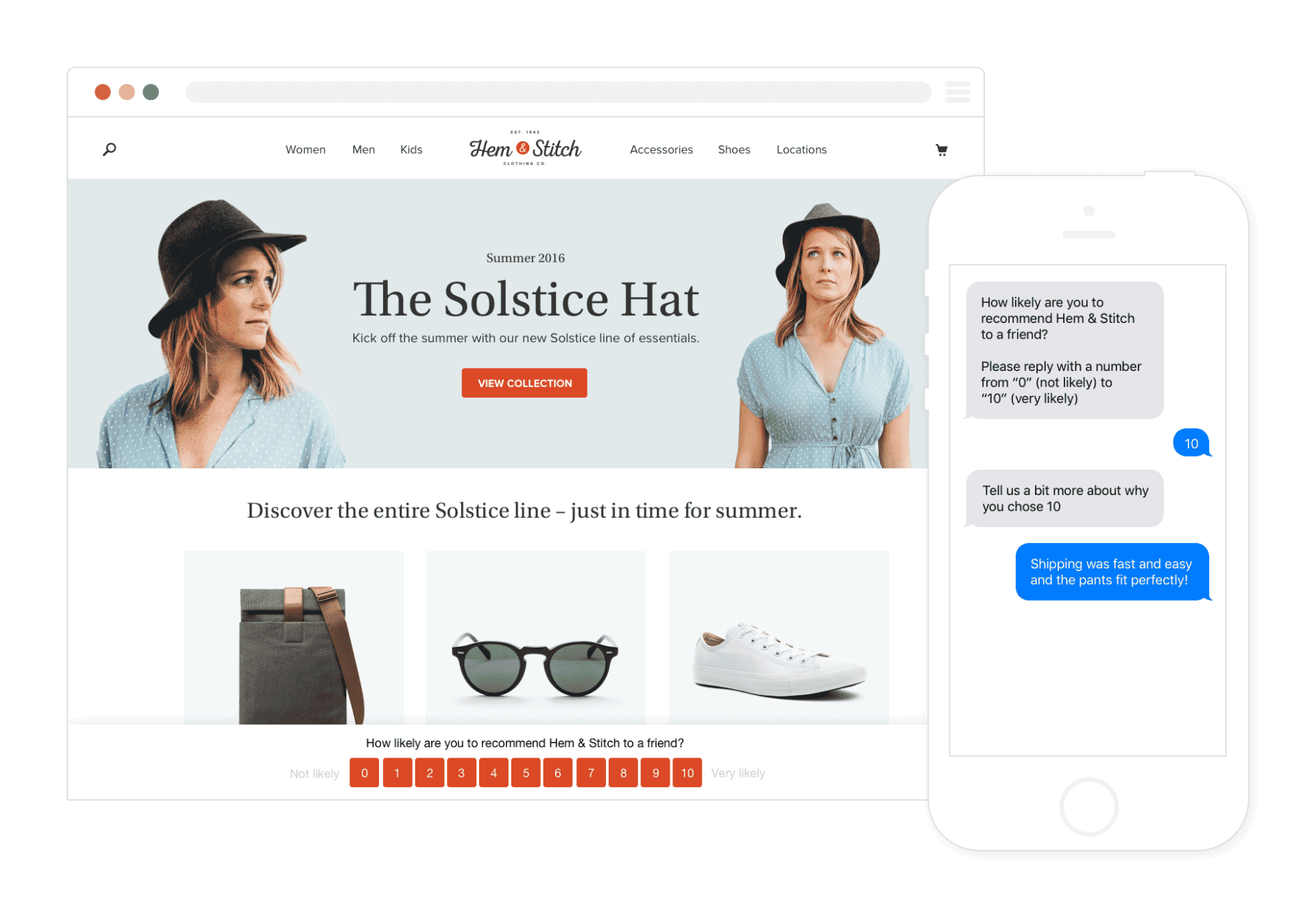 Let's dig in to each new experience:
Delighted Web makes it simple and easy to gather feedback directly on your website or in your web application. You can gather feedback from visitors even if you don't know their email address, opening up a whole new group of customers and potential customers who can now share feedback about their experience. With Delighted Web setup is easy, with a simple JS snippet you add to your page, and you'll be collecting feedback immediately. Plus you can rest assured that folks won't be over surveyed with our Adaptive Sampling and Throttling features. Whether you're a B2B SaaS company that wants to gather feedback from everyone inside your product, or an ecommerce site that wants to gather feedback at the end of the buying process Delighted Web can help.
Delighted SMS is the instant way to gather feedback. If you already communicate with customers via SMS it's the perfect fit. Plus it works across all mobile devices – from flip phones to smart phones. It's tailor built for SMS with a conversational experience so customers simply reply with their score and then share their feedback; emojis and all. And we've created Smart Scheduling so you won't be accidentally annoying customers at 2am by buzzing their phone with a request for feedback (we automatically schedule the texts to send during the day).
Delighted Web and SMS are available right now, all you need to do is sign up or sign in to your account and click "Survey people". Pricing is simple, and we offer plans for either a single or all three platforms and usage is based on how many people you survey each month, just as it has been with Email.
We're excited to launch these new experiences for gathering feedback and can't wait to hear how you're using our experience management software. Sign up for free today!