Adjusting to a new normal is never easy. Especially when you, an education leader, are making decisions to craft a unique education experience in light of COVID-19. How do you prepare while also addressing questions and concerns surrounding the new year?
In this guide, we'll break down easy-to-use survey types and suggest questions to include in your return-to-school pulse surveys to help prioritize feedback for a safe and comfortable start of the semester.
Crafting your return-to-school survey
In accordance with local and state health officials and the Center for Disease Control (CDC), schools across the country are determining whether they will develop an all-virtual, in-person, or blended learning model for the upcoming school year.
With any adjustments to a student's schooling where health, safety, and maintaining educational excellence are top priorities, questions and concerns are expected. As a school administrator, using pulse surveys to collect feedback and assess the data is one of the first steps to helping guide decisions for a learning experience that is safe and suitable for all.
Customizable survey templates for return-to-school feedback
Before building out your survey, ask yourself this question: "What am I trying to capture?" For evaluating sentiment and comfort level on upcoming policy changes, consider using the following survey types:
Customer Satisfaction Score (CSAT) surveys: A CSAT survey can be used for a variety of scenarios. Use a five-point satisfaction survey to gain insight into how satisfied your school audience is about the school's preparedness during COVID-19. 
Smileys/5-Star: Similar to the CSAT, smiley face and 5-star surveys measure emotion, feeling, or opinion on a subject. Visually intuitive and fun, use Smileys or 5-star questions to check in on your students and gauge how they feel about your school's upcoming plans for the new year.
Thumbs Up/Down: Simplicity is key. Get easy-to-understand feedback immediately with Yes or No questions. Ask parents if they have the resources they need to stay informed and connected with their student's teacher for any urgent needs.
Parent and student survey questions
Surveys have been used across the nation to assess COVID-19-related sentiment in the education industry. In fact, Carissa Public Strategy conducted a national poll of parents with children in grades K-12 in early June of 2020 that found these common return-to-school concerns:
Student safety
Student engagement in studies/falling behind academically
Engagement in extracurricular activities
Proper at-home resources
Increased access to the child's teacher
Creating surveys with the right survey questions is a simple and effective way to start bridging the gaps between student/parent worries and your solutions to help alleviate them.
Start by asking for student and parent feedback on your communication and student resources:
[5-Star]: How would you rate our communication during COVID-19?
[CSAT]: How satisfied are you with the online courses conducted via Zoom?
[Thumbs]: Did our recent email communication help in answering your questions?
[Thumbs]: Do you have the at-home resources that you need for any virtual classes?
Use Additional Questions to dive deep into their reasoning and follow up on their rating:
[AQ]: Is there anything we can do to make our communication more effective?
[AQ]: What other resources can we provide to make your student's experience more successful?
[AQ]: Please provide feedback on our return-to-school readiness plan.
Close the loop with students and parents to let them know that you acknowledge their sentiment and use your newfound quantitative and qualitative data to play a role in schoolwide decision making. 
Teacher and staff survey questions
In a recent article posted by CNN, one New Jersey teacher reported collecting up to 400 unanswered teacher-asked questions from her colleagues regarding the upcoming school year.
Supporting numerous questions from faculty and staff can be daunting. Surveys make it easy to collect, organize, and respond to feedback that can make a lasting impact on comfort levels for those approaching a new teaching experience and curriculum.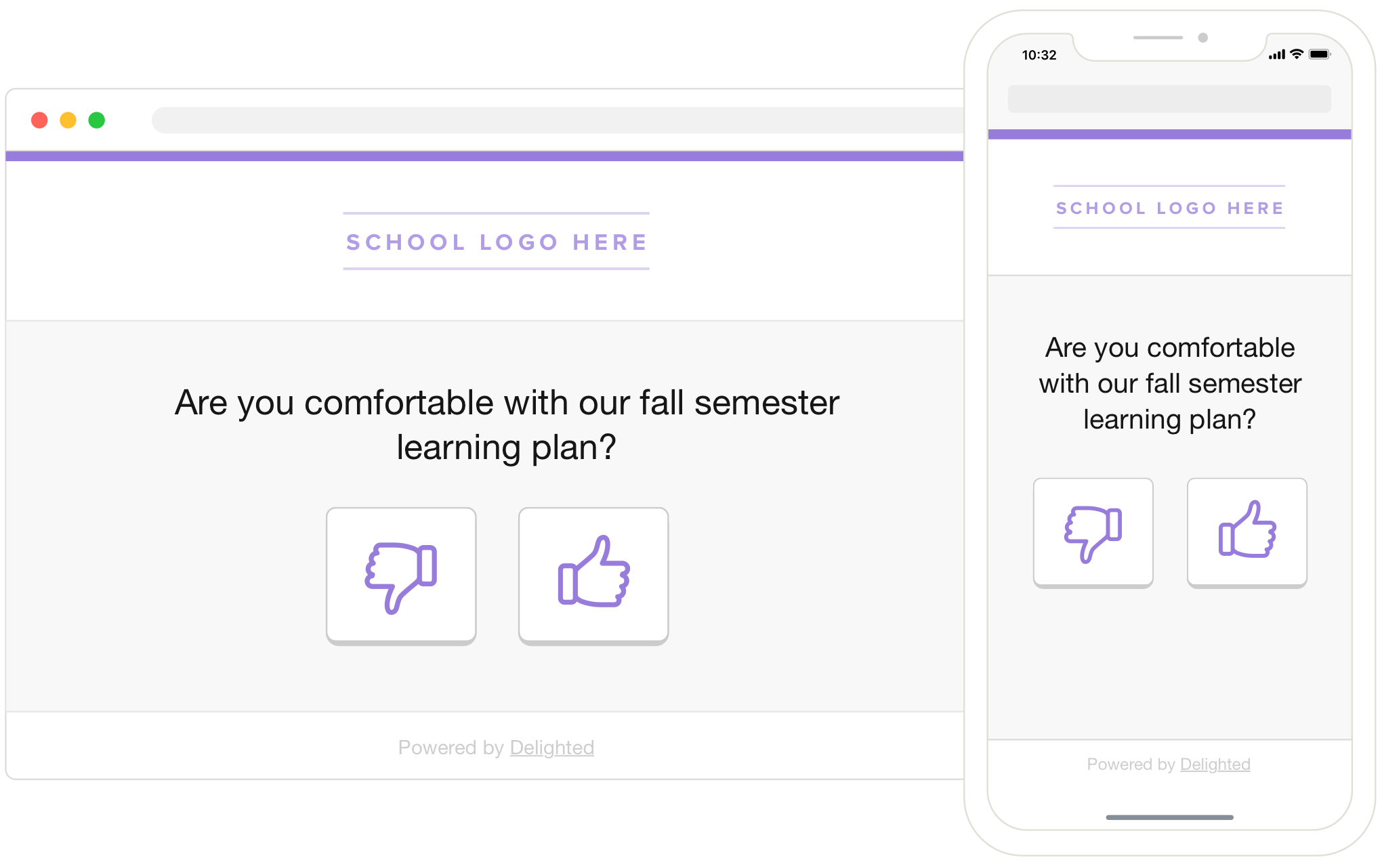 Consider using surveys to measure your school community's training and preparation plans:
[CSAT]: How satisfied are you with our Fall Readiness Webinar?
[Smileys]: How happy are you with our new COVID-19 safety training video?
[Thumbs]: Do you have the virtual teaching resources you need to be successful?
[Thumbs]: Do you feel comfortable with our fall semester learning plan?
Designing your survey with Additional Questions will allow your staff to provide the insight you need to enrich their teaching and the student development experience overall.
[AQ]: Was there anything we missed during the webinar that you would have liked addressed?
[AQ]: What can we do to provide more clarity on the upcoming teacher-student adjusted curriculum?
[AQ]: What types of additional training do you need to feel more prepared and comfortable?
Once you've decided on your survey type and questions, use the last step of the survey layout process to thank your school community for their time and feedback. Customize your Thank you page to not only tell the recipient that you've received their response but use this page to share links to the latest school guidelines, additional health guidance, and any next steps.
Lastly, show your audience that you value their privacy by sending the survey via URL link for full anonymity and monitor response trends to track student engagement and process improvement over time.
During these uncertain times, it's crucial to reassure your community that they are heard and supported. Feedback surveys can help with just that. Keep a pulse on your students, parents, faculty, and staff during any part of this transition with Delighted's return-to-school survey solution.