Great companies continually strive to deliver more perfect customer experiences. This starts by better understanding the experience of each individual customer. Gaining the insight you need to deeply understand your customers and appropriately take action comes down to the questions you ask and how you ask them.
Delighted's mission is to empower companies to achieve these goals. With Delighted, you can easily create and deliver NPS, CES, CSAT, and 5-star surveys. Each survey asks one question, allow responders to provide a rating answer and elaborate on their answer with a written verbatim comment.
We continually optimize the creation and delivery of these surveys so you can provide the absolute best survey experience for your customers. This results in more survey responses, but it is also important to us to help companies gain more insight on those survey responses so they can more deeply understand their customers and improve customer experiences.
This is why today we are launching a new feature called Additional Questions – allowing you to add specific follow-up questions to customer experience surveys based on the initial survey rating response.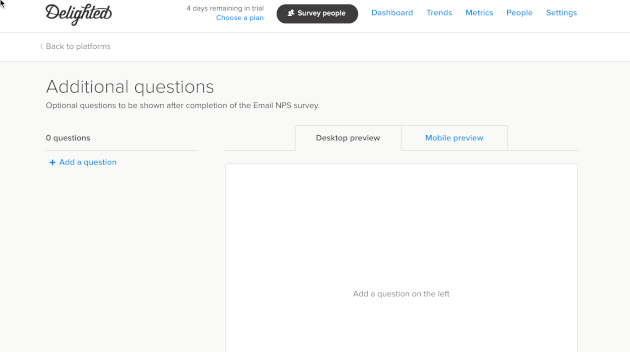 Here's how Additional Questions works:
By adding contextual follow-up questions, your customers can expand on their earlier survey rating and provide crucial feedback to help you decide on how to positively impact their experience moving forward.
With Additional Questions, you can ask up to 10 fully customizable questions after your default survey question and comment page.
The 4 question types include:
Free response
Scale
Select one option
Select many options
The questions asked can be contextual to the survey rating response using conditional logic. When creating a new question, simply select "Who should see this question?". The targeting options are based on the survey rating types (e.g., for NPS that would be Promoters, Passives, and Detractors).
For example, after a negative survey response, you can ask a multiple-choice question that provides a pre-defined list of potential issues the customer encountered to help them provide context (and help your team identify high priority areas to improve).
For a positive response, you may want to follow up with a more direct question and allow a free response answer so the customer can provide detail on their positive experience with your company. This is a great way to source customer testimonials and opportunities to strengthen the customer relationship further.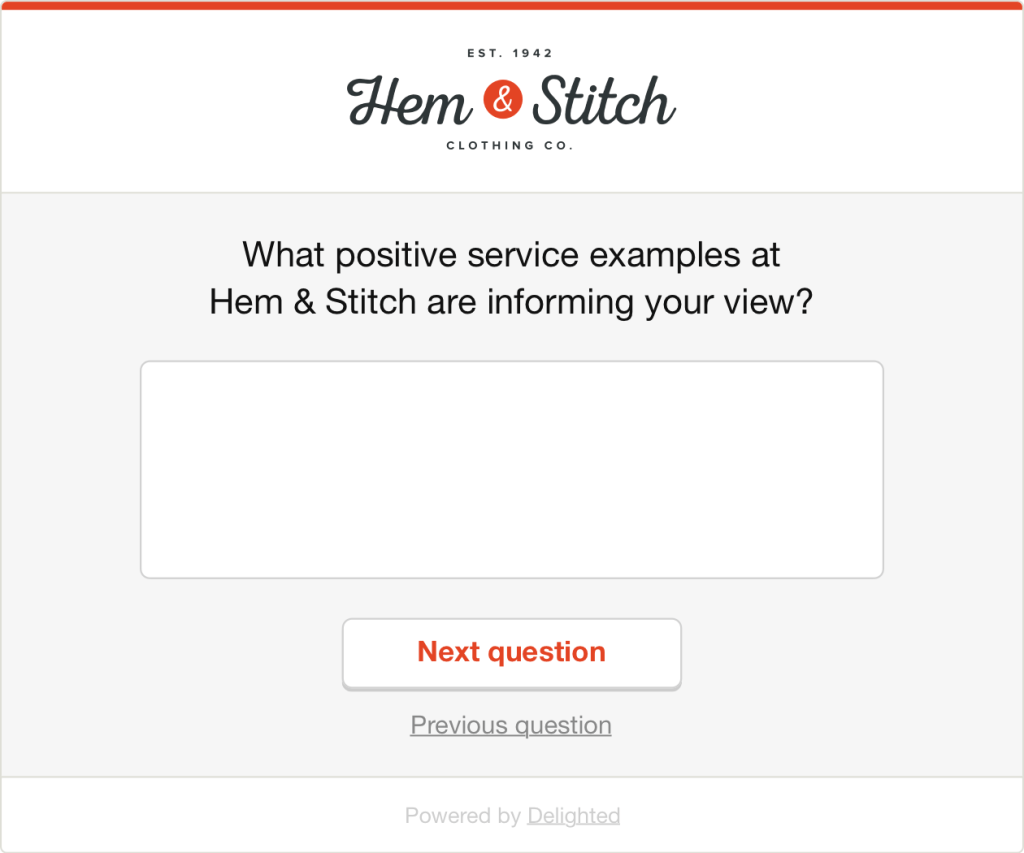 The added flexibility Additional Questions provides enables you to create fully custom customer experience surveys to meet your needs and deliver deep insight on your customer's experiences.
Setting up Additional Questions and creating powerful custom surveys is just as easy as the rest of Delighted. And unlike other general purpose survey tools, customer experience best practices are built in to help ensure you still have a great survey response rate. No new expertise or skill set is required to build and scale a powerful customer experience program using Additional Questions.
You can learn more about setting up Additional Questions in our help center.
Currently, Additional Questions is available in surveys delivered through Delighted's Email and Link platform. Support for Web and SMS delivery is on our roadmap.
Additional Questions is now available in price plans at $249/month or higher ($224/month with an annual commitment). Learn more about plans here.