Testimonials have been used in marketing campaigns for decades. Rather than only using celebrities to create these testimonials, companies have learned that real faces and real people can also create a strong sense of trust with newcomers to their brand. Customer testimonials are so powerful that they can motivate even the most hesitant shoppers to buy.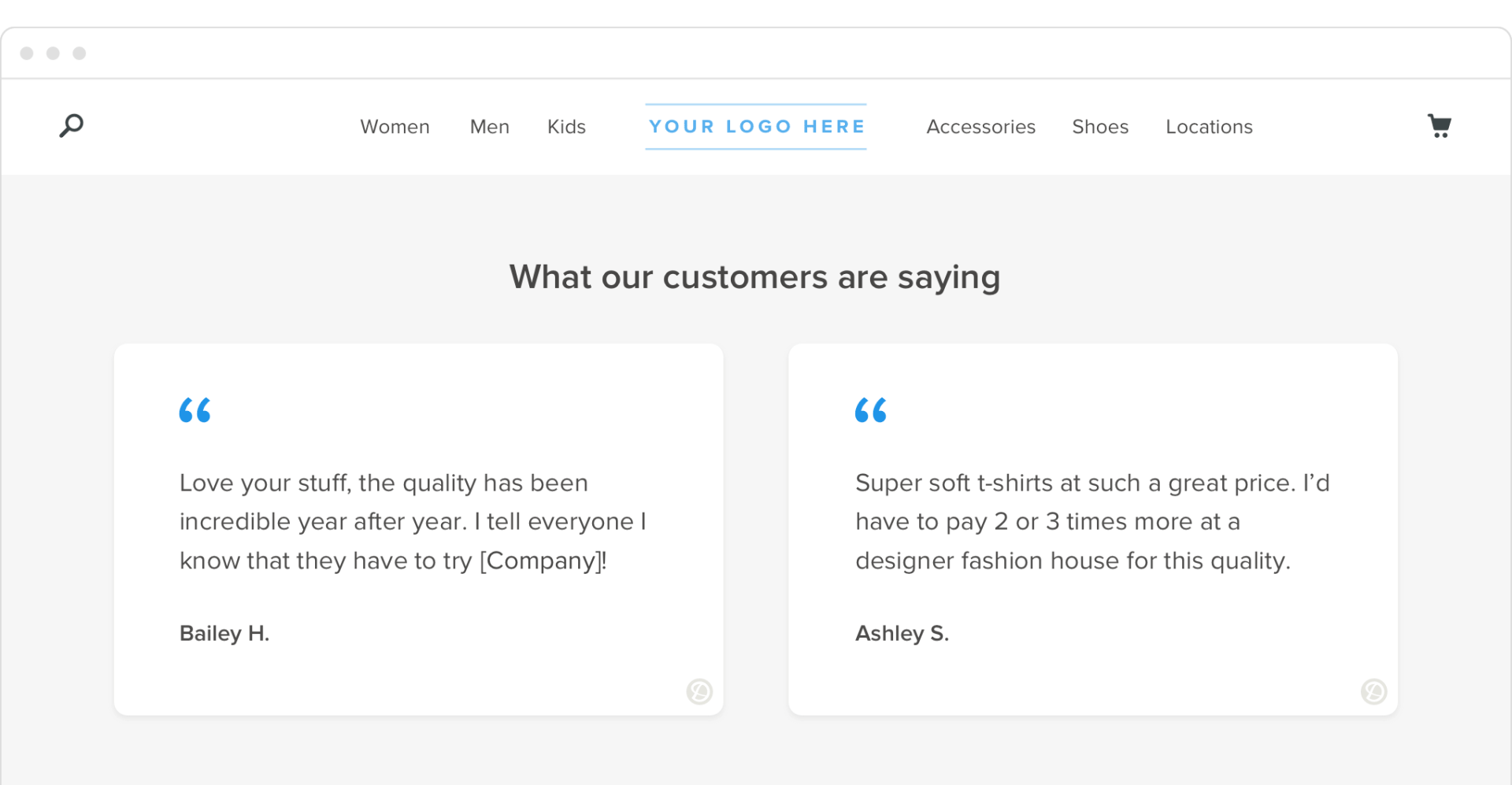 Strategically placing customer testimonials on your website and throughout your marketing campaigns can help you get more qualified leads, boost sales overall, and ultimately help increase revenue.
In this post, we'll cover:
---
What are customer testimonials?
Customer testimonials are reviews that businesses use to provide social proof that a business has delivered on the promises of their products and services. These testimonials are powerful because they provide past customers with an opportunity to speak of their experience and explain how a business has met or exceeded their expectations. This feedback serves as evidence to help convince new customers that your brand is worth their while.
The main difference between a customer testimonial and a typical customer review is that customer testimonials are requested by you or another member of your team. Unlike reviews that live on sites like Yelp, G2Crowd, or Google My Business, your company has 100% control of where the testimonial is housed and who will see it.
---
Why are customer testimonials effective?
A customer testimonial plays on human psychology. When you see people waiting in line outside a restaurant or shop, you can't help but wonder what the hype is all about. You may even join the line right on the spot. Customer testimonials work in a similar fashion — when someone who is on the fence sees others enjoying a product or service, they'll be more likely to give it a try as well.
Reading about others' experiences and seeing that there are real results is great positive social proof. Once they see the company's promises are actually delivered via customer testimonials, prospective customers will be more likely to convert.
Rather than simply stating data and statistics, folks browsing your website can read about real experiences that back up your claims. In fact, a recent brand trust survey found "41% of consumers saying they don't trust brands' marketing communications to be accurate and truthful." However, with testimonials to help you build credibility, customers will have all the social proof they need to trust you.
Customer reviews and testimonials can also significantly improve conversions and revenue. A 2018 study performed by BrightLocal showed that "86% of consumers of all ages read reviews for local businesses" and "91% of 18 to 34 year-olds will trust an online review just as much as they would trust a personal recommendation from a friend, family member, or coworker."
That means that if you have 100,000 unique visitors landing on your website monthly, 91,000 of those unique visitors will treat the customer feedback on your site as if they heard it from someone in their close personal circle. If even just 1% of those 91,000 visitors are convinced by current customer testimonials, you'll have 910 people who go from prospect to a qualified lead or a sale.
---
What are some examples of testimonial marketing?
Customer recommendations and reviews can be turned into numerous formats for customer testimonials.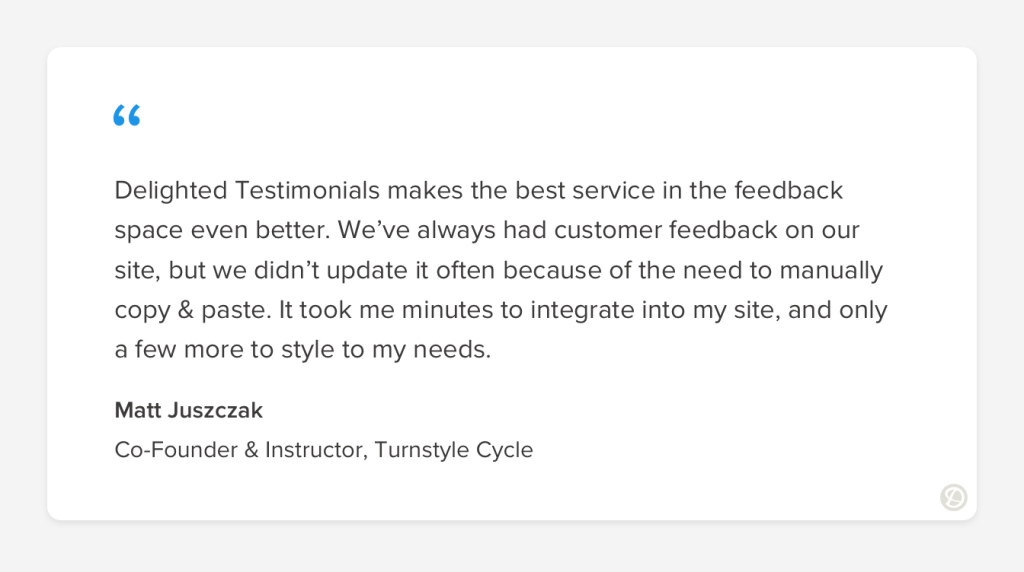 Here are four different formats you can use to get started:
Client quote testimonials: Quote testimonials are easy to acquire whether you are new to your market or a well-established brand. To grab attention, combine these quotes with a photo of the customer or brand logo and a call-to-action (CTA) when possible.
Social media testimonials: Ask customers to leave feedback on your social platforms after providing a product or service. They can tag you, use a unique hashtag, or leave it directly on your page. Embed that social feed of user generated content on your website, so newcomers can get all the social proof they need.
Customer reviews and ratings: In addition to being displayed on your own website, customer reviews can also appear on marketplace (Amazon) or reviews sites (Yelp, Capterra). When possible, you can try to display "badges" from these sites with an aggregate rating or score, to show that you are a trusted vendor.
Influencer testimonials: Think of influencers as the celebrities of your industry. An influencer is trusted by your market, so getting an on-the-record endorsement of your company's offering would be substantial social proof. If you aren't currently connected to any influencers, here's a handy guide on influencer marketing.
Along with the examples above, written or video case studies are another way to capture social proof and relay it to your market. These formats are more in depth and take a bit longer to launch. However, the investment is worthwhile, since they can be used in future marketing campaigns and be placed strategically throughout your website.
Quick tip: Remember to update your testimonials once in a while to maintain credibility. In fact, some studies have found that "73% of consumers think reviews older than three months are no longer relevant."
At the very least, it's always a good idea to remove testimonials about products or services that are no longer available.
---
How do you request high-quality, effective customer testimonials?
Now that you understand how powerful social proof can be and the various types of customer testimonials you can use, it's time to go over how to get effective customer testimonials that speak to your brand's strongest selling points.
Here are some of the most effective testimonial questions to ask:
What is the one reason you would recommend our product or service to a friend, family member, or coworker?
What problem(s) were you experiencing prior to your order that you hoped our product or service would solve?
How did your search for a solution begin?
Among all other options, why did our product or service stand out?
What particular feature made you want to buy our product or service?
What particular action from anyone on our team exceeded your expectations?
Is there anything we could have done to better serve your needs?
Customizable Net Promoter Score (NPS) surveys and Customer Satisfaction Score (CSAT) surveys are a great way to capture this feedback. These surveys open with a generic "How likely are you to recommend [product/service]" or "How satisfied were you with [product/service]" question to capture a rating score, and then invite customers to elaborate on their reasons. You can also add any of the questions listed above for more detail.
It's important to remember that any customer endorsement must have certain elements to maintain credibility. Be sure to ask for approval to reference all or some of the following elements:
Customer name
Title & business (if applicable)
Location
Product or service purchased
Customer picture
Brand logo (if applicable)
---
What's the best time to ask for a testimonial?
Requesting a customer testimonial at the right time is imperative for getting a testimonial that is relevant and allows the customer to provide all the details you hope to see. Asking too early may not allow the customer ample time to enjoy their product and fully answer the questions asked. Requesting the testimonial too late may result in the customer forgetting pertinent details about the service they received.
The timing to request a customer testimonial largely depends on your industry.
Retail and ecommerce
Allow a couple days to pass after the product has been delivered to ensure your customers have had time to use it. For larger consumer goods like mattresses or exercise equipment, you'll likely want to wait a few weeks to ask for a testimonial.
B2B and SaaS
You'll probably want to ask for a testimonial after on-boarding is complete so you have social proof on your brand experience from purchase through set-up. After that, consider asking for a testimonial once you know that customer has seen value from your product to show proof of return on investment (ROI).
The channel you use to ask for the testimonial also matters. Whether you're requesting testimonials via SMS text, chat, email, or in-app, be sure to use a channel that your customers are comfortable with.
If you're using customer feedback surveys to drive your testimonial marketing efforts, follow proven survey distribution best practices to ensure you have the best chance of getting a quality response.
---
Where can you put customer testimonials on your website?
Once the customer feedback testimonials have been collected, placing them on your website is the next step. It's important to remember that the customer testimonial must align with the message of the page you are placing it on. If the customer testimonial is talking about a specific product, it shouldn't end up on your services page.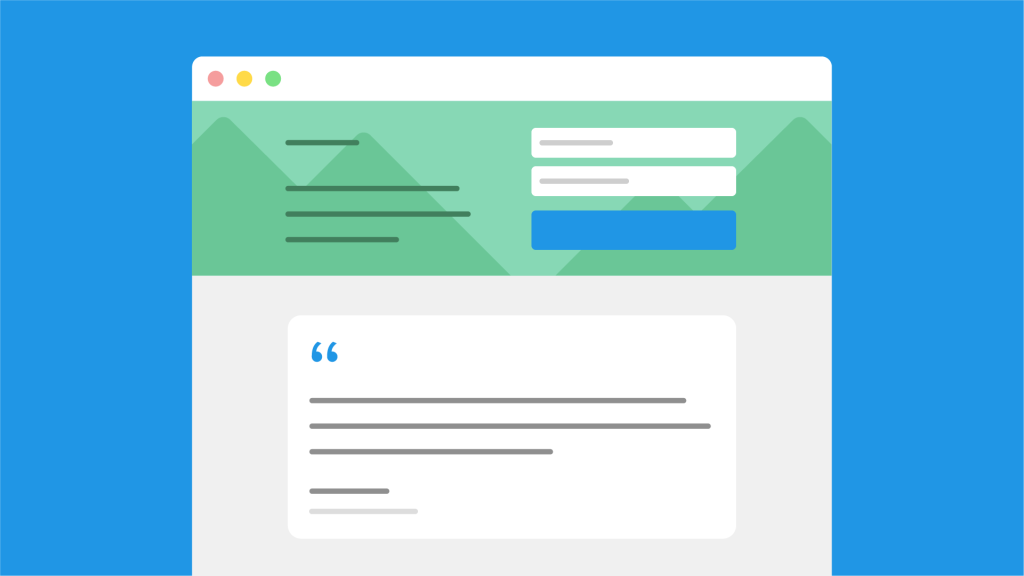 However, if the customer testimonial is about stellar customer service, it could go anywhere on your website. Make sure you are adding a variety of testimonials throughout your website so new visitors have plenty of social proof.
Here is a list of places where customer testimonials can go on your website:
Homepage: Establish credibility the moment someone lands on your website. Let customers know that you have, can, and will provide exceptional products and services.
Product pages: Shoppers want to be confident that a product works as advertised before making the purchase. Give them that confidence via testimonials from satisfied customers.
Service pages: Services take time out of a person's day. Show potential customers that your services deliver on your promises and do not waste their time.
Customer service page: When a problem arises, customers want a solution — and they want it immediately. Customers need to know, if in the unfortunate event something goes wrong, that their concerns will be heard and a solution will be provided as quickly as possible.
Dedicated testimonial page: Gather all of your testimonials on one page for an undeniable treasure trove of social proof. If possible, try to include different testimonial formats. Provide a healthy mix of quotes, in-depth reviews, influencer testimonials, videos, and social media content.
Blog posts: While learning more information about your industry, business, products, or services, your prospects may be wondering how or why you're an authority figure. All they need is a customer testimonial to show them you deliver on your promises. You can even link back to your dedicated testimonial page to display more social proof.
Next to a call-to-action: Nurture prospects to convert. If they are on the edge of clicking the CTA, you can give them the slight nudge they need to learn more or make a purchase with a testimonial.
Along with your website, be sure to use customer endorsements throughout your marketing campaigns. These testimonials can help convert prospects through your paid ads, email blasts, social media, and other places online.
---
Delighted is the easiest way to get customer testimonials
Customer testimonials are one of the most powerful tools you can have at your disposal. With Delighted Testimonials, you can easily gain feedback from your customers to turn into a website testimonial. The testimonial widget pulls in fresh testimonials as they're approved, so you don't need to worry about manually updating them.
We use proven methodologies to distribute your surveys at the correct time, so you can get the best possible customer feedback to use as a testimonial. Sign up for your free trial today!