Creating a great customer experience (CX) is important—but where do you start?
At their core, customer experience programs uncover how customers interact with your brand, product, or service. The best CX programs ask the right questions in the right way at the right time to the right audience.
Luckily, there are several tried and true methods of collecting and analyzing customer data. In this post, we'll walk you through 7 customer survey types that can be leveraged to contextualize your customer feedback and dramatically improve your CX program.
---
Launching a customer experience program
So, let's start with the basics. A customer experience program refers to the processes and methods relating to understanding a customer's interactions with a given product or service.
According to a recent Ecoconsultancy and Adobe survey, the 3 areas of focus for organizations when it comes to their customers are: (1) making their experience as valuable as possible, (2) making their experience personalized, and (3) making their experience easy to understand.
This being said, most organizations aren't sure how to get from where they are to a personalized, easy CX program. The success of a CX program often depends on a company's ability to effectively capture customer data, so choosing your method of capture is the first and most important step. Customer data could come from interactions with the product (user metrics) or conversations with employees, such as salespeople and customer support staff (anecdotal evidence).
Some of the most important CX data comes from surveys.
Surveys can take the form of market research surveys, where surveyors are looking to better understand a buyer's persona and characteristics. Customer surveys, by contrast, are used by companies to ask targeted questions to existing customers.
A well-crafted survey can provide a wealth of insights around how customers think about your market, product, or service, and enable you to better solve customer problems, reduce the risk of them leaving, and accelerate your business's growth.
---
What is a customer experience survey?
A customer experience survey is a questionnaire used to explore how customers feel about a brand, service, or product. The results of the survey will inform how well a business is performing and shed light on what part of the CX lifecycle needs to be improved.
---
Customer experience survey types
There are a variety of customer experience surveys that can be employed to collect customer feedback. Each survey type provides a different customer insight and should be used at a specific point in the customer experience lifecycle, so choose wisely!
In this post, we will help you understand and effectively use the following surveys:
---
Net Promoter Score (NPS) surveys
What is NPS?
Net Promoter Score (NPS) is a method for understanding customer satisfaction and loyalty. Created in 2003 by Fred Reichheld, a partner at Bain & Company, the NPS system has been widely-adopted across all industries.
The score is a derived from asking customers a single question: How likely are you to recommend this product or service to a friend or colleague?
This initial question is followed by an optional freeform follow-up question, so your customers can explain why they chose that rating.
In a nutshell, NPS is used to assess overall brand, product, or service satisfaction from a quantitative and qualitative perspective.
How is NPS calculated?
Respondents are asked to select a number between 1 and 10, with 1 being "not likely at all" to recommend and 10 being "very likely".
Those who select 1-6 are considered "Detractors", while those who select 7-8 are "Passives". Ideally, you have a large number of results coming in the 9-10 range, the "Promoters" of your product or service.
To calculate your NPS, you want to subtract the percent of Detractors away from your percent of Promoters. For example, if 60% of responses were Promoters and 15% were Detractors, your Net Promoter Score would be 45.
Note: NPS is expressed as a number, not a percentage. The lower bound for NPS is -100 (all Detractors) and the upper bound is 100 (all Promoters).
Why does it matter?
NPS provides a convenient benchmark for your product's success. Companies like Apple, Amazon, and Netflix have Net Promoter Scores in the 60-70 range.
Net Promoter Score also provides a snapshot of customers who have problems (Detractors) and who love your product (Promoters). Answers to the open-ended follow-up question explain what you need to improve to turn your Detractors into Promoters.
Because NPS is easy to report, it becomes a powerful benchmark. Executive teams can set a quarterly NPS goal and track whether that goal is met or not – a great first step in making your CX program data-driven.
How to best leverage NPS surveys?
Industry-leading organizations, from Southwest and USAA to Zappos and Amazon, utilize NPS. Moreover, NPS is a key metric for anyone looking to discover how their product or service is performing in the market.
Brick-and-mortar stores measure NPS to understand how well their store experience is working, from the store layout to the customer service. Meanwhile, fast-growing startups can use NPS surveys to better segment customers and understand how their product can be refined to drive more growth.
How to best create and deliver NPS surveys?
Net Promoter Score surveys are quick and painless surveys, both for the company and the customer. The best way to create an NPS survey is to use an NPS software solution like Delighted.
While Net Promoter Score surveys can be used anytime in the customer lifecycle, the best way to start your NPS survey program is to send it to customers who have had time to experience your product, and then follow up on a monthly to quarterly basis to assess your brand as a whole.
How to best analyze and act on the feedback?
Once Net Promoter Score data is collected, it's important to know why users selected the answers they did.
Analyzing NPS survey results includes understanding the three cohorts: Promoters, Neutrals, and Detractors. This information can be used to personalize outreach to respondents, more effectively utilize their feedback, and improve their overall experience.
Once you understand who the Detractors are, you can create specific marketing or customer support programs (like 1-on-1 calls) to help them be successful. These campaigns can reduce churn and help save existing accounts.
Companies can also turn Promoters into advocates – asking Promoters to provide testimonials or referrals. Promoters are also great candidates for upselling and cross-selling because they clearly understand your value proposition.
---
Customer Satisfaction Score (CSAT) surveys
What is CSAT?
Customer Satisfaction Score (CSAT) is a measure of a customer's contentment with a specific situation. A CSAT survey has two parts, a question and an open-ended response.
A CSAT survey asks: How satisfied were you with this product or interaction? Respondents can choose options 1 (very dissatisfied) to 5 (very satisfied).
CSAT surveys are used to understand contentment with a specific feature, interaction, or transaction.
How do you calculate CSAT?
Respondents who select 4 or 5 are considered "Satisfied Responses," and the formula for CSAT is:
CSAT = (Total Number of Satisfied Responses / Total Number of Responses) x 100
When calculating CSAT, be sure to round final results to the nearest whole number.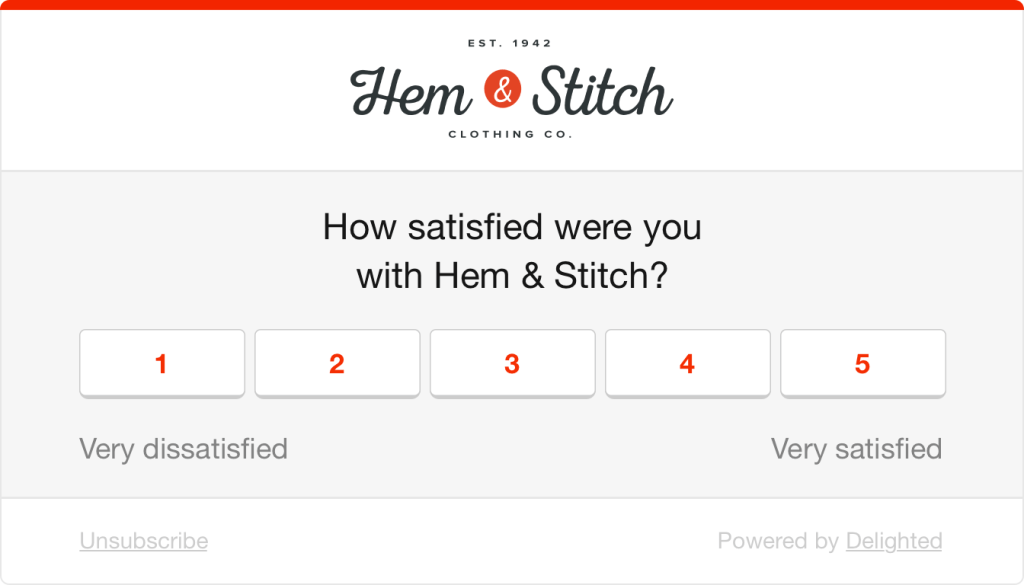 Why does it matter?
Unlike other survey types, CSAT offers granular insights into a specific customer interaction. This provides a detailed view of how a particular digital or in-person experience exceeds, meets, or misses a customer's expectation.
Customer satisfaction surveys should be utilized throughout the product lifecycle in order to dissect how different aspects of the product are performing, such as signup, onboarding, and after using core features.
How to best leverage CSAT surveys?
CSAT surveys are used by any organization looking to analyze specific customer interactions. Customer satisfaction surveys are ideal for business leaders looking to understand sentiment at a single point in time.
In other words, the value of CSAT is its ability to quickly assess how satisfied your customers are with your offering. Organizations should follow up within 24 hours of an interaction.
Common use cases for CSAT surveys include:
Right after a customer support conversation
Following a product demo with sales
After a visit to a service center or retail store
Once an introductory course or onboarding is completed
How to best create and deliver CSAT surveys?
The best way to create CSAT surveys is to use an online survey tool like Delighted's customer satisfaction survey software. This allows your team to focus on getting the survey out quickly, instead of working on writing and formatting the survey.
CSAT surveys are also a flexible survey type, being able to be delivered by email, pop-ups on websites, and in apps.
It is best practice to send the survey in the channel where your customers would normally interact with you or your product. For example, if you have an ecommerce store, you can have a link to fill out a CSAT survey after checkout or in a follow-up email.
How to analyze and act on feedback?
Customer Satisfaction surveys provide a high-level view into your interactions with customers. While looking at the summary data may be helpful, it should be a jumping off point to segment and analyze the data.
Popular segmentation methods include evaluating CSAT by department (sales vs. customer support), by region (North America vs. Europe), by use case (mobile app vs. website), and by product offering (Subscription A vs. Subscription B).
---
Customer Effort Score (CES) surveys
What is CES?
Customer Effort Score (CES) is a measure of how much effort was required for a customer to complete a specific action. CES surveys break apart the end result (which may be satisfying) with the process of getting to the result (the effort).
CES surveys are a great way to understand how seamless a particular process or flow is in your product or service.
How do you calculate CES?
Start off by sorting your responses into ranges. For example, disagree would be all responses between 1 and 2, neutral is 3, and agree would be 4 and 5. Customer Effort Score focuses on the "agree" range. To find your CES take the number of responses in the agree range (4 and 5) and then divide by the total number of respondents.
For example, let's say you have 10 customers who marked 4 or 5, with 20 total customers who completed the survey. This means that 50% of respondents fell into the agree range, giving you a CES score of 50. The higher your score, the more effortless your experience.
Why does an "effortless experience" for customers matter?
Today, customers are conditioned to expect instant gratification.
Closely tracking the amount of effort required to reach an intended result can provide key insights – with the goal of having a seamless experience that fosters user happiness and retention.
Companies looking to improve funnel metrics and conversion rates would particularly benefit from CES surveys.
How to best leverage CES surveys?
Customer Effort Score is a powerful survey for people evaluating how users reached the intended result.
There are particular sections of the customer journey, such as onboarding or checkout, that are good targets for CES. If you anticipate roadblocks, you can trigger a CES survey and see how customers faired.
How to best create and deliver CES surveys?
The best way to create a Customer Effort Score survey is using existing survey software, which has CES built-in. This method allows you to select CES survey and quickly get surveys out to respondents.
CES surveys can be delivered across a number of channels, including website, in-app, and email. Given that effort is related to a particular interaction, sending a follow-up email with a survey link is the best practice.
How to best analyze and act on the feedback?
CES is a powerful tool because of its specificity.
Companies use CES surveys to understand where their product or service is meeting customer expectations, and where things are confusing, slow, and laborious.
The results of a CES survey can be utilized to make changes to marketing, sales, pricing, customer support, and more. CES survey results also make great candidates for A/B tests (to see which variant leads to lower customer effort).
---
Visual rating (star, smiley, thumbs up/down) surveys
Visual rating or emoji surveys refer to surveys that allow customers to interact with a graphic rather than select a number or provide a written response. Visual rating surveys are intuitive, fast, and visually impactful.
There are three main visual rating survey types:
Star surveys
Smiley surveys
Thumbs up/down surveys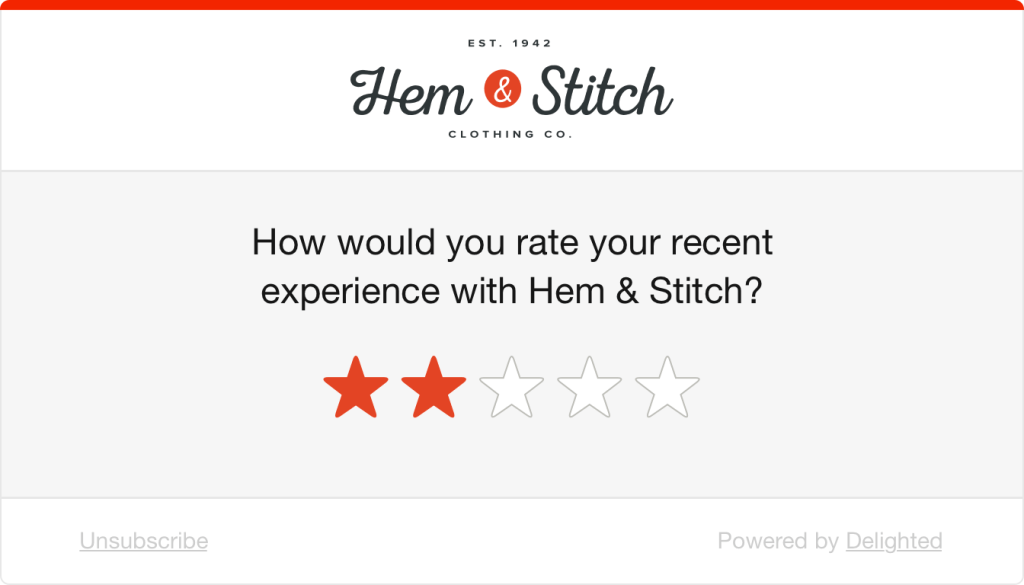 Why choose a visual rating survey?
Visual rating surveys provide a seamless way for customers to provide feedback. Instead of offering a long written survey, a 30-second survey can provide insights into how a current experience is going.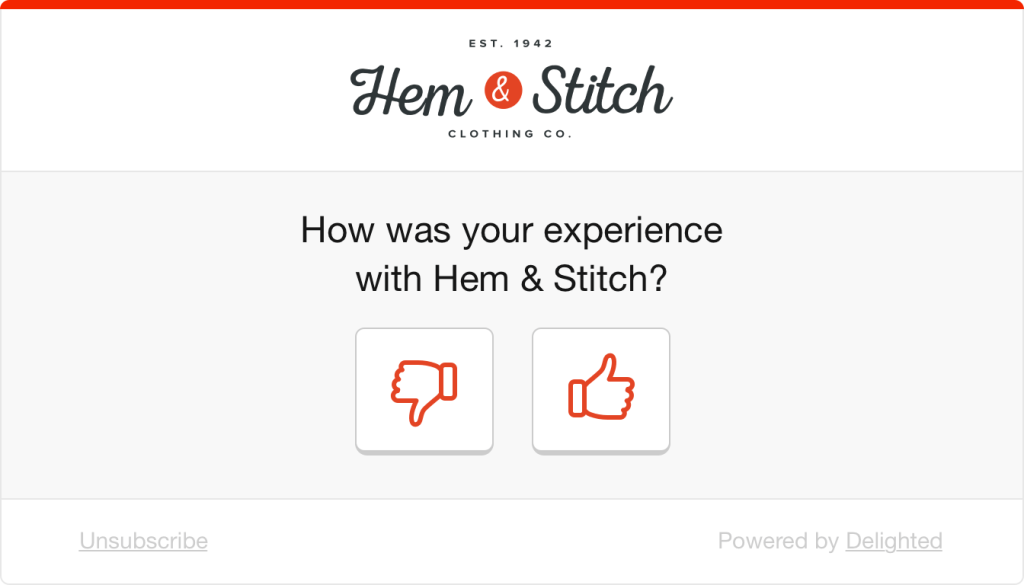 How to best leverage visual rating surveys?
Star surveys are best used after a specific service is offered, such as a hotel stay or ridesharing trip. These situations are nuanced and the 5-star method allows for a good level of customization.
Smiley surveys are best leveraged in follow-up messages to better understand customer or employee satisfaction.
Specifically, smiley faces are intuitive, as well as language agnostic and great for websites or services that have multi-lingual customers.
Thumbs up surveys capture raw customer feedback since customers only have two answer options – "thumbs up" or "thumbs down." Common use cases include:
Directly following a support conversation
In-product after a specific feature is used
To quickly gauge if customers are enjoying your new app
At the bottom of a webpage to capture its effectiveness
How to best create and deliver visual rating surveys?
Visual rating surveys are best created using a survey solution that comes out-of-the-box with support for 5-star surveys, smiley face surveys, and thumbs up surveys.
When crafting these surveys, be sure that the question you're asking makes sense with the scale. For example, in a star survey, ensure that 1 star means "poor" and 5 star means "great."
The best delivery method for a visual rating survey is the one that allows for users to answer in an organic way. If you have an online product, look into providing a quick thumbs up or down survey on the website.
If the experience was more complex (like a hotel stay, flight, or ride), then provide a follow-up survey 24 hours after the fact.
When using a smiley survey, keep the message short and focused on satisfaction. The message below is easy to read and does not lead the respondent into feeling a certain way about your brand, product, or service.
Keep a thumbs up survey specific. Ask a direct question about an experience or a recommendation provided by your service.
How to best analyze and act on the feedback?
Visual rating surveys are a quick way to gather large amounts of customer data. They also serve as a starting point to launching more detailed customer experience programs, like follow-up surveys or customer calls.
The best way to analyze these survey results is to segment users into buckets, and create a plan-of-action for each group.
---
Custom surveys with additional questions
What are the benefits of a custom survey?
A custom survey is a survey type that includes targeted questions, specific to your market, product, or service. Custom surveys uncover details about the customer experience not otherwise possible.
For instance, your team can ask follow-up questions to expand on what survey respondents previously mentioned.
When should you use custom surveys?
Custom surveys are the best fit for understanding why a customer experience exceeded, met, or fell short of expectations. For instance, ask customers what part of the experience was lackluster (NPS or CSAT) or particularly difficult (CES).
How to best create and deliver custom surveys?
It's important to partner with the right survey solution. Specifically, a company that allows for flexibility in generating custom surveys and sending via multiple channels.
You can also use conditional logic to guide survey takers down a particular path, saving them time and ensuring you get the best quality responses.
How to best analyze and act on feedback?
When you receive custom survey feedback, break down responses into three sections: Fix Now, Fix Later, and Fine As Is.
This filter will help your team prioritize what can be improved now, increasing the customer experience. Don't get bogged down in having too much information and being unable to act!
---
Summary
Successful CX programs rely on knowing how, when, and why to survey customers.
Net Promoter Score (NPS) surveys provide a great assessment of your brand's appeal and competitive differentiators.
Similarly, Customer Satisfaction (CSAT) surveys uncover valuable information about a customer's overall satisfaction with your product or service.
Customer Effort Score (CES) surveys are best deployed to understand a specific roadblock or frustration that users may face. CES is an aide for all companies looking to build seamless experiences.
Visual rating surveys are the most visual and quickest survey types to fill out. Use star surveys, smiley surveys, and thumbs up surveys to gauge customer sentiment in the "here and now".
Finally, for a deeper understanding of your customers' experience with your brand, use custom surveys with additional questions.
Now that you understand how to appropriately use the 7 customer survey types, you are one step closer to launching a world-class customer experience program.
Get started with our experience management software today with 250 free surveys from Delighted.