Creating a great work environment and boosting productivity relies heavily on enhancing the employee experience within your organization. Nevertheless, it can be quite challenging to pinpoint areas for improvement and identify the best strategies to achieve it. One crucial starting point is gaining an understanding of how your employees feel about working at your company, and the most effective way to do this is through an employee survey.
An employee survey hands the mic to employees and empowers them to share critical feedback as to what's working – and what isn't – about their work experience. This feedback then allows you to pinpoint problems, take data-driven action, and make a positive impact on company culture and employee happiness.
Haven't surveyed your employees before or feel unsure about how to ask the right questions? This guide has everything you need to know about designing and conducting your first employee survey.
In this post, we'll cover:
---
What is an employee survey?
An employee survey is a tool used to measure employee attitudes, beliefs, and feelings. Employee surveys can be used to ask employees for feedback on various topics related to their experience at your organization, including their engagement level, overall satisfaction with their job, their intent to stay at your company, or why they've chosen to leave. 
---
The importance of employee surveys
Employee surveys are one of the most effective ways to understand how employees think, act, and feel in your organization.
Sending employee surveys is also essential to: 
---
Common types of employee surveys
Before you can begin surveying your employees, you'll need to determine what type of employee survey you need based on your objectives. Whether you want to improve your onboarding experience or measure employee satisfaction, the following survey types will help you gather the employee feedback you're looking for.
Employee satisfaction survey
Employee satisfaction surveys measure how satisfied or content employees are with their roles and the organization. These surveys can ask about employee benefits, general job satisfaction, or intent to stay at the company.
An example of an employee satisfaction survey is an Employee Net Promoter Score, or eNPS, survey. eNPS surveys quantify employee satisfaction to help you measure and track how employees feel about your company over time.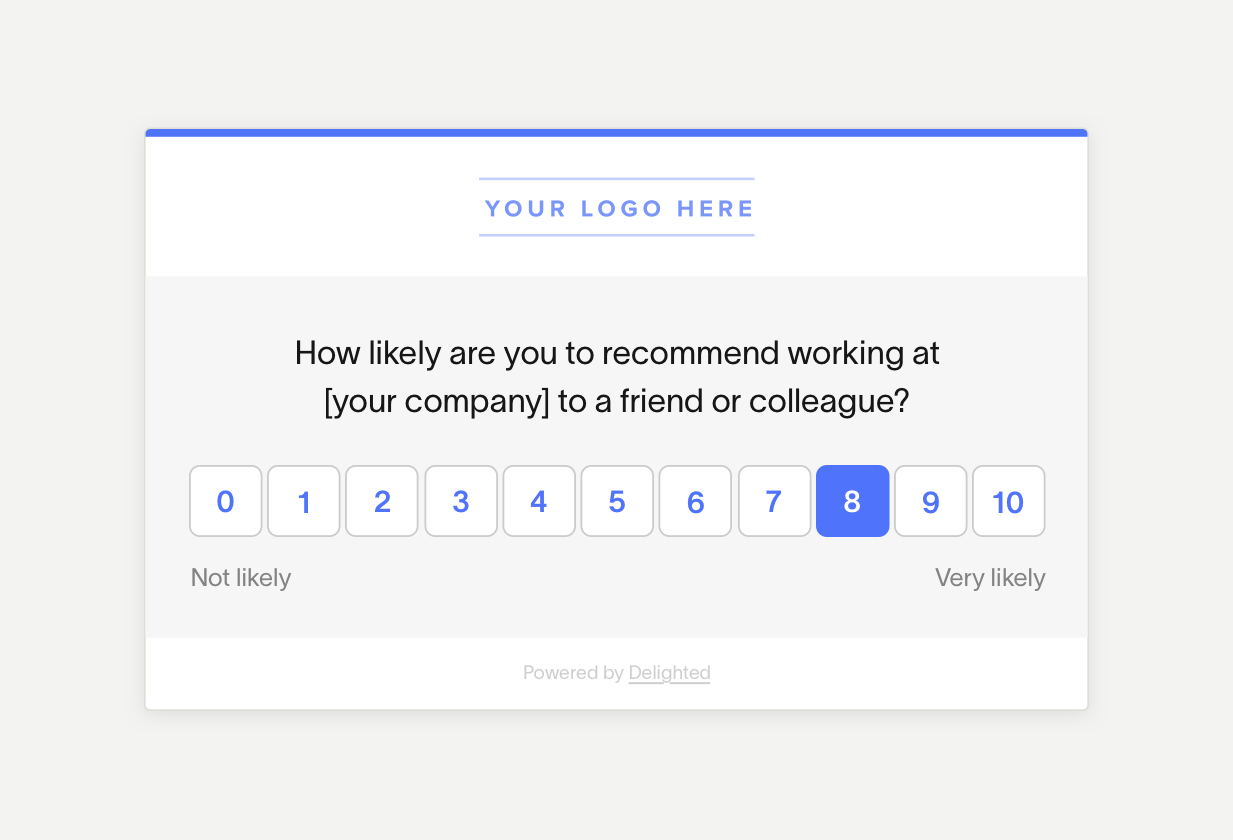 TIP: Not sure what to ask in your satisfaction survey? Check out our guide to employee satisfaction survey questions.
Employee engagement survey
Employee engagement surveys uncover employee attitudes toward the organization at large. These surveys gather information on how engaged employees are with their work, whether they feel acknowledged by their manager or leadership, and how they can feel more supported at the company.
Company culture survey
Company or organizational culture surveys measure how well employees believe the company upholds their core values and if employees have what they need to succeed and feel a sense of belonging. These surveys ask about topics including the company mission statement, camaraderie among employees, and resources available to employees. 
Why does good company culture matter? Poor company culture can result in employee turnover, with data revealing that the more positive rating a work culture has, the less likely employees are to consider quitting.
Pulse survey
Pulse surveys are designed to be a quick check-in survey that captures employee sentiment on a frequent basis (think bi-weekly or bi-monthly). They can ask about anything, including the employee's day-to-day role responsibilities, job satisfaction, and work environment. 
Since pulse surveys are the most frequent method of surveying, many surveyors use pulse surveys at touchpoints across the employee lifecycle to capture in-the-moment sentiment data. That way, employers can be alerted of concerns that might need immediate attention and monitor how organizational changes affect employees in real time.
360° feedback survey
360° feedback surveys get feedback from every direction: the employee themself, their manager, and other team members they interact with. This gives employees and the organization a holistic view of how the employee is doing at the company. Companies often use 360° feedback surveys during a performance review cycle to measure employee performance, skills, and contributions to the company.
Onboarding survey
An onboarding survey allows new hires to provide feedback on their recruitment and onboarding experience at your organization. When a new employee engages in an efficient and supportive onboarding process, they are more likely to create meaningful connections to the organization, their team, and their role off the bat.
Exit interview survey
Departing employees are treasure troves of insightful feedback. Send exit interview surveys to employees who are leaving your organization to gather honest feedback about their reasons for leaving and their experience at the company. Exit interview surveys are a great way for leaders to understand the direction the company is going and identify necessary changes to reduce turnover.
---
How to create an employee survey
Now that you understand various employee survey types, you're ready to create an employee survey that gets you actionable insights. Not sure where to start? Here are 4 steps to create and distribute your employee survey.
1. Choose a topic and goal for the employee survey
Every effective survey starts with a purpose or goal. Do you want to get feedback on this year's benefit offerings? Or set up a recurring pulse survey to keep track of employee advocacy? Focus on one or a few topics at a time to avoid confusing employees and potentially getting muddled results. 
TIP: At the beginning of the survey, include a summary of the survey's goal and purpose so that employees are motivated to participate. Let them know that their answers will be anonymous and explain how the company will use the survey results to improve the employee experience.
2. Ask the right questions to get the information you need
Now that you have your survey topic and goal in mind, you'll need to select the questions for your employee survey. We've included resources on the best questions to ask, as well as question types to avoid.
Types of questions to include in employee surveys:
Types of questions to avoid:
To keep the survey engaging, include different types of questions throughout the survey. Delighted Surveys, a free survey maker, includes a variety of different question types, including multiple choice, numerical scale, text, and graphic scale.
3. Establish survey length, timing, and frequency
The length of your employee survey, when you send it, and how often you survey can boost the number of survey responses and their quality. 
Survey length
The shorter your survey, the more likely your employees will complete the survey in its entirety. Limit the survey's length by only including the questions you need answers to. It's important to note that the ideal survey should take employees 10 minutes to complete, at most.
Survey timing
If you want to gather feedback about a specific experience or event, distribute your surveys soon after the experience (i.e., an employee training or workshop), when it's still fresh in their minds and the feedback is as accurate as possible.
Survey frequency
Determine how often you need to survey employees and schedule your survey frequency accordingly. Make sure not to survey the same employees too frequently (i.e., weekly or bi-weekly) to avoid survey fatigue.
4. Customize, review, and distribute your employee survey
Before sending the survey to your employees, go the extra mile to show them you value their feedback with a well-designed survey. 
TIP: Optimize your survey design with these 3 components of an effective employee survey, provided by Benjamin Granger, Head of EX Advisory Services, Adjunct Faculty at the Qualtrics XM Institute.
---
Following up on employee survey feedback
Go beyond simply collecting employee feedback by taking action on the insights: create a plan to address negative feedback and communicate that plan to employees to show them you take their feedback seriously. For the areas where your organization received positive feedback, keep up the good work!
A closed-loop feedback system applies to both employees and customers, so make sure to address negative feedback, especially if multiple employees express the same negative sentiment. Closing the loop on employee feedback shows your workforce that you're committed to continuously improving the employee experience.
Ready to survey your employees? Build your first employee survey today with Delighted's free online survey maker.
---
Additional resources for employee surveys
For more information on how to optimize your employee survey, take a look at the following resources: