You've collected survey data and analyzed it – now what? The customer will be waiting for acknowledgment or an update from your company, so creating an efficient, organized, and candid closed-loop feedback system to tie up loose ends with your customers is vital.
Ultimately, customers need to feel heard and understood. To have taken the time to answer your surveys and provide you with feedback but not see any significant change or follow-up is discouraging – and, can lead to disloyal customers who will choose a competitor over you moving forward.
That's why it's essential to understand what closed-loop feedback is, why it's important, and how to create successful closed-loop feedback systems.
What is closed-loop feedback?
Closed-loop feedback is the practice of responding to a customer's survey feedback in order to understand their feedback better, resolve their pain point, or let them know that their insights will be used to make improvements to your product, service, or customer experience strategy.
Why is closed-loop feedback important?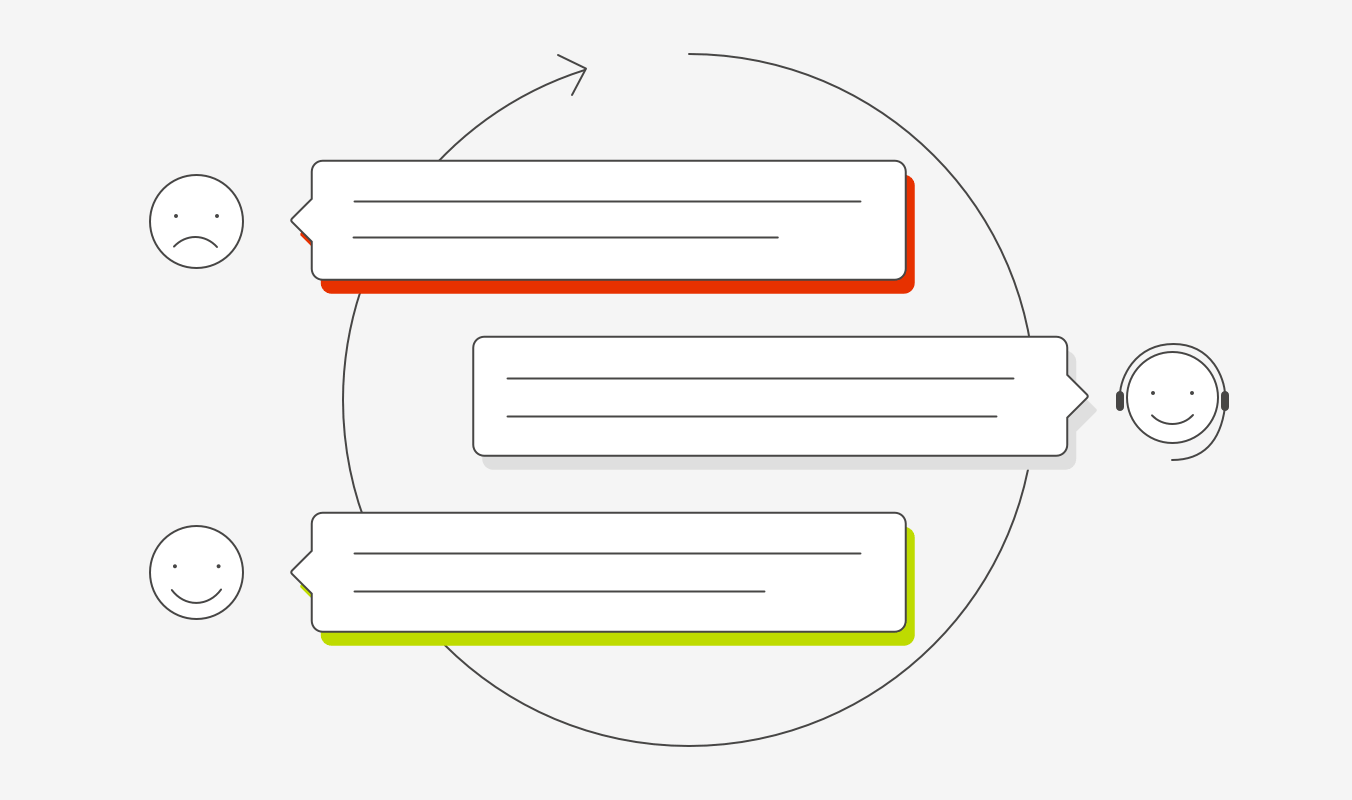 Let's take a look at the additional reasons why every organization should prioritize a closed-loop feedback system.
Reduced customer churn
What you do with customer feedback has a bigger impact than you think – in fact, a study done by PWC reported that 32% of customers would stop doing business with a brand they otherwise loved after just one poor experience.
Customer churn, or when customers choose to no longer use your product or service, can happen for a variety of reasons. However, if the reason is a poor customer experience, you have a large opportunity to repair the relationship by following up with customer feedback.
To close the loop with your customer, you can resolve their issue directly over email, or hop on a call and let them know that their feedback will be taken into consideration for future service or product improvements.
Companies with open-loop feedback systems (meaning, feedback is never resolved or acknowledged) leave customers feeling that you've wasted their time because it didn't warrant a response from the brand. When you ask for feedback, you set an expectation that you will address it. When organizations let feedback fall through the cracks, they risk losing their customer for good.
Closing the feedback loop helps resolve issues at the source, allows the customer to feel heard, and provides valuable insights to improve the overall customer experience and ultimately reduce customer churn.
Improved overall reputation
How customers speak about your brand online matters. Why? Because customers can get an impression of your business from public-facing reviews within seconds and will decide if they want to do business with you based on your reputation.
Following up on feedback can prevent disgruntled customers from posting a negative review online following a less-than-satisfactory experience. If a negative review about you has already been published, how you respond to that review can put your brand back in a positive light. In fact, 45% of customers are swayed to visit businesses that respond well to negative reviews on sites like Yelp, Google My Business (GMB), or WebRetailer.
As the data shows, customers are more likely to recommend a product or service if they have a pleasant experience after submitting feedback or making a complaint. A brand that goes above and beyond to resolve a customer issue ultimately earns a positive reputation in the eyes of the customer.
Increased revenue
Closed-loop customer feedback improves the customer experience from the ground up. When customers are happy, and their insights are acknowledged, they're more likely to recommend you to others and speak highly of their experience with your company. And, as noted above, their public opinions can go a long way with on-the-fence buyers.
Other retailers may offer the same product or service, but customers will gravitate towards the brand that delivers the best customer experience and has the evidence to prove it – in fact, they're willing to pay more for it.
Customer experience is what differentiates your brand in a competitive market and can lead to increased revenue.
Now that we've covered the impact of closed-loop feedback systems, we'll lay the groundwork for how you can build your own.
How to build a closed-loop feedback program in 4 steps
Staying in tune with your customers means collecting and reporting back on customer feedback, interpreting the data, and routing the insights to the people who can make the biggest impact with the information.
Here are the 4 steps to successfully close the loop every time and create a scalable, comprehensive closed-loop feedback system.
1. Make feedback-informed decisions
Collecting feedback from customers is the first step to a closed-loop feedback process. Surveying customers in an intentional way leads to accurate data for understanding your customers' expectations.
Here are a few feedback collection survey types to consider:
After you've selected your survey method, there are a few different ways to distribute surveys to customers:
Once you've chosen the metric you want to use and sent the surveys through the distribution method that fits your needs, you'll have a steady stream of real-time feedback that uncovers what parts of the customer experience need to be improved and how to improve them.
2. Close the loop with detractors
The NPS survey metric groups customers into three types: promoters (people who are likely to recommend your brand), passives (people who are neutral about your brand), and detractors (people who are unlikely to recommend your brand).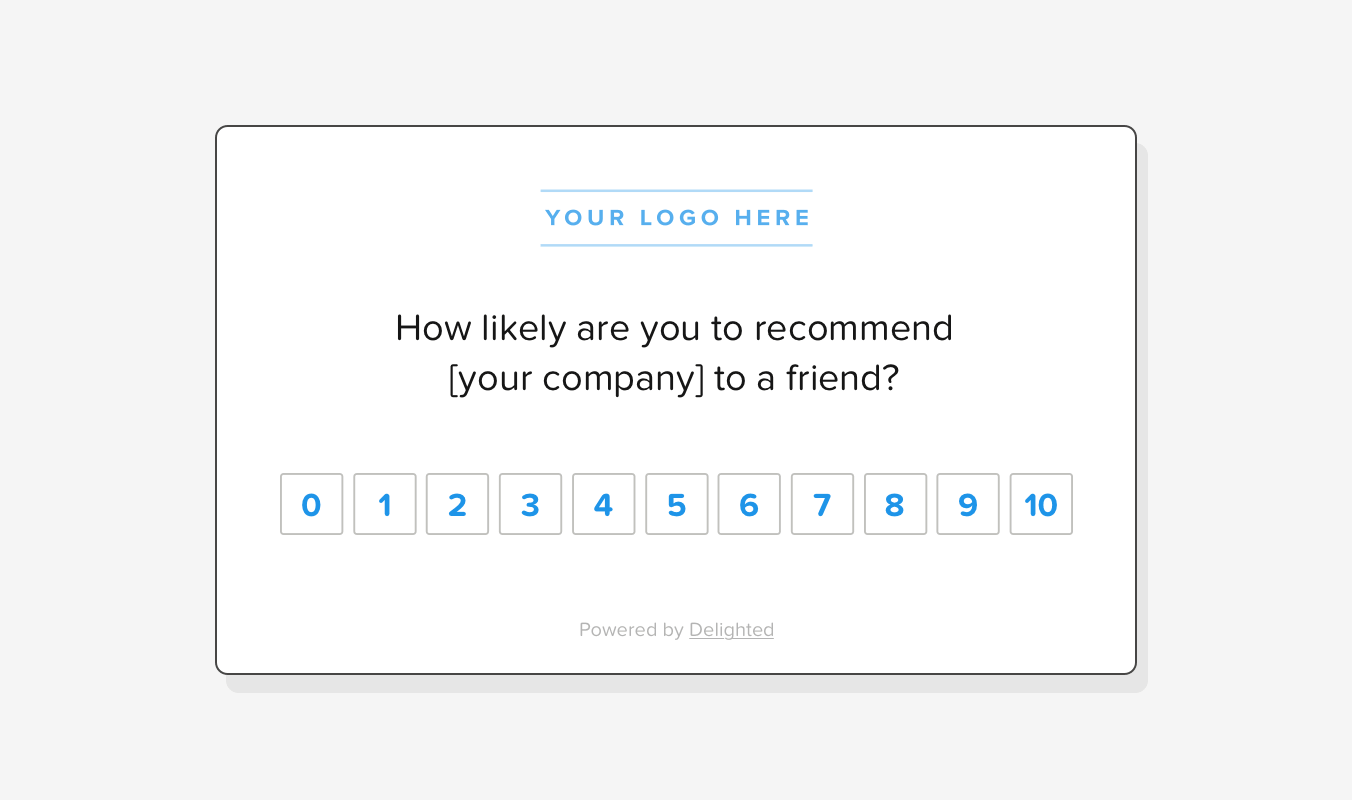 As detractors are least likely to recommend your brand and more likely to spread the word of their negative experience, following up with them to resolve the issue or address their feedback is paramount.
You can find your detractors (or negative feedback in general) directly on your feedback dashboard and reach out to them individually. As part of the survey experience, you can also set up specialized Thank you pages for customers who rate you poorly to ask them what you can do to improve.
Another great way to address negative feedback quickly is to route the feedback directly to your customer service team. By integrating feedback with team communication tools like Slack or help desks like Zendesk and Gladly, your support team will see real-time verbatim feedback directly in the channels they use most.
This not only encourages your team to resolve customer concerns in a timely fashion, but it also helps your team glean overarching trends in your customer experience. If there are common issues across your customer base, you may need to address issues at the root cause and consider larger-scale customer experience changes.
3. Engage with promoters
Promoters are the cheerleaders of your brand. Don't just let that positive sentiment sit in your feedback dashboard – engage your promoters to see if they're willing to take that next step and advocate on your behalf.
One way to engage with promoters is by asking for a testimonial or review. Customer testimonials can be the deciding factor that determines whether or not someone buys your product or service. In fact, 92% of consumers report that they read online reviews and testimonials when considering a purchase. And, you can easily ask permission to publish positive survey feedback on your website with testimonial software.
To encourage promoters to spread word of mouth, you can also offer them referral incentives after they give positive survey responses or scoring. Delighted's Friendbuy integration rewards promoters who refer a friend by providing them with a reward incentive and a referral link after completing a survey.
Lastly, if you really want to make your promoters feel valued, invite them to special events, grant them early access to new features and products, and invite them to participate in the direction of your brand.
When it comes to your CX program, closing the feedback loop with your happiest customers is just as important as following up with your unhappy ones. Making all of your customers feel valuable ensures a positive, recurring return on investment.
4. Follow up with passive customers
Even though a neutral assessment doesn't hurt as much as an outright negative review, passive and neutral customers should not be ignored. These ratings essentially translate to "Meh, it was okay. It got the job done." But they also offer the opportunity to consider, "What could we have done to make this customer rave about us?"
In fact, a passive rating also means that another interaction can sway them towards a different end of the spectrum. Closing the loop with this group of customers can build trust (and show that you care) while also providing crucial insights into how you can improve your customer experience strategy to turn more passives into promoters in the future.
3 best practices for closing the loop
Below are some tactics to keep in mind when closing the loop on customer feedback.
1. Follow up promptly (ideally within 24 hours)
Companies that quickly respond to customer requests or feedback are typically seen more positively in the customer's eyes. Following up with customers promptly after they express a concern or problem is one way to close the feedback loop and minimize dissatisfaction. Any customers who report a neutral or negative experience should be connected with a customer service representative as soon as possible.
TIP: As mentioned above, integrating and automating customer feedback with your team communication tools will help to ensure that all negative feedback is routed to the correct people quickly. Read more about survey automation tactics here.
2. Track recurring issues in real time
If customers encounter the same problem with your website or app over and over again, they're unlikely to continue interacting with your brand. Keeping track of the feedback collected using a customer experience management platform can help you glean overarching issues and fix them promptly.
3. Turn passives and detractors into promoters
Passives and detractors often provide the most crucial insights into pain points on the customer journey. Companies that listen to the feedback from detractors and passives, make their customers feel heard, and make their best effort to resolve the issue will have the most luck turning them into promoters.
Close the feedback loop with your customers today
Insights are just numbers and words without action. To apply your newfound data insights, it's important to create an efficient closed-loop feedback process to get back to your customers quickly and enact change.
Use surveys to gather customer data and insights that inform your business strategy and any improvements to be made on the road to a stellar customer experience. Getting feedback from customers at the right time and place is easier than ever with Delighted.
New to Delighted? Use our survey templates to collect and close the loop on customer feedback.