So far, 2020 has been a year of change and challenge, and you've worked hard at implementing process changes for navigating the new normal of remote work-life during COVID-19.
However, it's important to consider the steps you will need to take to ensure that your business is ready to reopen and more importantly, that your employees feel comfortable and confident with your preparedness. We will break down some of the common employee concerns with returning to work and possible solutions you can implement to rebuild an environment where your employees can feel heard, supported, and through that – be successful.
Common employee back-to-work concerns
Businesses around the world, through government guidance, are preparing to slowly reopen their doors, and employees want to make sure their employers have plans in place to address their concerns.
"The results showed 37% of employee respondents are most anxious that 'others in my office will behave in a way that puts me in danger' and 19% of surveyors are worried about 'lax measures by their employer.'"
Fortune.com recently published findings of a study conducted by the workspace provider, Industrious, and Elucd, a data-collection company, that asked a variety of office-goers what their biggest concern is with returning to the office after COVID-19 restrictions.
The results showed 37% of employee respondents are most anxious with the idea that "others in my office will behave in a way that puts me in danger" and 19% of surveyors are worried about "lax measures by their employer." Lastly, 11% were concerned about productivity and "8% were most concerned about the safety of their commute."
Noting these widespread employee concerns, it's important to remember that your employees may have shared hesitations, and gathering internal data of your own can be crucial for building policies and foundations for a safe return to the office.
Ask your employees: How are you feeling?
To combat employee concerns with back-to-work life, ask them how they feel.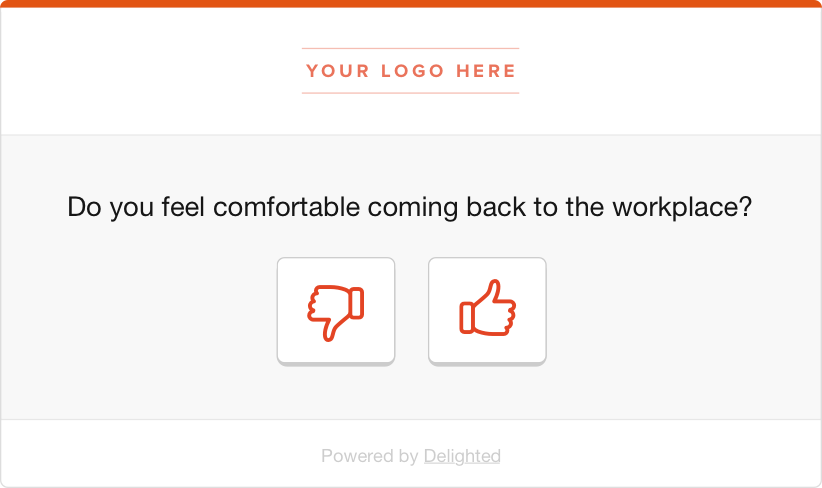 Fortune.com quotes Jamie Hodari, CEO of Industrious, saying:
"There are going to be employees who live two blocks from the office and have no concerns, and there will be employees who can barely get their work done if you force them to come into the office because they're going to be riddled with anxiety and fear."
Checking in on your employees daily or weekly using anonymous Thumbs Up/Thumbs Down and Customer Satisfaction Score (CSAT) survey templates helps you surface the source of employee tension, so you can proactively address them using our customer satisfaction survey software.
Choose questions such as "Do you have concerns with returning to the office?" or "How satisfied are you with the proposed workplace updates?" and have them explain their Yes/No or rating response with an open-ended comment. You can even dive deeper into their response by setting up Additional Questions to get to the root cause of their anxiety and start building resources and processes to ease their worry.
Thoughtfulness and flexibility are crucial when reaching out to your employees. The individuals that receive your survey are likely in different places mentally, emotionally, situationally, and physically – so anticipate responses that may require you to make accommodations based on specific employee needs. To ensure everyone feels heard, also ask team managers to regularly talk to direct reports about how they're doing, in addition to monitoring employee sentiment with surveys.
Prepare to adopt new policies and procedures
Now that you've heard your employees' concerns, start planning how you can begin your workplace transition back, comfortably and compliantly. OSHA, or the Occupational Safety and Health Administration, has released guidance measures for employers to use as they prepare their workplace for a safe return.
Sanitation
Requiring good employee sanitation is crucial. OSHA suggests promoting frequent handwashing, having hand sanitizers with at least 60% alcohol available for use, and allowing employees to work from home if they are sick. You may also want to consider installing air filters and adjusting engineering controls to improve overall ventilation. It's important to also note that employers are required to have PPE (Personal protective equipment) readily on hand if needed and make arrangements for employees who may be considered "high risk" for contracting the virus.
Social Distancing
If your state and local officials advise social distancing measures, OSHA encourages employers to consider applying new, adaptable ways to increase space between employees in their area of work. This can include alternating day schedules or shifts and flexible work from home policies. You may also consider creating more space between desks and restricting the number of persons in common areas as a way of reducing any possible exposure.
Benefits
As we've mentioned before, flexibility right now is crucial for securing a safe and productive workplace environment. In fact, OSHA strongly suggests that employers maintain flexible sick leave guidelines that are "consistent with public health guidance." Along with physical health recommendations, it's important that employers should also consider establishing and incorporating mental health benefits into their offerings. The Law Firm of Holland & Knight suggests providing employees access to mental health professionals through employee assistance plans (EAPs) and group health plan benefits (such as Telehealth services).
Communication
As you prepare your employees and workspace with new accommodations, let your employees know of your updates to secure their confidence and safety in your changes. Asana, a company known for its dedication to collective teamwork through their project and task-organization tool, encourages employers to establish a standard for your communication: "Before you reopen any part of your business, make sure you're communicating frequently and consistently with your team. The plan may change, and no one is expecting that you have all of the answers, but providing the clarity you can will help your team stay engaged and informed."
Let your employees know that you have their backs and are getting ready to make their transition back into the office a safe and smooth one. Start your first step with Delighted's Thumbs or CSAT surveys to ask your audience to express any frustrations or fears so you can start building new solutions to combat their hesitations. Sign up for free now and discover more free solutions to start getting back-to-business comfortably.