We sat down with Ellie Peterson, from the Delighted Customer Concierge team, to learn how Delighted's CX experts utilize the platform for enhancing their own product and feedback program.
Tell us about your role at Delighted.
My name is Ellie Peterson and I'm a member of our Customer Concierge team.
Our team offers white-glove service to all Delighted customers. We assist with everything from technical support and troubleshooting to programmatic best practices. Every day, we help our customers amplify the voices of their own customers through the Delighted CX program.
How big is the team running your experience management program?
While the Concierge team takes the reins on running the experience management program, everyone in the company is all-in on the Delighted customer experience. We regularly share feedback and ideas for program improvement through all-company Slack channels and recurring team meetings.
What type of role does feedback play at Delighted?
Customer feedback drives all things at Delighted! From determining our product roadmap to our pricing, we continuously put the customer first with the help of real-time feedback.
We believe that the more we listen to our customers, the better we can understand and address their needs. And, with a well-rounded understanding of customer needs, we have the insight to constantly improve our product and CX program functionality.
How is your Delighted experience management program set up (survey type, distribution method)?
Delighted uses Net Promoter Score (NPS) to measure general brand loyalty and Customer Effort Score (CES) to measure our Concierge team's effectiveness.
Our NPS survey is designed to get regular feedback from all of our users at least once every six months. To achieve this, we meet people where they're at—within the Dashboard (using the Web platform) and within the app (using the iOS SDK platform). In case someone hasn't logged in recently, we also send the survey via email, letting the Throttling feature prevent anyone from being surveyed too frequently on any platform all through our NPS software.
Our CES survey is tailored to customers interacting with our Concierge team, so we include our CES surveys as a link at the bottom of every Concierge email as an extra touchpoint for anyone reaching out for support. It's been super helpful using Delighted's customer service surveys to monitor our team's performance.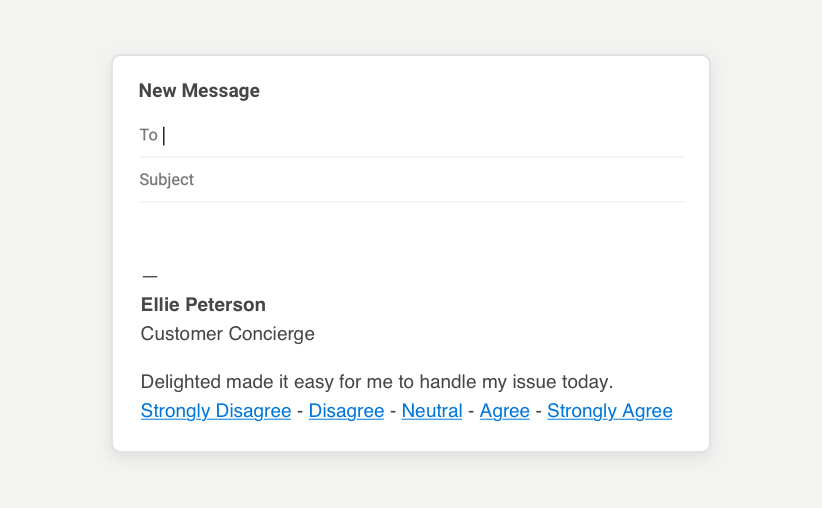 What are the benefits of using NPS at Delighted?
We use NPS to predict and deflect churn, identify opportunities for upgrades or program expansion, and identify ways to better serve our users. NPS feedback has become deeply ingrained within everything we do, especially when developing new product features.
What are the benefits of using CES at Delighted?
Ease of use is a huge goal of ours at Delighted. Having a simple CES included within our Concierge emails makes it an ideal CX metric for our team.
We want everyone to become an expert in using Delighted, and we want to make sure that the Concierge team is making it as easy as possible for customers to use and learn more about the platform – CES helps us measure against that goal.
How do you share feedback?
As I mentioned earlier, the Delighted team uses Slack heavily.
With the Delighted + Slack integration, NPS responses flow into our all-company channel for full team visibility, and it's common to find team members discussing a response in the comment's Slack thread – whether a team member offers suggestions to a customer question, or responds with excitement to a piece of positive feedback!
For example, it's awesome for our engineers to see customer feedback specifically praising a feature they had worked so hard to build.
How do you respond to Delighted feedback?
We follow up with every respondent immediately. Using the Delighted + Zapier integration, we separate respondents based on their score and whether or not they left a comment.
For those without verbatim feedback, we reach out automatically to uncover more details. For those who have left a comment, we make sure to address any concerns or product gaps identified.
Then, we'll pass the feedback up to our product teams or provide training on misunderstood features. If the comment is positive, we send our appreciation and highlight upcoming releases!
Can you give us an example of an experience gap that Delighted has helped you surface? How did you unearth those insights?
Sure! Our Additional Questions feature is a great example.
The original version of Additional Questions came directly from customer feedback. After the feature was released, we monitored comments related to the product release to see how it was being received and used.
From customer feedback, we found that many customers loved the feature, but wanted the ability to add different question types. Some customers wanted to capture name and email addresses, while others wanted to be able to add "other" text entry options to the multiple-choice questions. We also noticed that customers wanted Additional Questions available on other platforms.
Since then, we've released Additional Questions V2 that includes all of the most-requested feature updates as well as Additional Questions for the Web platform.
What advice would you have for someone who is starting a customer experience program?
I would suggest not getting too tied up in the score itself – the verbatim feedback is by far the most valuable aspect of your customer experience program. Listen to what customers are saying and focus on how you can improve their experiences both in the short term and the long term.
By putting the focus on the feedback, you'll prevent your team from getting too fixated on industry benchmarks and you'll find your scores naturally increasing over time!
About Ellie Peterson
Ellie Peterson is a Customer Concierge at Delighted, where she has helped thousands of customers become customer experience experts and get the most out of our experience management software. She's passionate about helping companies reach their potential by removing the noise around CX, and you can connect with her on LinkedIn.