Today, we're excited to announce the new Delighted + G2 integration. G2 is a software and service review solution with nearly 2 million authentic reviews, and we're partnering to help businesses collect customer reviews by integrating the survey feedback and review collection process into one frictionless flow.
How effective is the G2 + Delighted integration for obtaining reviews?
After activating the integration, G2 was able to generate 45 reviews in just one month, with 41 of the reviews being 4 or 5 star ratings. This goes to show that using Delighted's self-serve platform to generate automated reviews can level-up your brand reputation in record time.
After activating the integration, G2 was able to generate 45 reviews in just one month, with 41 of the reviews being 4 or 5 star ratings.
So how does this all work? Let's dig in.
How this integration helps you increase customer reviews
The G2 + Delighted integration, available on Premium Delighted plans, streamlines the review collection process while building in best practices:
1. A streamlined review collection experience
The integration removes the need for customers to create a G2 profile to write a review and takes them directly to the step of review submission, reducing drop-off rates.
Before, if you were directing customers to your G2 reviews page from the survey completion "Thank you" page, they would then have to register for or log in to a G2 account in order to submit a review.
With the G2 integration, the registration step is omitted so that customers are taken directly from the "Thank you" page to the G2 review form following a Delighted survey.
Note that for security purposes, users who have previously written a G2 review will be directed to log in on G2.com in order to edit or update the existing review there. This is done in accordance with G2's moderation policy to ensure that one user doesn't write more than one review for a product.
2. Broadened review ask
This integration will ask all customers who receive a Delighted survey to leave a review, regardless of their initial rating of your service. By asking all customers for a review, you're able to cast a wider net and generate more reviews on the G2 platform. Not only does this increase visibility on the G2 grid, but it allows you to understand users at every level of satisfaction and implement improvements throughout the customer journey.
3. Shorter review form
The likelihood of a customer leaving a review for your service depends on two factors: how easily accessible your review page is, and the length of the review form.
The Delighted and G2 integration leverages these factors to increase review response rates by removing that first login step, but also by taking customers to a shortened review form. Instead of the 40+ questions in a traditional G2 review, this integration reduces the number of questions to as few as 15 for a user-friendly review process.
Once customers complete a Delighted survey, they'll be prompted to leave a review which is later added to the G2 website after approval. No matter what channel you send your surveys through, the review integration will be available using Delighted's survey tools.
4. Perfect timing
Delighted surveys are an ideal channel for generating reviews. Since your Delighted surveys are likely triggered at milestone product or service interactions, you can rest assured these customers have experienced your product enough to also leave an informed review. You'll also be asking for a review right at the moment when your customers are in the mood for giving feedback.
Setting up the G2 integration just takes 3 steps
As with all Delighted integrations, setting up the G2 integration is easy, but you will either need access to the G2 platform or to get in touch with the person who runs your company's G2 review program.
Get the G2 API token from the G2 integration hub. You'll need a separate token for each product you choose to use the integration with.
Your Delighted account admins can then enter the G2 API token, G2 partner name, and G2 product slug into Delighted on the dashboard under "Integrations."
Customize the message asking customers for a review where they would otherwise find a typical "Thank you" message.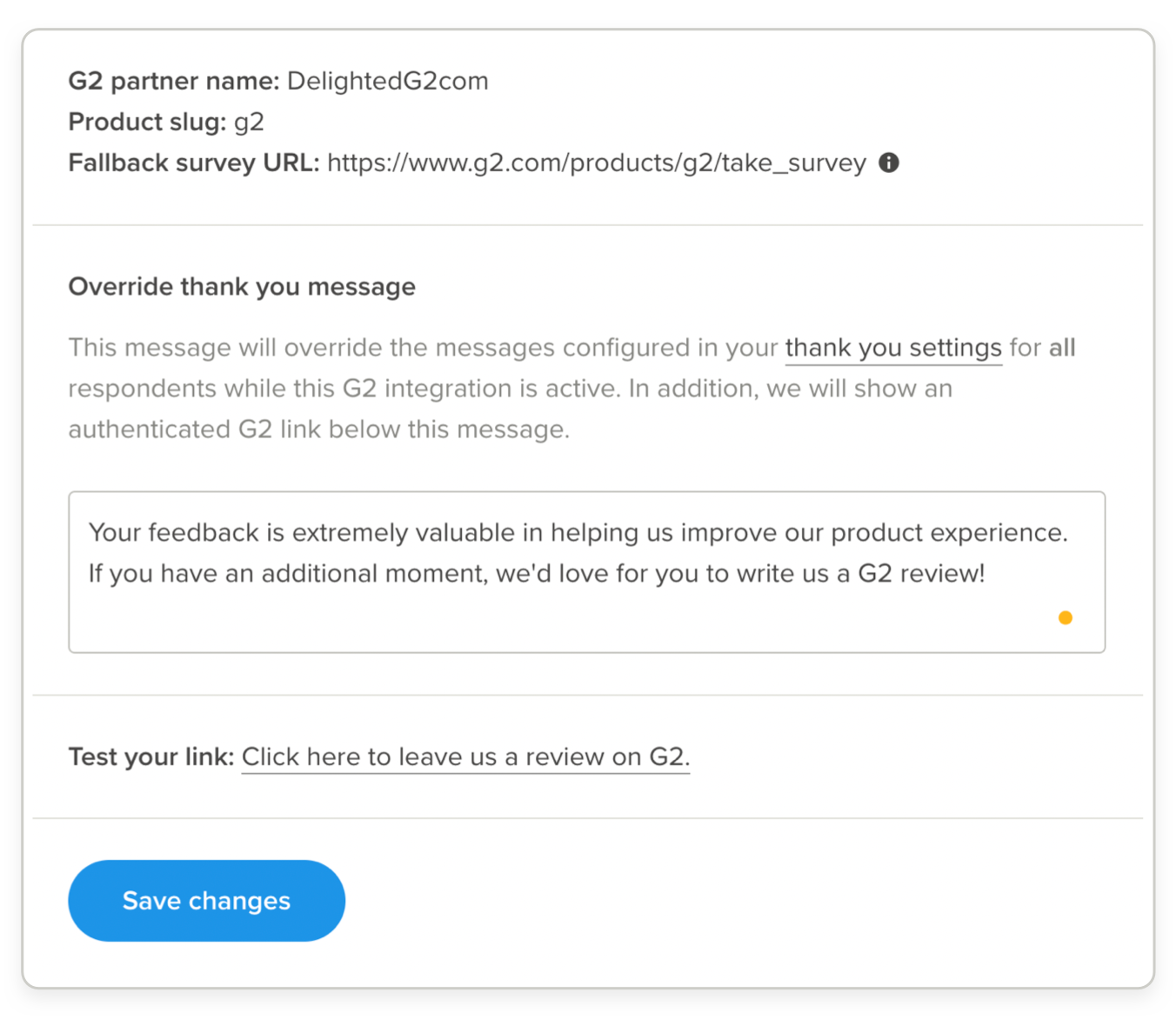 And with that, your integration is ready to test and push live! Your G2 review page will be easily accessible for a completely frictionless review experience.
For more information on integration setup, view our G2 Help Center guide here.
Best practices to increase online reviews
Use the G2 integration to your advantage with the following tips and get the most out of your review automation.
Time your survey sends. Timing is everything, so make sure your Delighted surveys are optimized for high response rates to increase reviews as well. Each time the user completes a survey, they'll be prompted with a review request for a seamless feedback loop while the customer is in the feedback mindset.
Consider shortening your Delighted survey. If your primary goal is to increase G2 reviews via Delighted, opt for skipping the comment prompt or additional follow-up questions so your customers can get to the review form as quickly as possible.
Set up a G2 token for each product. Request reviews on specific products you have available using a G2 API token for each product you'd like customers to review. That way, you can oversee reviews based on specified products with the appropriate feedback.
Use G2 custom questions for specific feedback. Looking for feedback on specific products? Use custom questions in the G2 platform to gather data outside of the standard G2 review form.
With these tips, you'll have reviews waiting for you on the G2 website in no time.
Measure your success with reviews and feedback
With the G2 integration, you're able to give customers the opportunity to leave reviews easily and watch your brand reputation grow using Delighted's experience management software. Not only does Delighted offer a variety of survey templates and easy dashboard reporting, we also help businesses:
Already have a Delighted account? Sign in and set up the integration.
New to Delighted? Sign up for a premium Delighted account and start collecting customer feedback and reviews today.