Once you've designed and distributed your customer survey, the next step can be the most exciting part of the process: watching the responses roll in.
Unfortunately, the reality is that you may not get as many responses from your first survey project as you would like. This low survey response rate can lead to concerns over unreliable feedback or a lack of helpful customer insights.
A knee-jerk reaction for getting more feedback is simply to send your survey to more people, but that introduces its own risks. After all, what matters isn't just the volume of feedback, but whether you're capturing feedback from the customers who matter most to your business. The last thing you want to do is drown out the voices of your key stakeholders.
So how do you increase survey response rates? Thoughtfully. Here's our heavily curated list of 16 tried-and-true best practices for increasing survey responses without sacrificing quality.
1. Scrub your contact list and focus on active customers
It seems basic, but you'd be surprised how many people overlook this step. In addition to making sure your list doesn't contain bounced emails and outdated contacts, focus on making sure that the folks you're surveying are still active customers based on metrics such as last login date or most recent purchase.
Recency of activity is a key driver for increasing response rates with quality feedback. Not only are active customers more likely to respond since the interaction is fresh, the feedback provided is also more relevant.
Less active customers, on the other hand, may not understand why you're reaching out, and would be providing feedback based on who you were months ago, as opposed to who you are today.
If you're interested in gathering feedback from less active customers to dig into why they disengaged, we'd recommend segmenting these customers out so you can analyze the feedback separately.
2. Adjust survey timing to the type of feedback you're gathering
Timing is everything when it comes to getting quality feedback, and varies depending on industry, customer touchpoint, and the type of feedback you're gathering.

Survey timing rules of thumb
| Feedback Type | Timing Guideline |
| --- | --- |
| Relationship NPS feedback | Every 30, 60, or 90 days |
| Transactional feedback | Immediate to 24 hours post-interaction |
| Consumer Product Feedback | 7 days after the product is in hand |
| B2B/SaaS Product Feedback | 2 weeks to 1 month after implementation |
For input on the overall customer experience, otherwise known as "relationship feedback," send surveys out on a 30, 60, or 90-day cadence, so you can monitor how your customers feel about you as your business evolves.
For transactional surveys, which gather feedback on a specific customer touchpoint, send your survey within 24 hours of the interaction. Studies have shown that immediate feedback is 40% more accurate.
If you're getting product feedback, give your customer time to use your product before sending them a survey so they have enough context to provide meaningful comments. For traditional retailers, this could be a couple of days after they've purchased and received your product. For more complicated B2B or SaaS platforms, this could be a couple of weeks after onboarding and platform implementation.
3. Keep your survey under 5 minutes long
Ask too many questions, and you run the risk of people quitting your survey in the middle (or not wanting to take it in the first place). At Delighted, we strongly believe in surveys being no longer than 10 questions, or around 3 minutes long.
Here are some tips to keep your survey short:
Don't ask questions you already know the answer to. Do your best to sync data from your various customer databases so you don't need to ask what type of product they ordered or how long they've been a customer.
Only ask questions if you have a plan for the feedback. Does demographic information influence how you'll improve your product or service? If not, cut it.
Stay focused. When you design your survey, set a goal for what you're trying to accomplish. Don't ask questions that deviate from that goal — you can always create a separate survey later.
Enable conditional logic on your surveys, so that customers only need to answer what's relevant to them.
Let customers skip questions.
4. Use a survey distribution channel that makes sense for your customers
Survey your customers using the channel that is most relevant to them. If your customers skew young, it's highly unlikely they'll respond to a phone survey or snail mail survey, but they may be more receptive to a text. On the other hand, if your demographic doesn't have reliable internet access, an email survey is out of the question.
This may take some testing to figure out, but it's worth it. One of our customers saw a 12% increase in response rates when they switched from email surveys to SMS surveys.
Also, keep in mind that it'll likely take multiple distribution channels (email, web, link, SMS) to reach all of your customers. For instance, retailers might need a survey kiosk for brick-and-mortar locations, and email surveys for ecommerce customers.
Choose the distribution channel that works best for you and your customers. Here's a breakdown of the 4 most popular customer survey distribution methods.
5. Personalize the survey experience
A recent study showed that in the US, UK, and Canada, 63% of consumers expect personalization, and 31% find it "very frustrating" when brands treat existing customers as if they are new customers.
Personalization is the new normal, and it also applies to the survey experience.
Personalize your surveys by addressing your customer by name and referencing the product or service they used. For example, if you're texting or emailing your survey, customize the subject line to read "Hi Sarah – quick question about your order." Simply customizing an email subject line like that can lead to a 26% increase in email open rate.
6. Speak your customers' language, literally
Translate your surveys into your customers' preferred language. To keep surveys consistent across all geographies, phrase your questions simply so they come across clearly in any language. Delighted provides standardized NPS, CSAT, and CES surveys in 30+ languages.
7. For email surveys, follow email best practices to increase open rates
If you're sending email surveys, the first step to improving your survey response rate is to improve your email open rate, which can range from 20% to 40%, depending on your industry. There are many things you can test to see what works best for your customers.
Try different subject lines. Just make sure it's straightforward and clear. Though the default subject line for Delighted NPS surveys is already quite clear (How likely are you to recommend [company] to a friend?), you could try personalizing it or adding the amount of time the survey takes to complete. Here are a few more email subject line best practices to check out.
Customize the "From" field so that the emails looks like it comes from a person at your company instead of a robot or department.
Try adding a context-setting intro paragraph to the email. However, similar to the subject line, make sure it's concise and gets to the point. This is where you could explain an incentive, or make the customer feel valued.
8. Set expectations for how long the survey will take
Let customers know the survey will only take a minute or two, so they don't have to worry about the survey being a timesink. If you have multiple questions, use a progress bar or verbal cues like "Nearly there!" or "You're almost done!" to encourage customers to finish.
9. Embed your survey directly into the distribution channel
Make it as easy as possible for customers to answer your survey. Instead of having them click a link that opens another window, put your survey front and center in the email, chat window, or text.
10. Make sure your survey looks good on multiple devices
Consumers increasingly split time between mobile and desktop. Mobile market share is at 46% versus desktop market share at 50%, with tablet taking up the remainder. This makes it more important than ever to ensure your survey experience is optimized for any device.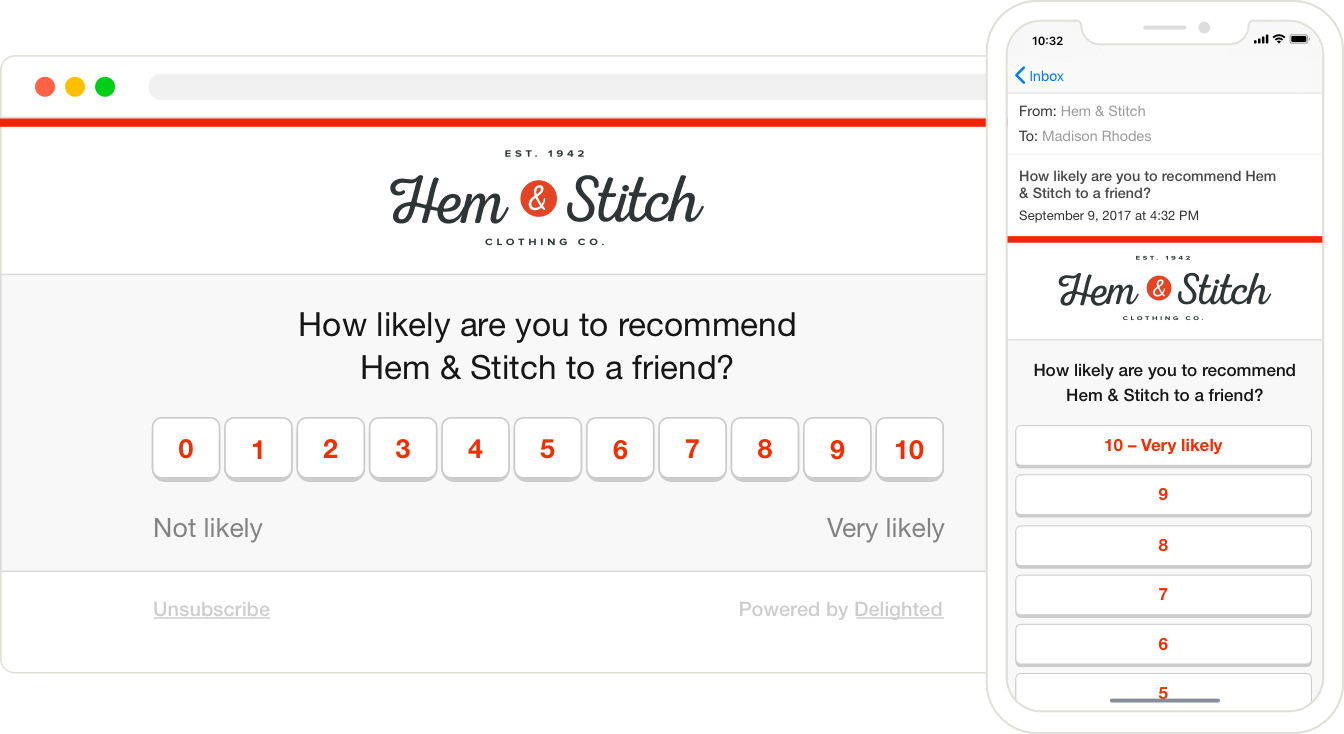 Depending on screen size, answer scales may be better rendered vertically (best at the top, worst at the bottom) or horizontally. When you're creating your survey, test it on multiple devices to make sure formatting doesn't end up tanking your survey results.
11. Keep the look and feel of your survey consistent with your branding
Treat your survey as customer outreach, and make sure it represents your brand. Use consistent fonts, colors, and logos so customers recognize that it comes from you.
12. Provide an incentive for taking the survey
Make it clear to your customers that they will benefit from providing feedback. That benefit could take two forms: an improved product that solves more of their pain points, or the more literal incentive of a prize or discount.
When using incentives, it's worth keeping a close eye on the quality of data to make sure folks aren't mindlessly answering questions just to get the incentive, otherwise known as "straight-lining." Keeping an eye on trends in scores and the quality of the open-ended feedback can be helpful in this scenario.
13. Don't send too many surveys to the same customer
If you're constantly sending your customers surveys, they'll stop responding due to survey fatigue. Many customer experience platforms have customizable survey throttling built in, which ensures your customers are never over-surveyed.
14. Prime and remind customers to take the survey
Nudge (but don't shove!) your customers to respond. You can do this by letting them know a survey is headed their way ahead of time (a common practice for B2B companies), and by sending customers a follow-up note once the survey has been sent out.
If you'd like to prime your customers for a survey, have your customer success representatives tell customers to be on the lookout, and elaborate on how the feedback will be used. After the survey has been delivered, they can follow up with a gentle reminder on a call or via email.
However, make sure your success and service reps aren't gaming the system by asking for favorable scores, which has been known to happen if satisfaction ratings are tied to compensation. You may get a higher response rate, but the accuracy of the feedback will be compromised.
To avoid spamming your customers when following up, only remind those who didn't open the email. With Delighted, you can automate the survey reminder process to follow up with customers after 7 days.
15. Close the loop and follow up with customers
Customer experience surveys generally happen on a regular cadence, especially if you're using relationship surveys. Following up with customers who have completed your survey lets them know they've been heard, and increases the chances that they'll continue to provide feedback. Here are best practices for closing the loop on customer feedback.
16. Test, test, and test some more
You won't know exactly how your customers will respond to your survey program until you try. Use multiple channels, A/B test various subject lines, and try different survey cadences to figure out what works best for you.
Give your response rate a lift by using our comprehensive survey solution. Start surveying today with Survey Templates.