Surveys are an important part (perhaps the most important part) of understanding your customer. A well-crafted survey can provide a wealth of insights around how customers think about your market, product, or service, and enable you to better solve customer problems, reduce the risk of them leaving, and accelerate your business's growth.
When directed well, a company can thrive on the results and insights gathered. However, a survey won't do much good if no one responds or if surveys are sent to the wrong people.
Though surveys are easily created and distributed with advanced software and programs available today, it can still be hard to reach your entire audience. Not only that, but it can be difficult to provide the right kind of encouragement for the most accurate and honest answers.
Employing the best survey distribution method for your customers, understanding when to survey them, and being thoughtful about tactics to increase response rate will directly affect the efficacy of your survey.
In this article, we'll discuss the pros and cons of the most popular customer experience survey distribution methods, and talk about a few tactics that can help improve survey response rates.
Improving ease, efficiency and response rates
Why is increasing survey response rates often a challenge?
According to a chapter written by The National Academies of Sciences, Engineering, and Medicine, "It is widely accepted that nonresponse is, at least in part, related to the perceived burden of taking part in a survey." Without the proper motivation, surveys can easily be ignored, and what motivates one group of people will not motivate another.
Survey participation relies heavily on the ease and enjoyability of the overall experience and is an important aspect of survey design. To that end, customizing your survey distribution method to be as unobtrusive and enjoyable to your audience as possible can play a large role in your success.
Survey distribution types
As hinted at above, different situations call for different survey distribution types. While surveys can absolutely be conducted in person or over the phone, we'll be speaking to the survey distribution methods below due to ease and efficiency.
Beyond just that, they are the most inexpensive and easiest to execute at scale for most companies.
Some unexpected advantages of using online survey methods are that companies can have the option to add in videos, audio clips, and links that may not otherwise be available in other types of surveys. What's more, customers also have the flexibility to take the surveys on their own time and at their own pace. They are also much less likely to suffer social desirability bias – a type of response bias that is the tendency of survey respondents to answer questions in a manner that will be viewed favorably by others.
So without further ado, let's take a look at using email, SMS, websites, and URL links as a means to survey your customer base.
---
Email survey distribution
With email distribution, a basic way to distribute email surveys is to use a hyperlink text to your survey URL with the headline, "Take this survey."
You can also hyperlink an image to make your survey request more clickable for your customer. This image can come in various forms, whether it's an attention-grabbing button or a picture in the background that draws the eye.
The least obtrusive and efficient method though, assuming you're sending an HTML email, is to embed the first survey question directly into the body of the email. Doing this often leads to a direct increase in response rate for an email survey.
When do you distribute surveys via emails?
Many companies will send out email surveys after a customer has had time to experience a product or directly after a customer has received a service. It's also important, though, to keep in mind that times of day are likely to increase or decrease your chances of having the survey filled out. For example, Campaign Monitor found that most emails are opened during the normal business hours of 9am-5pm. In addition to specific times based off of hour of purchase, your relationship with the customer/client and the type of service you provide can also determine when you should send a survey.
Pros
Emails have a unique ability to set a certain level of expectation for the respondent. Customers can preview who is contacting them, why they are being contacted, and understand ahead of time if there's any incentive attached to the email survey.
Emails can easily include supplementary content for your survey, such as images or an introductory message for context.
Email surveys often come at minimal cost, but with fast data collection from your desired audience.
Email surveys can be triggered to send based on a recurring cadence or a specific interaction. Automated timing and personalization make it very easy for companies to send email surveys.
Cons
The absence of an interviewer generally means that more open-response questions are harder to explore in the moment.
It may be harder to reach populations who do not rely on email communication, such as the elderly or those who don't have access to the Internet.
There's a chance for survey fraud, and according to Explorable, "There are people who answer online surveys for the sake of getting the incentive (usually in the form of money) after they have completed the survey, not with a desire to contribute to the advancement of the study."
Improving email survey response rates
The first step to improving email survey response is to improve your email open rate. A compelling subject line that contains an offer or sets expectations increases the likelihood that your customer will open the survey email. Personalization or incentivization can go a long way in drawing someone in. If you compare "Take Our Survey" with "Hi John, take a short survey and get 25% Off," most people would feel more compelled by the latter option.
Also, keep the survey short and sweet to up the odds that your customer will not only start, but also finish the entire survey. Let them know how many questions there will be or how long the survey will take to answer.
Email survey best practices
Generally speaking, standard survey best practices apply:
Keep the questions clear and concise. Don't overcomplicate things.
Keep the design on brand, without too many distractions in the background.
Try and keep the survey as brief as possible. The longer it is, the less likely it'll be completed. The same goes for the answer options. Keep it straightforward.
Put the most important questions in the beginning, but don't be afraid to randomize the others if order isn't important.
---
SMS survey distribution
As of 1/1/2022, SMS is no longer a Delighted distribution channel. For any questions, please contact us and we're happy to help you explore other sending channels, or SMS options with our parent company, Qualtrics.
SMS surveys are a valuable way to get important feedback from your customer base. With an SMS text survey, you can get immediate feedback on an event or product from a client while they're on the go.
You can either text a code with an invitation to the survey, or you can send your survey directly in the text with single choice, multiple choice, or free response options.
Similar to email surveys, SMS surveys also tend to get higher response rates when the first question is embedded into the text, and also when incentives are included.
When to distribute surveys via SMS?
Text message surveys should be delivered after the service or product has been used so that customers are able to provide meaningful feedback.
Pros
Survey data can be collected in real-time based on geo-location or time of day, so you can measure sentiment in the moment.
With the prevalence of mobile phones, you have the ability to reach target respondents anytime, anywhere, especially younger demographics.
Using SMS surveys is cost-effective and easy. The prices vary, but often SMS surveys can be five to ten times cheaper than an in-person survey.
Cons
Probably the biggest limitation of using SMS surveys is gaining the customer's consent to send a SMS survey in the first place. Also, keep in mind that not everyone has a phone, so depending on your target demographic, text surveys may not be the way to go.
Though SMS surveys are convenient, character count restrictions can limit how much you can ask or convey.
There's a higher chance of error or misleading answers due to typing mistakes or fast responses that may not have been thought through.
Improving SMS survey response rates
As with email surveys, incentivizing SMS surveys can go a long way in motivating customers to participate.
By keeping your survey simple and direct, you raise the chance of it being completed as well. People don't often want to spend long periods of time answering questions on their phones if it requires a lot of time or attention. As with any tool, SMS surveys must be deployed in a selective, strategic way.
Best practices
Over 95% of text messages are opened and read, so to keep the respondent hooked, here are some best practices to keep in mind.
Because texting is more informal, keep the survey short and simple. Be clever, concise, and as brief as possible.
Get permission before sending texts. This is where incentives can come into play, offering prizes or deals for those who opt-in to receive texts.
Respond in real-time through automated, yet personal messages to keep your customers engaged and let them know their feedback is appreciated.
Keep track of which messages and promotions are working and which aren't.
Choose a customer experience survey platform that can deliver surveys quickly and relative to time zone, and that can grow at the same rate as you do.
---
Web intercept survey distribution
Web intercept surveys sound more complicated than they actually are. In reality, they're website pop-ups that ask a person on your website to answer some quick questions on the digital brand experience.
Whereas in the past, web surveys may have appeared annoying or distracting at best, and as thinly veiled schemes to gather personal information at worst, they've since become more sophisticated.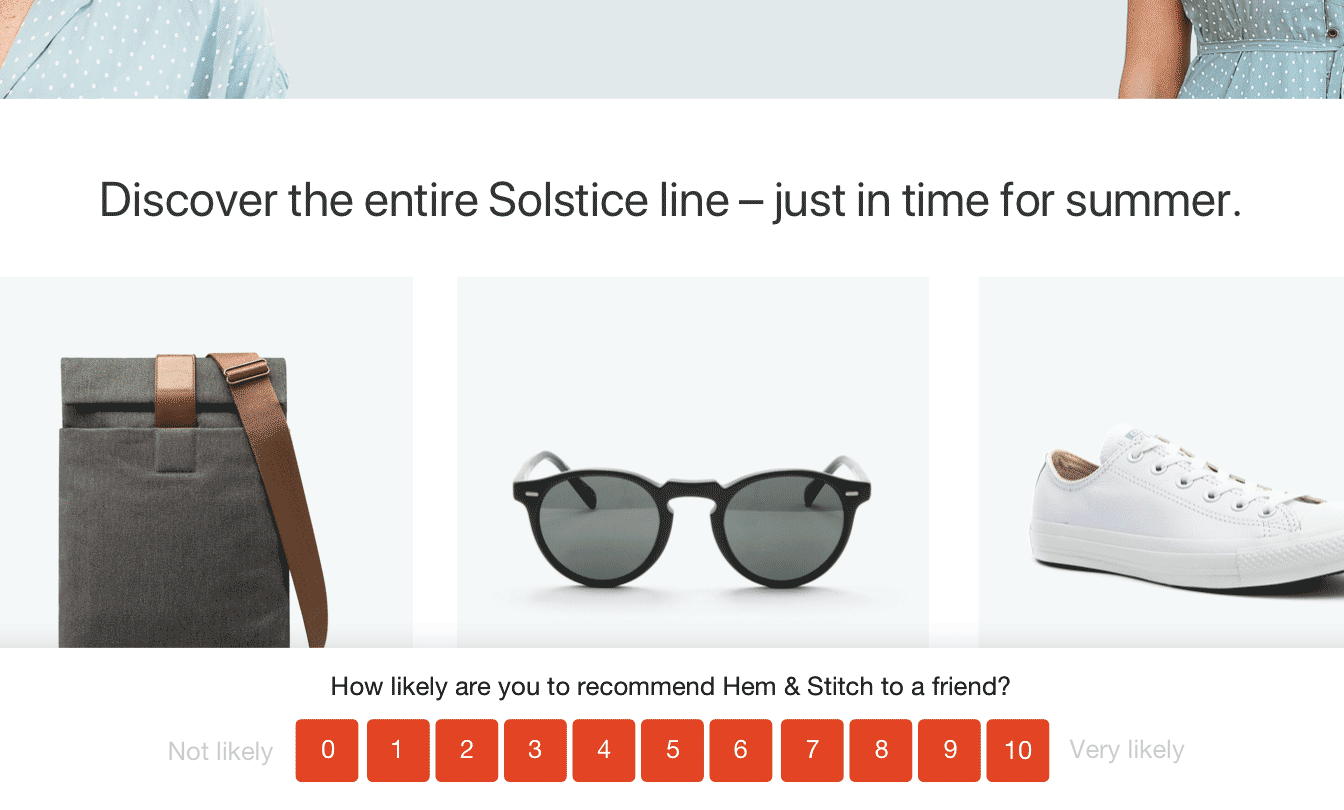 When to distribute surveys via website?
If done with the correct frequency on a website, these surveys empower your web audience to provide feedback based on the content consumed or actions taken.
Using cookies to track the amount of time spent on the website or other user actions can help pinpoint the optimal time to serve the pop-up survey.
Pros
One of the biggest advantages of web surveys is real-time feedback that is easily tied to a certain action or webpage.
Web intercept surveys don't require an in-depth relationship with the respondent, unlike with SMS surveys. They also allow anonymity in answering the survey.
Surveys triggered upon immediate usage of a web tool allows customers to be more detailed in their feedback.
Cons
Since the information collected is often based off of a specific experience, you won't have feedback on the other parts of the experience, or the brand experience overall.
Web users may view these surveys as intrusive or not worth their time, which can lead to non-responses.
Improving website survey response rates
Pinpointing your ideal audience is important when increasing response rates. As mentioned before, use cookies to trigger surveys based on metrics such as time on the site, number of pages viewed, or a site conversion. With that in mind, keeping your survey short is the way to go. Remember, you are capturing what is happening with your customer while it is happening.
Best practices
Web intercept surveys have a good response rate for several reasons, largely due to some best practices such as:
Being short. Staying away from jargon, keeping the wording simple, and having the least amount of questions possible is vital.
Clean design and formatting. Leave some white space around the questions for readability. You want the survey form to be inviting, and not too cluttered or distracting.
Clear labeling. The questions should be close to the field they are related to.
Contextual timing and placement. Show the survey at a point within the user experience that allows you to gather the transactional feedback you need.
---
URL link survey distribution
A link survey is a highly versatile and efficient way to distribute your surveys. What's nice about using link surveys is that you can take that link anywhere, online and offline.
The survey link can be embedded in an article, shared via social media, or even printed out. You can often choose the number of responses allowed per person or per link within a time frame to keep your feedback accurate.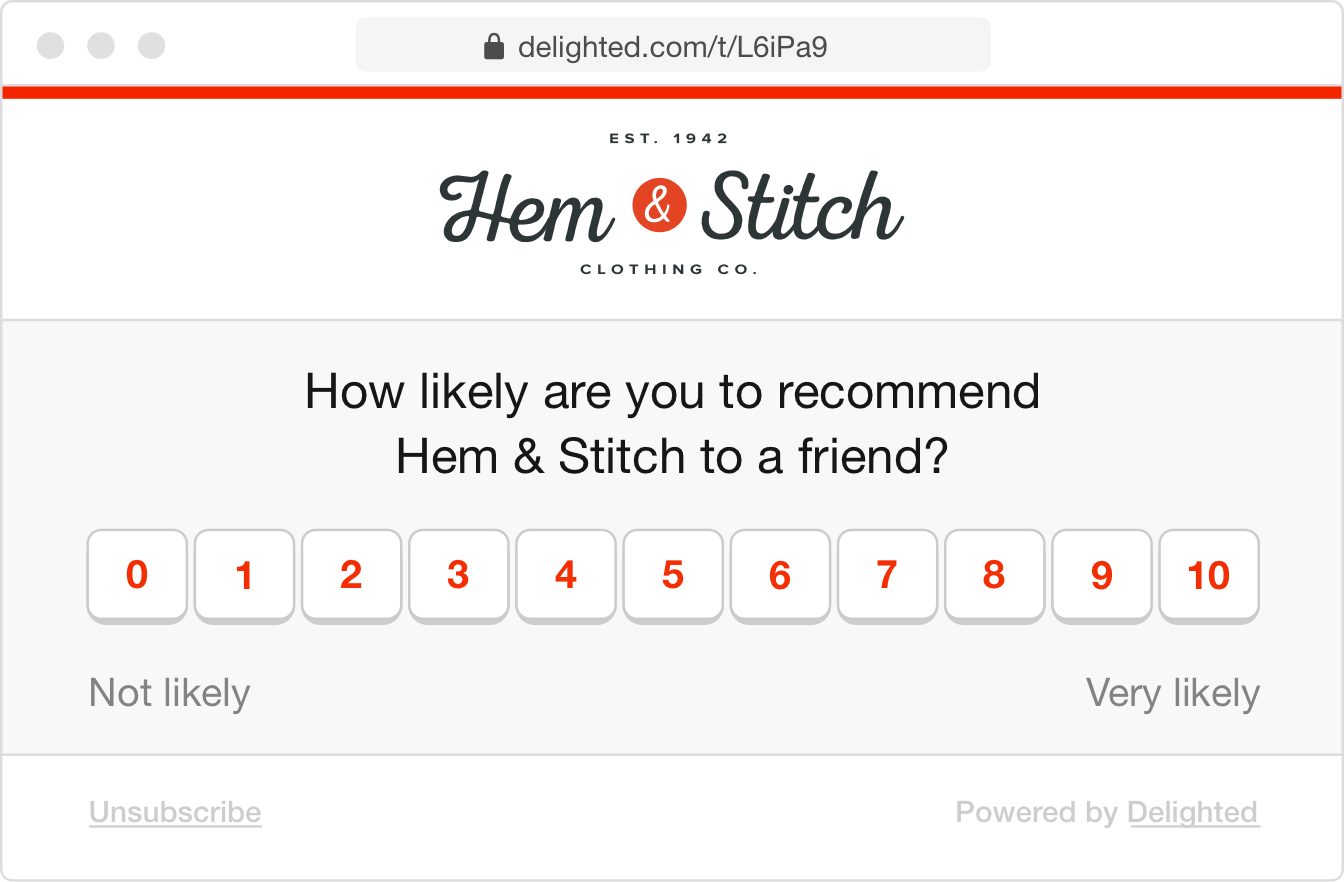 When to distribute surveys via link?
For link surveys, it's less of a question of "when" and more a question of "where." Timing for your link surveys is more dependent on the medium you are working with, the type of feedback you're trying to gather, and the audience you're trying to reach.
For example, some common use cases for link surveys are:
Embedded in a live chat window. If you offer support through live chat, you can send a link to your customer satisfaction survey immediately after the chat has ended.
Embedded in an email signature. This would be a more passive request for feedback, since the survey likely isn't the main focus of the email communication. Customers would be able to provide feedback each time they receive an email from you, to rate the quality of the interaction.
Printed on a receipt. Gather feedback after customers have purchased a product in-store.
When your company needs to have a versatile survey that can be placed in almost any online or offline platform, link surveys are a good bet.
Pros
Link surveys are highly versatile and can be utilized in many different online and offline platforms.
Every time the link is accessed by a new respondent, you can design it so that the questions can be randomized to alleviate question choice bias.
Cons
Depending on where you share the link, you may be less able to follow up on getting a response.
Respondents are less targeted – anyone can share the link, so you're not always 100% sure who is responding.
Link surveys tend to have lower response rates than other survey distribution methods that are specialized for that channel. For example, a link to a survey in an email would receive fewer responses than a survey embedded within an email.
Improving link survey response rates
Being strategic in where you use a link survey can make a difference in how many responses you receive. By keeping track of what platforms are receiving the most traffic and feedback, you'll be able to better identify when and where to share the links.
Link surveys follow very similar best practices to the other distribution methods mentioned above. Keeping the survey short is always a good idea. If you notice a survey is not gaining much traction, review your strategy and test the survey through other interaction channels.
Best practices
Given the versatility of link surveys, it's important to keep some survey design best practices in mind to get the most out of them:
Keep it relevant. Make sure you've established what you want to learn from using the link survey. These goals will then determine who you're asking on what platforms.
Be mindful of your question and answer scales. Ensure they match the use case where the link will appear, so that your customers can answer honestly.
Make sure the survey is concise. You're always more likely to get a response if you respect your customers' time.
---
Conclusion
When choosing from these core online survey distribution methods, there is a lot to consider. While all of the methods we've gone over are time and cost efficient, there are still some major differences to keep in mind.
With email-based surveys, you can easily set expectations and incentivize a response. If you're more interested in a quick snapshot of information, then SMS surveys are your golden ticket.
Website intercept surveys also help you gather in-the-moment feedback online, and don't require a customer email or phone number. Finally, if you're looking to gather feedback across a variety of platforms, a link survey could be just what your customer experience program needs.
To ensure you're gathering feedback from your entire audience, you'll likely need a combination of distribution methods and a customer feedback platform that can monitor how often your customers receive each type of survey.
Test which survey distribution channel works best for your business with our survey templates.