To learn more about your customers, you need to think like them. When you think like your customer, you can better understand how they interact with your company or brand. This exercise helps you discover what makes customers happy or frustrated based on their micro-experiences (also known as, customer touchpoints).
Below, we've taken a closer look at what customer touchpoints are, why they're important, examples of touchpoints across the customer journey, as well as how to improve these micro-experiences with surveys.
Jump to:
---
What are customer touchpoints?
Customer touchpoints are the moments of customer contact throughout the customer journey. For example, a customer may interact with your brand while searching your website, via your social media channels, shopping at your store, or chatting with your customer service team.
These points of interaction play a pivotal role in the overall customer experience and when optimized correctly, can improve customer loyalty and retention.
---
Why are customer touchpoints important?
To understand your customer experience, you must first understand the singular interactions that your customers have with your brand. When things are going well with your customers, it might not seem critical to get so granular.
But, understanding the fine details of how your customer interacts with your brand, including what they think and do before, during, and after a purchase, will help you identify opportunities to improve or optimize their experience at each touchpoint.
---
Customer touchpoint examples
As mentioned above, customer touchpoints can happen before, during, or after a purchase. Customer touchpoints can also happen directly, e.g., when there's a physical interaction with your brand (such as in a brick-and-mortar store), or indirectly, e.g., when third parties (such as social media influencers) are involved.
Here are some other examples of customer touchpoints:
Online advertising, print ads, and TV commercials
Referrals
Social media, including organic, influencer, and sponsored posts
Virtual and in-person events
Blog posts
Your company website
Email campaigns
Product catalogs
Physical and digital stores
Customer service touchpoints, including interactions with cashiers, contact centers, sales reps, and so on
Product and peer reviews
Chatbot conversations
Point of sale
Subscription renewals
Customer feedback surveys
Below, we've taken a closer look at some of the customer interactions on this list that occur across the customer journey.
---
Touchpoints before a purchase
1. Online advertising
Online ads, such as pop-ups or banners, are a great way to reach new customers. This customer touchpoint can also help you attract new people to your website from other websites.
2. Referrals
Happy customers not only provide you with positive feedback, but they can also bring new revenue your way. A referral program encourages loyal customers – with incentives – to refer the people they know to your company. Your customers then earn a reward when a new customer makes a purchase as a result of their referral.
TIP: Offer your existing customers a referral code or link to share with family and friends. Go a step further by offering a special discount to the new customer to encourage them to buy.
3. Social media
While social media can apply to all parts of the purchasing timeline (before, during, and after a purchase), many new customers will discover your brand through your social channels.
Nowadays, using social media to reach your audience is a must. The content you share should not only convey who you are as a brand, but also deliver value to your target audience.
Social media channels are an essential customer touchpoint, offering two-way communication with existing and potential customers. As a rule of thumb, you should routinely monitor customers' comments on your channels and engage with your customers in a way that demonstrates you hear them and value their feedback.
4. Blog posts
You're here reading this blog post right now – and that alone demonstrates a meaningful customer touchpoint. Like social media posts, blog posts should always add value by sharing content relevant to your audience.
5. Your company website
Your company's website is the ultimate online destination for customers, as it shares a bit of everything: your brand story, mission and values, products and services, and so on.
It should be easy to navigate and help existing or new customers get the answers they're looking for quickly and effortlessly.
Unsure if your company website hits the mark? You can leverage website surveys to hear from website visitors directly about their website experience.
---
Touchpoints during a purchase
6. Chatbot conversations
Similar to customer service touchpoints, chatbot conversations can highlight customer needs and friction points. They're also a great way to provide quick, automated support to customers with common questions or issues without involving your service team.
7. Customer reviews
Customer reviews and testimonials provide powerful social proof for your business. Whenever possible, display and promote them on your company website, social media channels, and marketing materials. A review may be just what a new customer needs to click "purchase."
Want to simplify the process of gathering reviews from your customers? You can ask for feedback, request permission, and publish testimonials with Delighted's all-in-one platform.
8. Point of sale
The point of sale (POS) is the final customer touchpoint before a purchase. Whether customers purchase from your company website, in-store, or both, make sure this touchpoint is truly frictionless to close the deal.
---
Touchpoints after a purchase
9. Customer service touchpoints
If a customer runs into an issue with their order following a purchase, their first point of contact is likely a member of your customer service team. Whether their online order is delayed or their purchase didn't meet their expectations, how their issue is handled can make or break their experience with your brand and ultimately determine whether they purchase from you again.
TIP: Creating a self-service knowledge base for the 69% of customers who prefer to resolve issues on their own can help reduce customer support tickets.
If your online resources can't quite resolve their conundrum, your customer service team can take it from there. Customer effort score surveys are an easy way to make sure your support channels are solving customer concerns quickly and effortlessly.
10. Saying thank you
A simple expression of gratitude can go a long way in building customer loyalty and satisfaction. Some companies, like direct-to-consumer healthcare apparel and lifestyle brand FIGS, go above and beyond to show appreciation to their valued customers.
Their Senior Vice President of Customer Experience (CX) Michael Bair tells Delighted about their FIGSLove/Surprise and Delight program – an initiative that leverages customer conversations via phone, email, text messages, or chats to find unique ways to follow up with a thank-you gift.
"If a customer lets us know (or we happen to find out) that they've started a new practice, we'll send them a bottle of champagne or cider as a surprise. Or, if they have an anniversary coming up, then we'll send them flowers. Even if they're having a rough day, we'll send them a spa package. It's by far the most fun thing we get to do on the CX team."

Michael Blair, Senior Vice President of CX at FIGS
Another way to thank customers for choosing your brand is to include a "Thank you" page at the end of a survey, especially if the customer provided feedback after a purchase. Thanking the customer for their time ensures they know you value and appreciate them.
11. Email newsletters
Much like your blog and social media posts, it's important to ensure your email newsletters add value for your customers to keep them engaged. When a customer signs up to receive email newsletters, you can use that line of communication as an opportunity to upsell new features or products that will excite your customer and help them reach their goals.
TIP: Delighted's newsletter introduces step-by-step experience guides, product updates, and educational e-books to all subscribers. When you subscribe to our blog at the end of this post, you're automatically opted in to receive our monthly newsletter.
12. Community management
Community can happen in a variety of places – both online, e.g., on social channels or Slack, as well as in person. But regardless of where your customers congregate and interact with your brand, be sure to tune in.
This can look like:
Monitoring and engaging with customers through your social channels
Inviting them to a dedicated online community to communicate with you in real time (Facebook group, Slack channel, etc.)
Organizing in-person events at your store(s) or at conferences
Community touchpoints are a powerful way to increase customer satisfaction, as well as build a loyal customer base.
Did you know? You can join the Delighted Community on Slack to connect with other Delighted users, get ideas about how to structure your experience management program, and learn how to get the most out of Delighted.
13. Subscription renewals
If you're a subscription-based business, renewals are crucial to your revenue model. Existing customers should find it as easy as possible to remain a customer when their contract is up.
14. Customer feedback surveys
In order to meet customers' expectations and improve the customer experience along the way, you need to know what your customers feel and think about everything – including your business, your customer service, your policies, your employees, and your online shopping experience.
To get this information, you'll need to ask your customers directly through customer feedback surveys.
Customer feedback surveys provide you with the opportunity to see what is and isn't working at your various customer touchpoints, so you can make data-based decisions to close the gaps in your customer experience.
---
How to identify customer touchpoints
By analyzing your customer interactions, you can identify and map your customer touchpoints. Here's how to get started.
1. Think about your target audience
Do you know your target audience? Do you meet them where they are? Keep in mind that as your business and technologies evolve, you might need to introduce new touchpoints (such as engaging on a new social media platform or introducing a chatbot on your website) to interact with them.
Be sure to consider their unique needs. For example, if you're an online bookstore, you may want to offer promo codes or referral links to encourage existing customers to tell the other members of their book club about your store.
2. Identify your customers' frequent interactions
Here's where you put yourself in your customers' shoes and think through questions like:
How do I decide where to make a purchase?
Where do I turn when I have a problem with my purchase?
How do I learn about new products or services?
Where do I submit feedback for a purchase I loved or didn't love?
The answers to these questions tell you where your customers already interact with your brand, where your business should be engaging with customers, and when you should be asking for their feedback.
3. Create a customer journey map
A customer journey map is a visual storyline of every interaction a customer has with a service, brand, or product. Creating a journey map helps your company understand your customers' processes, needs, and perceptions.
It can also highlight any changes that need to be made to your product or service, customer experience, and business strategy.
4. Categorize your touchpoints
By grouping customer touchpoints into before, during, and after a purchase, you can identify the touchpoints that are serving your business well and the ones that need improvement.
You may find categorizing touchpoints in other ways beneficial to your business, too. For example, you could categorize by digital vs. in-person interactions, specific brands or products; and so on.
Improving touchpoint experiences with surveys
Consider this: Many people won't bother contacting tech support if there's a flaw in your online checkout process. If they can get through the process, they'll deal with the inconvenience and move on without giving you feedback. And inconvenient experiences are just one of many factors that contribute to diminished customer trust.
However, when a customer is specifically asked to give feedback, they're more likely to share their frustrations, including an inconvenient checkout experience. If you don't know about these points of frustration, you won't be able to solve the problems and ease the experience for new and returning customers.
Asking for customer feedback will help you spot any areas of friction at specific touchpoints along a customer journey map and allow you to pinpoint where you need to change or improve to create a great customer experience overall.
For example, with Net Promoter Score (NPS) surveys, you can customize your NPS question and send the survey at particular touchpoints to assess and measure loyalty. Through an NPS software, you can then analyze and act on that customer feedback to improve or optimize an individual touchpoint or series of touchpoints based on the verbatim customer insights.
You can use Customer Satisfaction Score (CSAT) surveys to ask customers about their satisfaction with a product or service they purchased. Or, send a CSAT survey to double-check that your checkout process runs smoothly using customer satisfaction survey software. Doing so will help you understand if they have any issues that you can address and help you increase customer satisfaction.
You can also ask for feedback to measure customer effort along the customer journey. Reduced customer effort – i.e., less friction at customer touchpoints – is a key driver of customer retention. With Customer Effort Score (CES) surveys using a CES software, you can measure customer effort and take action to improve it.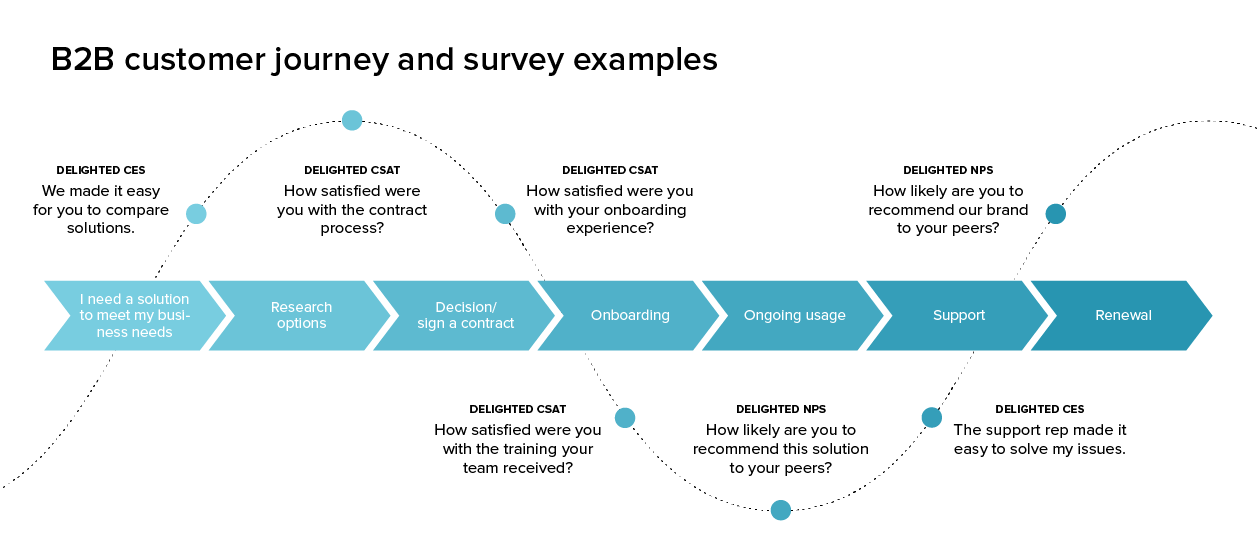 Providing ways for loyal customers to address issues that occur along the customer journey will show that you care about them and want to work to make their experiences with your brand the best they can be.
When crafted with intention, customer surveys can reveal lots of information about specific touchpoints in the customer journey you wouldn't discover any other way.
Get feedback in minutes by signing up to send customer surveys at no cost.