After months of staying at home and going out only for essentials, many of us are craving offline experiences. At the same time, we're concerned about our health and the health of others each time we step out.
As retailers approach reopening businesses during this delicate transition, they will need to adapt to a new way of doing business to prevent the spread of COVID-19. How smoothly your business operates during these challenging times will leave a lasting impression, and can be a factor in whether customers decide to return the following week, or even the following year.
In this post, we'd like to share top consumer concerns and how retailers are addressing them, as well as how Delighted can help ensure your customers have the best experience possible under the circumstances.
What concerns do consumers have about returning to stores?
According to a Harris Poll study, 89% of consumers are worried about shopping in-store. Their top concerns are:
Maintaining social distancing: 63%
Store cleanliness: 40%
Touching credit card terminals: 34%
Passing cash to a clerk: 32%
Despite the nervousness, Georgia's reopening in late April shows that customers will turn up when given the opportunity. What's more encouraging is that stores that have reopened more recently, like Macy's, are experiencing better than expected turnout and sales.
Actions retailers are taking to create a safe shopping experience
To address safety guidelines and allay customer concerns, here are some of the most common changes retailers worldwide are making:
Appointments versus walk-in consultations
Temperature and health screening checks at the door
Modified store layouts for social distancing
Lower store occupancy limits
Closed fitting rooms and restrooms
Sanitization stations and routine disinfection
Touchless checkout via self-serve kiosks and cashless transactions
Extended return policies
However, taking those actions is only half the battle. A Shekel survey showed that 87% of shoppers prefer self-serve or touchless checkout, yet only half are aware that the option exists.
Delighted's customer surveys can help you monitor the impact and awareness customers have of the various measures you've put in place and help you improve them in real-time through our experience management software.
Let's dive into how.
Using Delighted QR code surveys to evaluate the in-store experience
An international clothing brand uses Delighted's QR code link surveys to gather feedback on how comfortable customers feel while shopping in their stores. Since customers can scan the QR code with their phones, it's a completely safe, touchless experience.
They use an initial "How satisfied are you with your store experience" rating question.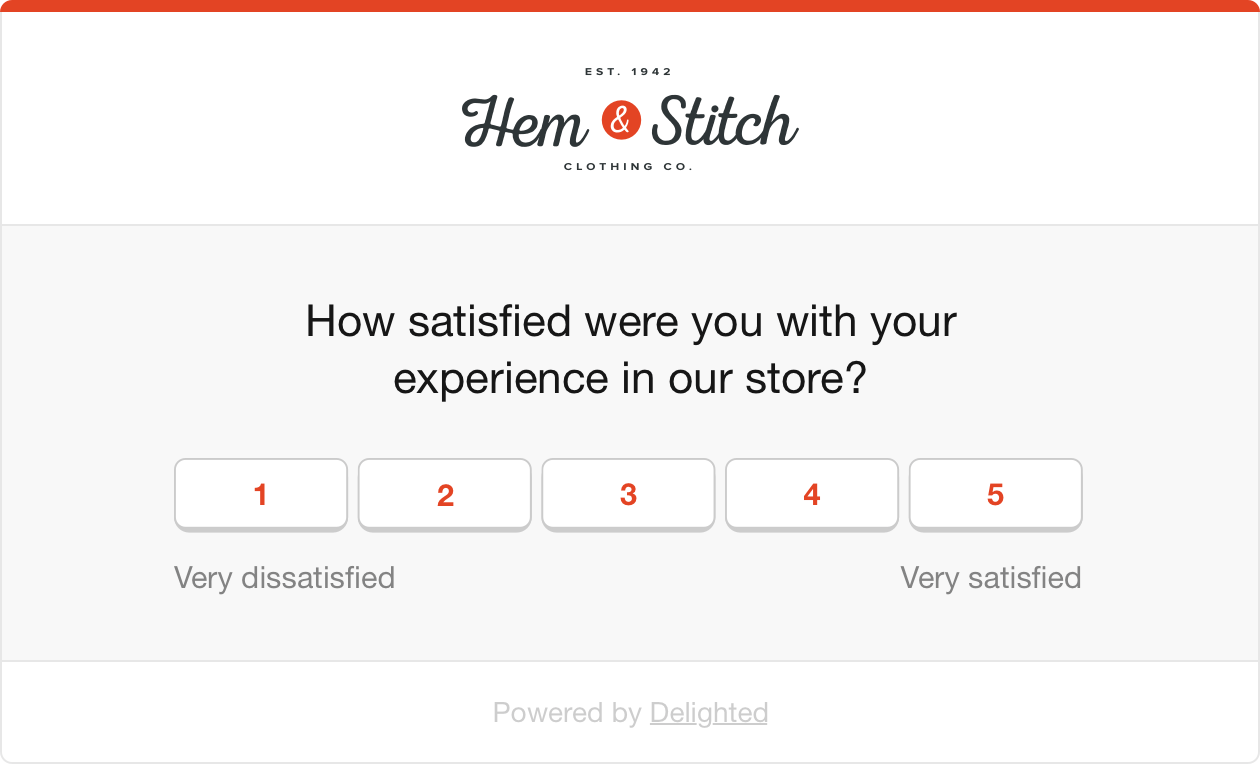 They also use Additional Questions, a premium paid feature, to ask about each aspect of the store experience to see what can be better. Here is a list of sample follow-up questions you can use for your survey:
Rating scale: How safe from COVID-19 did you feel while shopping?
Multiple choice: Were you satisfied with the safety measures in place?
Free response: Were there any safety measures you were unsatisfied with?
Rating scale: It was easy for me to find what I was looking for.
Rating scale: It was easy for me to get the assistance I needed.
Rating scale: How likely are you to recommend shopping here to friends or family?
You can also append non-COVID-related questions to evaluate how happy customers are in general as well, such as "How likely are you to recommend shopping at our store to a friend?"
Tips for survey placement
Link or QR code surveys are perfect for preserving anonymity. Print them on receipts or even COVID-19 signage to collect feedback in a safe, unobtrusive way. If you'd like to be able to follow up with your customers, you can ask them to provide their name and email.
Hardcode a store location into the QR code or link survey to collect and share feedback per location, or ask customers to input a store ID that's printed on the receipt.
If you would like to use a completely free Delighted solution for getting customer feedback during COVID-19, stick with the initial rating question and the open-ended followup where customers can easily share their thoughts. Get all the details on our free COVID-19 customer experience solutions page.
The future of retail is omnichannel
For retail companies, it's still important to recognize that brick-and-mortar is just one way for customers to interact with you. As the uncertainty around COVID-19 and business reopening timing persists, customers are veering more and more towards online shopping.
For example, at the beginning of the shelter-at-home directive, the popularity of ecommerce marketplaces increased by 14% within a week, and those trends are unlikely to change. If you're just starting our building your digital presence, check out our guide to the digital customer experience.
Using Delighted link surveys to conduct health screens
The safety of your employees and customers comes first. A national hair styling company uses Delighted link surveys to send a screening survey to help customers who have been exposed to COVID cancel appointments, and have already received 4000 responses.
Link surveys are automatically anonymous, so no one has to worry about personal information being shared.
For current appointment-based businesses or retailers like Best Buy who will now require appointments for consultations, this survey can help the community meet safety guidelines.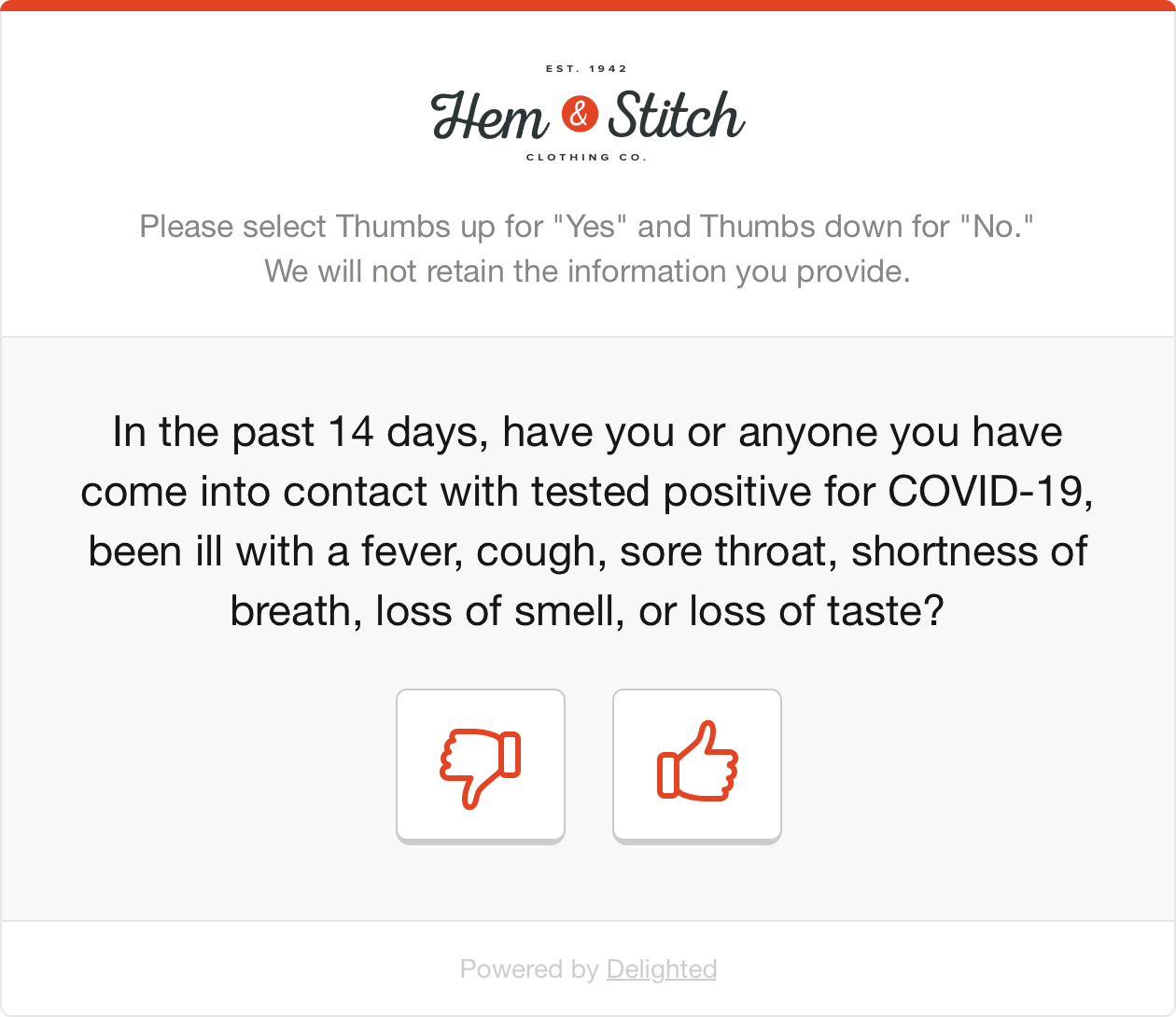 Some tips for creating your screening survey:
Include an introductory message to give context.
Integrate survey responses into your calendaring tool with Webhooks or one of our other integrations so appointments can be automatically canceled.
Configure the survey thank you page based on conditional logic. If the appointment has been canceled, explain why. If not, provide some information on what the customer can expect, when to arrive, and guidance on personal protective equipment.
These are the times when people band together. Customers and employees (see our back to work employee guide for more resources) will be working together to create a safe environment. Foster understanding, care, and clear expectations during this time to emerge on the other side stronger than before.
For more specific guidance on reopening your storefront, see these resources from the National Retail Federation, National Restaurant Federation, FDA, and CDC.