The key to building product roadmaps is through customer listening. As Delighted experts, we knew we had to practice what we preach and continuously gather real-time feedback from you, the customer, on what you wanted next for an integration refresh.
That's why we're thrilled to announce our newest integration update inspired by customer requests: Salesforce V2.
Salesforce V2: What's new?
Before, the Premium Delighted + Salesforce integration provided a one-directional syncing of Delighted survey data to Contact records and Accounts in Salesforce – perfect for consolidating, summarizing, and reporting on data across platforms.
Today, with advanced bidirectional functionality, you can now trigger Delighted surveys based on activity in Salesforce and keep all of the feedback data synced across platforms, just as before.
Use both functionalities or choose between one or the other – whatever makes sense for your automating needs. It's as simple as checking a box!

Triggering surveys from Salesforce activity
When setting up your automation workflows, you can select from a list of standard trigger activities or configure your own with an easy-to-implement custom trigger option.
Let's take a look at the 7 standard Salesforce triggers that were determined based on some of the most common customer requests and what happens when you want to configure your own.
Account Created
If someone creates a new Account in Salesforce, a Delighted survey is automatically triggered if the Account has less than 3 Contacts or if there's a specified contact (using our Custom Field).
Contact Created
If someone creates a new Contact in Salesforce, a Delighted survey is automatically triggered to the specified recipient.
Case Created/Case Closed
A Delighted survey is triggered once a Salesforce case is created or closed.
TIP: Use these triggers for closing the loop on customer support interactions. Automatically send CSAT or CES surveys after the creation or closing of a support case.
Opportunity Created/Won/Lost
Delighted surveys are triggered based on Opportunity Created, Won, or Lost when marked in Salesforce.
TIP: Use these workflows to close experience gaps with your customers during the sales cycle. Sending a survey after a lost opportunity will provide keen insights into product or service improvements that you wouldn't have known otherwise.
Configure custom triggers
The Delighted + Salesforce integration allows you the flexibility to choose automation features that make the most sense for your internal processes. If there is a workflow that you need that is not listed in our standard trigger options, you can set up your own within minutes – no coding experience required.
Learn more about custom triggers and the step-by-step instructions for setting up yours in our Help Center guide.
Customize how and when your Delighted survey is triggered
No need to restrict yourself to one configuration or another – you can layer as many Salesforce activity triggers as you'd like!
And, you can specify whether to send the survey immediately after the activity trigger, or delay the survey by 1 Hour, 1 Day, or 1 Week.
Let's take a look at a common customization example:
You want to set up 2 Salesforce triggers (such as Opportunity Won AND Opportunity Lost) to reinforce customer listening throughout the sales lifecycle. With our new integration updates – you can create multiple triggers within seconds.
You want to send a survey immediately after Opportunity Lost is marked in Salesforce. However, you ALSO want the Opportunity Won survey to delay sending by 1 week to allow your customer time to finish their onboarding processes before they submit feedback. With this integration's customization features, you can specify the survey send time for each configuration.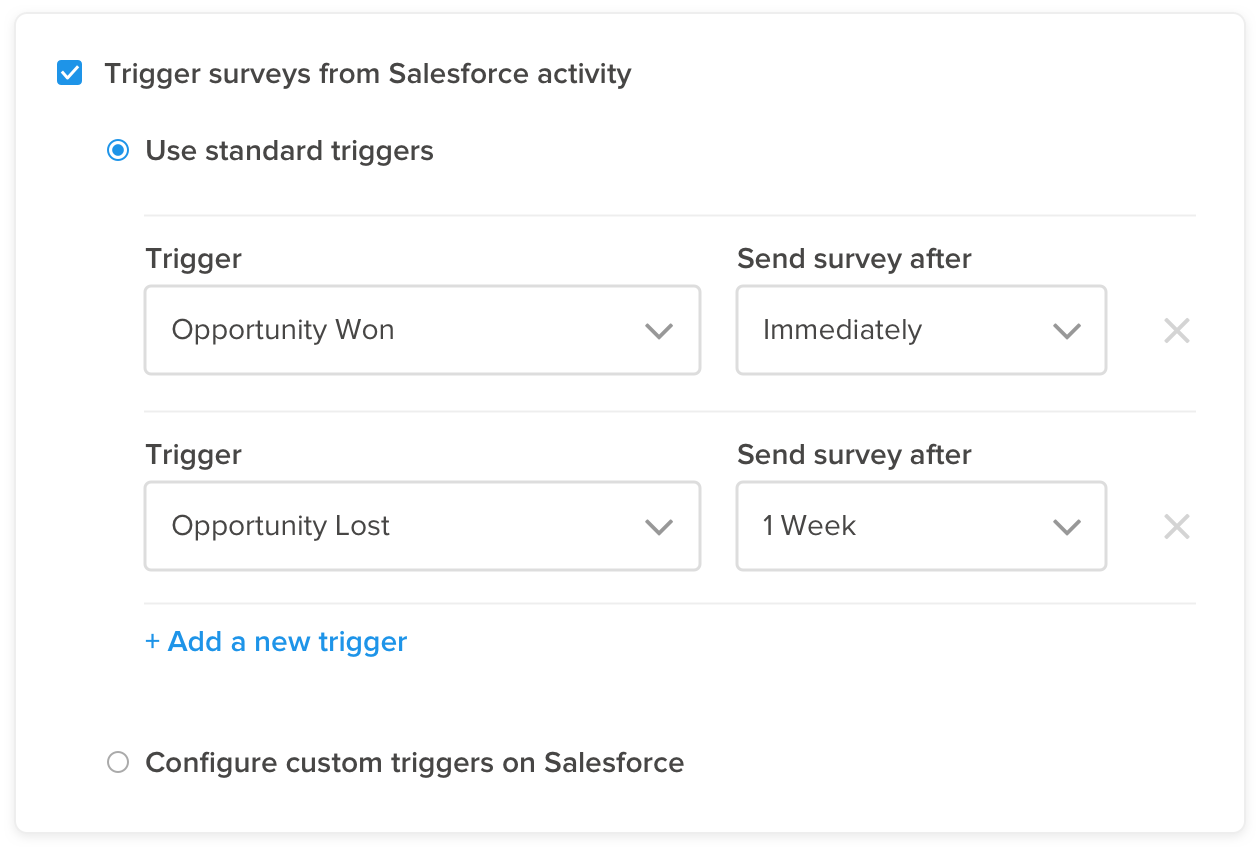 Integrate your Delighted surveys with Salesforce
Learn more about the new integration features within our Delighted + Salesforce Help Center guide and start triggering surveys through Salesforce today.
Salesforce is the world's #1 customer relationship management platform for teams of all types to expand and organize their customer bases.
The Salesforce integration is available to the Premium and Premium Plus plans. Upgrade your account today to gain access to the Salesforce integration and a suite of extensive reporting capabilities.
If you're new to Delighted, sign up to survey customers for free.