In the ecommerce world, customers can take their pick when it comes to how they want to connect with you. They can elect to reach out via chat, email, social media, 3rd-party review sites, and more.
For those many customers who never reach out, Delighted plays an important role in proactively prompting them for their feedback so that you can hear from more of your audience across all stages of the digital ecommerce journey.
All this leads to a significant amount of customer communication that's often managed by various teams on disparate platforms, and is notoriously difficult to tag and interpret at scale. The new Delighted + Chatdesk integration helps you solve that data management pain point by aggregating and analyzing all of that feedback automatically.
Chatdesk uses machine learning to automatically tag customer feedback and conversations so you can filter by date, channel, product, and sentiment. The Chatdesk Trends dashboard delivers 90%+ average tagging accuracy across 70+ tags for ecommerce businesses. It'll scan through conversations and open-ended feedback to surface trends on shipping, product issues, and pricing, just to name a few.
The best part? No one needs to manually tag anything. And, you can export all the data or port it directly into your data management warehouse.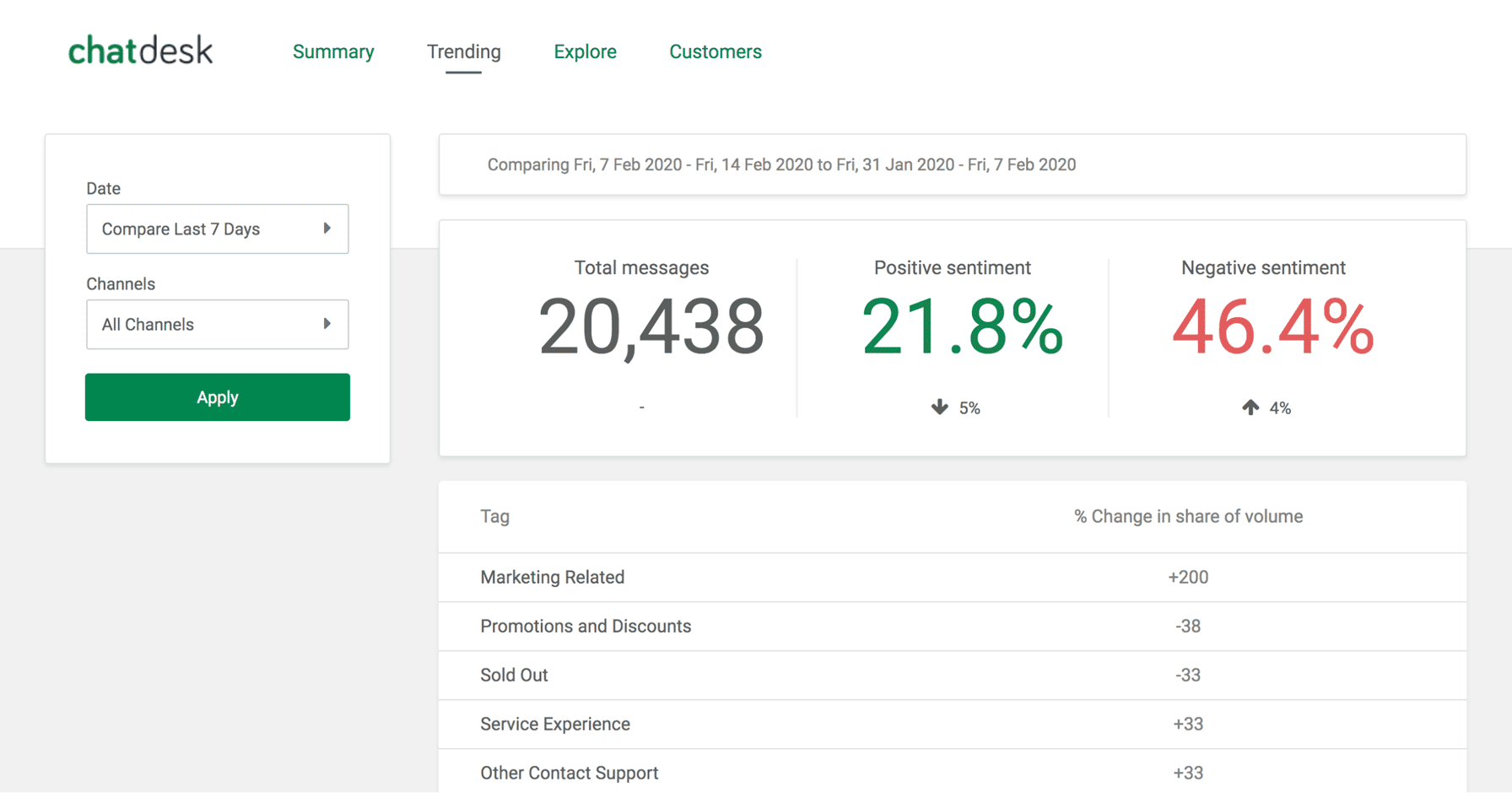 All of your Delighted feedback can be piped into Chatdesk so you can analyze it alongside customer interactions from all your other digital channels.
For example, you'd be able to see web or in-app CSAT feedback from prospective and returning customers browsing your site, and compare it with the live chat conversations of those who have proactively asked for assistance. Easily see if patterns arise that you should address to improve your web experience.
Your entire team can stay up to date on where you stand with your customers, and quickly surface the insights necessary to improve customer experiences. The product team can trim problematic inventory and refine offerings. Customer support can see what needs to be done to drive down ticket resolution times and improve self-serve. Marketing can increase conversions by removing barriers to purchase through clarified messaging.
Check out how easy it is to set up the integration in our Help Center guide. New to Delighted? Start a free trial of our experience management software to collect feedback, and set up the Chatdesk integration – it's completely free.