There's no question that the experiences customers have with your brand make an impact on your bottom line. In fact, recent data from the XM Institute shows that consumers are 2.6x more likely to purchase after a 5-star experience than after a 1- or 2-star experience. What's more, they're 3.7x more likely to recommend a company after that 5-star experience.
But to increase the number of 5-star ratings you receive, you need to enable more experiences that meet or go beyond customer expectations. To do that, you need to know what experiences need improving – which requires regularly reviewing all customer feedback, positive and negative.
Integrate feedback with your day-to-day life
The best way to make customer feedback an integral part of how your organization operates is to surface it in the places where your team spends their time most. For many of us, that's in our email inboxes.
With Delighted's Email digests, you can automatically receive feedback in your inbox on a regular basis – daily, weekly, or monthly – along with an updated view of your customer experience metric score (depending on your survey type, that could be CSAT, NPS, 5-star, etc.)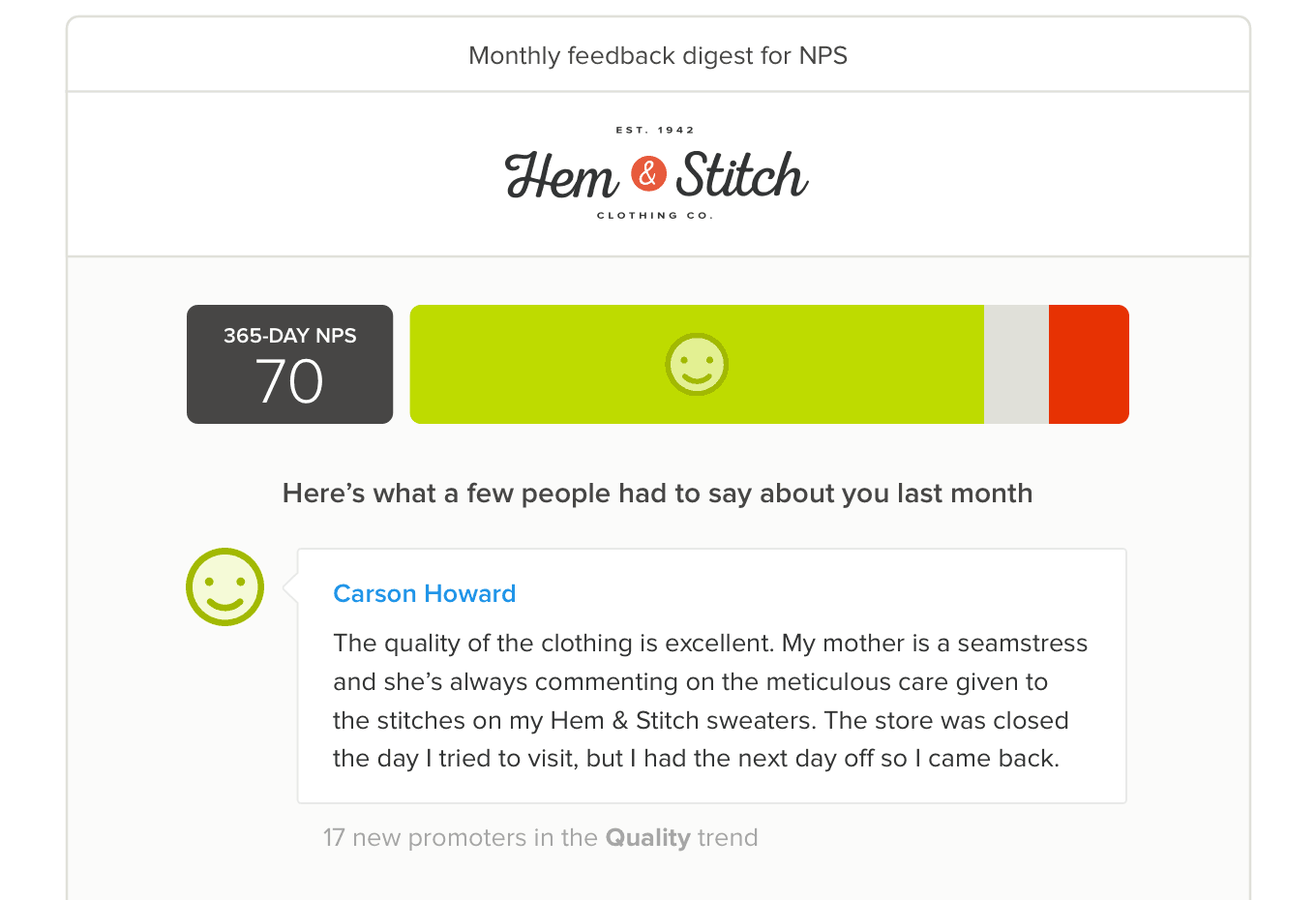 Email digests allow you to see your feedback at a glance, capturing a subset of the responses you've received and delivering them to your email. When you want to dig deeper into a response, simply click on the respondent's name to be taken directly to that response in your Delighted Dashboard.
Email digests are especially important for small teams, startups, or anyone working scrappily – it makes it easier than ever to keep customer experience top of mind, even throughout your busy workweek.
Share feedback with your team
Delighted users are automatically subscribed to weekly Email digests for the projects they have access to. But, if you think a team member would benefit from seeing specific feedback within the digest that they cannot see, simply forward the email recap to their inbox.
Or, if certain team members only need to see a small subset of responses rather than all of the feedback, you can set up digests tied to Trends (filters/keywords that you can use to organize and segment your feedback).
For example, you can create an Email digest curated for your head of operations by tying responses that mention "support" or "help" to a "Customer Support" Trend. Or, create a digest with feedback that only contains words like "comfort" or "sizing" for your head of product.
Head to our Help Center for more information about Trends for Email digests.
Monitor feedback over time
You can use Trends within Email digests to track feedback changes over time and discover new promoters or detractors within your specified Trends. (See "17 new promoters in the Quality trend" in the image below)

With the Email digest feature, you can keep an eye on important experience drivers – you'll know what's working well and you'll be aware of negative experiences that can be corrected and improved in real time.
Get started with Email digests
Email digests are a powerful way to integrate feedback with your daily life, allowing you to infuse the voice of the customer into your existing workflows. Make sure you're subscribed to Email digests by signing in to your Delighted account, navigating to "Account", and then to "Email digest".
New to Delighted? Get started today.