Guest contribution by Dmytro Zaichenko Marketing Specialist at Mailtrap
Many companies ask their customers for feedback with email surveys, often after a product has been received or a service has been completed. Ideally, your customers see your request, open the email survey, and provide their feedback.
Though the flow sounds simple enough, in practice, there are many nuanced approaches you can try to get your customer to open the email in the first place. Most important of all is the email survey subject line. Let's go over 7 proven strategies for crafting email survey subject lines to increase your open and survey completion rates.
Email survey subject line importance
The email subject line is the second-most critical influencer of email open rates. For email surveys, it's arguably the most important factor you continually refine over time.
The average survey response rate for all channels (in-person, in-app, via SMS text, etc.) is estimated at 33%. Delighted's benchmark email survey response rate hovers around 15%.
For email survey response rates specifically (calculated as the percentage of people who answer your survey), there's a second factor at play: whether people open the email at all.
Various factors can influence whether someone opens your email survey: emojis in the subject line, the length of the subject line, the use of special Unicode characters, and many other things.
Here are several recommendations on how to write a perfect subject line for a survey email to increase survey response rates.
7 tips for improving email survey subject lines
1. Keep your email survey subject line under 60 characters
Most people scan their email boxes. So, the clearer and more concise your subject line is, the better it is for your open rate.
Also, keep in mind that about 60% of emails are opened on mobile phones. It means that the shorter the copy, the more likely it will be displayed entirely on the smartphone screen.
Usually, a perfect subject line is up to 60 characters. The ideal number of words for an email subject line is up to 6. With a longer subject line, open rates tend to decrease.
Key point: Make your subject line as short as possible.
2. Convey emotion with tone to help your subject line stand out
Usefulness, generosity, friendliness – your email survey should be in the same tone as all the rest of your marketing communications. If you want to be friendly with your customers, the subject line is the best place to convey that sentiment.
How? Use appropriate vocabulary. Let the subject line sparkle, or embrace with warmth. In some cases, don't be afraid of adding a bit of informality or fun to your subject lines.
Words like "premium" or "exclusive" can be glossy and overused abstractions. Remove them without regret.
Instead of Fill survey and win premium offer try Help us become better 🙏🏻
Key point: Elaborate on creativity and be alive – customers need to feel a human touch in your emails.
3. Use the subject line to offer an incentive
Unlike the previous point, this is more about presenting a benefit for your audience. If people know exactly what they will get from interacting with your email, they'll be more likely to follow through on your request.
Letting your customers know that they'll receive a promo code or be entered in a prize drawing for completing the survey can go a long way to get you the feedback necessary to improve retention, satisfaction, and other factors key to your customer service strategy.
A subject line that contains an incentive can be compelling all on its own, but it will sound even more convincing when paired with the other strategies mentioned in this post.
Just remember that your survey completion message should let your customers know how they can redeem the promised offer. For example, if you send an email survey with the subject line, "Anna, 10% discount for your input," customers should receive a discount code once they finish the survey.
Key point: If you need valuable feedback from customers, at the very least, thank them for their input. But, it can be even more effective to give them something back.
4. Personalize the email subject line
There are many ways to personalize an email, and it definitely goes beyond using the subscriber's name in the subject line. For example, the correct use of geodata can help you to craft a location-based message that improves the open rate. The email list needs to be segmented by country, or even better, by city, to help you make geographically sensitive emails.
Hobbies and preferences can also help. Obtaining extra information about your customers and segmenting them is a way to boost personalization greatly.
For instance:
No personalization: We Need Your Feedback
Traditional personalization: John, share your input, please
Improved personalization: John, did you enjoy our store in London?
In truth, making hyper-personalized messages and subject lines is not an easy task. You need to collect all the required details about customers and keep them updated. Learn more on email personalization tactics and check out examples here.

Key point: Add a personal touch to subject lines to intrigue your customers.
5. Add a deadline to emphasize the sense of urgency
Think about how much you value your time and how often you prioritize tasks according to deadline and value. The same works for your customers, and you can use it in your favor. Even if customers open your survey email, they may quickly look through it and file it away as something to do later.
Mentioning a deadline for taking a survey and combining it with an offer is the approach to try: One day left to take a survey and get a promo code.
Use urgency in subject lines sparingly and only when it's constructive: e.g. when a reward for a survey is valuable enough for a recipient to act immediately. If you use this tactic too often, it will become trivial to your users.
Key point: Experiment with emphasizing urgency in your subject lines.
6. Avoid spam words
Each email service has a built-in spam filter to measure the reliability of each message. This filter analyzes tech factors (authentication records, URL filtering, etc.) when you send personal messages or mass emails. Spam filters analyze trigger words in subject lines.
Choosing your subject words carefully is a must to reach customers. Every time you write a survey email, check its subject for spam marker words.
Some common spam triggers are "free, $, urgent, act now." You can find more spam words here.
Key point: Remove click-baity spam words from your survey email subject lines.
7. Ask a question in the subject line
Engage your customers right off the bat by asking them a question about their most recent interaction with you.
At Delighted, our favorite subject lines get straight to the point by making the initial survey question the subject line:
How likely are you to recommend…
How satisfied were you with…
That way, email recipients know upfront exactly what the content of the email is about.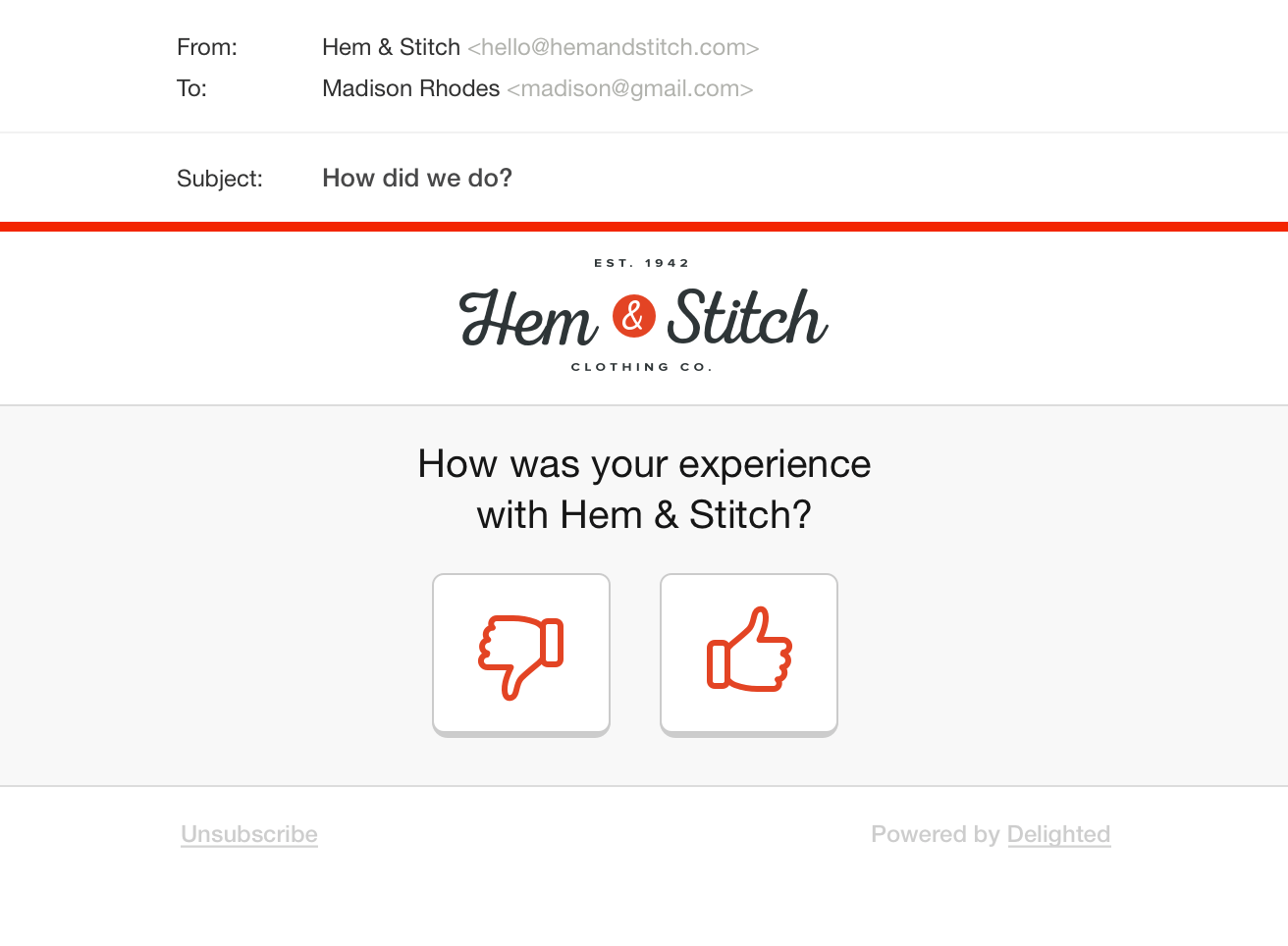 You can also try changing up the question to see how your customers respond: A small survey? or How do you enjoy our service?
These questions are easy to answer, and implicitly let customers know your survey is short. Better yet, with Delighted, even if customers only answer that initial question from the email, their rating will be recorded even if they don't fill out the rest of the survey.

Key point: Use a quick and simple question to tease your customers and motivate them to answer your survey.
How you should test subject lines
Your email testing checklist should include using tools that help you A/B test your subject lines.
For split tests, you set up two variations of the subject lines. You send option A to half of the test group, and option B to the second. After that, monitor your email marketing statistics, predominantly open rates, and use the best-performing subject line.
Some quick tips for A/B testing emails:
Only send the A/B test to a subset of your email audience. After you have a statistically significant result or a clear front-runner, send the winning subject line to the rest of your audience.
When determining a winner, also take the click-to-open rate of the email into account. After all, your final goal is also to have customers take an action based on your email, and not just to have them open it.
Split tests can include more segments than two. This approach is very helpful to understand which of the above-mentioned improving tactics (or their combination) work for you best. Also, it's not a resource-consuming approach.
The subject line is the first thing a user sees when they receive an email from you. Hopefully, the approaches mentioned in this post will help you up your email open rates and get you the feedback you need.
Want to get started? With our experience management software, you can send email surveys for free.
About Dmytro Zaichenko
Dmytro Zaichenko is a Marketing Specialist at Mailtrap, an email sandbox service. He has 6+ years of experience in content making. Apart from writing, he's passionate about networking and the NBA.