Post contribution by Caleb Elston, Co-founder of Delighted.
Startups are entering a new economic reality where funding rounds are more challenging to secure and consumer spending is rocked by the continued crises of the war in Ukraine, domestic inflation, and a pandemic now well into its third year. More than ever, startups need to pay attention to the amount of investment capital they are spending, and how they prioritize their operating cash.
In an April 2022 study, we asked 251 US-based startup founders and CEOs about their top concerns and priorities for the next 6 months. The data from the startup survey offers a window into the current market landscape: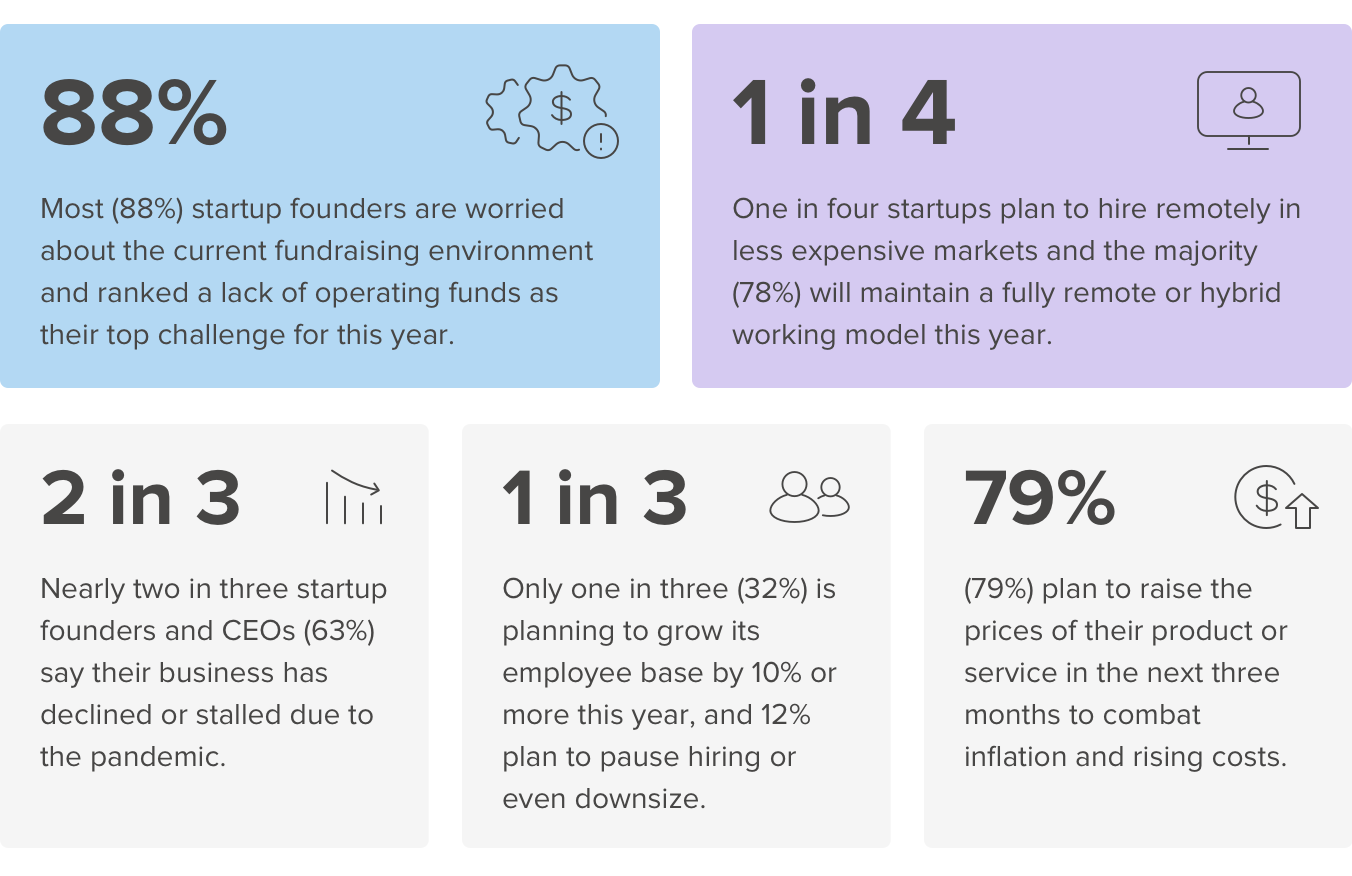 Most (88%) startup founders are worried about the current fundraising environment and ranked a lack of operating funds as their top challenge for this year
1 in 4 startups plan to hire remotely in less expensive markets and the majority (78%) will maintain a fully remote or hybrid working model this year.
Nearly 2 in 3 startup founders and CEOs (63%) say their business has declined or stalled due to the pandemic.
Only one in three (32%) is planning to grow its employee base by 10% or more this year, and 12% plan to pause hiring or even downsize.
79% plan to raise the prices of their product or service in the next three months to combat inflation and rising costs.

For a sector focused on explosive growth and facing numerous headwinds, one might expect customer acquisition, securing funding, or hiring new talent to rank at the top of any founder's priority list. The research shows that startup founders are instead prioritizing strengthening their core business and delivering customer experiences built to last.
Customer experience is core to startup survival and success
Startup founders and CEOs said their top priorities for the next 6 months were improving their customer experience and investing in their technology infrastructure, above customer acquisition, securing funding, and acquiring talent.
The data shows there is clear room for improvement on this front. While 9 out of 10 startup founders say they collect customer feedback in some capacity, nearly a quarter of respondents (23%) said they only know moderately well what their customers expect from their brand, products or service.
Startups that reviewed customer experience data weekly or monthly were more likely to say they had a very good understanding of what their customers expect compared to those that only reviewed customer data quarterly or annually. So why aren't all startups doing more with their customer experience data?
Top customer experience challenges startups face
The new research shows that 20% of startups do not have a dedicated Customer Experience (or Customer Service/Customer Care) team or even a single employee dedicated to customer experience, even though nearly 60% of founders have been asked about their Net Promoter Scores in an investor meeting.
A quarter of all startups do not currently track how much effort a customer has to put in to get an issue resolved, a request fulfilled, a product returned/purchased or a question answered via a customer effort score. The data uncovers a few common issues that most startups face. Founders said their top three challenges for collecting or analyzing customer feedback were:
(50.9%) Their customer feedback is scattered across teams and kept in multiple formats
(19.7%) They don't have the ability to uncover insights or signals from the collected data
(14.9) They don't have a process in place for closing the loop on feedback
Founders and startup CEOs also indicated that a variety of teams own their customer experience program, from customer service to product and marketing teams to C-level executives. However, nearly half (43%) of all startups said their C-suite reviews customer experience data and 1 in 10 said their investors do as well.
Startups need fast, intuitive, and inexpensive tools to help them better understand their customers and their product/market fit
Startups face numerous challenges that are pivotal to success or failure: customer loyalty, employee engagement, product/market fit, and more. The failure rate across all new US business ventures within their first 5 years is over 50% according to the Bureau of Labor Statistics. 
Many startups find out too late that there is little or no market for their products, and in times of uncertainty, closing the gap between customer expectations and the reality of your product or service can be the difference between success and failure.
The number one way for a startup to succeed is to build a product customers love
Many startups are evaluating the customer experience piecemeal, and lack the tooling or resources to take stock of the feedback they have for holistic experience improvement.
Delighted is one of the fastest and easiest ways to collect and act on customer feedback. Startups worldwide use Delighted to stand up multichannel NPS, Product/Market Fit, and CSAT feedback programs in minutes. Delighted AI automates every aspect of the customer feedback process, from optimizing survey deliverability and response rates, to analysis and reporting, so that companies can focus on closing feedback loops faster than ever. Get the results of the full study with our recommendations on how startups can achieve longevity.
The study found the primary reason startups did not collect customer feedback was a lack of resources. However, all early stage startups are eligible for the Delighted startups program that helps them easily launch a customer experience management program on a budget.
In addition, Delighted collaborations with leading venture capital firms and startup accelerators, including Halo Incubator, Greylock, Kleiner Perkins, Sequoia and Y Combinator provide companies in these portfolios with free credits to the Delighted platform and white glove support from Delighted's support team that has guided thousands of startups and nearly 100 tech unicorns in their experience management programs.
The research is clear – amidst inflation and spending cuts, startups are trying to find and KEEP customers. Delighted provides the fastest and easiest way for startups of any size to gather actionable customer, product, and employee feedback.
About Caleb Elston
Caleb Elston is a co-founder of Delighted, the fastest and easiest way to gather actionable feedback from customers. Prior to starting Delighted, he led the team that created Mosaic. Elston also founded Yobongo, which was acquired in 2011, and was the former Vice President of Products for Justin.tv.