Have you ever experienced amazing customer service that went above and beyond your expectations? You probably felt appreciated and impressed at the same time. Imagine being able to deliver that kind of experience to your customers on a regular basis.
Outstanding customer service interactions are capable of producing fierce brand loyalty in a short period of time. That's why it's important to understand how to measure customer service interactions and the type of metrics that capture experiences and turn them into actionable data.
Why are customer service metrics important?
The shift towards the customer experience is an indisputable growing trend that has changed the way companies prioritize their organizational efforts. The same shift towards the customer comes with a newfound need for impeccable customer service.
"Companies and researchers collect data year-over-year that support the need for a dedicated customer service strategy:

– 90% of customers find customer service important when choosing a brand.

– 94% of customers who consider their experience with a business as "very good" are likely to purchase that company's additional products or services in the future.

– 78% of customers are likely to forgive a business for a mistake if they were provided exceptional customer service.

– 58% of customers have higher customer service standards due to the COVID-19 crisis."

– How to improve customer service: A winning customer service strategy
The need for outstanding customer service is clear, but how do you make sure that your support program is meeting customer expectations?
It starts by choosing the customer service metrics you want to measure, collecting experience feedback over time, and then measuring and acting on the collected customer support data.
Most common customer service metrics
Let's break down the top customer service metrics you can implement today to increase the customer experience, reduce customer churn, and create long-term brand loyalists:
1. Customer Satisfaction Score (CSAT)
Our customer satisfaction survey software is the perfect solution for tracking and measuring general customer satisfaction.
A CSAT survey begins with a single question, "How satisfied were you with [Your Company]?" and asks the customer to select a rating from 1-5. Then, the customer can explain their rating reasoning with an open-ended follow-up question.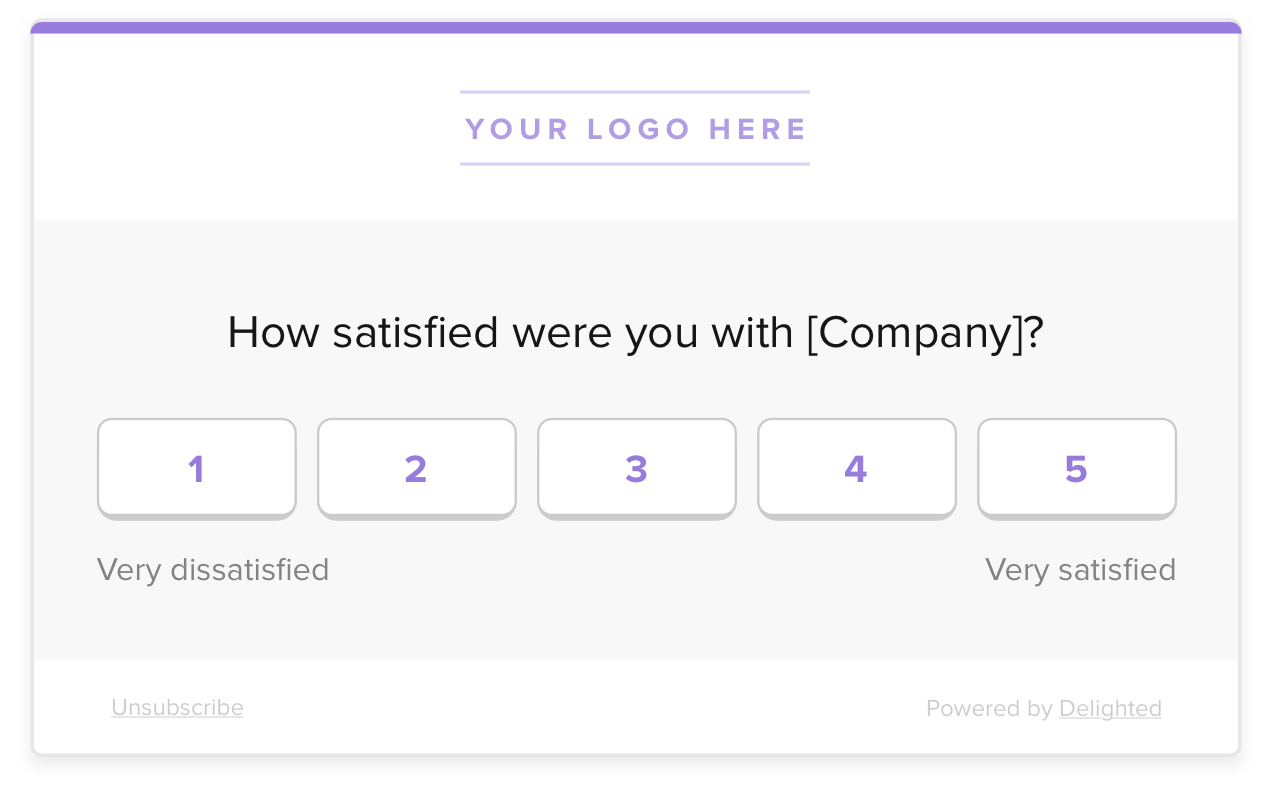 To instantly determine if a customer was satisfied with their support, you can trigger CSAT surveys after any, or every, support interaction (including post-purchase at a store location, after a support call, following a ticket closing, etc.) and on any customer channel (email, web, and link).
Two-part customer service surveys are quick and easy to complete – which leads to higher customer response rates and more opportunities to adjust support processes in real-time.
TIP: To gain deeper insight into what went well and what support areas need to be improved, you can also add up to 10 Additional Questions with a variety of question designs.
2. Customer Effort Score (CES)
How easy is it for your customers to get answers to their questions and reach a support member? Is contacting your service center an effortless experience? If your answer is "I think it's an effortless process," then you may want to find out your Customer Effort Score (CES) to see if your hunch is correct.
Customer Effort Score surveys help you identify how much effort it takes for customers to get the support they need and expect.
A CES survey asks customers to select how they feel about the statement, "[Your Company] made it easy for me to handle my issue," on a 7-point or 5-point rating scale. Then, the customer can elaborate on their answer in an open-ended follow-up question.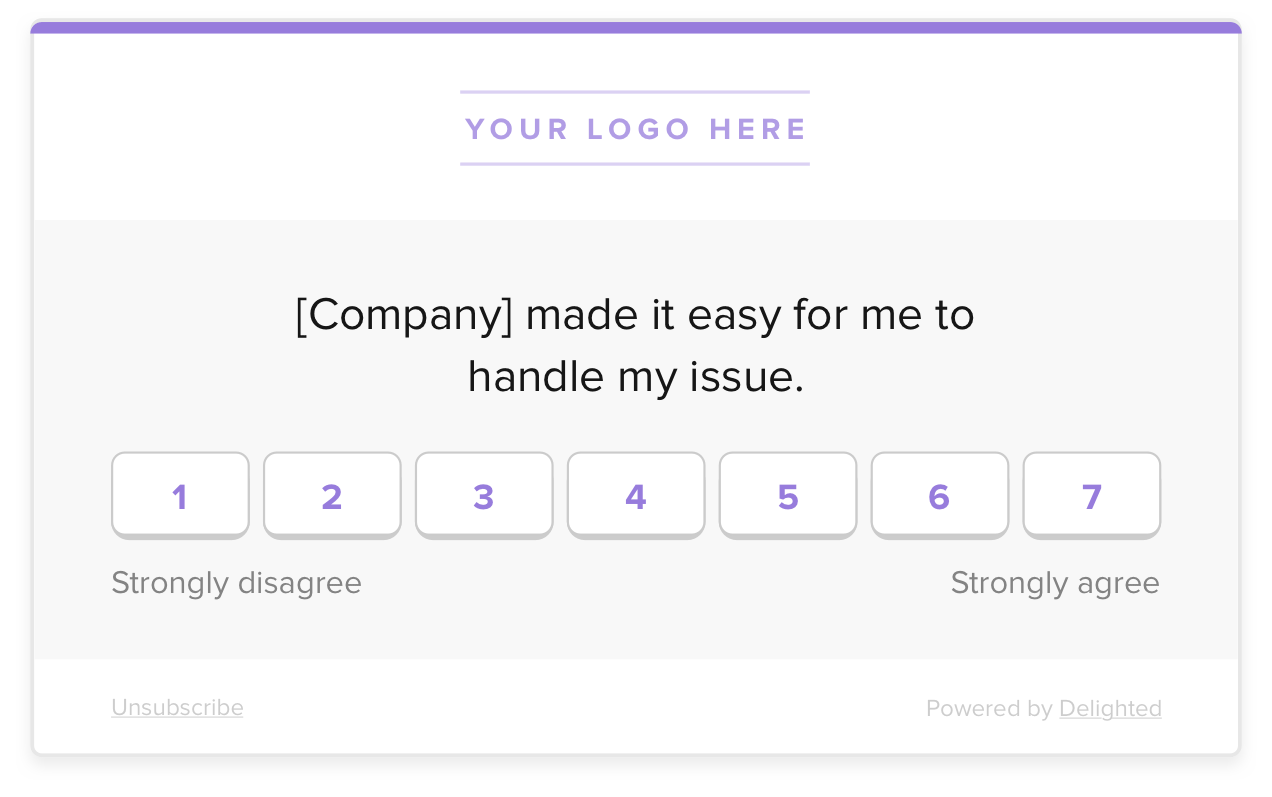 Measuring the ease of a customer's experience with a service member can help you track quality assurance, team performance, and give you the details you need to make improvements to customer-facing processes.
TIP: Including a Thank you message in your survey can encourage brand loyalists to spread the word about their great experience with your support team!
3. Net Promoter Score (NPS)
Net Promoter Score (NPS) is one of the most popular customer satisfaction metrics around. Used globally by companies looking to stay competitive in the world of customer experience, NPS can also be used internally to find out if your customer service matches up.
Surveys sent by NPS software measure brand loyalty and segment your customers as promoters, passive customers, or detractors.
An NPS survey is a simple two-part questionnaire and asks a single question: "How likely are you to recommend [Your Company] to a friend?"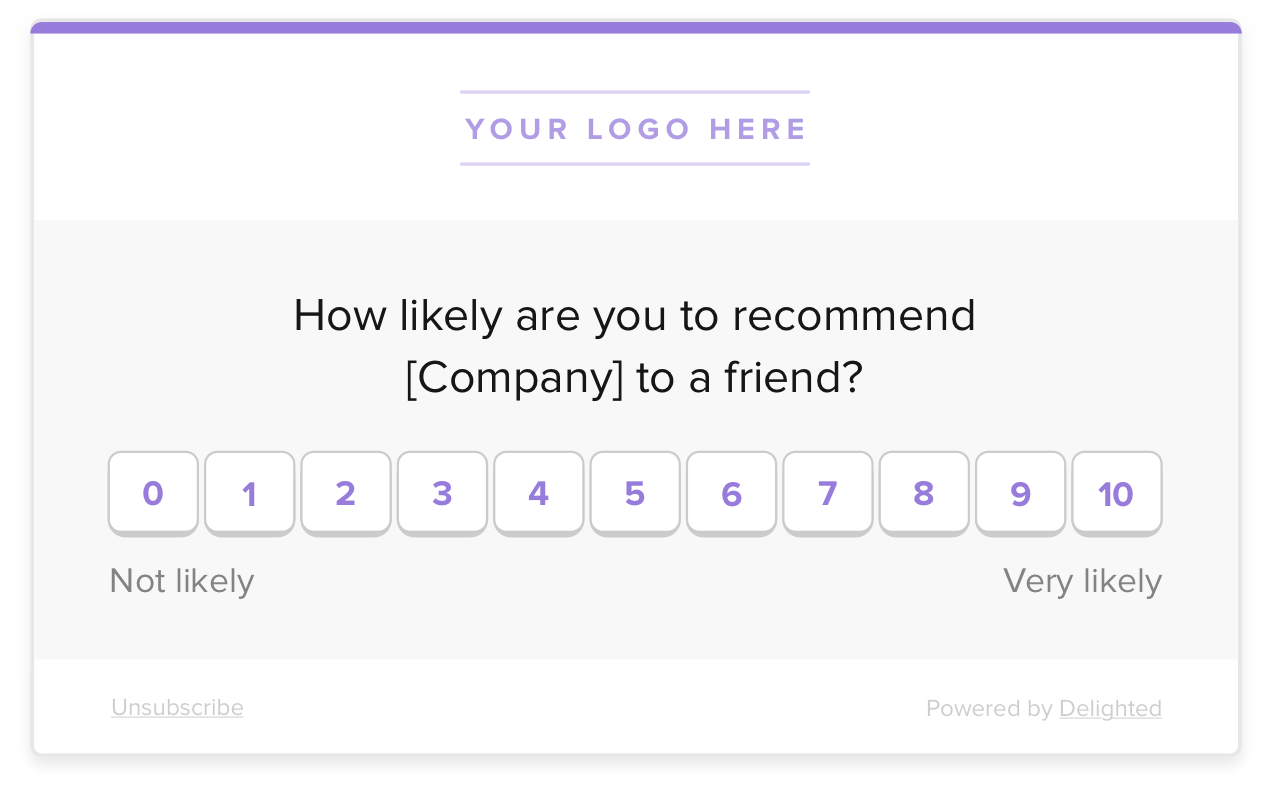 The customer answers the question by selecting a number from 0-10. Then, on the following screen, they're asked to explain why they selected their chosen number in an open-ended follow-up question. As you accumulate survey responses, your NPS score will be calculated automatically and range from -100 to 100.
By tracking your NPS, you'll know if your efforts to improve your brand and your customer service are working. And, as you gather survey data and make changes to your business based on the insights, you should see your NPS increase.
Learn more about what is a good NPS score in our latest guide.
TIP: Not sure which metric is best for you? Dive deeper into the differences of CSAT vs NPS vs CES to find out which metric, or combination of metrics, makes the most sense for your customer service needs.
4. Customer issue resolution rates
Resolving issues to the customer's satisfaction is just one part of providing an outstanding customer service experience. Your customers want fast resolutions to their problems, whether it's a tech support issue or a return that needs processing. In fact, how fast you resolve customer issues is arguably more important than the final resolution.
In 2015, Forbes explored the issue of customer resolution and found a Zendesk-sponsored survey with surprising results. The survey found that people judge customer service experiences more on the timeliness of the interaction than on the outcome.
Although taking action and coming to a resolution effectively is crucial to customer service success, it may be time for you to consider how long it takes for your support team to resolve customer issues overall.
TIP: To find out your resolution rate, try out this calculation provided by Qualtrics: Total number of tickets / the number of tickets solved.
5. Customer churn
There's no easy way to predict when a customer will stop using your service or product, or churn. In fact, customers interact with your brand in various ways across different channels through the customer lifecycle, so how do you know what's needed to continue to retain your customers?
If you're seeing a reduction in purchases or if you track churn via a CRM, try taking a look at all customer experiences across a customer journey map. Through this exercise, you can revisit when and where your customers interact with your support team and use customer feedback to discover if your support processes (or any aspect of the customer journey) need improving.
TIP: If you are interested in taking a look at your customer retention rate, try out the rate calculation formula found in our retention strategy guide.
Track important customer service metrics with Delighted
Are you ready to start collecting customer service insights that you can use to grow your business and increase customer retention? Delighted's experience management software can help.
Sign up for free today to try out all Delighted Premium features at no cost to you.
Happy customers can be turned into loyal customers when you have the right customer service metrics to act on experience feedback. Start sending your customer service surveys today and collect actionable support data within minutes!