This post is a contribution by Sruthi Srinivasan, from the Technology Partnership Marketing team at Freshworks.
When it comes to providing stellar customer service experiences, businesses are constantly on their toes to evolve alongside changing expectations and industry trends. There's an inherent need to raise the bar and reimagine CX strategies in order to exceed expectations.
Unfortunately, there's often a mismatch between what customers want and what businesses perceive that they want. Fortunately, there is a way to bridge that gap: real-time customer support feedback.
The value of customer feedback in the process of providing a great customer service experience cannot be stressed enough. In this post, we'll dive into why customer listening matters and how you can start leveraging feedback to create the experience your customers expect.
The importance of customer listening
The world we live in today is fueled by change. And how we adapt to it and evolve, as individuals, businesses, and economies define how successful our strategies are. While interacting with brands, customers look forward to holistic experiences with expectations that go above and beyond transactional interactions.

Studies show that over 66% of customers expect companies to understand their needs and expectations. The top priorities include accelerated digital initiatives, consistent interactions, personalization at every touchpoint, and a great deal of empathy.
In order for an experience to be positive, customers need to feel heard, acknowledged, and answered. While the expectations are high, reality falls short with 53% of customers feeling that brands fail to meet their expectations.
What's more, according to the peak-end rule created by psychologists Barbara Fredrickson and Daniel Kahneman, people judge an experience largely based on how they felt at two key moments: (1) the most intense point known as the peak, which could be either the best or worst, and (2) the ending.
For customer experiences, this "Peak-End Theory" is more applicable now than ever.
For brands, this means the last experience you provide to your customers takes precedence over all previous ones. And one bad experience can cause you to lose your customer's trust and loyalty. This is particularly true for the experience economy in which we operate.
In fact, 86% of buyers are willing to pay more for a great customer experience, while 32% of customers would stop doing business with a brand they loved after one bad experience.
How customer support feedback bridges the experience gap
The experience gap exists across industries. But, if your business is able to reimagine your approach to solving your customers' problems, you'll be well-positioned to stand the test of time.
Businesses need to take a step back and ask themselves some critical questions.
Are the experiences you provide meeting customer expectations?
How well do you understand your customer needs and preferences?
How can you improve your product or service to solve your customers' issues?
The key to answering these questions lies in understanding the voice of your customers by collecting feedback after every interaction and at every touchpoint in the support cycle. Use customer experience surveys to measure customer satisfaction, identify barriers, and deepen your understanding of your customer base.
Asking for feedback also shows customers that you are listening to them, which plays a huge role in building trust. A study by Microsoft shows that 77% of consumers view brands more favorably if they seek out and apply customer feedback.
By translating this feedback data into meaningful and actionable customer insights, you can improve your support strategy and work towards being more proactive.
How to evaluate the quality of your customer service experience
Customer feedback takes many forms and can be collected over various channels depending on the insights you want to gather.
For example, you can actively solicit feedback with in-app satisfaction Customer Satisfaction Score (CSAT) and Net Promoter Score (NPS) surveys, as well as request reviews on social media and review sites. On top of that, you can also perform sentiment analysis on support emails, calls, and community forum posts.
Find the right feedback tool for your business
The right feedback software will match the unique requirements of your business, facilitate easy analysis, and spur cross-functional collaboration to close the loop with the customer. The more automated the process can be, the better.

Omnichannel support desk tools such as Freshdesk help manage all support-related communications from multiple channels on a single platform. When integrated with Delighted's experience management platform, you can automate feedback collection and follow-up for your support team.
The integration enables you to automatically trigger Delighted surveys after a ticket is marked closed or resolved and send customized follow-up messages to customers based on their feedback. Additionally, it can also be employed for quality assurance based on metrics like Customer Satisfaction Score (CSAT), Customer Effort Score (CES), and sales hand-off surveys.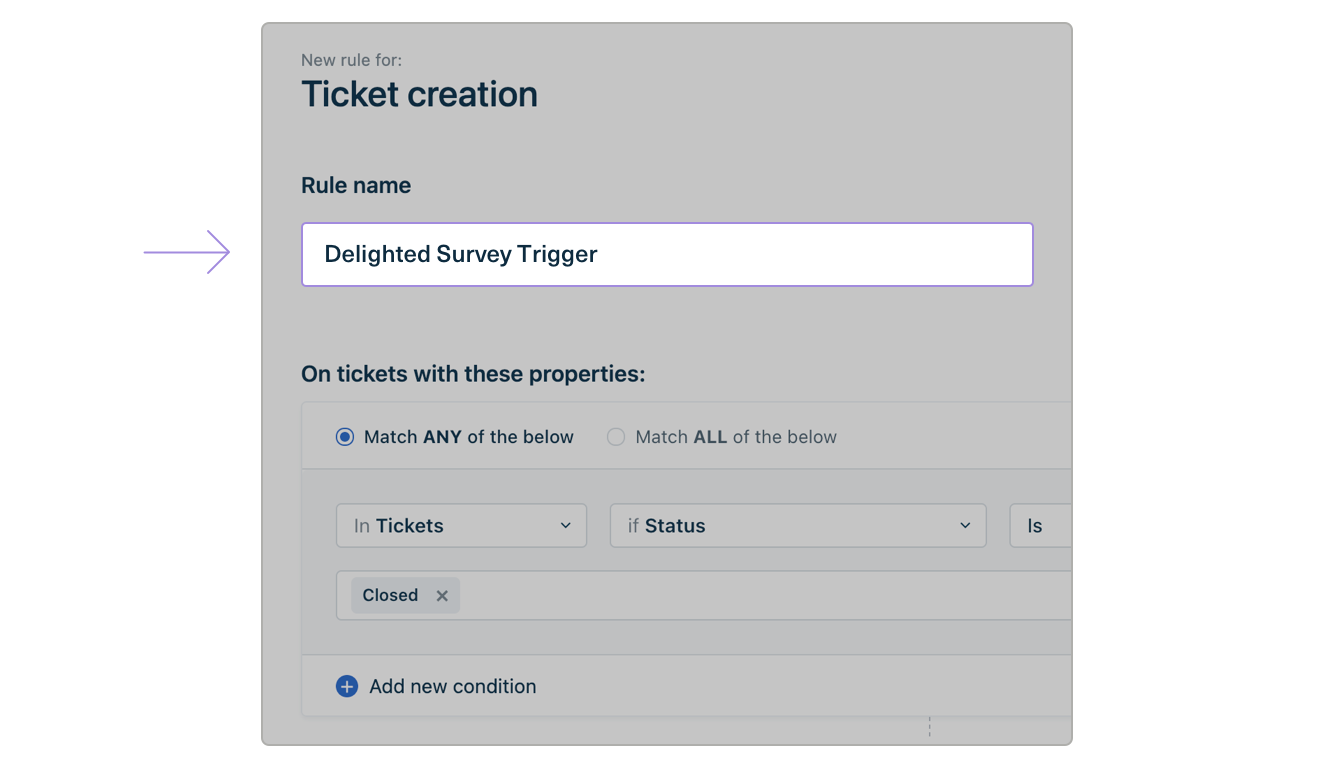 6 effective ways to improve your customer service experience
While they say the devil is in the details, it is also in the data. It is vital for businesses to analyze the data gathered from feedback and turn it into actionable insights that help drive customer satisfaction and help desk efficiency. There are 6 tried and tested approaches that you can adopt to leverage customer feedback in your operations:
Be available across channels and devices
Employ intelligent ticket routing
Help customers help themselves
Measure, analyze, and improve support quality
Enable feedback to seamlessly flow across functions
Build a proactive support strategy
1. Be available across channels and devices
Looking at feedback data, you can see if more channels need to be integrated with your helpdesk software. For example, you might find your customers complaining that a chat option is not available. In the era of mobile, customers prefer quick and effortless support and it is vital that you are available for them across messaging apps and devices.
2. Employ intelligent ticket routing
Analyzing customer feedback gives you insight into whether knowledgeable help was given during a support interaction. This enables you to strengthen how tickets are assigned to agents. Additionally, you can employ skill-based routing, where knowledgeable agents handle tickets based on priority status and the nature of the query.
3. Help customers help themselves with a knowledge base
If the feedback data suggests customers are more inclined towards self-help, empower them with a self-service experience that includes an exhaustive knowledge base. Use advanced bots, a knowledge base with integrated forums, and a web widget to help your customers find answers faster. This also helps improve agent efficiency by letting them focus more on complex problems.
4. Measure, analyze, and improve support quality
There will also be situations where your feedback data shows that your customer did not have a good experience – maybe their query wasn't resolved well or fast enough. Having the right real-time feedback metrics in place helps track both team and individual agent performance. This helps you understand who needs more coaching and guidance, as well as to modify your team's Key Performance Indicators (KPIs) accordingly.
5. Enable feedback to seamlessly flow across functions
In instances where your customer shares feedback about your product/service or expresses interest in another product offering, it is essential to pull in the relevant team, be it product development or sales. Make sure you have a collaborative tool in place that enables you to share this feedback instantly with the various departments involved. To resolve the customer query quickly and efficiently, provide the teams working on the query with visibility into the ticket ensuring everyone stays in the loop.
6. Build a proactive support strategy
Customer feedback also gives you foresight into changing customer expectations or trends that are picking up. This provides businesses with the opportunity to be proactive and come up with innovations that can benefit the customer, rather than being reactive and finding solutions to problems.
Conclusion
At the end of the day, your customers want to know that you care about them and are willing to have meaningful conversations. There's a whole world of technology, tools, and software that can aid you in providing them with a good experience. But to make it a great one, businesses need to go the extra mile and add a human touch. Make it more personalized. Nurture connections and build a community of loyal customers.

Leveraging customer feedback and the insights derived from it help delight your customers as well as continuously improve your products and processes. The outcome is bridging that gap between your customer's expectation and experience, and finding the sweet spot of success. If you're looking to learn more on how to elevate feedback as a crucial element of customer service, check out the Freshdesk and Delighted by Qualtrics integration.
About Sruthi Srinivasan
Sruthi Srinivasan is a content writer for the Technology Partnership Marketing team at Freshworks. With a diverse background and over 2 years of experience in social media marketing and advertising, she enjoys creating captivating content for various platforms. When not typing at lightning speed, you'll find her behind a book with constant refills of coffee or baking treats to go along with it.