Gone are the days of mere customer transactions. Now, every interaction with a customer is a two-way conversation; one where customers expect to be asked for their opinions – and listened to – in order for you to keep their business.
Companies need to open up a dialogue to better understand their customers and that dialogue starts with asking for customer feedback. Customer feedback allows companies to collect the opinions of the people buying their products and services by asking pointed questions about their experiences.
With it, you can gain valuable insight into what's working – and what's not – in your customer experience. Without it? Well, you might be missing out on knowing your failures and opportunities.
Given the importance, we've taken a closer look at what customer feedback is, the benefits of gathering customer feedback, and the most effective way to get started collecting feedback – customer surveys.
What is customer feedback?
Customer feedback is the opinions and information you learn from those who purchase your products or services.
Whether you hear verbal customer feedback from someone buying something in your store, read a review on your website or a social media post, or receive a starred rating following a customer interaction, all of those methods provide valuable insights into your customer experience.
Customer feedback can be positive or negative; both are useful to improving and optimizing how you do business.
Positive customer feedback sheds light on what you're doing right – and what you should continue doing to keep your customers coming back. Negative customer feedback is useful in that it points to what's going wrong – and, sometimes, the feedback itself can provide a solution to that particular problem.
Other times, you'll need to analyze your collective customer feedback data to identify trends and pinpoint any breakdowns or moments of friction along the customer lifecycle.
What are the benefits of gathering customer feedback?
As we mentioned above, all types of customer feedback are helpful to your business. Whether it's negative feedback or positive feedback, gathering feedback from your customers pulls back the curtain on what's happening in areas of your business you might not otherwise know about.
Customer feedback can point out a bug in your software, friction in your checkout process, or an opportunity for a new product or service altogether.
Gathering customer feedback also allows you to:
Open a dialogue with unhappy customers
When you receive negative feedback from a customer, you have an opportunity to make it right.
By not taking action on that feedback, you might lose that one customer. Or, you might lose all the potential customers that one person tells about their bad experience.
An unaddressed bad customer experience also has the potential to spill over to – and spoil – your brand reputation, as well as your ability to attract and retain employees.
By opening a dialogue with an unhappy customer, you can head off the domino effect of bad employee experience management – and hopefully, turn one unhappy customer into many happy customers.
Build relationships with loyal customers
Collecting – and responding to – customer feedback makes the people who buy from you feel connected and listened to.
For example, when you engage with your customers on social media channels or call out when you've improved your product thanks to customer feedback, people see that you care about the customer experience. Doing so is a powerful way to boost customer retention and foster relationships with your loyal customers.
Pay attention to your customer touchpoints
Customer touchpoints are the myriad of moments when a person comes into contact with your company or brand. These moments make up the customer journey and play a pivotal role in the overall customer experience. By paying attention to these micro-interactions – and not just the big picture – you can pinpoint when your processes are working (and when they're not).
Share data with your product teams, marketing teams, and customer support teams
Customer feedback provides you with credible intel as to how your product is faring in the market, what your customers think of your brand and services, and how helpful and responsive your company is to your customers' needs.
All of this data can be used to make important business decisions and should be shared across the company. By providing survey feedback visibility across your organization, your:
Product team can optimize what you offer customers and build out product road maps based on verbatim feedback
Marketing team can better understand your audience, how to talk to them, and provide as much value as possible when strategizing their outreach
Customer support team can adapt to the changing needs of your customers and build out/enhance new service team training with insights found from customer feedback
What are the most effective ways to gather customer feedback?
From email and social media to interviews and focus groups, there are many ways to ask for feedback from your customers. But, there's one method that is the fastest and most effective for collecting feedback: customer surveys.
Because they can be targeted, direct, and specific, customer surveys are the ideal way to ask for feedback that you can then take meaningful action on.
Not sure which survey (or surveys) to use to get started collecting customer feedback? Here are three types of simple and effective customer survey templates:
1. Customer satisfaction surveys
Customer Satisfaction Score, or CSAT, surveys measure how pleased (or displeased) customers are with your product or service.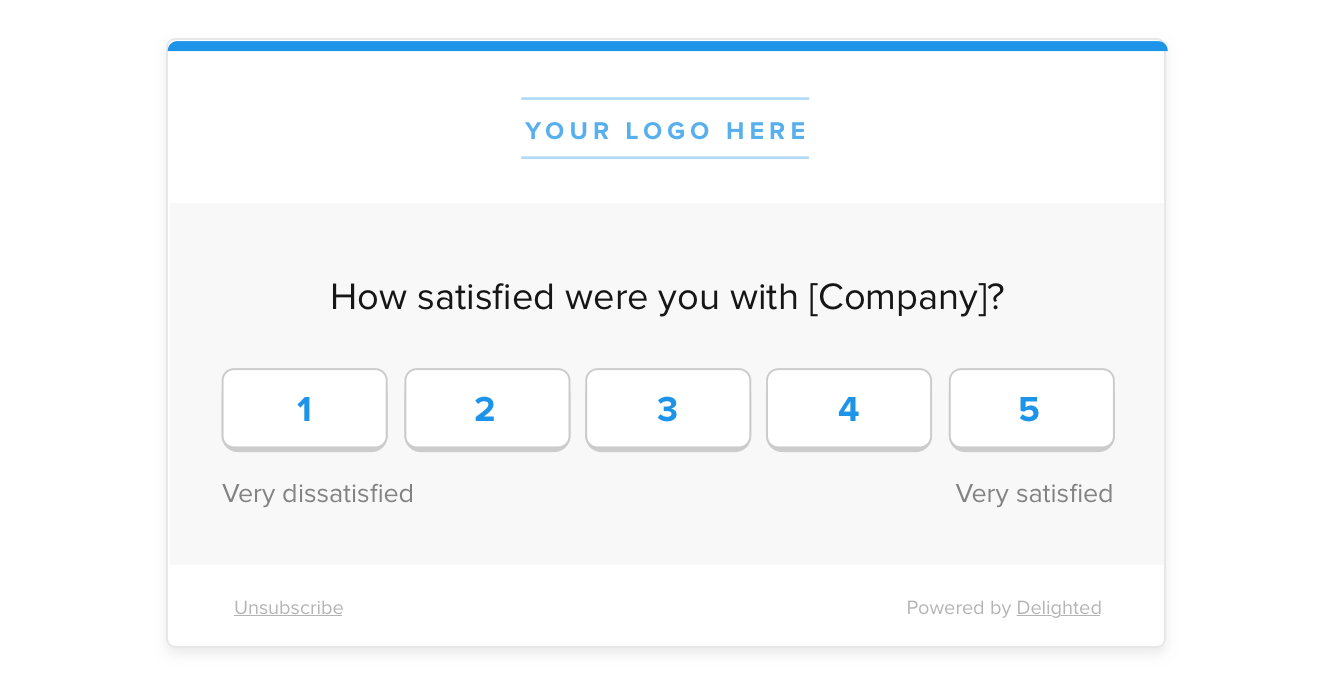 CSAT surveys allow you to ask customers, "How satisfied were you with [your company name]?" (or similar). You can get even more specific and customize your survey to ask about your customers' experience with sales, product, onboarding, or support to set benchmarks to measure and improve.
With Delighted's customer satisfaction survey software, you can hear from more of your customers and gain deeper insights from their feedback, giving you the power to craft better experiences for them.
CSAT surveys are designed with an initial multi-point scale question (five-point, three-point, or two-point scales) followed by an open-ended question that allows customers to expand on their initial rating reasoning. The detailed feedback customers provide in the open-ended question can spark company-wide changes to existing processes or new solutions to their specific concerns.
Delighted CSAT surveys are completely customizable, and after you send your surveys, you can watch insightful feedback roll into your real-time CSAT dashboard, calculate your CSAT score, and close the loop – fast.
2. Net Promoter Score surveys
Net Promoter Score, or NPS, surveys help you gauge customer loyalty by asking the question, "How likely are you to recommend [your company name] to a friend?" (or similar). NPS surveys are easy to understand, quick to complete, and give a 30,000-foot view of customer loyalty.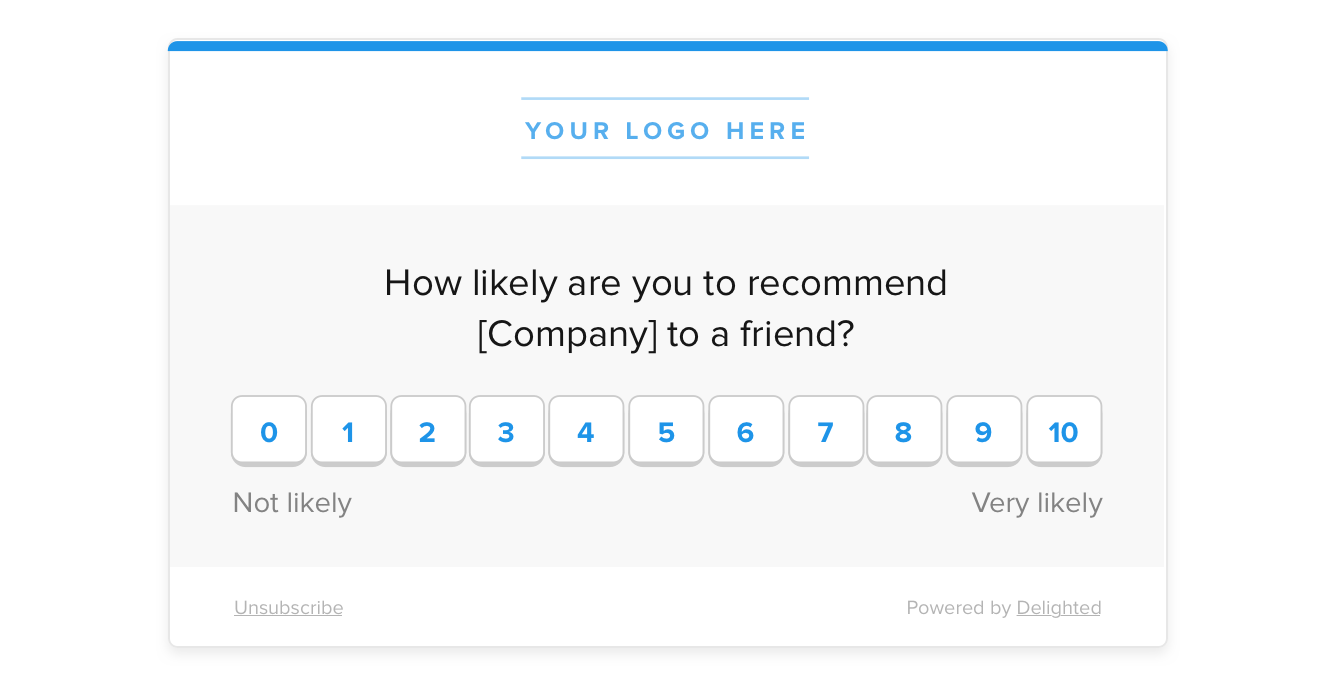 With Delighted's NPS software, you can customize your NPS question and collect insights on the individual customer touchpoints you'd like feedback on, such as a recent transaction or an interaction with customer service.
Customers are first asked to include their rating on a 0-10 scale and then explain their rating in an open-ended follow-up question. Based on their rating, they are then segmented into three groups: promoter (score 9 – 10), passive (score 7- 8), and detractor (score 0 – 6). The segmentation allows for quick calculation of your NPS score (use your score to find out how you're doing among competitors) as well as immediate insight into what passives and detractors are saying about what can be improved.
You can then analyze and act on that customer feedback to improve or optimize your customer experience through numerous reporting options.
3. Customer Effort Score surveys
Customer Effort Score, or CES, surveys measure customer effort along the customer journey.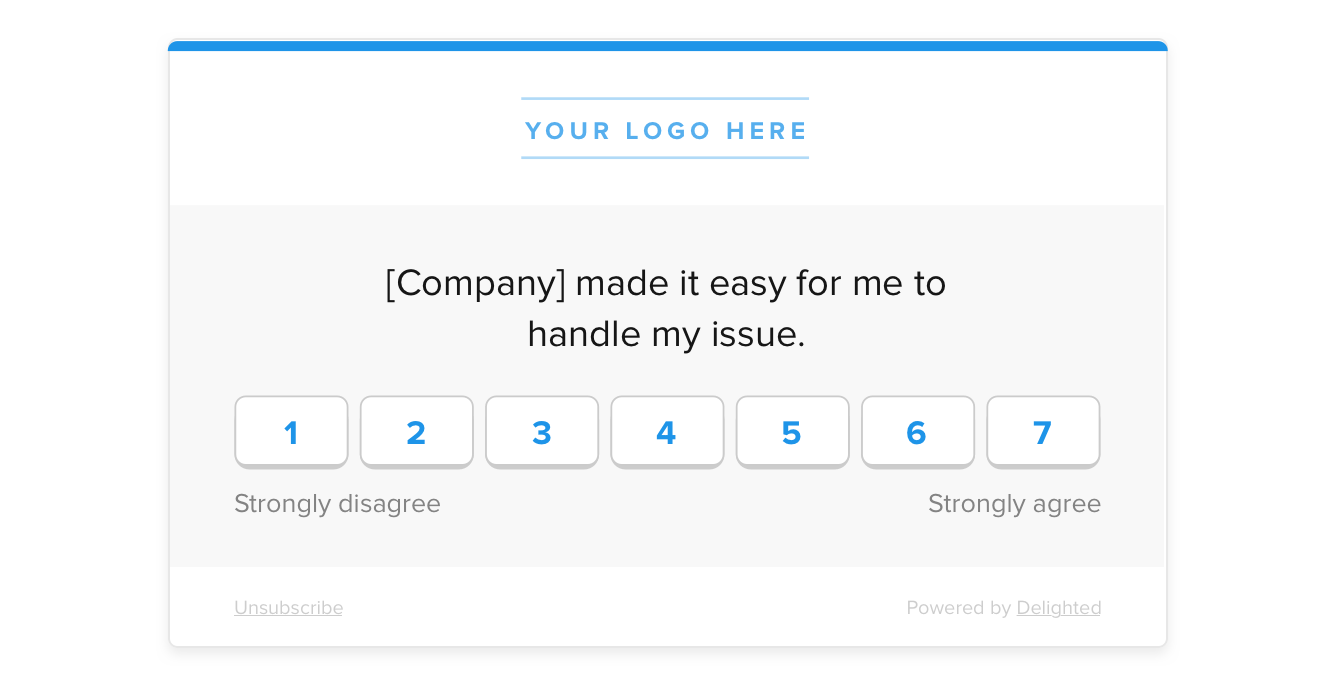 Why gather feedback about customer effort? Reduced customer effort means less friction at customer touchpoints – a key driver of customer satisfaction and loyalty. The easier it is to interact with your company, the happier your customers will be.
With Delighted CES surveys, you can measure customer effort and take action to improve it. You'll ask customers, "How easy was it to deal with [your company name] today?" (or similar) and dive deep into their rating in their open-ended explanation.
You can choose from a seven-point or five-point rating scale and customize the question for any touchpoint where reduced effort is key to the customer experience (i.e. after a customer support interaction, a post-implementation check-in, etc.).
Start gathering feedback and understanding your customers with Delighted's NPS software, customer satisfaction software, and Delighted CES. Sign up today to send free customer surveys in minutes.