This post is a guest contribution by Emma Kimmerly, Partner Marketing Lead at Friendbuy.
Every brand loves a happy customer, and knowing that you have recent buyers who love your product enough to give you positive feedback is a great feeling. But your happiest customers can do more than provide validation and direction – they can also become significant revenue drivers for your business through a referral program.
Beyond their *hopefully high* repeat purchase rate, your happiest customers are also the most likely to recommend your product to their friends and family. These word-of-mouth referrals are powerful – and scalable.
In fact, high-growth brands can acquire 5 to 15% of their new customers with a thoughtfully implemented referral program. Your customer experience program is a great way to identify your happiest customers, and then encourage them to refer their friends throughout the post-purchase journey.
In this post, you'll learn everything you need to know about referral programs, and how to set up your own.
We'll go over:
---
What is a referral program?
A referral program is a marketing strategy that incentivizes customers to recommend your product to their friends and family. It is a way to offer your best customers a reward when a new customer purchases because of their recommendation.
For example, you can offer your existing customers a $20 off coupon code if they share their referral link with a friend and their friend purchases. You should also offer a special discount for the referred friend, to encourage them to buy.
---
Why referral marketing is an effective way to attract new customers
Have you ever seen a friend or family member's shirt and asked or wondered where they got it from? It's situations like that one that create opportunities for word-of-mouth referrals. A conversation with someone you trust about a product is going to create a lasting impression that a paid advertisement just can't. In fact, according to Nielsen, 92% of consumers say they trust earned media (i.e. word-of-mouth recommendations from friends and family) above all other forms of advertising.
Here are the broader reasons why referral programs can be such an effective growth strategy for your business.
High margin growth
Every customer you acquire through referral is one less you have to acquire through a paid channel. Casper's referral program actually has 7x higher ROI than their average marketing investment. That's a high-margin conversion.
Increase customer lifetime value
Referral programs provide significantly higher customer lifetime values and faster conversion rates than other channels. We typically see that referred friends convert 5x faster than other channels and their lifetime values can be 3x to 4x higher.
A quicker path to your best customers
In addition to your customer experience program, referral programs can help with identifying who your best customers are – and help you find more people who fit your ideal customer profile.
It's usually your best customers doing the referring, and it's usually the case that you acquire your best customers through word of mouth – referral programs operationalize this coveted consumer behavior.
---
Types of referral programs
A best-in-class referral program can help you capitalize on the three different types of referrals: direct, reputation and incentivized.
Direct referrals
Direct referrals are real-time, word-of-mouth recommendations. Picture you're sitting at a bar with a friend, and they ask where you got your jeans from. You pull up your phone, send them your referral link, and they purchase – that's a direct referral.
Friendbuy defines these as impulse referrals. In order to do this successfully, we recommend brands have a referral program with three key elements: awareness, accessibility and ease of use. Your customers need to know you have a referral program, it needs to be quick to get to, and it needs to be easy to use. When you have all three ingredients, your customers will be able to easily refer their friends on impulse.
Reputation referrals
Reputation referrals are exactly what they sound like: someone referring your product based on reputation alone. In this case, the referrer may or may not have tried your product for themselves, but they're confident enough in the reputation of your brand to recommend it to others.
You can encourage anyone to refer friends by running referral campaigns with enticing incentives. For example, if someone is about to purchase a mattress from you, but wants a discount, they might refer a friend or family member to purchase so you both receive a discount when buying.
Either way, as the brand, you just acquired two new customers that you might not have otherwise.
Incentivized referrals
Incentivized referrals are when a customer refers a friend in order to receive a reward, such as a coupon code or a free gift. How you choose to incentivize your customers to refer, and how you incentivize the friends to buy, are key to the success of your referral program – more details on that below.
---
How to start a referral program
So you've decided your company should have a referral program (great idea), but you aren't sure where to start. Here's a step-by-step guide for ensuring your referral program is set up for success.
1. Determine who will own your referral program
It's recommended to have a marketing professional own your referral program. However, what's most important is that this person has the time and ability to optimize your referral program strategy, determine the best copy and creative, and even run limited-time offers or referral contests.
In addition to identifying the person (or people) who will run your referral program, it can be helpful to consider using a referral platform. A best-in-class referral platform can do a lot of the heavy lifting for you, turning a 5-person operation into something one person can handle themselves.
2. Identify your referral program goals
There are a few key business metrics that you can track to measure the success of your referral program:
Cost per acquisition
Percent of new customers acquired
Total referral revenue
Average order value for advocates and friends
Customer lifetime value
Determine which ones are the most important for your business and set high-level goals you'd like to achieve.
3. Decide on the referral reward
As mentioned before, the incentives you offer for referrals can make or break your program. When determining what to offer your customers, ask yourself a few of the below questions:
How much are you willing to spend to acquire a customer?
How often does your company provide discounts, and can you provide a referral offer that's even better than that? This is important, as a referral incentive that isn't as appealing as your regular "new customer welcome offer" will likely not perform well.
What's your repeat purchase rate? If you're a company that sells big ticket items such as a mattress, offering a discount on another mattress isn't effective unless your customers are buying multiple mattresses on a regular basis.
There are three types of incentives that you can use:
A discount off future purchases (good for brands with high repeat purchase rates)
A cash incentive
A gift card (good for brands with lower repeat purchase rates)
4. Identify your top customers
This is the fun part, finding out who your happiest customers are! One way to find out is to set up Net Promoter Score (NPS) surveys, and see where your customers stand. If someone leaves an NPS score of 9 or 10, they're likely to be receptive to referring their friends.
5. Publicize your referral program
Another important aspect of your referral program's success is making sure people know you have one!
Here are some of the best practice placements:
Promote your referral program on your website
Add it to your homepage in the top navigation bar, or as a tab on the screen as Spanx has done below (see the "Get $20" CTA on the left-hand side).
Send a referral program email
Away sends a dedicated referral email to all new customers, ensuring everyone knows about their referral program right off the bat.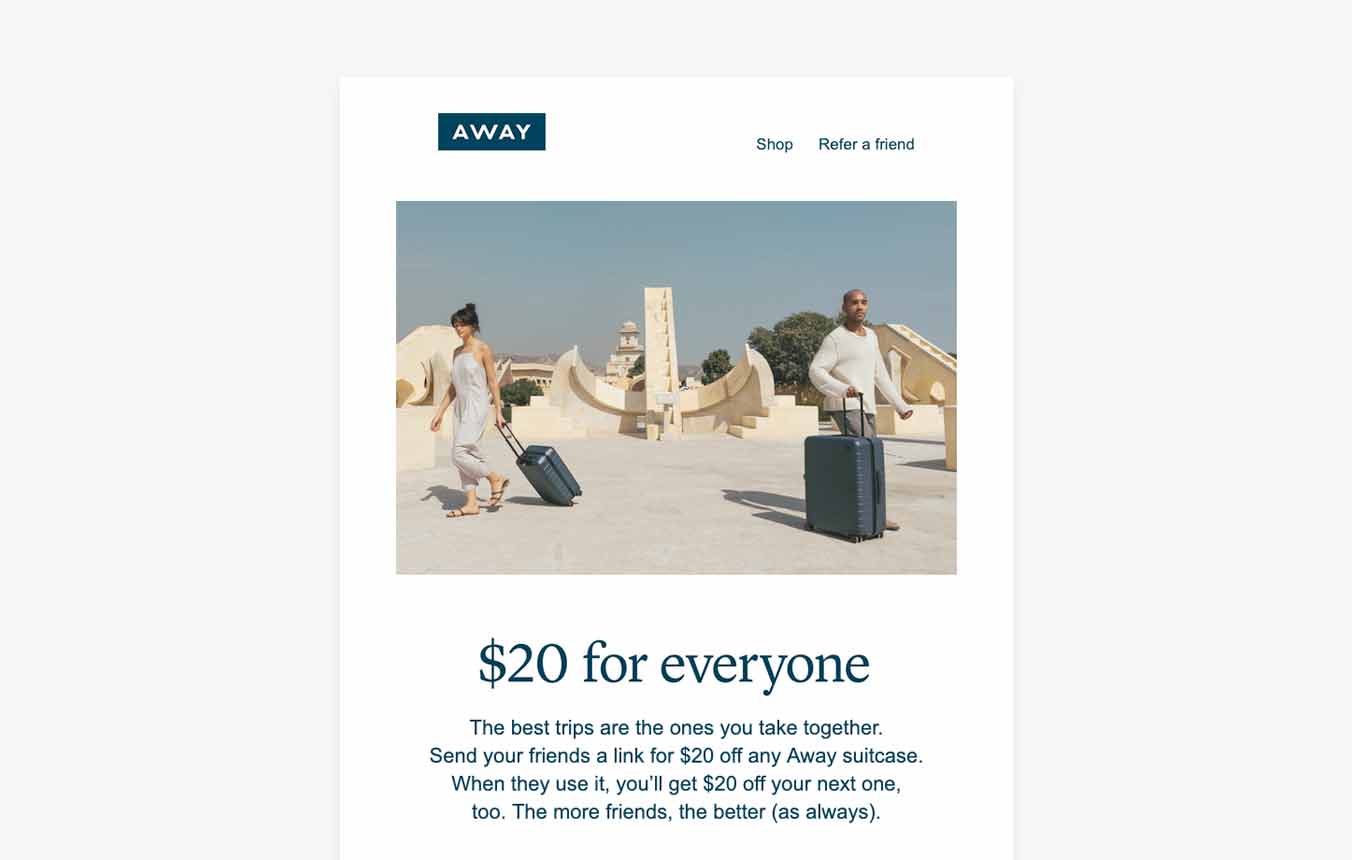 Link to your referral program from your feedback surveys
Every Delighted survey ends with a "Thank you" message. The Delighted + Friendbuy integration makes it easy to create a personal referral link that immediately offers promoters the chance to refer a friend.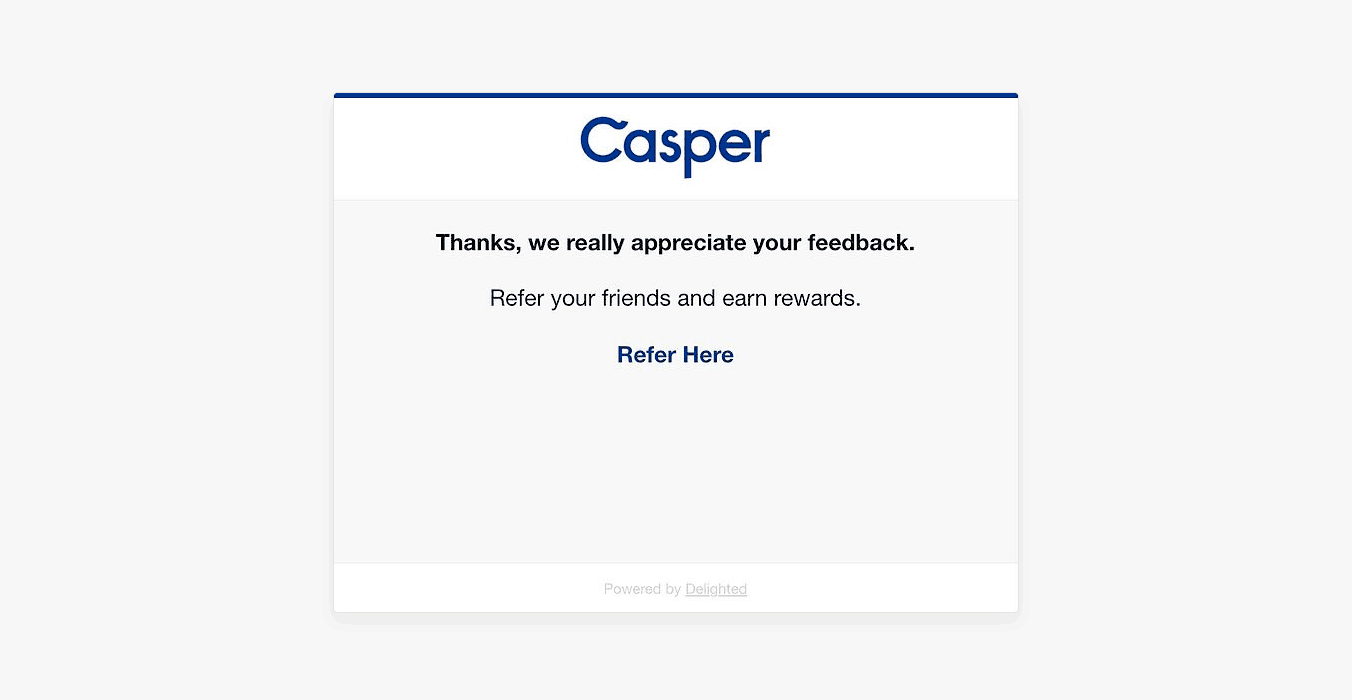 6. A/B test to maximize your referral program ROI
To ensure you're getting the most from your referral program, it's recommended that you A/B test your offers to see what resonates with your customers.
The below is an offer strategy test that Casper has run to see if a higher friend offer of 25% off, and a lower advocate offer of $75 works better than a lower friend offer at 20% and a higher advocate offer of $100.
Version A: The friend gets the more generous referral reward
Version B: The advocate gets the more generous referral reward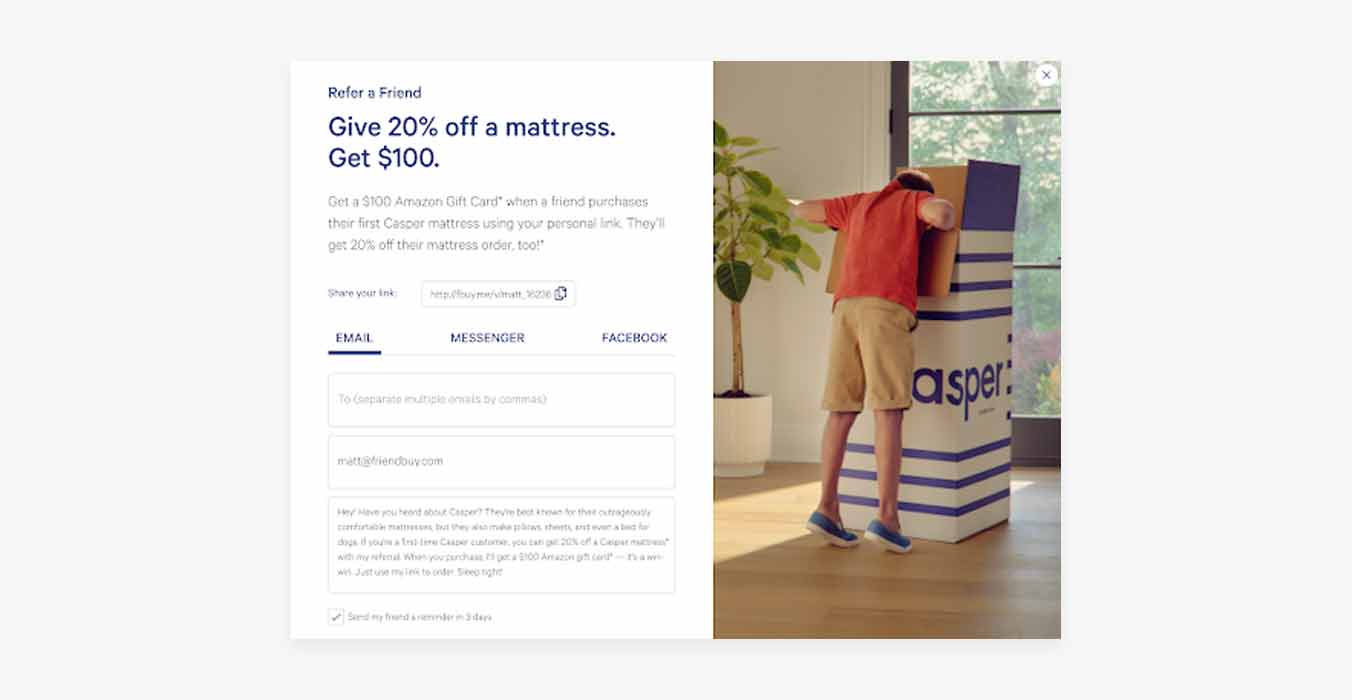 Ready for the winner?
It's version A! The 25% offer for friends and $75 Amazon Gift Card performed better than the 20% offer and $100 gift card. These types of A/B tests are a great way to challenge assumptions about what your customers will be interested in, and help increase your customer acquisition.
---
Sample referral programs that work
If you're interested in learning more about the success that high-growth brands can have with referral programs, feel free to check out the below articles.
---
Activate your top customers to drive referrals today
The above are just some examples of how brands can turn a referral program from an afterthought to a sustainable growth channel that helps you meet your goals.
Plus with Delighted and a best-in-class platform like Friendbuy, it's easy to make your referral program part of your customer journey today. For example, with Friendbuy, Klaviyo and Delighted together, you can automatically provide promoters with a referral link, making it easy for them to take action and refer a friend.
Ready to get started? Sign up for Delighted for free and start identifying your top customers for your referral program today.
Already using Delighted? Great news: Friendbuy has created a special offer for Delighted customers, who can get one month of Friendbuy for free.
---
About Emma Kimmerly
Emma Kimmerly is Partner Marketing Lead at Friendbuy, where she collaborates with leading technology and agency partners to help brands grow through best-in-class referral and loyalty programs.
Emma loves telling people's stories. With experience writing for a national newsroom, a world-class mental health hospital, and now high-growth SaaS companies, Emma enjoys meeting and telling the stories of people that are changing the way the world works. At Friendbuy, Emma works closely with partners and leading DTC brands to share ideas and trends that are shaping the ecommerce world.
When she's not writing, Emma can be found walking, cuddling, or taking pictures of her golden retriever, Ben.
About Friendbuy
Friendbuy helps brands get more out of every customer. With a best-in-class referral and loyalty program, you can accelerate your growth through word-of-mouth referrals and increase lifetime value by 4x.