This post is presented by Casper, Friendbuy, Tremendous, and Delighted.
In this in-depth session, our very own Head of Product Management, Sean Mancillas, joins Casper's Senior Director of Customer Marketing & CRM, James DeStefano, Friendbuy's Head of Partnerships, Samantha Samuels, and Tremendous' CEO, Nick Baum, to go through the nuts and bolts of building a referral program and provide best practice guidance on how you can set yours up for success.
Before we dive in, let's go over the 3 reasons why a referral program can be such an effective growth strategy:
High margin growth vs the cost of traditional customer acquisition through a paid channel
The ability to develop a deeper understanding of your best customers by keeping them hyper-engaged
3x to 4x higher customer lifetime values and 5x faster conversion rates than other channels (Source)
In fact, Casper, a leading direct-to-consumer mattress retailer, has turned their referral program into one of their most efficient marketing channels, driving 7x greater return than their average marketing investment.
Watch the full replay, or skip below for the key takeaways.
Step 1: Identify your happiest customers
Casper has been using Delighted for three years to run their customer experience management program – sending out surveys at key customer journey milestones to capture customer sentiment, analyzing the feedback in Delighted, and acting on it in real-time.
Every single customer that converts on their ecommerce platform, as well as in one of their 70+ retail stores, gets a Delighted NPS survey.
They use the resulting feedback in 3 ways:
1. Instant promotion of their referral program to their happiest customers
Customers who leave a positive NPS score or a positive review will be immediately presented with Casper's referral program.
Delighted has a pre-built integration with Friendbuy to facilitate this workflow.
2. To isolate trends in feedback, positive and negative
Casper pipes all of their Delighted feedback data into Looker (Casper's business intelligence tool). They also surface trends directly within the Delighted platform.
"The great thing about Delighted is they have the ability to isolate NPS scores to particular trends. We can look at all of our NPS scores for people who specifically leave comments about shipping and delivery. All of that information is extremely valuable, and we use the native Delighted platform to mine those responses."

– James DeStefano, Casper's Senior Director of Customer Marketing & CRM
3. To close the loop with customers in real-time
All Delighted feedback pops up in Slack in real-time – individual ratings and comments, as well as the aggregate daily NPS and rolling 30-day average. The immediate accessibility of the feedback means Casper is able to react just as fast to get ahead of any potential issues.
"In the past we've used NPS feedback to identify issues in certain manufacturers. If we get tons of feedback concentrated to a certain area (for example maybe our boxes are more damaged than someone would expect), we've been able to take that data and go back to correct some customer pain points. Having that data in realtime helps us to respond quicker than we otherwise would."

– James DeStefano, Casper's Senior Director of Customer Marketing & CRM
Through their use of Delighted, Casper not only identifies their happiest customers but also proactively improves their customer experience, setting the foundation for even more loyal customers.
Step 2: Choose an incentive that drives customer acquisition
Choosing the right incentive involves balancing the interests of three parties: your business, the existing customer, and the referred friend. The right incentive will help you acquire a new customer at a lower cost while making your customer feel appreciated.
Tremendous is a seamless way to distribute incentives that help you acquire new customers. You can choose to give cash deposits, gift cards, charitable donations, and pre-paid cards to vendors like Amazon, Adidas, Uber Eats, and more.
When selecting an incentive, the choices fall into two buckets: discounts on your products, or 3rd party gift cards.
So how do you know what might work best for you?
Tremendous CEO, Nick Baum, recommends incentive structures based on your business model.
When discounts work well
For consumer goods or services that customers repeatedly buy at relatively low cost, it makes the most sense to offer a discount or coupon.
For example, Uber Eats offers existing customers $10 off an order of $25. Referred customers get $20 off an order of $25 or more.
When you consider that the average Uber Eats customer spent almost $240 in Q4 2021, a new customer acquisition cost of $30 ends up being a drop in the bucket. On top of that, your new and existing customers are both encouraged to stay in the Uber Eats ecosystem.
When offering cash or gift cards works well
If your business offers higher-consideration, one-time purchase items, the instant gratification of a gift card would be much more appealing than a discount on a future purchase. In this scenario, though, a discount for the referred friend could still significantly lower the barrier to purchase.
For example, Casper's mattresses range from $900 to $4,000. A mattress is a high-quality, high-consideration purchase that takes place only every few years.
So, instead of offering a discount to existing customers, Casper offers a $75 Amazon gift card, while referred customers receive 25% off their mattress.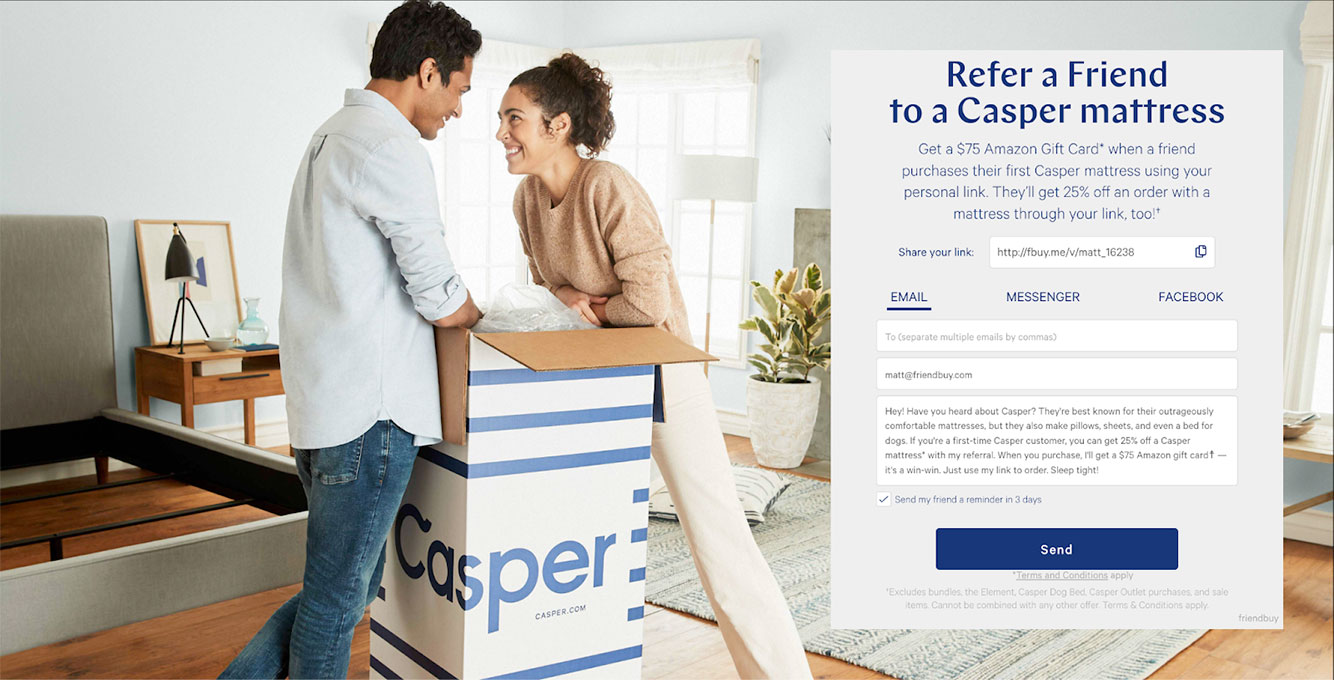 That's made their referral program one of Casper's most-effective marketing strategies – generating 7x higher lift than their average marketing investment.
To land on the perfect incentive that maximizes conversion rates, Casper has also A/B tested incentives with Friendbuy – more on that below.
Step 3: Scale your referral program
Once you've identified your best customers and the right incentive, the biggest question is how you run your program at scale.
For Casper, that's where Friendbuy comes in.
Friendbuy is a complete solution that helps you scale your referral program, offering customizable referral templates for email, SMS, link and social; detailed analytics with A/B testing capabilities; and all the integrations you need to connect your referral campaigns to the rest of your tools.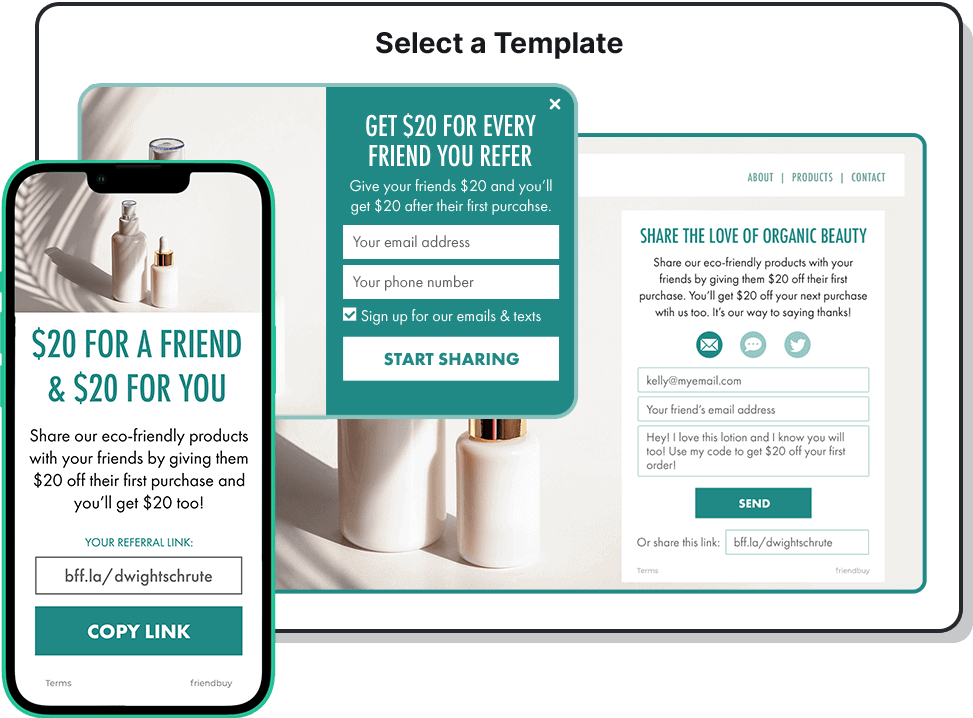 Friendbuy also integrates with Delighted, so you can direct promoters to your referral page directly from the survey completion thank you page.
Best practices for building your referral program
Friendbuy distills referral success into a simple formula:
AWARENESS + ACCESSIBILITY + EASE OF USE =
IMPULSE REFERRALS
"The first ingredient is strong awareness of your program – in order for your customers to share on impulse, they'll need to know that you actually have a referral program. The next ingredient is accessibility – it has to be really easy to get to. And then finally, it has to be super simple to use. When working together, these ingredients make a referral program successful.

Let's say two friends are talking at a bar, your brand comes up in conversation, and one of them says, 'Here, let me send you my referral link.' That's a referral happening on impulse. You want to make sure that customers can get to your referral program within 5 to 10 seconds."

– Samantha Samuels, Head of Partnerships at Friendbuy
There are many places throughout the customer lifecycle where you can surface your referral program:
On your website as a CTA, e.g. "Get $20"
Via a dedicated email to customers with an incentive along with the personalized referral link
As a secondary CTA in your newsletters, transactional emails, new product announcements, and order and shipping confirmation emails
In a referral dashboard that your customers can see when they log into their account
Printed on an insert in the delivery box
Casper includes a referral widget on the order confirmation page of their site, so every customer who completes a purchase knows about the referral program. This placement also capitalizes on the excitement of the purchase – many customers will even share with friends once the order goes through.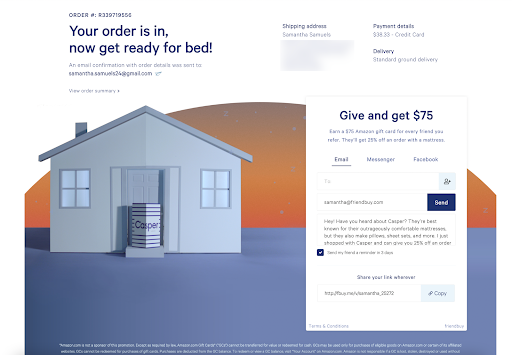 Casper also triggers referral communications across multiple touchpoints. As we've mentioned before, Casper surfaces the referral program if someone provides a positive NPS rating, but also:
After a customer leaves a positive product review
At the top of their order confirmation page
In printed materials with product instructions
In their post-purchase email series
On top of building awareness and making their referral program as accessible as possible, Casper also focuses on A/B testing their incentive amounts and program placement.
Step 4: Maximize ROI with A/B tests
Casper is constantly A/B testing their referral program. Here are 4 examples of A/B tests, along with the winning result, to inform any tests you may want to try.
Testing the incentive
Casper ran an offer strategy test to see if a higher Friend offer of 25% off, and a lower advocate offer of $75 works better than a lower friend offer at 20% and a higher advocate offer of $100.
The winner: the higher Friend offer of 25% off with a $75 advocate offer. This version had a 26% lift in shares and a 16% lift in conversion.
Testing referral program placement
For Casper, their referral program is prominently placed in their navigation bar with a cash icon. When they removed this placement, their referral revenue significantly dropped.
It's also in their hamburger menu, as well as on their order confirmation, order details, and shipping status pages. Although small, these placements are driving 60% of their total referral shares.
Trying product-specific referral programs
After COVID, interest in Casper's pillow products experienced massive growth, so they decided to add a pillow referral program. Customers who refer a pillow to their friend receive a $10 gift card.
To ensure the pillow and mattress referral programs wouldn't cannibalize, they A/B tested showing their pillow referral program on their main referral page as a secondary CTA before rolling it out. Now, they also show their refer-a-friend to a Casper mattress CTA on their pillow referral program landing page.
Testing urgency messaging with higher incentives
Finally, Casper tests limited-time "referral blowouts" with their audience, a strategy where they temporarily increase their referral incentive from a $75 Amazon gift card to a $200 gift card. They've seen a lot of success with that method, as their last referral blowout had a 29% lift in conversions, compared to the prior 3 months.
Conclusion
Building a successful referral program requires a deep understanding of your customers and their preferences, along with the right toolset to personalize and test an incentive structure that aligns with your audience and your business.
Jump into Delighted's experience management platform to start collecting real-time feedback from your customers, and check out our integration partner, Friendbuy, to see how you can kickstart your referral program as well.