An effective customer experience survey is a conversation with your clients and customers. It's a handshake and a request for feedback in your effort to continually improve your products and services, both on the front lines and behind the scenes.
Since there's any number of questions you could ask your customers, a strong survey design process is necessary to help you understand the type of feedback you're looking for, prioritize the questions to ask, and plan for how you'll analyze the data and share insights. Poor survey design, on the other hand, can lead to a lack of responses, misleading or vague results, and a missed opportunity to respond to customers and grow your business.
Effective customer survey design, in particular, allows you to gather actionable insights into your products and services. Customer surveys are important sources of data, which you can use to transform your business. For a truly useful survey your customers will love to take, here are 10 tips to help you design your survey, write effective questions, connect with your audience, and turn that data into action.
---
1. Brainstorm your purpose
The first step is to determine the purpose of your customer experience survey. It's important to define your overall objectives so you can gauge what you expect to get out of the survey, and plan for what you'll do with the information.
Some common goals for customer experience surveys are:
Benchmarking customer experience metrics
Getting feedback on your product
Improving the sales or support experience
Determining employee or customer satisfaction for retention
Testing branding decisions
Scoping interest in new product areas
Once you've brainstormed the goals you'd like to achieve, prioritize what you'll be able to target within one, succinct survey. You can always address other goals in separate surveys as part of your ongoing conversation with your audience.
---
2. Determine your survey type
The business goals for your survey project determine what type of customer experience survey you'll need, and who you'll want to survey. Keep in mind that requesting feedback from your customers or prospects could be an unexpected interaction from their perspective, so be sure to explain why you are conducting the survey and give instructions if necessary.
Customer satisfaction surveys
The most important role of a customer experience survey is to understand and monitor how your audience feels about your products, services, and overall brand. That's why customer satisfaction survey design is such an essential part of every company's arsenal, and also why there are a range of survey types that are popular for gauging customer satisfaction. Here are the main customer experience survey types: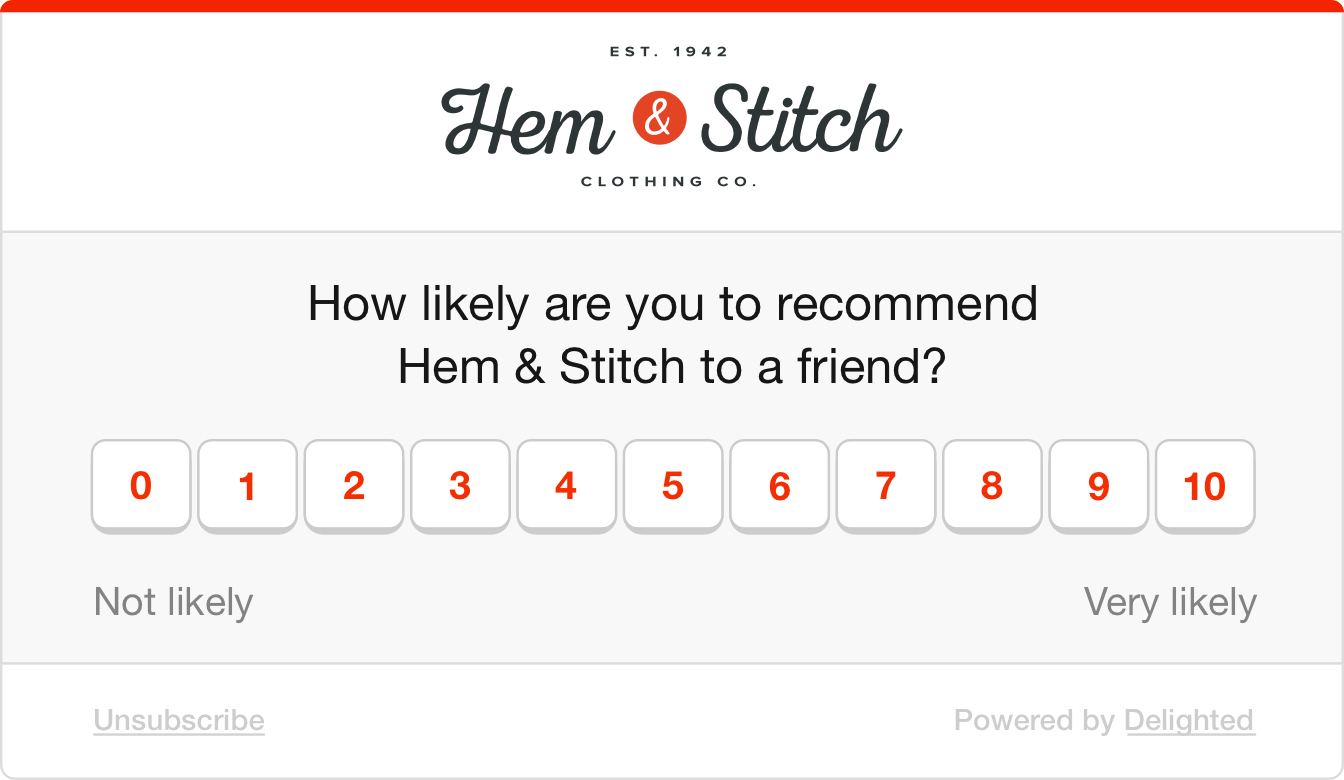 Since each customer is at a different stage in the customer experience lifecycle, no one survey will effectively offer the insight you need. By understanding the different customer survey types, you can figure out which surveys to use for continual feedback and actionable data. Before you know it, you'll be using multiple surveys for all your customer touchpoints in your voice of the customer (VoC) program.
The goal here is not only to understand where you can improve, but also to see if customers are responding positively to the changes that you are making. As you work insights from feedback data into your organization, you will ideally be able to see improvements in the business metrics that matter the most to you, whether that's increased engagement on your web tool, fewer customer complaints, or the holy grail of results—increased revenue and reduced customer churn.
Branding surveys
If you're just starting out or you're rethinking the overall look and feel of your company, a brand perception survey can help you move forward with branding decisions. It is a way to understand how your customers, prospects, and employees think about your brand. Insights from branding surveys can help you develop your marketing strategy and check if your product experience is truly aligned to your brand values.
With market brand research, gain key insights into your customer base, specifically regarding their demographics and expectations, but also related to their purchase habits for forecasts. You can also learn how you measure up to your competitors in an industry comparative analysis.
Employee engagement surveys
According to Gartner, "70% of business leaders agree that employee engagement is critical to achieving business results." While most companies consider using surveys for their external clients and customers, one of the most important ways to leverage a survey is to gauge the buy-in of your employees. A key part of improving your audience's experience is in finding out how your staff perceives your company (and by extension, your products and services).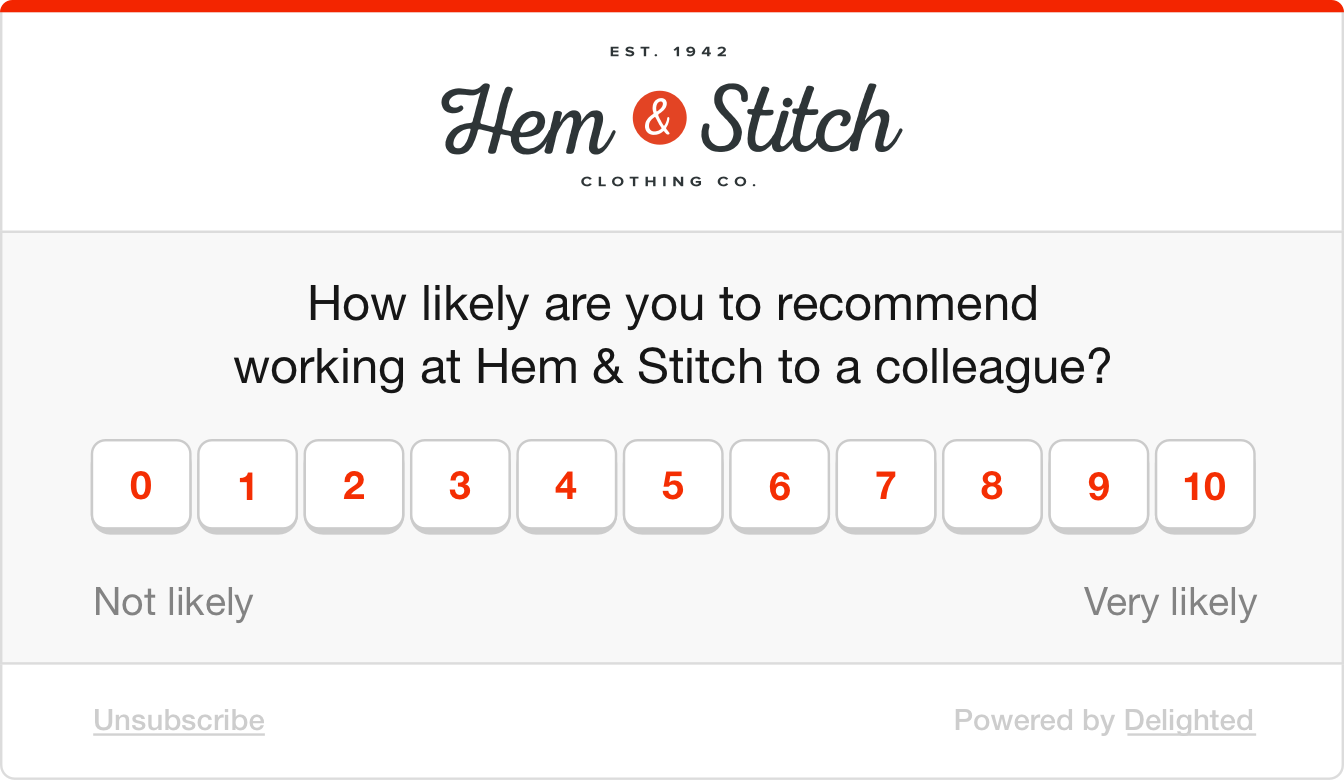 Determine how you can improve employee engagement via an Employee Net Promoter Score (eNPS) survey, pulse surveys, or 360-degree surveys. The eNPS and pulse surveys are really designed to be a quick snapshot, which can be used over time for general insights about how your employees feel about the company. The 360-degree survey, on the other hand, offers more in-depth, strategically relevant feedback from a range of sources (managers, peers, reports, the employee and customers, etc.) to help individual employees grow.
If your team is fully onboard with improving the company, and if they are passionate about making it a better company to work for, you will see better employee retention. You will also notice an improvement in the perception of how your audience sees your company.
---
3. Keep your survey simple (and short)
Surveys can gather whatever information you like about your audience, products, or services. Depending on if you've ever conducted a customer survey, it may feel as if this is a one-shot deal, that you have to gather as much data as possible right away. But, remember, this is a conversation. In most instances, it will not benefit you to ask 100+ (or even 15+) questions because your audience will lose interest and bounce.
Watch out for survey fatigue. Most surveys should be long enough to easily be accomplished in 5 minutes, with up to 10 questions that are targeted, directly addressing the areas you need to cover. How often you survey your customers can vary by industry, but you want to be careful not to send surveys so often that customers stop responding to them. In short, be aware of the time considerations you're asking of your audience. Do not take up one second more than is necessary.
Customer experience management software like Delighted offers a range of services, including time-tested and optimized survey templates, to ensure that the survey gets to the point right away. These customizable templates help you measure popular customer experience metrics, such as NPS, CSAT, and CES. For more in-depth feedback, you have the ability to add additional follow-up questions. Delighted also has built-in survey throttling, to ensure you're not in danger of over-surveying the same customer.
---
4. Follow questionnaire design best practices
For a survey to be as effective and informative as possible, it must be balanced—structured in a way that proves that you are looking for both positive and negative responses.
For customer experience surveys, it is a best practice to start your survey with a question that asks for an overall rating of the interaction so that you have a trackable benchmark, and then follow with an open-ended question.
For any additional follow-up questions, what you want to avoid at all costs are biased questions that influence your customers to answer a certain way, or make it difficult for them to answer honestly.
Here are some common best practices to follow when crafting your questionnaire:
Consider varying types of survey questions. Mix open-ended questions with multiple choice and scale questions so your feedback is well-rounded and gets at "why."
Avoid leading questions, which can sway your feedback by influencing your customers to answer a certain way.
Ask one question at a time. If you ask "Is the product fun and useful," you're really asking two questions and are likely to get back vague results.
Keep most of the questions optional.
Avoid complicated or jargon-filled sentences.
Your survey must be as error-free and clear as possible, as it's an official piece of outreach to your customers. If the survey is haphazard, confusing, or in any way a waste of time, you've lost an opportunity to gather valuable insight.
---
5. Avoid asking questions that are too personal
While a survey is a conversation, there is still a line you shouldn't cross. Beyond being considerate of your customers' time, you also need to be aware of the questions you ask and how those questions will be perceived from an increasingly security- and privacy-conscious audience.
Would you want a close relative or friend to answer personal questions? If you are asking questions that require specific answers that would divulge personal details about lifestyle choices or patterns, is the survey anonymous? Could the questions be considered offensive or embarrassing? While it's common to ask demographic questions, do you really need to ask about age, race or income level? What additional value will each of those questions add to your analysis?
You must carefully consider how your questions could be perceived by an audience across multiple demographics and culturally diverse backgrounds. Avoid wording your questions in a way that could mislead or raise red flags. Business communication can be friendly and professional without over-personalization or requesting too much information.
---
6. Get feedback on your survey
Before you send out your survey, test it by sending it to yourself and some colleagues. Reach out to testers with a variety of experiential backgrounds to receive the best possible range of feedback. Request input from experts/stakeholders (for example, testers who have experience with your products as well as those who will be benefiting from the data).
Be prepared to ask for specific feedback.
Ask each of them to fill out a quick checklist.
Get together and talk about it.
Read the survey questions aloud.
Consider possible variant questions.
Preview the survey on mobile platforms and browsers.
Time the survey to make sure it is reasonably short.
Beyond just general structure, your testers need to dig deep into the "guts" of the survey, challenge your preconceived notions, and ask why. This may be your first (and only) chance to make a great first impression on customers.
If you do a good job making the survey a painless experience, you will have an audience that you can reach out to again for more insight. If the survey is poorly designed and implemented, your audience may never bother to respond to your survey requests again.
---
7. Decide on survey distribution channels
With the wide range of survey distribution channels that are currently available, you'll need to determine the method your audience is most likely to favor. In general, though, the tried-and-true digital methods of email, web intercept, SMS text message, and URL link are popular channels due to cost, efficiency, and strong response rates. You can reach the majority of your target audience with these channels, and platforms like Delighted create optimized surveys for each experience.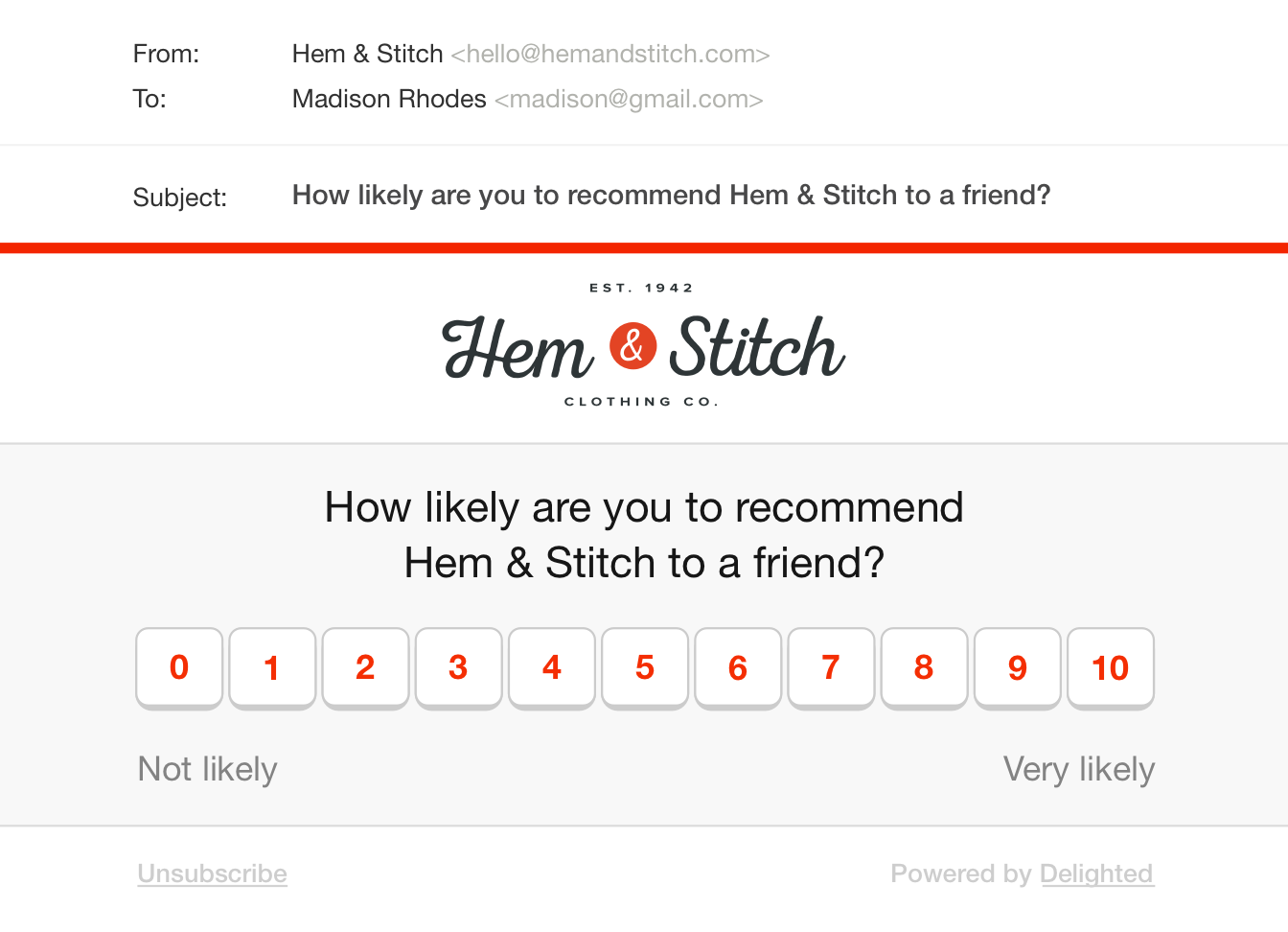 f you are missing out on a specific demographic because they do not use these channels, you can still reach out to them directly via a phone call, direct mail, or in-person. That direct, one-on-one approach makes a huge difference in your response rate.
As you think about how you'll deliver the surveys, also keep in mind how often you'll be surveying your customers. Is it a one-time thing after a special event or a redesign, or is it a recurring survey that you'll send to a broad swathe of customers to benchmark your customer experience? For in-person surveys, repeat studies can be quite expensive. But, if you're planning on surveying digitally, recurring surveys will not be as difficult to implement.
---
8. Take feedback analysis into account
Since you've already determined the purpose of your survey, you should have an idea of the kind of feedback the survey will generate. To make sure you are able to derive insights from that data, it is a good idea to have a plan for survey results analysis in place.
So, as you draft your survey questions, consider how the feedback data will be segmented and what comparisons you'll want to make. Here are some common ways to think about segmenting your customer feedback so you'll be prepared when the survey results come back.
By customer segment
How might the feedback differ based on how much that customer has spent on your services, what they purchased, and how long they've been with you? Associate customer lifetime value and retention metrics with your survey results so you can analyze and prioritize the feedback along those lines.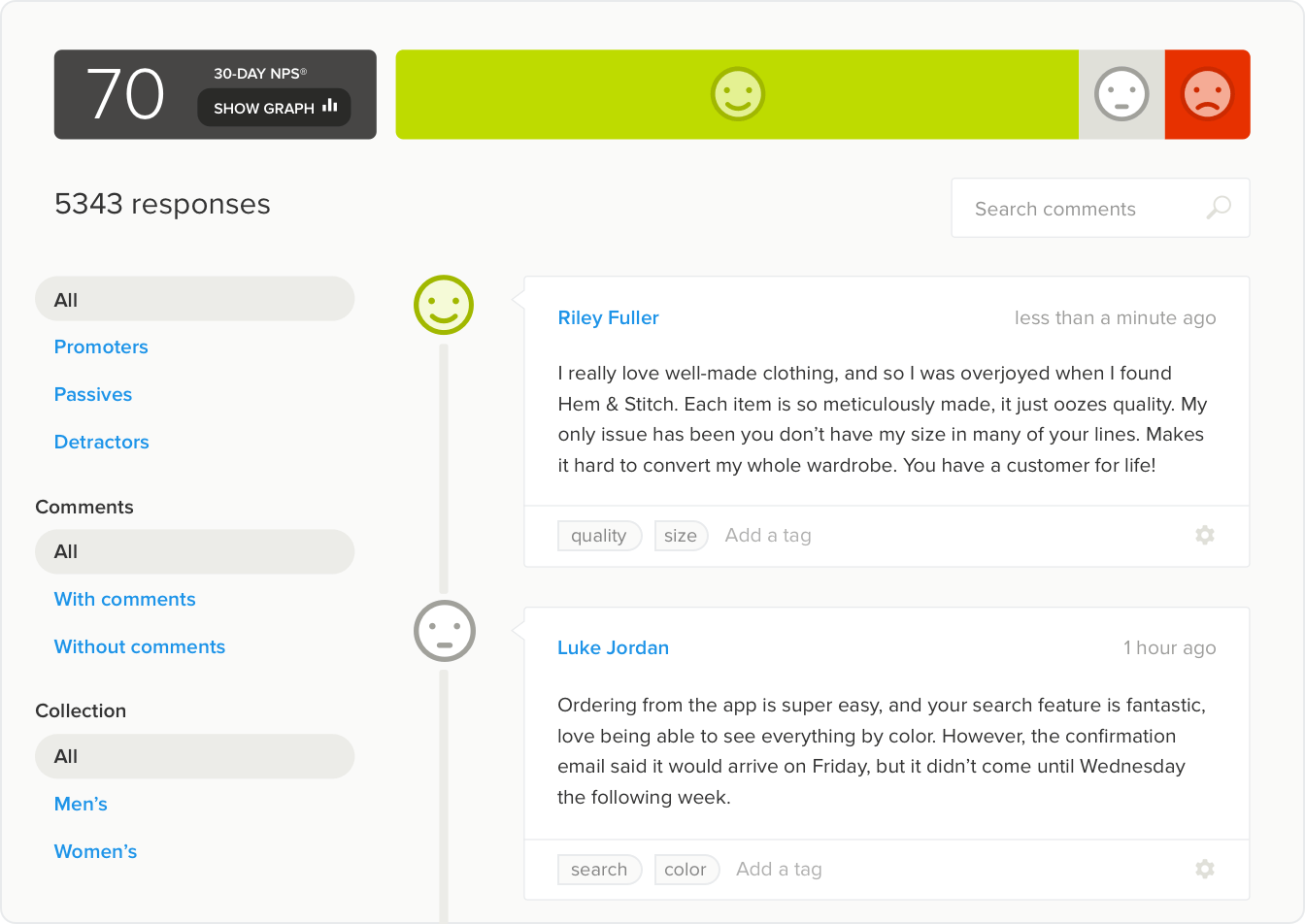 By geography
Uncover if the customer experience varies by city, state, or country to discover what business processes need to be improved where, and whether customers in different locations might have different expectations.
By interaction channel
Is this a customer who interacted with you via chat or email; online or in person? If you have this information handy, make sure you can map it to the end feedback to understand which channels need attention.
Tying your internal customer data with the survey results will allow you to dig deeper into which customers are having the best and worst experiences, and which aspects of your brand experience are the root cause. If you can automatically port your operational data into your customer experience platform, all the better.

The side benefit of understanding what customer data you already have is that you won't have to ask your customers for that information. You can keep your survey to the point, or replace the questions you would have asked with something more insightful.
---
9. Say "Thank you!" and inspire action
This step is such a simple one that it's often overlooked. Since the feedback process is a conversation and your audience has taken the time to participate, you need to say, "Thank you!" At the very least, the final page of your survey should explicitly thank the customer for their time.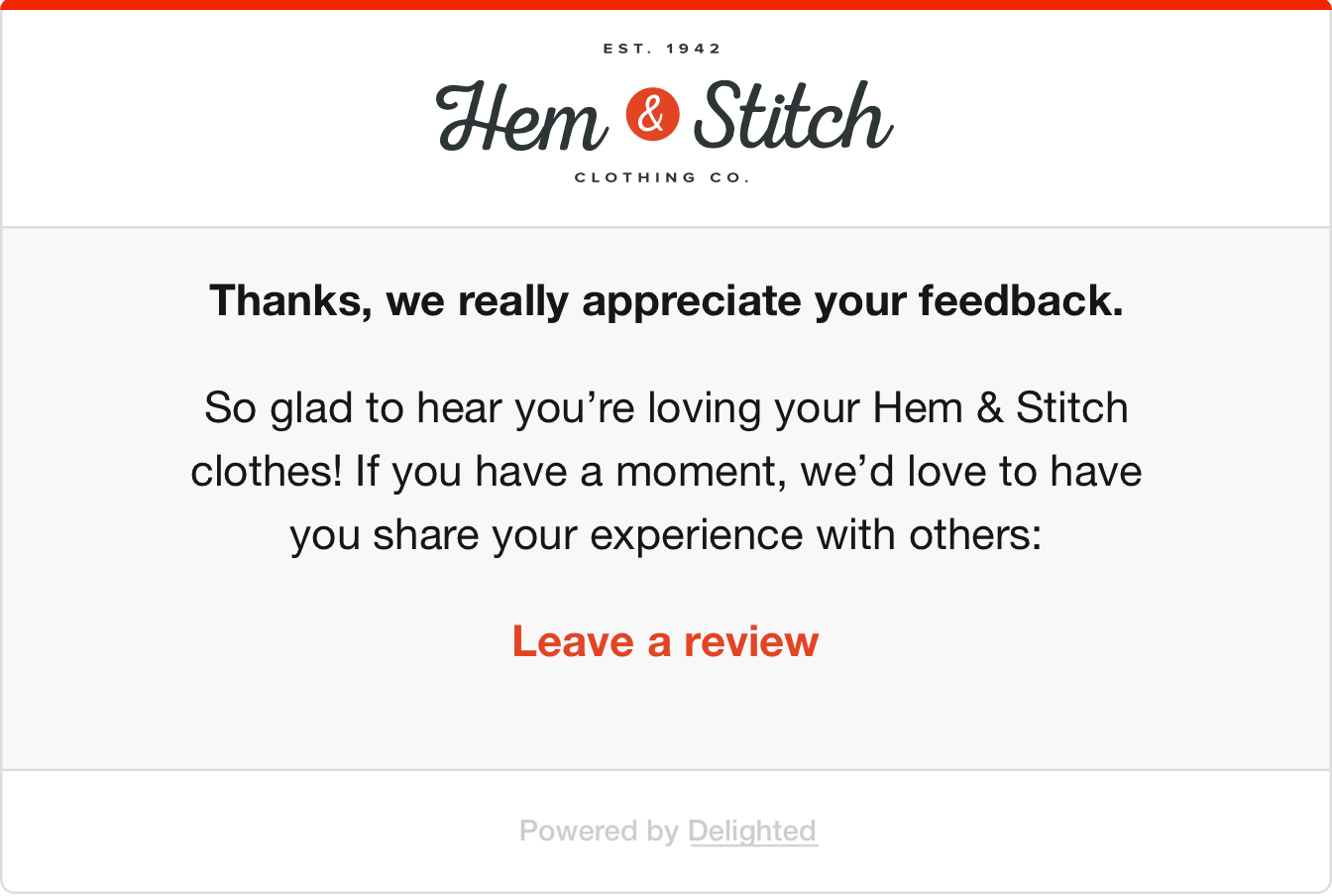 Beyond the simple "thank you," you can also create a custom response depending on how the customer answered your survey. You can ask your promoters to review you on a third-party site or act as a reference; or route your detractors to a customer service team member to resolve their issue. This, too, is part of your ongoing conversation (and relationship) with your customers.
Depending on the length of the survey and the complexity of what you're asking for, you could consider offering a reward. You don't need to give away anything extreme, but a discount or prize drawing would be a nice gesture of appreciation.
An upfront incentive may also encourage participants to take a few extra minutes to answer the questions, help them be more resistant to survey fatigue, and also keep them willing to participate in future surveys.
---
10. Next steps: Find a platform that will help you achieve your survey goals
After all that planning and foresight, you'll be raring to get started. Since not all customer feedback platforms will offer the same services or support, you must consider the best method for managing your entire customer experience program. You need a solution that will allow you to quickly and easily send your survey to your target audience.
Delighted offers:
Six templated customer experience survey types (NPS, CSAT, CES, 5-Star, Thumbs, Smileys)
The option to add follow-up questions for deeper feedback
Expert knowledge base for survey design best practices
Four optimized survey distribution methods: email, web, SMS text, and URL link
Built-in dashboards for real-time feedback analysis
Integrations to funnel feedback throughout your organization
Insights into your products and services
Sign up for a free trial of our experience management software Delighted to send 250 surveys for free.