You don't have to secure a large budget to run a strong customer experience (CX) program. Many CX platforms have robust free plans that allow you to capture feedback from your customers or employees, analyze that feedback, and put the insights into action, without spending a dime.
Let's take a look at the 4 ways to make the most out of a free survey program and capitalize on its infinite return on investment (ROI).
1. Apply your branding to your survey
With free survey programs, you'll often have limited options for branding your survey. Use the levers you have available, including the 3 below, to make it clear where your survey is coming from.
Add your logo, colors, and voice
Include your logo in your survey, and choose one or two primary brand colors to add visual interest. The focus should be on making your survey question clear and easy to answer, so choose the colors from your brand kit that won't distract from the survey itself.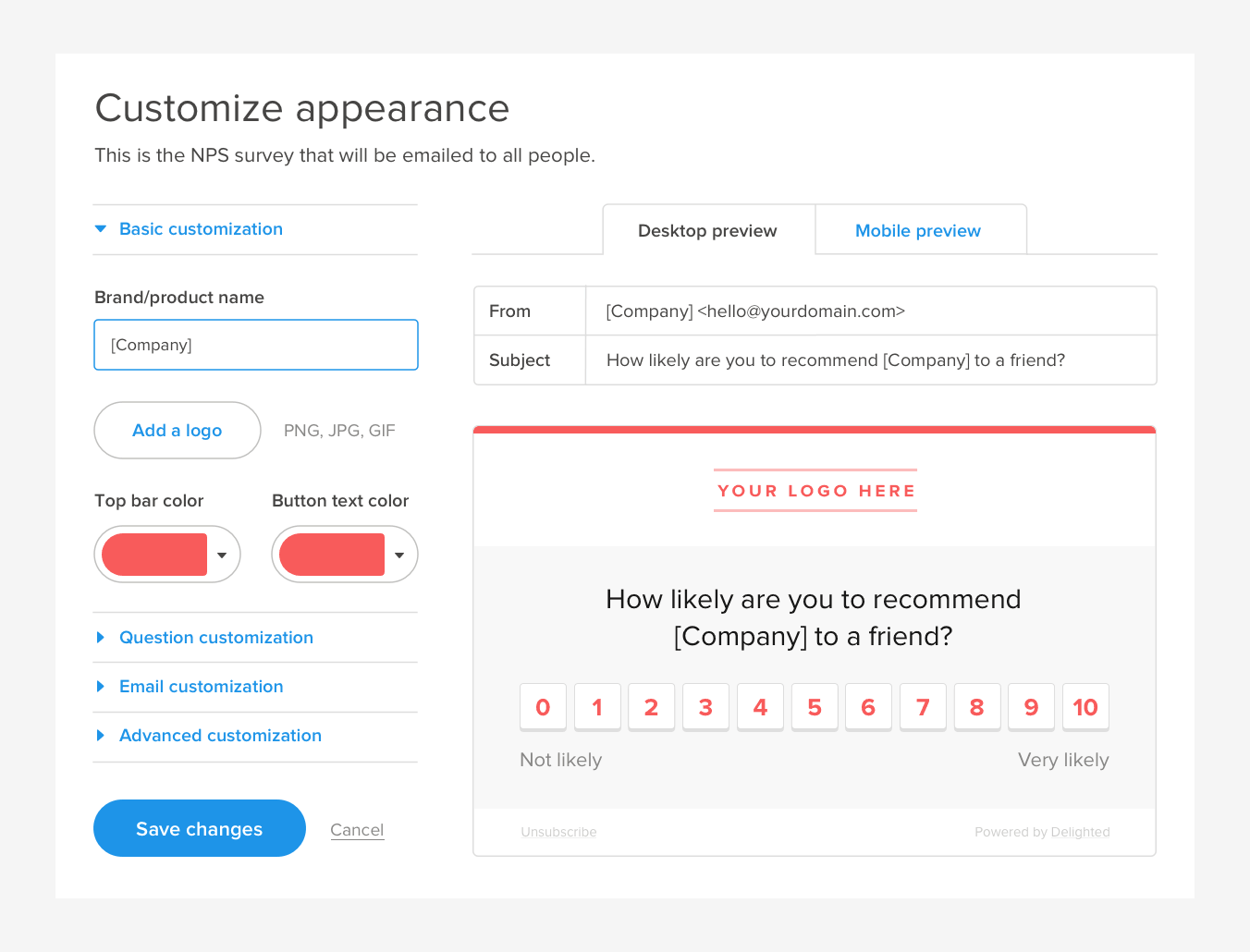 When it comes time to write your questions, you've got a perfect chance to infuse your brand voice. You don't have to sound overly research-y – simply try to avoid biased questions and don't be afraid to speak the way you normally do with your customers.
Redirect respondents to your website
Once a respondent submits their survey, they will see a "Thank you!" message as the final part of the survey design. Take advantage of that Thank you page touchpoint to offer them value. You can customize the Thank you page and redirect them to a relevant page on your site, offer them a referral link, or provide your support team's email address for easy reference in case urgent questions arise.
You can take this one step further by personalizing the message based on the score the respondent left. Maybe positive reviewers (promoters) get a referral link, negative reviewers (detractors) get the support email, and neutral reviewers (passives) head to your website.
Prime your respondents
Most free survey programs don't allow you to send from a custom email address. If you're sending surveys to recipients who have strict email filters, like the healthcare industry, it can be helpful to prime your respondents for the incoming survey to make sure the email is top-of-mind.
To do this, send an email letting your audience know that you'll be sending out a survey, what email it will come from, and what you plan to do with the feedback. In fact, this can help increase response rates because respondents know you'll be reading and responding to their feedback.
2. Involve your team
The more you share, discuss, and digest feedback with your team, the more value you'll get from the insights. Get your team involved in your survey program to further a healthy feedback culture within your organization. Here are some simple ways to do that:
Invite users to your survey program
Key stakeholders who may want to review individual pieces of feedback, help you analyze response data, and even edit the survey itself should have direct access to your program. Invite those colleagues as users to your survey platform – the more, the merrier!
Set up Alerts to notify your team
Follow up with respondents on-the-spot by routing the feedback to the right places. You can automate email notifications to fire off to specific teams when responses come in that are relevant to them. For example, you can set up an Alert that will go to the support team when someone mentions "help," "support," or "customer service," so that a support member can jump on urgent requests quickly.
Bring the feedback into your tech stack
Slack serves more than 12 million active users every day – does your team contribute to that stat? If so, expand feedback visibility to your team by integrating survey responses with team communication tools like Slack. Delighted's Slack integration will notify Slack users whenever a response is submitted. You can assign follow-ups, brainstorm improvements, and celebrate wins, all in the Slack notification thread.
3. Power up your analysis
A common misconception is that free survey platforms don't have powerful survey analysis features. There's a good chance you can extract impactful insights from your data, as long as you keep a few tips in mind.
Pass as many properties as you can
You can advance your response data by grouping and segmenting feedback by customer type, purchase history, agent name, or any other detail relevant to your respondents. Are new customers more satisfied than returning customers? Are buyers happier than sellers? You can get these answers quickly when you capture details (properties) about your respondents during the survey-sending process.
Consider your score over time
Although it can be exciting to see feedback start rolling in, try not to worry about your feedback score day-to-day. Whether you're capturing your Net Promoter Score, Customer Satisfaction Score, or another survey metric, 30 days is a great period to report on your feedback. As your program grows, you can compare the data month-over-month, quarter-over-quarter, and year-over-year to see how you've improved through free reporting options.
Never underestimate the power of open-ended feedback
Arguably, the most valuable parts of your feedback are the open-ended comments that respondents leave after selecting a score. This is the part of the survey where respondents explain the "why" behind their feedback rating in their own words.
If you don't have time to read every verbatim response, consider setting up a weekly digest. These digests will be regularly sent to your email and can include a selection of recent responses or narrowed-down response data based on selected keywords, and can help you dig into the verbatims quickly when you find an interesting trend in your numerical score.
4. Automate to trigger surveys and close the loop
Like all survey programs, you're required to spend time setting up your survey, sending it out, and analyzing the feedback. That's why it's key to choose a survey platform that's easy to use, with best practices baked in, and to automate as much as you can.
Choosing a survey platform with a powerful REST API, native integrations, and survey automation features for easy scheduling can save you time—and therefore money!
When is it time to upgrade?
If all of the above is possible with a free survey platform, when would you ever need to upgrade? Here are a few reasons to consider when switching to a paid program:
You want Additional questions
When you know you're ready to expand your survey design and insights with more questions or run a key driver analysis, expand your survey to include up to 10 extra, customizable questions (but keep them as short as possible! Check our survey design guide for more tips.)
You're looking for advanced reporting and analytics
AI-powered tools like Delighted's Smart Trends reduce the amount of manpower needed to analyze feedback, freeing you up to implement the insights gained.
You're ready to expand to more survey touchpoints
Is it time to add a post-support survey on top of your relational Net Promoter Score survey? Consider upgrading your plan to capture feedback across the entire customer journey. Learn more about choosing survey touchpoints in this Help Center article.
Ready to start your free survey program? Sign up with Delighted today and gather impactful insights within minutes.