With retail stores filing for bankruptcy and closing left and right (Barney's, Forever 21, Toys R Us, Sears, etc.), it's evident that retail shopping is going through a change: the so-called "retail apocalypse."
It's also fair to say that a mix of factors — the rise of ecommerce plus the increased operational costs of leasing land for a traditional brick-and-mortar store — have a lot to do with it.
However, while it's projected that as many as 75,000 retail stores could close their doors by 2026, analysts still expect that 75% of retail buying in 2026 will still happen in physical stores.
Why is this? According to UBS, 40% of customers still like to experience products first-hand before purchasing, and shoppers still love the instant gratification of an in-person purchase.
Even with the rise of ecommerce and shuttering of retail incumbents, the in-store experience can still be a gamechanger for your company. In fact, many companies who started their journey online, like Allbirds, Everlane, Warby Parker, and even Amazon, are now opening brick-and-mortar locations to satisfy customer needs.
This new generation of customers is expecting a different kind of in-store experience. And thriving brick-and-mortars are adapting. They're using retail customer feedback to understand what their customers want, enhance retail CX, and maintain a competitive advantage.
But honestly, many customers have little faith that brick-and-mortar retailers understand them.
---
Why in-store retail customer feedback is vital
A Salesforce survey found that 53% of customers don't believe that brick-and-mortar retailers have the "know-how" to deliver a great customer experience.
60% feel that physical stores don't take time to understand their needs, and over 50% would shop more in-store if they felt they could get a similar personalized experience to those online retailers offer.
But it doesn't have to be either-or. Brick and mortar retailers can collect the same types of in-store customer feedback that online ones do. And they can deliver the exceptional customer experience customers are looking for. As opposed to a "retail apocalypse," Deloitte is calling it a "retail renaissance."
So, that leads us to a key question: What questions should I ask to get the feedback necessary to understand my customers?
---
What retail survey questions should you ask?
Knowing what to ask is as important as surveying in the first place. The most important survey questions are simple and straightforward.
There are 4 ways you can start your survey, depending on what you're trying to understand.
1. Net Promoter Score (NPS): How likely are you to recommend [store/product] to others?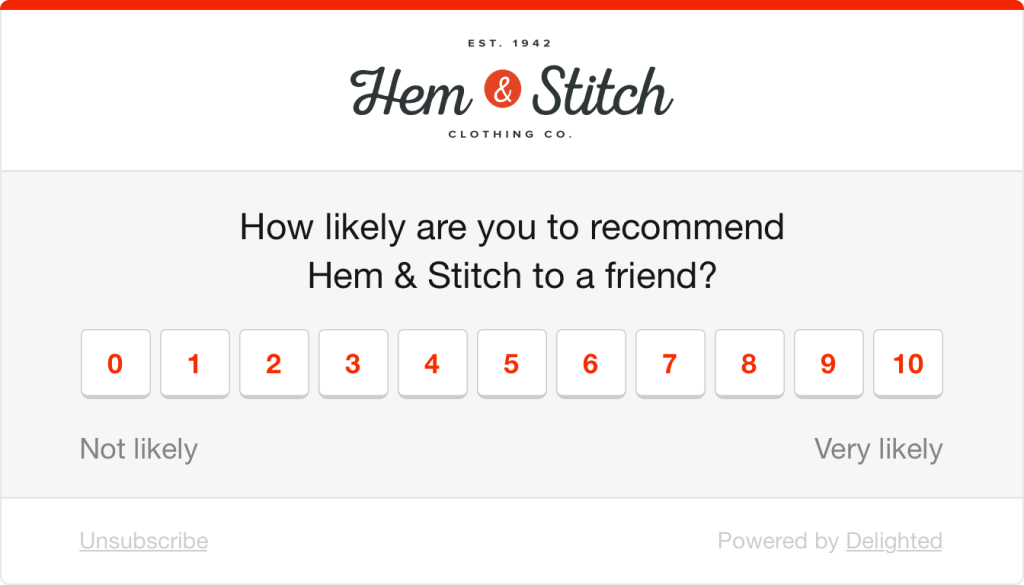 Using NPS software to send out surveys is a good way to gauge overall sentiment towards your entire brand experience, and segment customers into those who would recommend you (promoters), and those who are more than likely to do the opposite (detractors and passives).
2. Customer Satisfaction Score (CSAT): How satisfied were you with [your in-store experience]?
The fundamental CSAT survey can be used in a variety of situations, from evaluating your store's shopping experience to gathering feedback on your support processes using our customer satisfaction survey software. You can even use stars or smileys instead of a numerical rating system.
3. Customer Effort Score (CES): How easy was it to [find what you were looking for]?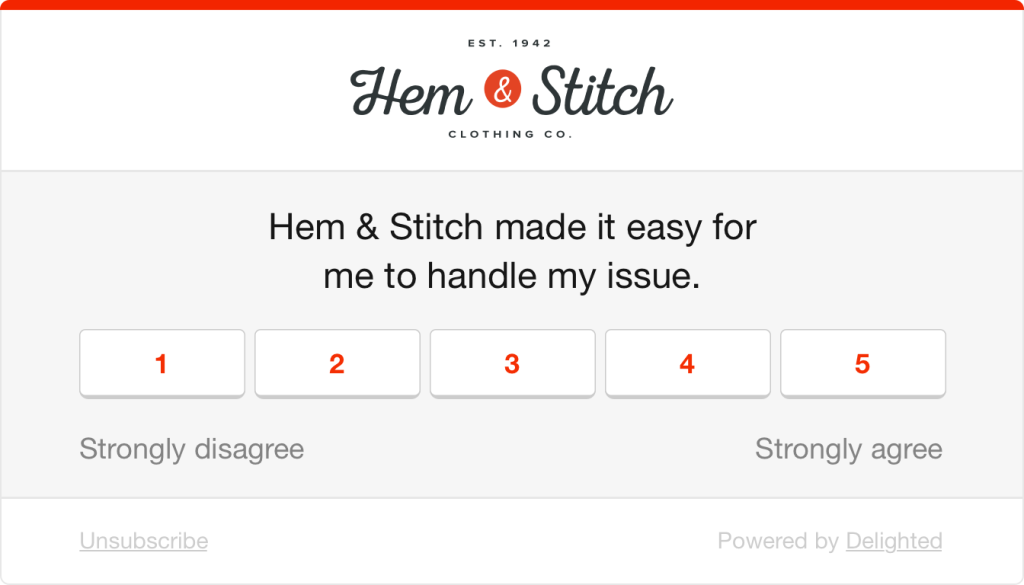 CES surveys are the go-to method for highlighting where customers experience friction and removing those blockers. Convenience is key to conversion.
After all, if customers have a hard time finding what they're looking for, trying on an item before purchase, or making it to the front of the checkout line, what's the likelihood they'll just walk out of your store and go to a competitor?
Don't risk it: measure, and improve those experiences with CES surveys.
4. Binary yes/no survey: Did you [find what you were looking for]?
More often than not, customers who end up in your store or on your website may not purchase anything at all. Their reason for visiting could have been research or support-oriented.
Asking a yes/no question quickly segments customers into two camps for tailored follow-up questions so you can understand how well you're serving these other vital steps in the customer journey. Gain a deeper understanding of what customers are trying to accomplish during their visit, and whether they were able to accomplish that goal. For a complete breakdown of when to use each of these survey methods, check out our customer experience survey guide.
While all of the survey questions listed above are a good place to start your quest for customer insights, sometimes you will need more.
---
What follow-up questions should you ask for the most insightful retail feedback?
We believe it's important to allow customers to express their feelings in their own words without any prompts so you can see exactly what's top-of-mind. That's why each of our survey templates has an open-ended follow-up question that asks customers to explain why they chose their initial rating.
However, you may have a specific experience you're aiming to improve, or a new process you're testing out. In those cases, asking pointed follow-up questions can help you get the critical feedback necessary to prioritize and make changes.
Quick pro tip: Keep your survey as short as possible
As tempted as you might be to ask your customers any and all questions you can think of, it's vital to prioritize so customers actually finish your survey. Create multiple, unique surveys based on the touchpoint you're trying to improve so that you don't feel the urge to cram all your questions into one super-long questionnaire. Our rule of thumb is to keep surveys to under 12 questions, which would take just a few minutes to complete. Follow these best practices when designing your first CX survey.
Without further ado, here are the top questions to ask for both brick-and-mortar and ecommerce retail experiences. Depending on the phrasing, the answers can be binary, a rating scale from negative to positive, multiple choice, or free response.
Let's start with questions that can apply to both situations.
Retail product and pricing questions
Evaluate the relationship between the perceived value of the products you offer versus their price with these questions. You may find that you need to adjust prices, or do a better job communicating the quality of your offerings to justify the price tag.
How satisfied are you with [product/service]?
How fair are the prices compared to similar retailers?
How satisfied are you with the value for money of your purchase?
What could we do to improve [product/service]?
Product selection and stock
Ensure the items your customers need are always there. You can also use these questions to expand your product line, and check that any new products on the docket are ones your customers are interested in purchasing from you.
The [store/website] made it easy for me to find what I was looking for.
Did you find what you were looking for today?
Did we have what you were looking for in stock?
How often do we have what you're looking for in stock?
How satisfied are you with the selection in [product category]?
It was easy for me to find something in my size.
What other products would you be interested in purchasing from us?
Did we advertise something that we did not have in-store?
Service and returns for online and in-store experiences
How well your company handles service issues and returns can factor heavily into why a customer chooses your business in the first place. After all, stores with legendary return policies earn a reputation for it, and make new customers feel more confident about making a purchase.
Use these questions to pinpoint areas of improvement for customer service and your return policy. Modify or omit them based on whether you're measuring an online or in-person experience.
How satisfied were you with the service overall?
Did someone help you while you were shopping today?
How knowledgeable was the staff?
How friendly was the staff?
How helpful was the staff?
How well did the staff understand your needs?
[Website/app/self-checkout] made it easy for me to purchase the product.
Was your customer service issue resolved?
How satisfied are you with the resolution of your customer service issue?
[Website/store/agent] made it easy for me to resolve my customer service issue.
[Website/store] made it easy to make a return.
How fair is the return policy?
How satisfied are you with the return policy?
How satisfied are you with the warranty?
Product information on your website and in-store
When customers browse your products, do they understand exactly what they're getting? Minimize returns and set expectations by ensuring product descriptions and details are clear.
How satisfied are you with the product information provided?
How satisfied are you with the product images provided?
How helpful are the product demos?
How can we improve your understanding of the product?
Brick-and-mortar store questions
Setting up a physical store comes with its own set of challenges. The following questions help you understand how you can improve your in-store experience.
The store hours are convenient for me.
It was easy for me to find parking.
The [displays/mannequins] help me decide what to buy.
How would you rate the cleanliness of the fitting rooms?
How satisfied are you with the wait time of the fitting rooms?
How can we improve your experience with the fitting rooms?
How satisfied are you with the wait time at checkout?
Open-ended follow-up questions
These questions can help you paint a better picture of your customers and their behavior.
What was the reason for your visit today?
How often do you visit the store?
Did a coupon or promotion bring you into the store today?
How did you hear about us?
What other [brands/retailers] did you consider purchasing this product from?
Is there anything else you'd like to tell us?
Can we contact you to follow up in more detail on your responses?
All of these questions can be added as follow-ups to your initial NPS, CSAT, or CES surveys.
Now that you know what questions to ask, how do you actually go about collecting that feedback? As people are coming in and out, browsing and buying, you may think the last thing they want to do is take a survey. Here's what you can do.
---
How to get more retail customer feedback
One of the most important things to know about your customers is that they're using multiple channels to interact with businesses. Delivering a great customer experience in-store is inseparably linked to the smartphone and online experience.
So when you're acquiring customer feedback, you too need to gather it through many channels. Here's a quick rundown of how you can gather feedback in-store and online.
1. Use an in-store survey kiosk
Set up an in-store kiosk survey. These days, you don't have to have an employee initiating the survey to do it in-store. This easy self-service option lets customers provide feedback in a non-intrusive way, so you can get honest, timely feedback.
Add a kiosk at strategic locations, either by the exit or right next to checkout. Don't just assume customers will know what the kiosk is for, though. Make it obvious that they can provide feedback with some signage, or by using an interface that shows the initial survey question on the screen for context.
Check out this guide for more technical kiosk setup considerations.
What's great about kiosks is that your store manager can see all the feedback collected in real-time and address it, whether it's about store cleanliness, understocked shelves, or stellar service. If you're managing multiple locations, you can split the feedback by store and analyze how one location is doing versus the other.
But this isn't a complete solution. Since the person must take it while in the store, and may not have time, you do want to give people other options. In combination with online surveys, which we'll cover next, you'll be able to gather feedback from more of your customer base.
2. Link to a web-based survey
Add an easy-to-type URL to the physical receipt that links to your survey. This not only helps you acquire retail customer feedback, you can also set up your survey flow to encourage people who physically visit your store to check you out online to help boost your online presence.
Web-based surveys are a great way to hear from customers. They're easy to set up and automate. On the other hand, unless you incentivize participation by giving a discount on a future order or entering the customer to win a prize, engagement can be very low.
3. Put QR code surveys on receipts
QR codes are the ultimate in user-friendliness when it comes to getting online. Customers scan QR codes with their smartphone to access your web survey, instead of typing in a link. This extra convenience can increase participation significantly.
One of the other reasons QR codes can be so effective is because they're timed perfectly. Once someone gets their receipt, they can scan the code right then and there to complete a quick survey.
Place them on any customer-facing printed materials for in-the-moment feedback, from store signage to restaurant menus. We've even seen car washes put a QR code survey on a billboard for customers to scan as their car finishes going through the wash.
The main con with QR codes is that some people may not have a smartphone, or may not realize they can scan QR codes using their phone camera.
If you choose to use a QR code survey, just be sure to let customers know exactly what to expect when they scan the code with some simple explanatory copy.
4. Set up a web or in-app survey
Web surveys on your ecommerce site are the best way to gather feedback during the shopping experience or in your shopping app. You can time when they appear, so you're only getting feedback from genuinely interested shoppers, and not those who just happened to land on your site. Whatever you do, make sure the survey pop-up isn't too intrusive to the user experience.
Quick pro tip: Get contact info for follow-up
Since kiosk surveys and web surveys will most likely be anonymous, consider adding a follow-up question to your survey that asks for some identifying information, such as their email address.
Doing so allows you to follow up for more detailed information, and in some cases, send promotional offers or helpful content. However, keep in mind that you do need to get permission to reach out.
5. Send an email survey
Email is one of the most popular ways to get feedback from interested prospects or existing customers. Just make sure you have permission to use their email address, and you'll be able to send email surveys directly to their inbox.
The best part is, you can automate email survey delivery (and spend more time acting on feedback) with Delighted's Autopilot feature.
For a full breakdown of best practices, check out our survey distribution method guide.
---
Final thoughts
Investing in customer experience pays off big. Forrester Research Firm found that retail stores that invest in customer experience increase revenues by 4% year over year.
The same study found that ROI on customer acquisition/retention efforts like sales, marketing and customer care rose by nearly 200%. How? Increases in word-of-mouth advertising. An amazing experience generates promoters. And social media has expanded the reach of word-of-mouth exponentially.
To realize these benefits, ensure you have processes in place to act on the feedback received. Make sure your feedback is going to the people who can do something about it.
With real-time in-store feedback, you'll want to alert store managers when critical feedback comes in, so they can take steps to resolve issues immediately.
A staggering 73% of data collected by businesses goes unused. Don't let this happen to you. The data is only as good as your ability and willingness to act on what you find out.
---
Get more retail customer feedback with Delighted
Are you delivering a retail customer experience that will stand the test of time? Are you getting frustrated because you don't really feel you understand what customers want from your retail store?
Collect consistent, actionable retail customer feedback using our survey templates. Use that feedback to make data-driven decisions that delight customers. Join retailers like Bonobos and Allbirds – start using Delighted today.