It's well-known that a customer's experience with a brand is a major part of what makes or breaks a relationship. In an American Express survey, one in three respondents said that they would not return to a business again after a single bad experience.
Because of this, more and more brands are leveraging data to find out what their customers are experiencing, and how to improve.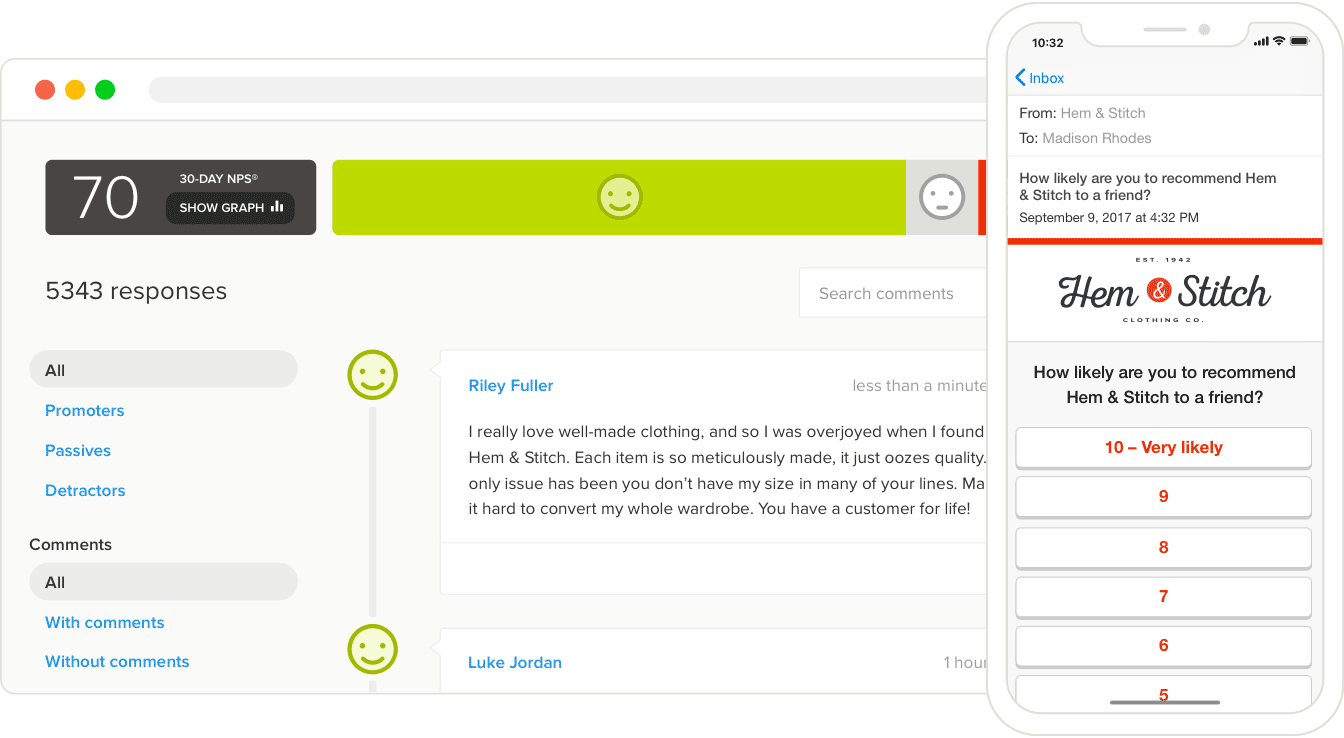 However, dealing with all that data and understanding what it means can be challenging. Fortunately, an easy-to-use customer experience management (CXM or CEM) platform makes it possible to manage and understand the quality of your brand experience.
A good customer experience platform will allow you to get insights for every customer-facing touchpoint you care about. Your customer experience management software should help you organize, automate, and sync data and insights so that you can service all your existing customers efficiently, respond quickly to issues, and use what you learn to keep current customers and earn new business.
---
What to consider when comparing platforms
Asking yourself the right questions before you choose a CXM platform ensures that the option you pick will serve your organization's needs.
Here are the top 7 questions to consider:
1. What are you trying to accomplish by gathering feedback?
This is the million-dollar question. Your goals for implementing a customer experience program dictate the features you'll need.
For example:
Is there a global behavior (a drop in customer retention) you can't easily explain?
Is there a specific customer pain point you've already identified that you want deeper insight on how to fix?
Do you need a way to help monitor and improve the performance of your customer service team?
Are you looking for a way to improve adoption of a new product feature?
Once you have an idea of what you're trying to accomplish, the feature set will make itself clear. The remaining questions below help you think through the options.
2. How many survey types do you want?
When you evaluate solutions, make sure the customer feedback surveys provided cover all your bases.
The two categories of surveys to use are based on the type of feedback you want: relational feedback or transactional feedback.
Relational feedback surveys (e.g. Net Promoter Score) gauge how your customers feel about your brand overall, while transactional feedback surveys (e.g. Customer Satisfaction Score or Customer Effort Score surveys) focus on specific customer touchpoints, such as the quality of a customer service interaction.
Read our guide on relationship versus transactional surveys for a detailed breakdown on use cases.
Most businesses will be interested in using multiple survey types, as well as various scale types, such as smiley faces or stars. The ability to customize additional questions to get deeper insights on your customer base is also a plus.
In short, look for a customer experience platform that will give you access to the customer experience surveys you anticipate wanting.
3. What channels will you use to send surveys to your customers?
If you reach out to customers in the channels they're used to, they'll be more likely to respond to your surveys. So, when you're thinking about gathering feedback, consider what survey distribution method you'll be using.
Email, web or in-app, and link surveys are popular, since they're convenient for the customer and easy for the business to deploy.
The more versatile your CXM platform is, the wider range of customers you'll get to respond.
4. How easily can the system be set up?
Can you do it quickly without having to dig into the code? Do you have access to software developers and designers to implement your survey program?
If a system is too complicated to implement, it can keep your team away from the work that they were hired for.
When vetting a solution, consider the internal resources at your disposal. A self-serve experience management software platform might be what you need to get your program off the ground.
5. Do you want to integrate your feedback back into your existing toolset?
If you are using systems such as Shopify or Zendesk, look for a CX platform that can trigger survey sends based on customer behavior, and automatically export and incorporate the feedback data.
This way, you can avoid duplicating effort transferring information back and forth, and your team won't have to learn a new platform. They can act off of customer feedback in their day-to-day tools.
6. How are you going to be analyzing the feedback?
Some people love segmenting and analyzing data in Excel. Others, not so much.
CXM platforms with built-in analysis and reporting tools cut down on the amount of time you need to dig for insights.
On the other hand, if you have a robust setup, maybe all you need your CXM platform to do is pipe all the feedback data into your analytics platform.
7. What sort of service can you expect?
When you have an issue, you don't want to waste precious hours straightening it out yourself. Look for a CX company that offers white-glove service that is considered best in class.
---
Look for these must-have customer experience management platform features
Overwhelmed by the options?
These are the features that we find are the must-haves for companies who are interested in using their customer experience management platform to understand customer sentiment and use what they learn to improve their brand experience:
Customizable survey templates
A cohesive look and feel throughout your organization's surveys can help reinforce a positive experience and stay on-brand with the products or services being provided. From personal notes to custom product names and even multilingual surveys, look for one that gives you the most flexibility.
Create custom customer surveys to suit you brand easily with Delighted.
An ability to run multiple survey projects
In an organization of any size, chances are good that you have multiple CX factors to track. Running multiple projects means you can get more data more quickly.
Control how often surveys are sent and when your customers receive them
Sending surveys too often or too seldom both have their drawbacks. You should be able to send at just the right time to keep people engaged, but not overload them.
Additionally, different times of day or different days of the week may be better to get responses. Choose a platform that allows you to send surveys when they are most wanted.
Multiple survey distribution methods
Some customers prefer to be contacted through your app. Others are more amenable to email or in-browser surveys. By choosing an option that allows you to reach out over multiple channels, you can get a wider range of responses.
Segmentation and analysis
It's important to learn not just what your customers as a whole think, but also what different groups within them feel. Are you finding that customers from a certain location tend to have a better experience? Or that customers using a particular product tend to be more dissatisfied?
Your CX platform should help you segment and analyze your feedback. Segmentation can help you understand what you are doing right with each group and what actions you need to take to improve experiences.
Closing the loop on feedback
What if your customer service teams could learn about and respond to negative feedback automatically?
This allows you to make your CX data more powerful than ever. You won't just be getting lessons to improve in the future. You can close the loop, fix a customer issue, and improve a customer relationship.
CXM platforms should come with features to help you notify and alert relevant teams so they can jump on the issue. Better yet, integrations pipe feedback directly to them.
APIs and integrations
Look for CX management options that integrate with other applications and platforms that are integral to your business. By choosing platforms that work with the software that you use every day, you can implement what you learn more easily.
Many platforms, from Customer Relationship Management (CRM) tools to help desk software, also bundle in customer experience surveys as add-ons. If you're considering going down that route, check that you'll be able to request feedback using the survey types and channels you need. Also, vet the reporting and analysis features of those add-ons, so you won't need to spend hours in spreadsheets to aggregate and get insights from the feedback collected.
Customer experience is poised to become one of the most important metrics for organizations who wish to grow their business. Temkin found that businesses with $1 billion in sales can expect to increase their business by $700 million within three years of implementing CX systems.
By choosing a experience management software solution that gives you the data you value most, you can ensure that the CX platform you choose makes it easy to get the insights that you need.