This post is a guest contribution by Ian Floyd, Content Lead at Tremendous, as part of our series on creating an effective referral program for your promoters.
Offering a referral incentive is a key growth lever for many of the world's top-performing brands. When executed well, referral programs with the right referral incentives can be an extremely cost-effective way to win your company's most loyal and profitable customer base.
Choosing the right referral incentives is essential to success. You'll want to consider what motivates both your existing customer (to make the referral) and their friends (to give it a try).
In most cases, cash (or an equivalent) is king. Let's walk through why.
The importance of customer referrals
Word-of-mouth marketing has helped stables of tech unicorns like Airbnb and Dropbox as well as leading ecommerce brands like Casper achieve stratospheric growth.
According to our partners at Casper, customer referrals generate a 7x lift in new customer acquisition compared to other types of marketing.
Much of that has to do with trust: when a trusted friend or family member promotes something, you tend to trust that you'll like it more than if you randomly stumbled onto it through an ad.
Consumers trust word-of-mouth marketing, or personal recommendations from friends and family, more than any other type of marketing or advertising.
Benefits of customer referrals
Referred customers tend to have a 4x higher lifetime value than those attracted through other means like advertising. And they convert 5x faster, according to Friendbuy. When properly incentivized, these customers are also more likely to refer their friends in the future, multiplying the return on investment.
In addition to acquiring new customers and boosting brand awareness, a referral program can also create lasting customer loyalty and generate valuable insights that lead to improvements in customer experience.
For all of these reasons, customer referral programs can be a worthwhile investment.
What is a referral incentive?
Today, it's more important than ever to create consumer connections directly through a referral incentive and encourage customers to share your products or services for a reward.
Promoters of your brand can be rewarded with anything. Popular options include things like cash, gift cards, loyalty points, discounts for future purchases, and donations to charitable causes.
The most successful programs tend to reward everyone involved – the existing (referring) customer and the new (referred) customer – which means your most zealous fans get rewarded over and over as your customer base grows.
Leading consumer brands we've worked with have increased their referral share rate by as much as 160% by offering the right incentives.
Types of referral incentives
There are several types of overarching referral incentives that companies will adopt into their referral marketing programs. They break down into one-sided incentives and two-sided incentives.
One-sided incentives
This type of reward incentivizes the new (referred) customer, but doesn't reward the existing (referring) customer. Depending on the type of product or service, this could lower the chances of a referral.
Examples of this include:
A car share offering customers $10 for each referral brings in a new user
A cloud storage company giving customers 40 GB of free space when a friend signs up
A gaming platform offering users a free month of gaming for successfully referring 10 friends
A telehealth company donating $100 to RxArt, a nonprofit organization, for every successful customer referral
Two-sided incentives
As the name implies, two-sided referral incentives reward both the new (referred) and existing (referring) customer when they refer a friend.
Companies that can reward both parties in the referral process have the highest likelihood of satisfied, valued customers since they are incentivized to spread the word about the product or service. This isn't the case with one-sided incentives.
How to choose the right referral incentive
Selecting the incentive that best aligns the interests of your business, existing customer, and the referred friend will go a long way toward determining the success of your referral marketing program. The right incentive will bridge the gap between new customer acquisition and making existing customers feel valued.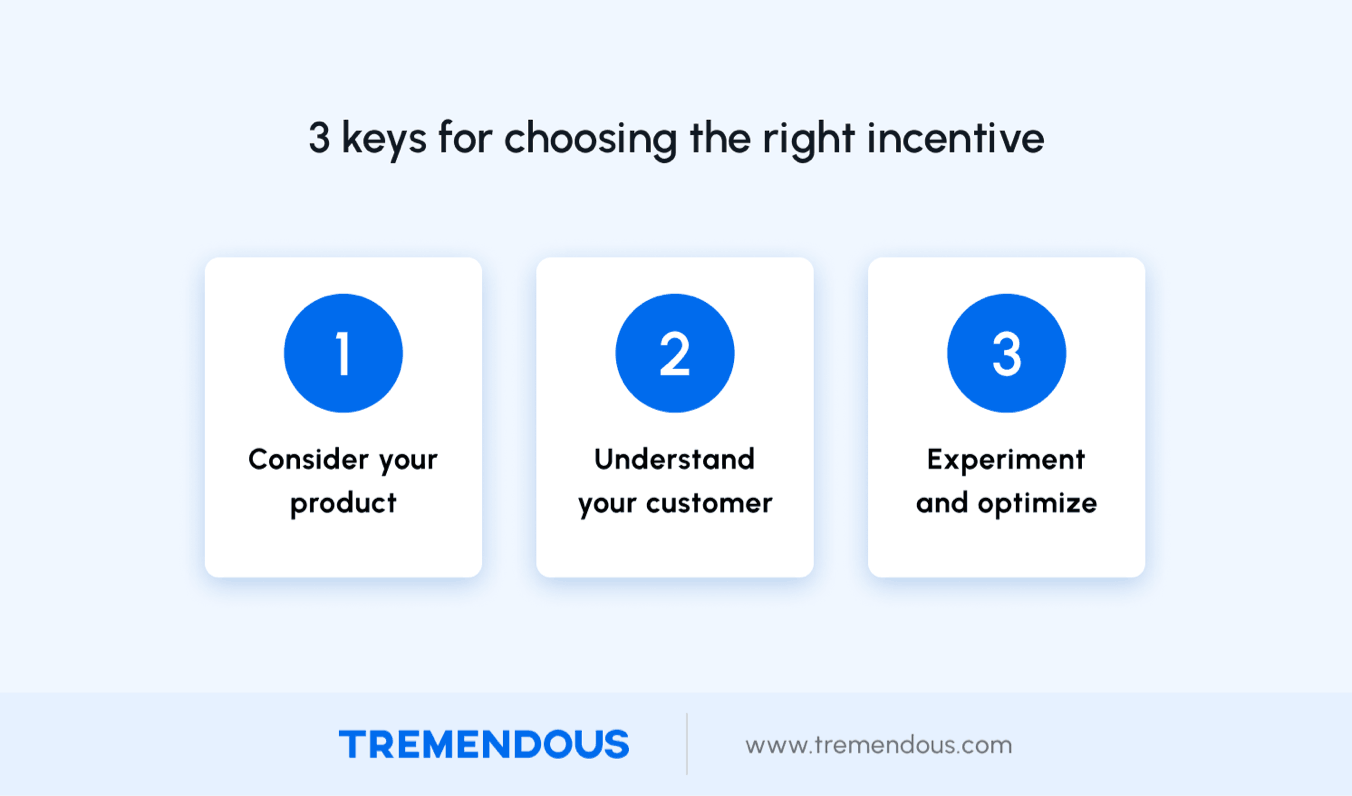 Think about the barriers to purchase like price and availability to strategize how your referral program will lower those barriers. Consider how your customers might react to different types of offers, and then run tests.
When to offer discounts
Discounts can be a good choice for repeat purchases at a low cost.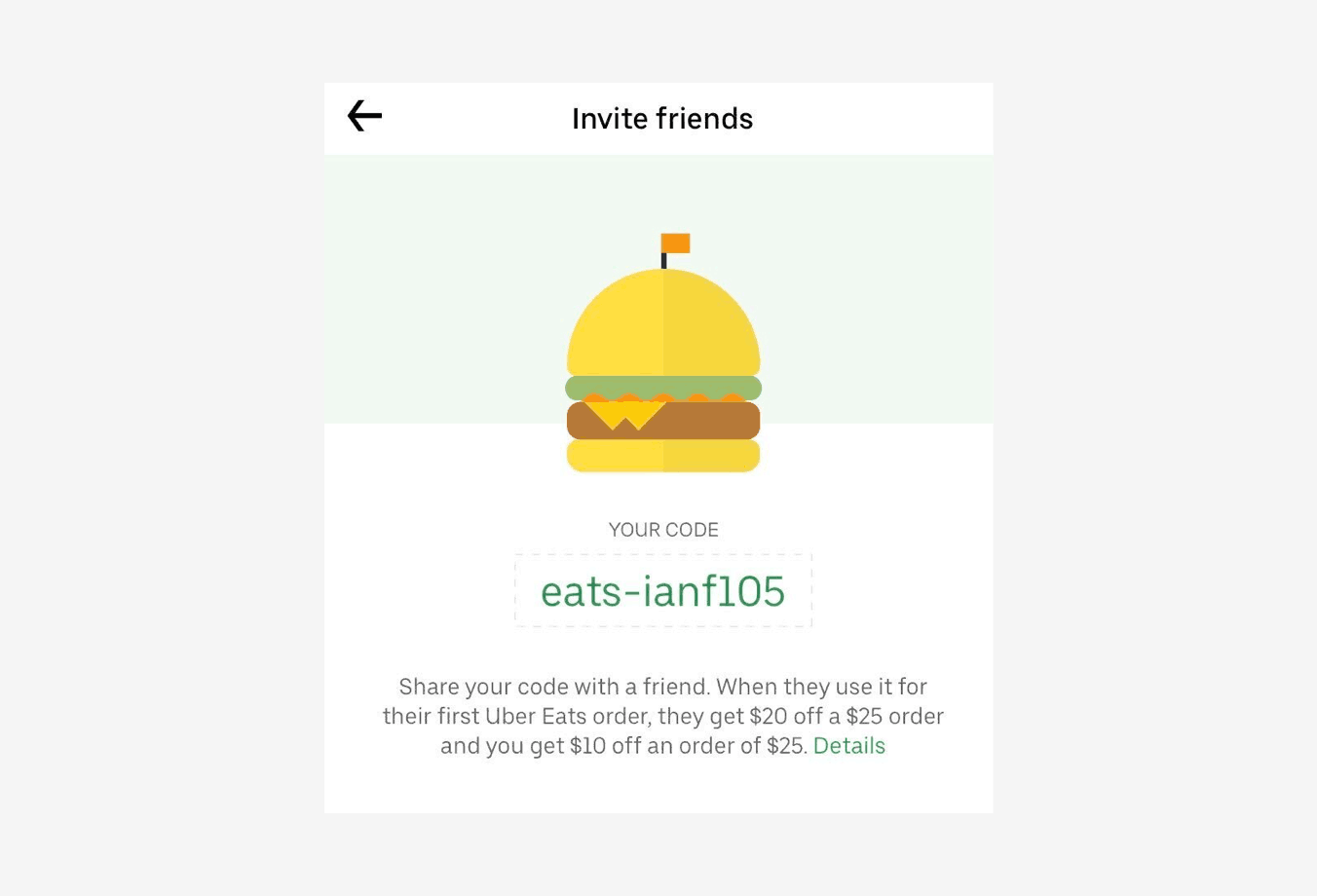 For example, food delivery company UberEats offers both the existing (referring) customer and new (referred) customer a discount off a future order of $25 or more. Both the existing and new customers are encouraged to continue purchasing from the company.
When to offer cash rewards or gift cards
For larger, less frequent purchases, a cash reward is often most effective at getting existing customers to refer their friends. This is the tactic used by brands like Casper and Smile Direct Club.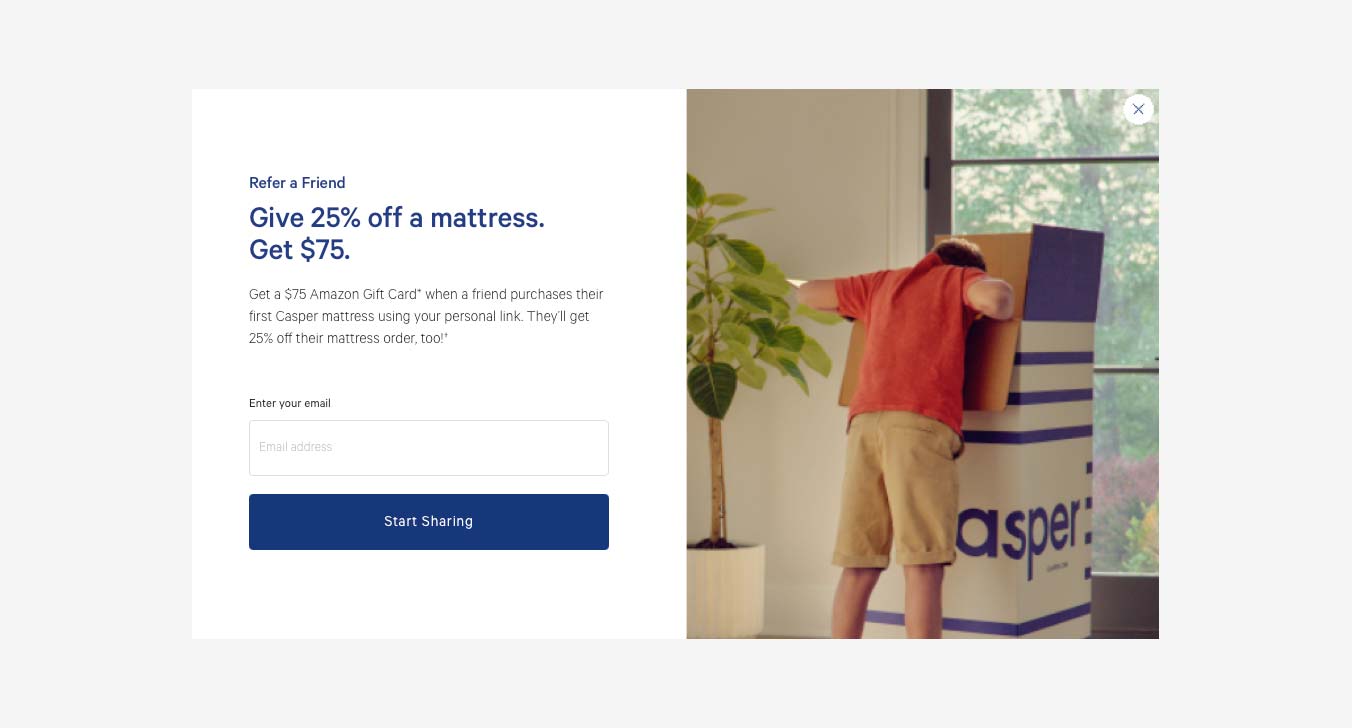 A mattress is often a one-time, high-consideration purchase. Casper's mattresses can cost anywhere between $900 to $4,000. Casper offers a $75 gift card to existing customers who refer a new customer. New customers earn 25% off their mattress purchase through the referral incentive.
For other high-consideration purchases, gift cards may serve more value to the customer than a discount. Meanwhile, a referred friend discount can still significantly lower the barrier to purchase for new customers.
5 clear-cut times cash rewards are king
There are five straightforward times when offering a discount on your product either doesn't make sense or isn't allowed. In these instances, cash is certainly king.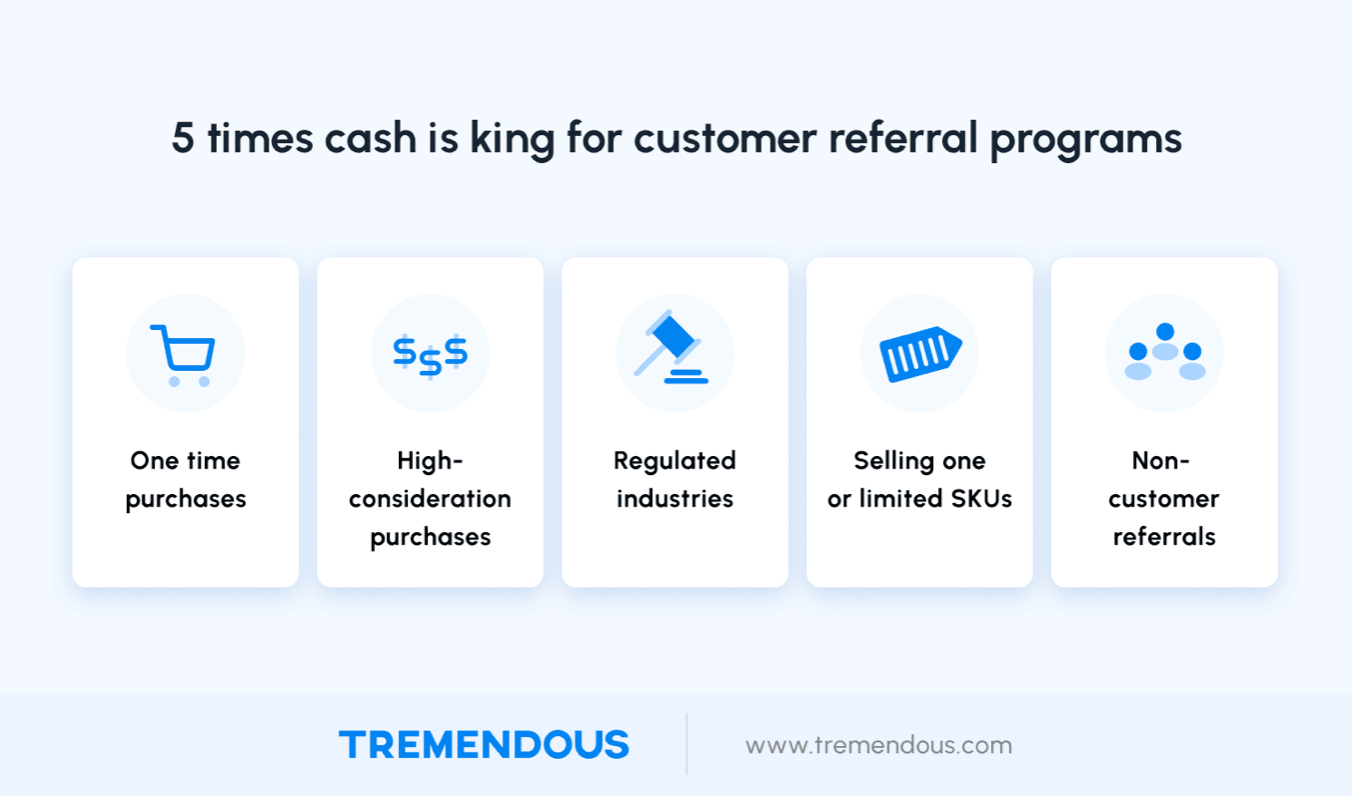 One-time purchases – items like the Casper mattress mentioned above.

High-consideration purchases – something a consumer will spend a lot of time researching the right product. It could be expensive (like a car) or low-cost (like a phone case). Chances are the consumer only wants one and they want the right one. So a discount on a future purchase won't motivate like cash.

Regulated industries – Electricity providers must compete for customers, but it's a highly regulated industry. Offering a discount is often illegal. Offering a gift card, however, isn't.

Limited SKUs – A company like Smile Direct Club sells essentially one product: teeth straighteners. Existing customers often aren't repeat customers, but the right cash incentive can encourage them to refer people in their network.

Non-customers – Someone doesn't need to use your product to refer their friends. If you know Bob is on the market for X product and you get a $50 gift card for referring Bob, you might be motivated to take action.
Start your referral incentive program today
Now that you know the ins and outs of customer referral incentives, you're ready to start your own program and see referrals soar.
Depending on your business model, the type of incentive method you choose may vary.
With companies that sell infrequent, high-price items, it's a good idea to offer a cash or gift card reward. For those frequent, lower-cost purchases, a discount is the way to go.
Once you've mapped the stages of your referral process, you're ready to start testing and implementing your referral marketing program.
For more information about how Delighted can be a part of your referral program, check out these articles:
---
About Ian Floyd
Ian Floyd leads content at Tremendous, a platform helping businesses pay people. He's been writing about the intersection of money, business, and psychology for more than seven years. In his fleeting spare time, he's usually in the kitchen preparing noodles.
About Tremendous
Tremendous is a payouts platform, enabling businesses to send money, prepaid cards, and gift cards to people around the world. Used by researchers at Google and MIT, marketers at Casper and Lyft, and institutions like United Way and the Federal Reserve Bank, Tremendous has orchestrated nearly 10 million payouts. Over 4,000 organizations agree: a Tremendous payout is almost as delightful to send as to receive.