Seamless and personal, the omnichannel retail experience, when done correctly, is built entirely around accessibility and customer experience. As simple as that sounds, omnichannel retail is the result of melding dozens of customer touchpoints and activities into a non-linear customer journey.
Those who have mastered omnichannel have a holistic understanding of their customers in terms of what their needs are, and how they want those needs fulfilled.
Unlike customer journeys of the past, a true omnichannel path-to-purchase requires brands to ensure that customer expectations are being met — no matter which channel the consumer chooses to begin their journey.
---
What is omnichannel retail?
Omnichannel retail is a fully integrated approach to commerce, providing shoppers a unified experience across all channels and touchpoints, including web, brick and mortar, and in-app. The goal of omnichannel retailing is to provide customers with a convenient experience across all aspects of their retail journey.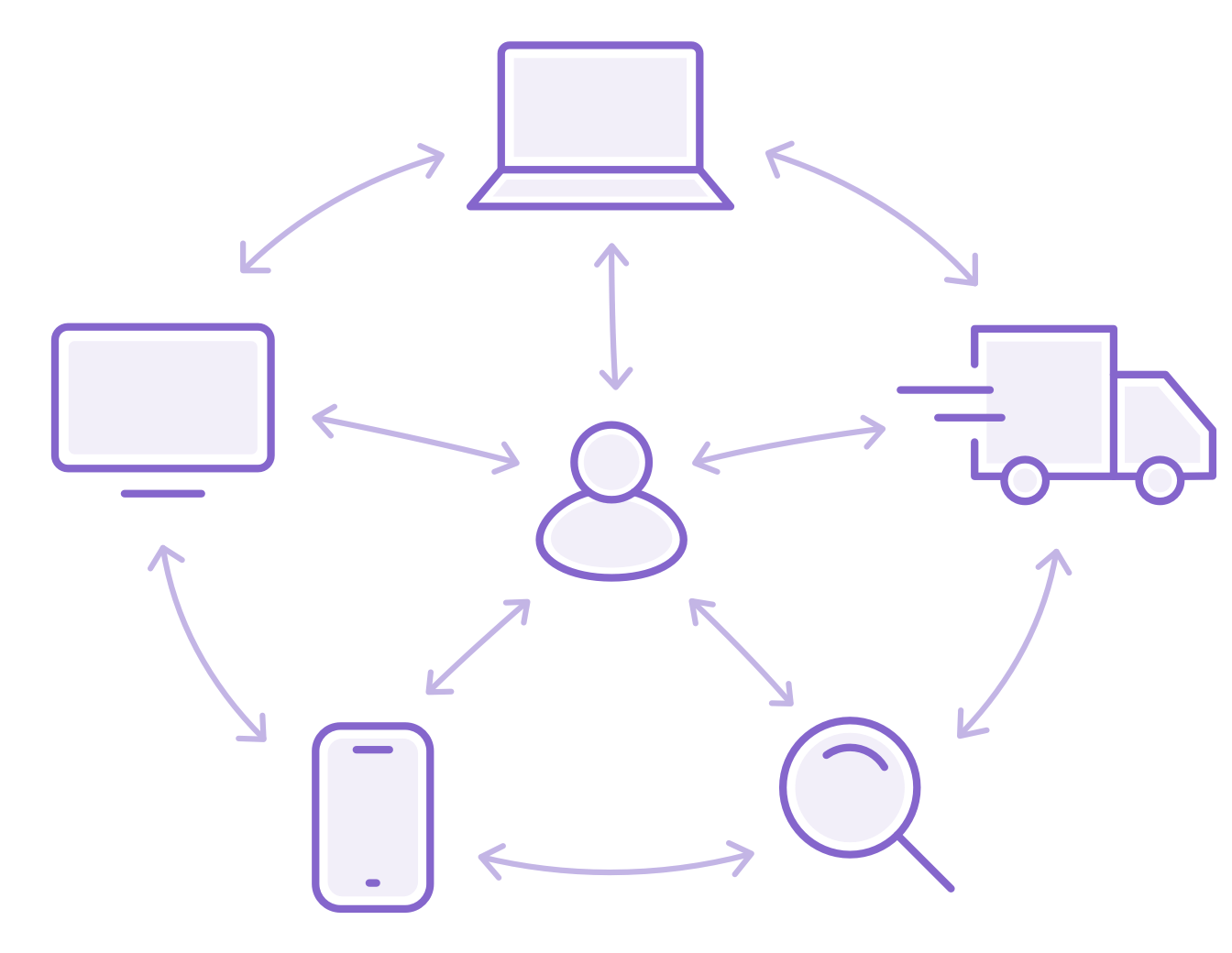 Brands that master an omnichannel approach to retail have seen increasing success with greater sales and enhanced customer loyalty.
Whether the customer is shopping online, browsing from their mobile device, or in a physical store, the entire experience should be consistent with how your brand appears across all channels. Omnichannel retail is heavily built around customer knowledge.
---
Omnichannel retail built with customer experience in mind
Omnichannel retail, at its core, must be incredibly customer-centric. If investments are being made to bolster digital and physical retail experiences, then it's necessary to leverage CX as a means to make these investments fruitful. Improving customer experience nurtures repeat customers, strengthens your network of loyal promoters, and enhances your bottom line.
According to McKinsey and Company, what really matters to customers in today's omnichannel marketplace include:
Speed and flexibility
Reliability and transparency
Interaction and care
Not only have digital channels completely changed the modern retail experience, but they have also altered how and when customer experience is measured. With the non-linear customer journeys that an omnichannel approach to retail lends itself to, measuring customer satisfaction requires consistency and scalability.
The only way to gauge whether or not your business is delivering on the expected customer experience tenets above is to collect feedback at the customer touchpoints most relevant to each principle.
Modern customer experience management software makes it easy to collect this feedback. For example, speed and flexibility can be measured with a Customer Effort Score (CES) survey, which evaluates the effort used by a customer to perform an action or get answers from your brand.
Reliability and transparency can be easily measured with an NPS survey after a sale is made or a service is provided. NPS surveys help businesses grasp whether or not customers are active promoters of your brand. In essence, having more promoters than detractors is indicative of whether or not the products or services you provide are reliable enough to be referred to others.
Moreover, interaction and care can be evaluated by using our customer satisfaction survey software, which asks customers to share how satisfied they are with a particular product or service that your business provides.
After this feedback is collected, your team has the opportunity to remediate any aspects of the customer journey not aligned to customer expectations. Whether changes need to be made to your digital or physical presences, taking action on the feedback collected is necessary for addressing pain points customers may have.
---
Start building your omnichannel retail strategy
Did you know that an estimated 80 percent of retailers fail to present customers with a cohesive brand experience?
The reason for this failure often stems from a lack of customer analytics, a siloed internal organization, poor data quality, and an inability to properly identify customers across the entirety of the shopping journey. In order to overcome these challenges, retailers need to be flexible by continuously monitoring customer experience and sales data to address areas that need improvement.
The key to creating an omnichannel strategy is to remember to deepen relationships with existing customers. An estimated 75 percent of shoppers use multiple channels to conduct product research, look for discounts, compare prices, or use in-store devices to complete their shopping experience online.
An additional 14 percent of customers will spend more after they have been presented with an omnichannel strategy. These statistics highlight the importance of a) targeting your existing customers, and b) understanding your audience so that you can successfully reach new customers. To help you achieve these goals, implement the following strategies.
Understand your audience and their behaviors
There are numerous ways to get a grasp on what motivates your customers to interact with your brand, buy your products, and make repeat purchases — and they all start with data. With many different yet interrelated facets of the omnichannel customer journey, choosing what data to collect and from where can overwhelm a lot of retailers.
A simple way to begin capturing customer insight is to ask for their feedback at different stages of their purchase journey. Surveying your customers during both pre- and post-purchase journey stages can help identify why purchases are or are not being made. A true omnichannel customer experience has numerous reference points for measure, and maintaining a consistent dialogue with your customers can identify which ones to focus on.
Unify key stakeholders around KPIs
The omnichannel experience must be seamless. So too must be your goals across your entire business. Identifying what's imperative for your business to succeed helps define which KPIs to focus on during a given time period.
For example, if your company's focus for the next two quarters is brand awareness, then KPIs across marketing, sales, and IT (web management in particular) must be predicated around meeting your desired measurement of awareness.
With thousands of KPIs to measure in the omnichannel experience, defining your overall goals and working backwards to establish what data matters most can save time while helping stakeholders remain focused on meeting company objectives.
Identify pain points within the customer experience
Identifying when and where customer expectations are not being met is essential to any successful omnichannel strategy. A simple way to uncover where the perception of your brand lags is by using Net Promoter Score (NPS) and Customer Satisfaction (CSAT) methodologies to measure customer experience in our customer satisfaction survey software.
Using both quantitative and qualitative survey questions, Delighted's CSAT and NPS software are great for quickly identifying customer pain points that may require further investigation.
Provide exceptional customer experience during pre and post-purchase activities
For omnichannel businesses, self-service is winning. According to Zendesk, 75% of customers want the ability to quickly get their questions and concerns answered by conducting their own research.
Thus, providing a great pre-purchase customer experience revolves around making sure that each touchpoint of your brand is easy to navigate, educational, and approachable.
For the post-purchase customer experience, delivering exceptional customer service turns repeat and new customers into promoters. And these promoters have the potential to grow the lifetime value (LTV) of your brand by 1400%.
Not only can industry-leading support impact your bottom line, it can also function as an omnichannel touchpoint for your brand. New research suggests that the ability to quickly solve customer challenges can increase customer loyalty. Customer Effort Score (CES) surveys are ideal for understanding how to improve these self-service touchpoints.
Gain the insights you need to create a successful omnichannel retail experience
As customers spend more time shopping online and browsing physical stores, they are constantly on the hunt for a more personalized experience that social media and other marketing avenues have taught them to expect.
The good news is that an omnichannel retail experience holds the key to engaging and retaining customers. Through an integrated, personalized customer experience, you can increase loyalty, improve sales, and enhance the lifetime value of your customers.
Discover the insights that you need to support an omnichannel retail experience with the help of Delighted surveys. Sign up for a free trial of our experience management software to send 250 surveys for free, and be amazed by the customer data that you gather across in-store and online channels.