Historically, the backbone of retail has been predicated around selling goods from a physical location. In the pre-internet days, department, warehouse, discount, big box, and mom-and-pop stores were where consumers would purchase goods for personal use.
Retail customer experience was predicated around these physical elements and touchpoints: Are the employees helpful? Does the store carry the products customers are looking for? Does their return policy make it easy for customers to easily exchange the product if it doesn't match expectations?
However, the world of retail is evolving. Enhancements in technology have led to the growth of ecommerce, making it easier and safer during COVID-19 for businesses to sell retail goods online and across the globe. In light of this, retail customer experience has also evolved. Customer experience must now be consistent across all touchpoints to ensure customer needs are being met wherever customers choose to interact with your brand.
In this guide, we dive into all aspects of the retail journey and provide some practical tips for improving the retail customer experience at each customer touchpoint.
First, let's define the retail space and how it has evolved.
---
What is retail?
Retail is when a business sells a product or service to an individual consumer for personal use. Although a retail sale can occur through a variety of channels such as brick and mortar (physical store), online, direct email, in-app, and more, what qualifies the transaction as retail is that the product's end-user is the buyer.
From clothing stores to auto parts, there are an estimated 3.7 million retail businesses employing nearly 42 million people in the United States alone.
Traditional retail categories include:
Hardlines: appliances, cars, furniture
Softgoods: clothing, shoes, toiletries
Food: meat, dairy, produce, specialty foods
Technology: tablets, computers, gadgets
---
Omnichannel retail makes products and services more accessible
Brick and mortar, or digital? For 2021 and beyond, the answer is both. Successful retail brands will outpace their competition by reaching customers with both physical and digital presences.
In light of this, many traditional brick and mortar brands have taken an omnichannel approach to retail. Retail powerhouses are now harnessing the power of ecommerce and app-based marketplaces to serve their customers safely and make their products and brand as accessible as possible.
Though retail trends post COVID-19 are uncertain, successful retail brands historically outpace their competition by reaching customers with both physical and digital presences. Indochino, for example, was very successful as an online fashion marketplace. According to their CEO Kyle Vucko, Indochino's decision to open physical stores was based largely on measuring customer feedback.
As we explore further in this guide, an omnichannel strategy is imperative for growing any retail business, however, managing more customer touchpoints can reveal some unique customer experience challenges.
---
The current state of retail 2020: customer experience reimagined
Retail apocalypse or opportunity for change?
In the US, the COVID-19 pandemic required roughly 60% of retail square footage to temporarily close in 2020. Since then, retailers have seen a 70% decrease in consumer spend of "non-essential" items (i.e. apparel) compared to 2019. Is this the end for retail?
Not quite. Forbes reports that in April 2020, ecommerce was up 68% in year-over-year revenue growth and other experts are starting to see a recovery of 50% in foot traffic to stores in recent months, giving light to a possible increasing trend for in-store consumer experiences in 2021.
As we'll continue to explore, successful retail brands have pivoted a lot of their efforts towards listening to their customers and taking action to ensure that every aspect of the omnichannel retail experience is convenient, safe, and optimized by their feedback. Thus, many retailers are investing resources in the following areas:
Methods for listening to and collecting customer feedback
New technology for both digital and brick and mortar storefronts
---
Components of retail customer experience and measuring sentiment across all channels
Tracking and measuring customer feedback at each point of omnichannel retail can be done with the help of a modern customer experience solution.
Measuring digital retail customer experience
Digital retail is all about convenience and nowadays, safety. Successful digital retailing puts the consumer in total control of their journey – directly from the comfort of their home.
At its core, digital retail is a series of connected web or app experiences that allow consumers to interact with your brand, uncover more information, conduct product research, and — depending on what your business sells — make a purchase.
Digital retail can look different across many industries. Web experiences for businesses that sell clothing, home goods, and other easy-to-ship commodities can often vary in comparison to companies that sell more complicated-to-purchase products like cars.
Measuring CX during a customer's digital journey can be done with a few different survey methodologies:
Net Promoter Score (NPS): This measures the loyalty of your customers by asking them how likely they are to recommend your brand, product, or service using Delighted's NPS software. Identifying who the promoters of your business are can help influence marketing, sales, and other business decisions.
Customer Satisfaction (CSAT): This method helps brands understand how satisfied customers are with your company, or products and services provided using our customer satisfaction survey software. CSAT surveys are useful for making product enhancements when satisfaction scores for some products or services trend low (i.e. shoes didn't fit after using the online sizing chart).
Customer Effort Score (CES): Customer effort is a key driver of customer satisfaction and loyalty. Customer effort measures the difficulty (effort) for your customers to accomplish their sought out intent. Basically, CES can provide information like:
The online checkout process was too slow
Virtual support reps were hard to contact and they took too long to solve my ticket
It was too hard to return an item
These survey methods are typically delivered via web, email, and link.
When it comes to online retail, speed is everything. Consumers want to be able to quickly access the information needed for them to make a purchase. This includes the ability to compare prices, styles, delivery dates, and suggestions for future or related products — all in a simple to use web presence.
The only way to know if your company is successfully doing this is to consistently collect feedback from your customers at every stage of their digital journey.
Measuring customer experience for brick and mortar stores
Remember the CX methodologies listed above? Those same feedback collection strategies can also apply to physical retail stores.
In fact, Happy Returns, an enterprise software and reverse logistics company based in Santa Monica, CA, understands the importance of establishing trust with the customer and adapting to change in-store, especially now, through recurring survey insights:
"Pre-pandemic, our focus with Return Bars was really simple. Make sure that the shopper's happy. Post-pandemic, we definitely had to utilize the NPS data from Delighted in a very different way. The biggest one being monitoring the new process that we had put in place to make these in-person returns contact-free.

We felt a lot better about making these changes quickly because we were able to monitor through Delighted, and the NPS data, and the comments that they were providing us to be able to quickly recognize any issues with the new process that we were putting in place."

Alyssa Baroody, Senior Manager of Retailer Success, Happy Returns
There are a few survey delivery methods that are suited for in-store feedback. We'll take a quick look at each one and how they can be used in a retail setting.
Kiosk
A survey kiosk is designed to capture customer feedback quickly and painlessly. Customers can leave in-person feedback in a matter of seconds with an easy-to-navigate interface, typically loaded on a large touch screen or portable tablet that can be sanitized between uses. Most modern survey kiosks are customizable and allow retailers to ask questions relevant to the business objectives they're trying to address.
The biggest benefit of using a survey kiosk in a brick-and-mortar environment is that feedback can be collected before your customers exit your store. The ability to instantly leave an opinion makes consumers more inclined to share their sentiment, as it has a lower barrier to action compared to other survey methods.
Email
Email is another popular method for brick and mortar retailers to solicit feedback from their customers and ideal for touchless surveying. While kiosk has an incredibly low barrier to completion, an email survey requires retailers to collect their customers' emails at some point during their shopping journey. There are a few ways to do just that:
Collect it digitally. Customer or potential customer emails can be captured digitally by encouraging customers to sign up for newsletters and rewards programs. An email can also be collected when a customer makes an online purchase or requests more information. Although the email addresses have been collected digitally, brick-and-mortar stores using an omnichannel approach can cross-reference customers' email addresses when an in-store purchase is made.
Collect it in person. Many retailers encourage customers to share their email address in-person after a purchase is made. They do this by incentivizing customers with discounts for their current or upcoming purchases and rewards programs.
While collecting feedback may not be as instantaneous as a survey kiosk, some benefits of using email to deliver a survey include:
Optimal timing — some consumers need time to use the product consistently to leave an accurate review of it.
Deeper customer segmentation — unlike kiosks, which often gather feedback anonymously, emails are tied to a specific customer record. You'll be able to understand how that customer's feedback fits into the context of their experience — what they purchased, how they purchased it, and how long they've been a customer.
Easy to collect a referral in addition to feedback — after a survey is completed by email, retailers then have the option to ask and incentivize promoters to refer their friends or family to their company by integrating a tool like FriendBuy with their CX platform.
Link
Distributing CX surveys by link is by far the most flexible method of contact-free delivery in that you can add a survey link to almost any customer touchpoint, both physically and digitally. For retail stores, survey links are usually added to things like receipts, posters, or in-store displays. While this is in fact a viable way to distribute a survey, some retail customers may find typing a link on a receipt and pulling up a corresponding landing page to give feedback too much effort.
Tying your survey link to a QR code, however, can make your survey more accessible. By using a QR code survey, retail customers can use their smartphones to scan the code and instantly pull up your business's survey. Pair that accessibility with some incentives and customers will be inclined to leave feedback at the point of sale or shortly after.
---
Measuring retail customer experience delivered by employees
Employees are the backbone of the retail industry. Whether your brand operates entirely online, or with a combination of digital and physical marketplaces, the human element of retail is essential for success.
Keeping tabs on how employees influence customer experience may seem quite the undertaking for some retailers. That said, measuring the relationship between customer experience provided by employees and customer satisfaction can be done more easily than you think and with the same survey methodologies and delivery mechanisms noted above. For example:
CSAT: a method to gain insight into how satisfied your customers are with the service provided by an employee. "On a scale from 1-5, please tell us how satisfied you are with the help provided by Sharon. Why did you give this rating?"
Thumbs: a binary method to capture whether or not help provided by an employee was satisfactory or not. Thumbs up: Sharon was great. Thumbs down: Sharon's help was less than satisfactory.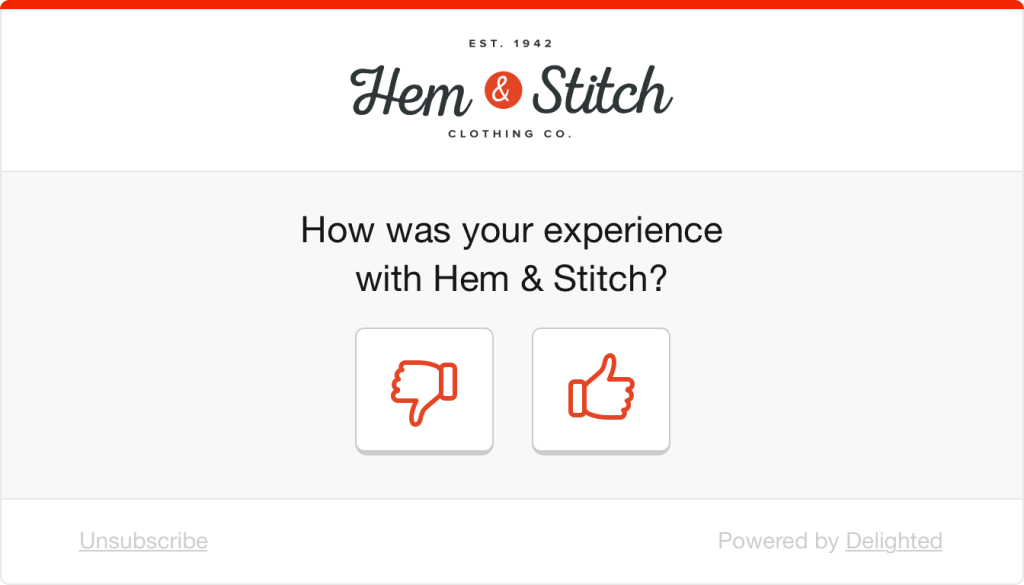 5-star: collect feedback on an employee by asking customers to rate his/her performance in a quick, familiar way. "How would you rate the help provided by Sharon?"
Smileys: gain instant insight into customer sentiment with a universally understood method for gathering experience feedback. "How satisfied were you with the support provided today by Sharon?"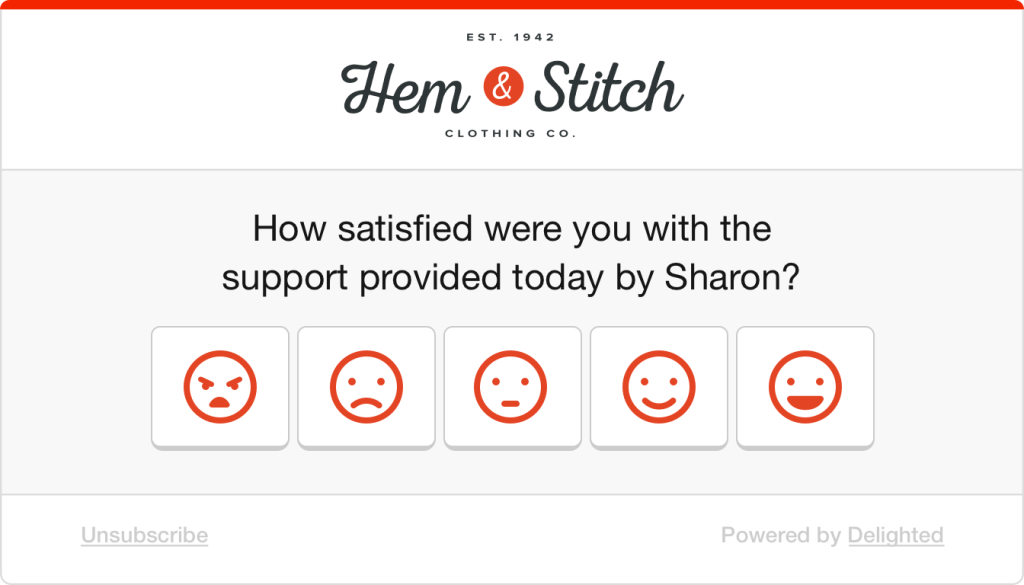 Collecting feedback on your employees from customers can be done by delivering these surveys via the distribution method that makes the most sense for your business. Here are some tips:
If purchases can only be made in-person at your store, then we recommend using a survey kiosk or sending a link to collect feedback. In the spirit of transparency, encourage employees to ask these customers to rate them after a purchase is completed.
Conversely, if you run a digital-only marketplace where customers only interact with your employees in a support capacity, your survey distribution method should match that. Web and email are your best options for collecting feedback.
If your brand has both brick and mortar and digital marketplaces then selecting a survey delivery method should combine the efforts of both bullets above.
Make sure your employees are aware that customers will be surveyed about their interactions with them. That said, businesses should allocate time to train retail employees on best practices and give them tips on creating a positive experience for all customers — even the more difficult ones.
---
Trends on improving retail customer experience
Put people, their experiences, and their needs first. This is and will continue to be the biggest trend for retailers trying to improve customer experience and brand perception during COVID-19 and throughout 2021. Although this may seem counterintuitive considering how digital-heavy an omnichannel approach to retail is, today's customers, much like those of the past, will expect brands to meet their expectations during every aspect of their shopping journey.
Stay human
"The future of retail CX is human," says the title of Denise Lee Yohn's article in Forbes. Becoming more human requires retailers to listen to their customers and collect data on their perception of what's working and what's not across all channels: digital, brick and mortar, support, and employee interaction.
The only way to ensure that you're providing a human element to consumers is to gather customer data at each aspect of the retail journey. While the use of data to make the customer experience more human may seem counterintuitive, the insight you collect can help address specific customer needs and demonstrates that your brand is listening to them.
In fact, listening to your customers digitally and in-person is essential to the success of your business. Using a experience management software solution to ask your customers the right questions, at the right time, is a wonderful first step to establishing an open dialogue. CX surveys can identify both positive and negative customer sentiment and provide the insight needed for retailers to have personal follow-up conversations with their customers.
Upgrade your tech stack
Technology gives retail customers more access to product, company, and competitor information than ever before. In fact, 55% of shoppers want the option to browse products online and check real-time product availability in local stores.
Although the use of technology may seem impersonal, integrating the right tech into your business can make it easier to have the "more human" conversations mentioned above. A few tools that retailers can easily deploy to make omnichannel shopping experiences more personal include:
The right technology can personalize retailer-customer interactions. Deciding which tools to use begins with listening to your customers and acting on feedback to identify the best-fit solutions for your business. If you're interested in diving deeper with more tips and tricks on navigating COVID-19 through the power of surveying, check out our back-to-business solutions for immediate action-planning.
Start listening to your customers today with a free trial of our experience management software. Delighted is built to deliver everything retailers need to kick off a world-class customer experience program today.