In today's retail environment, customers expect to be able to seamlessly transition from browsing on a mobile device to picking up an item in-store. The best omnichannel retail strategy ultimately results in an experience that allows customers to go from one channel to another without friction.
Omnichannel retail is now a vital part of every retail strategy. Brands that master omnichannel retail can cater to the 73% of customers who use multiple channels to research products, look for discounts, or compare prices. In this article, we'll cover:
What is omnichannel retailing?
Omnichannel retail is a fully integrated approach to commerce, providing shoppers a unified experience across all channels and touchpoints, including web, brick and mortar, and in-app. The goal of omnichannel retailing is to provide customers with a convenient experience across all aspects of their retail journey.
A successful omnichannel retail strategy lets customers choose their preferred transaction location while also making cross-channel transitions convenient for customers. In fact, 14% of customers will spend more after they have been presented with an omnichannel strategy: the proof is in the revenue.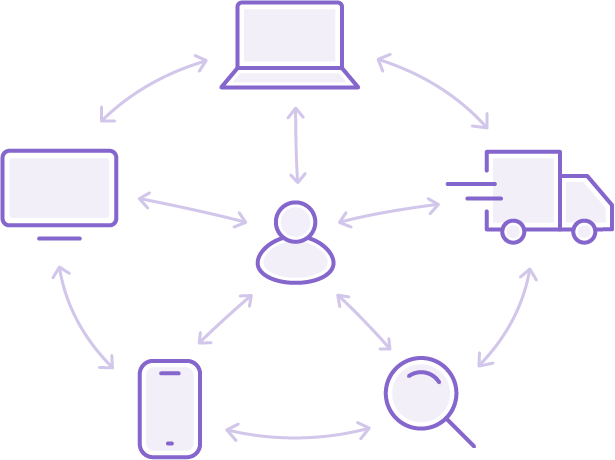 It also requires inventory, customer service, and the sales experience to be unified across multiple channels. Recent developments in IT infrastructure and data analytics have made it possible to track a customer's journey across multiple touchpoints, from social media ads and interactions, to the website, app, chat, customer service calls and email, and finally back to the brick-and-mortar store.
Omnichannel vs. multichannel retailing
Before omnichannel retail, there was multichannel retail: meaning that all the different channels existed, but they stood alone, unintegrated. With the rise of omnichannel retail, customers can hop from one channel to another easily since the channels are designed to roll up into one overarching brand experience.
Why is omnichannel retail so vital to the retail customer experience?
Seamless and personal, omnichannel retail, when done correctly, is built entirely around the customer experience to accommodate consumer behavior and preferences. Those who have mastered omnichannel retail have a holistic understanding of their customers in terms of what their needs are, and how they want those needs fulfilled.
Since the beginning of the pandemic in 2020, the retail landscape has changed drastically and may perhaps never be the same. With over a hundred retail chains closing up shop, this economic change has impacted varying retail industries differently. Retailers discovered that to adapt to the changing retail landscape, they must ensure a unified customer experience across platforms.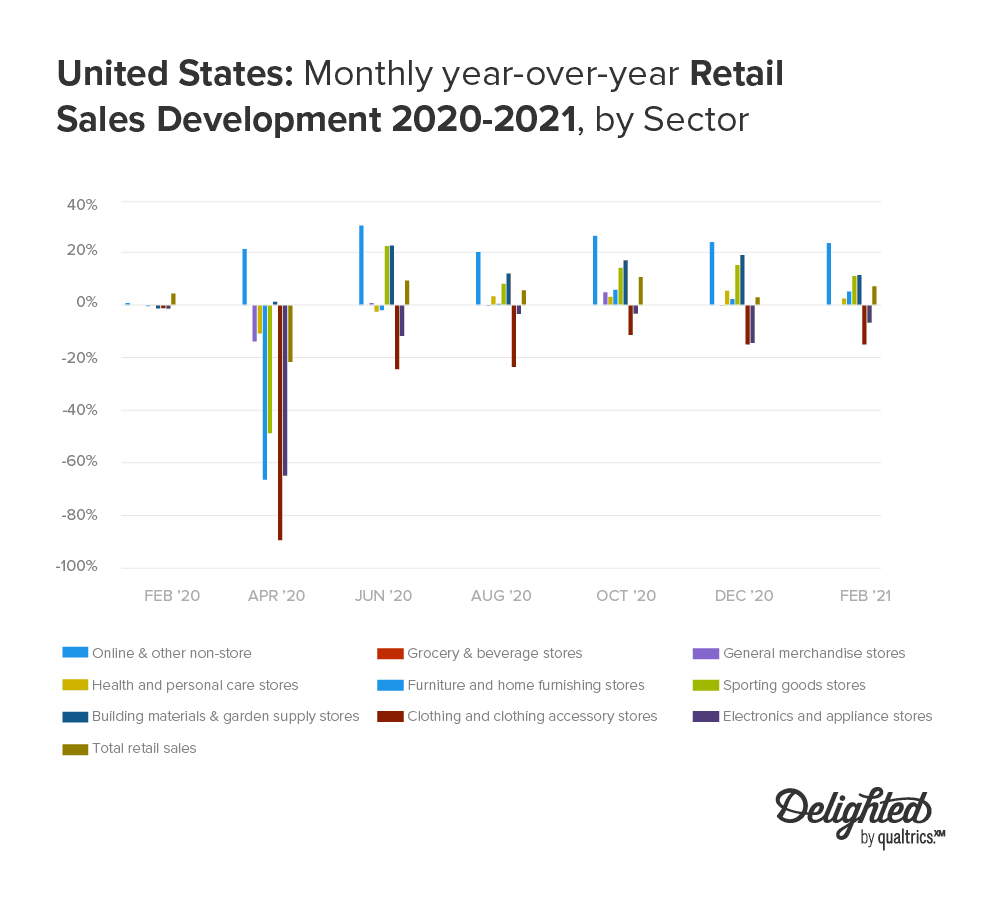 We surveyed 1,200 shoppers across the US in our 2021 study to gain a deeper understanding of how the pandemic has affected shopping behavior and consumer expectations moving forward.
Omnichannel retail trends for 2021 and beyond
The pandemic showed retailers that customers want a personalized shopping experience that meets their needs. Whether that be curbside pick-up or ordering online, businesses have had to adapt to the changing preferences of their customers, even more so since the pandemic.
What our research found is that a majority of US consumers are shopping online either via websites (41%) or apps (16%). And this trend is likely here to stay.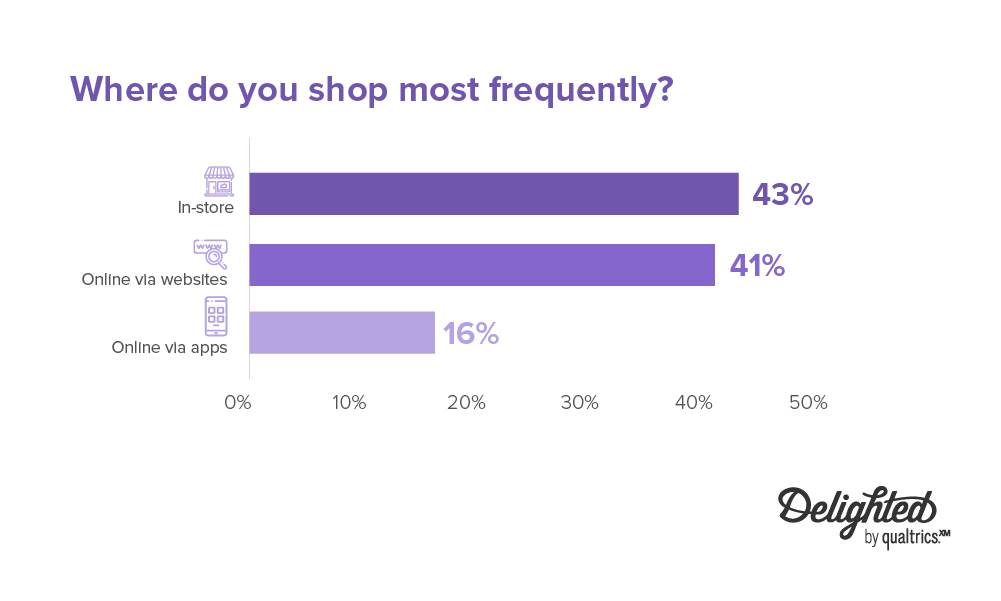 Curbside pick-up increased in popularity, but delivery is king
Curbside pick-up and in-store pickup exploded during the pandemic, with Target citing a 500% growth in curbside pick-up in 2020.
Regardless, all age groups surveyed reported that they shop online and have purchases delivered more than they pick up in-person or curbside. 87% of shoppers surveyed ages 35-44 prefer home delivery with those ages 45-54 showing a preference for home delivery as well at 79%. Those aged 54 and older had the lowest reported preference of home delivery at 60%, with 20% opting for in-person or curbside pick-up.
This might be due to the fact that 90% of shoppers expect deliveries to arrive in 2-3 days, while 30% expect same-day deliveries.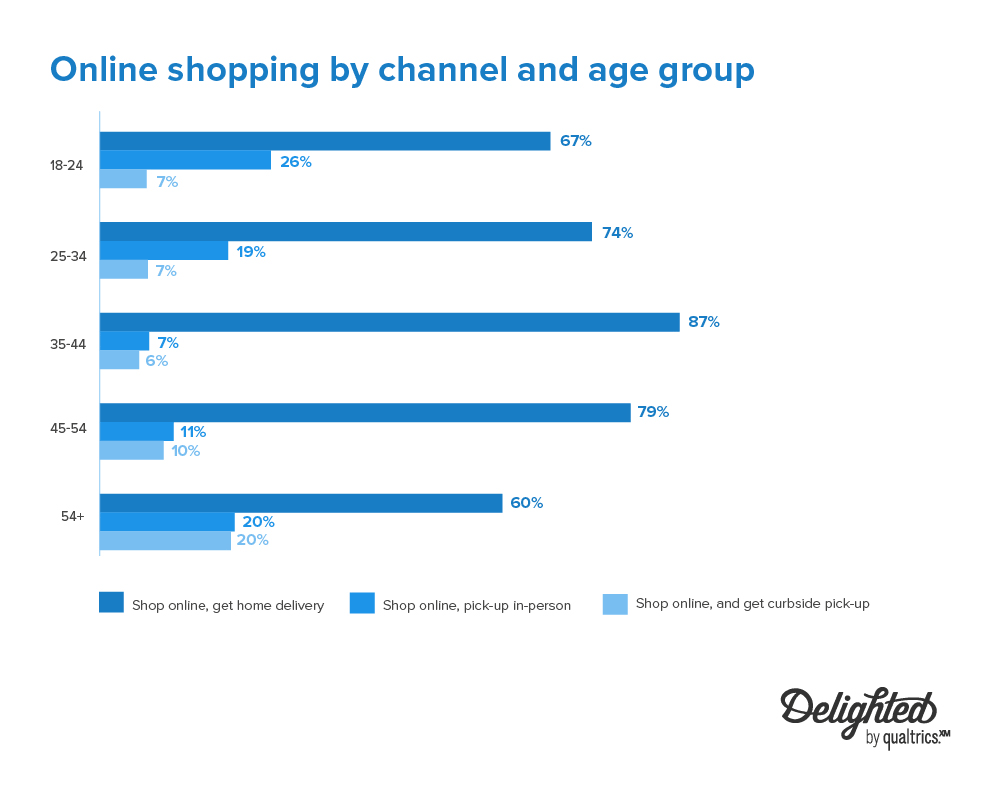 However, there's still a pattern of certain age groups shopping in-store more than others, like those who are 18-24 and 54 or older (51%). Millennials and Gen X, on the other hand, prefer purchasing online via websites. 39-45% of shoppers ages 25-54 prefer online shopping via websites while 12-23% of those ages 25-54 prefer shopping on mobile apps.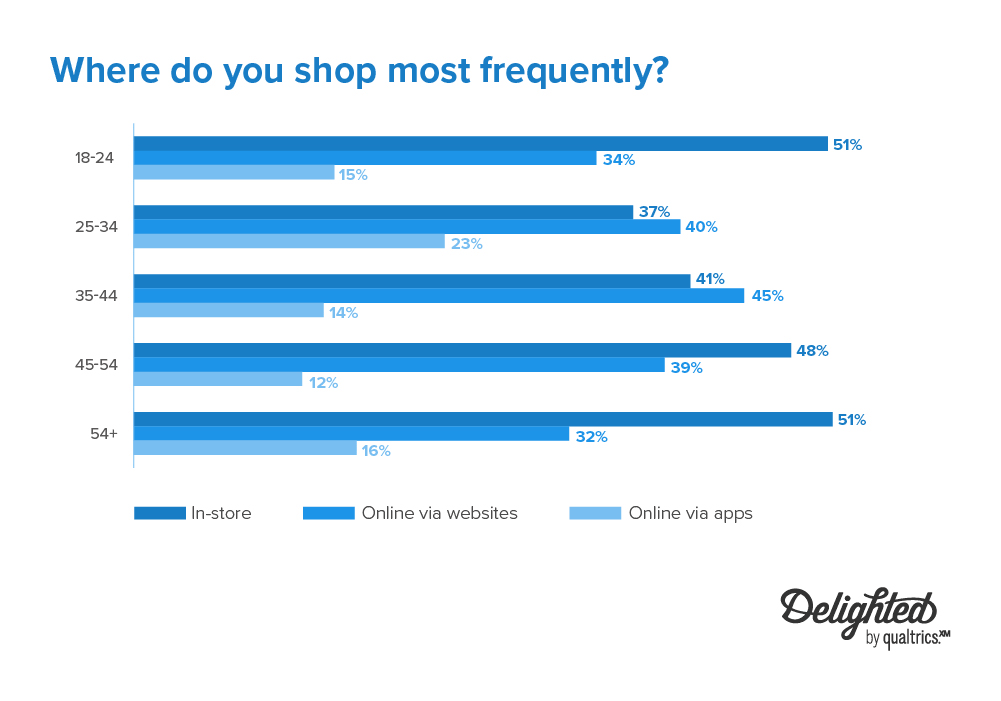 Consumers still want to see and try out items in-person
This begs the question: what's the most popular reason for customers to shop in-store? By and far, the ability to touch, feel, and try on items was the top reason (75%) to get the in-store experience.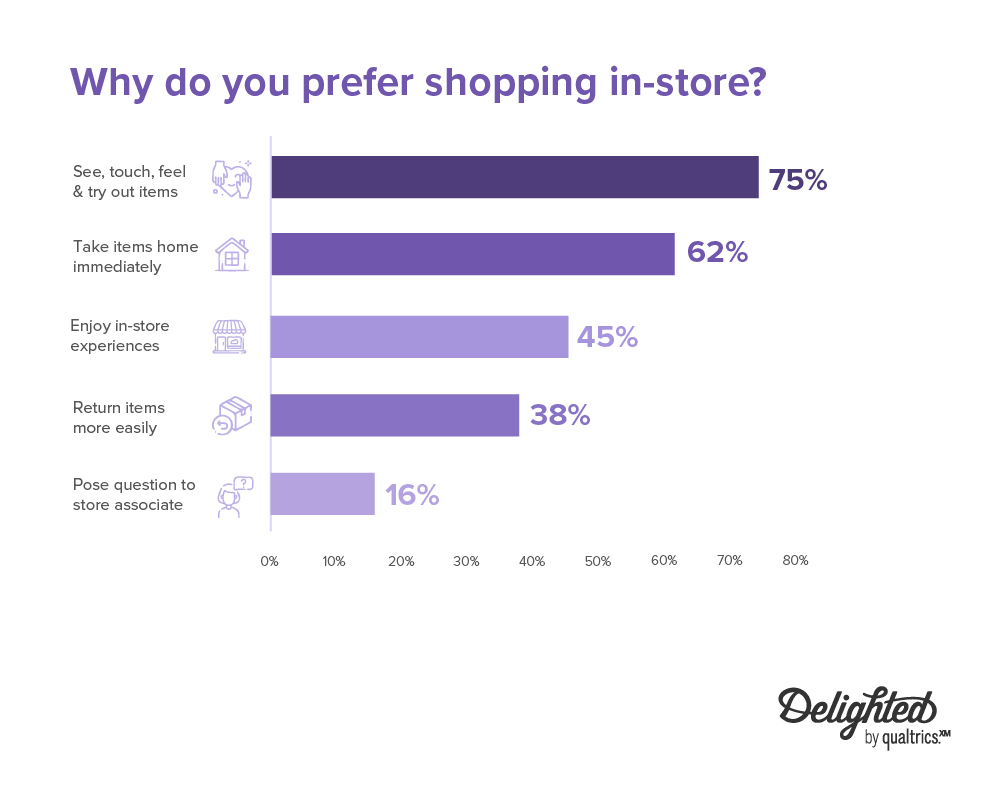 Across all age ranges, seeing and feeling the product remains the core reason shoppers like to visit a brick-and-mortar store.
Middle-aged and older shoppers like aspects of in-store purchasing such as trying the item (74% of shoppers ages 35-44 and 82% of those ages 45-54) and taking it home immediately (61% of shoppers ages 35-44 and 64% of those ages 45-54). Since many shoppers prefer to do their own research, access to store associates is less of a concern (19-22%) for all age groups.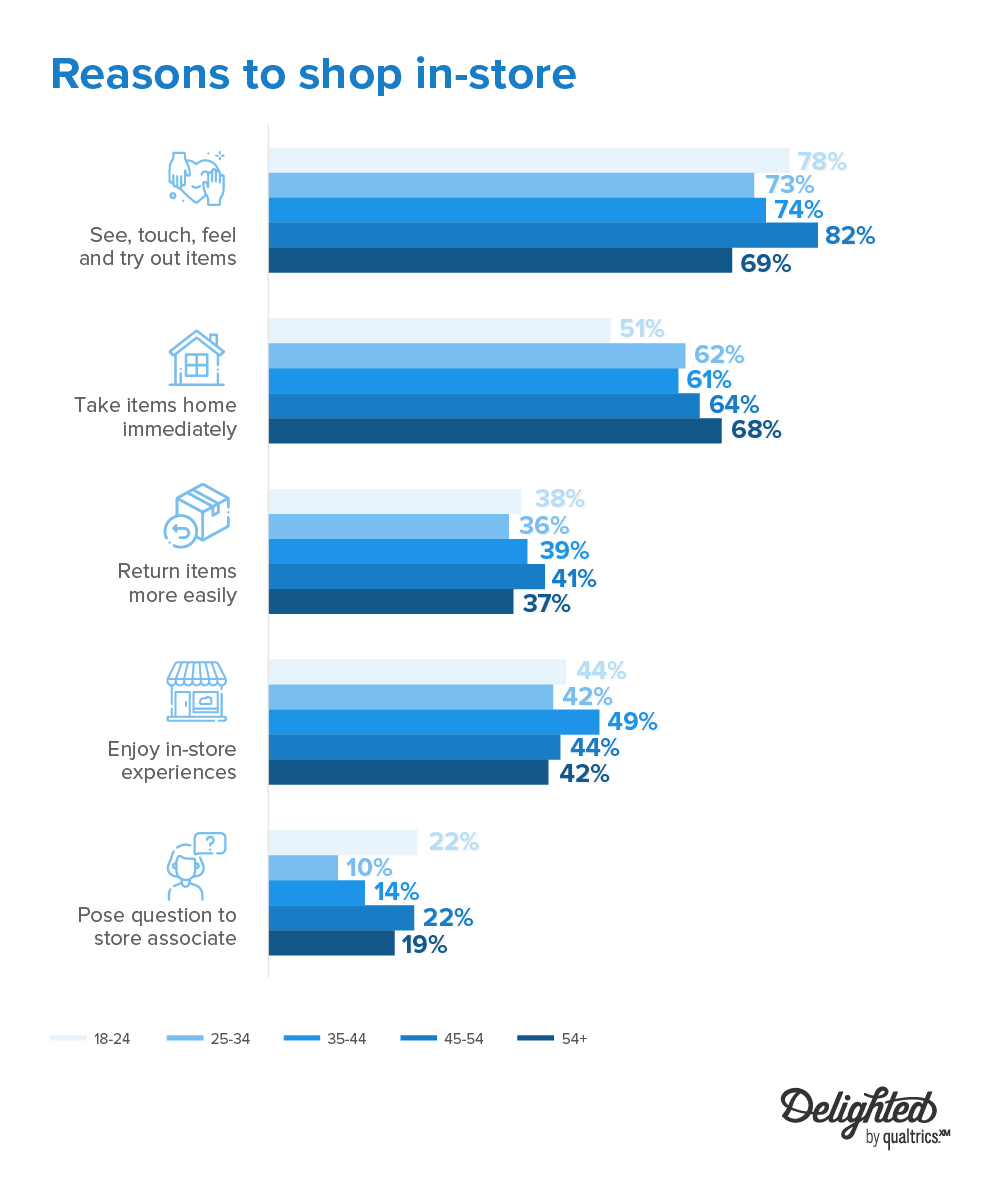 Uncertainty around product quality and fit is the top con of online shopping while convenience is the top pro
This remains one of the biggest drawbacks of online shopping: shoppers remain uncertain about the actual quality or fit of the product until it arrives at their doorstep.
Combined with sometimes complicated returns processes, online shopping can feel like playing a slot machine – the anticipation is exciting, but the outcome, underwhelming.
This connects with the biggest grievance in-store shoppers have against online shopping: product quality is perceived as poor compared to what's advertised once consumers have their order in hand (58%). Or, consumers are unsure if what's shown online will be suitable for them (41%). Delays in shipping, outdated information about stock, and shipping costs add more friction to the shopping experience.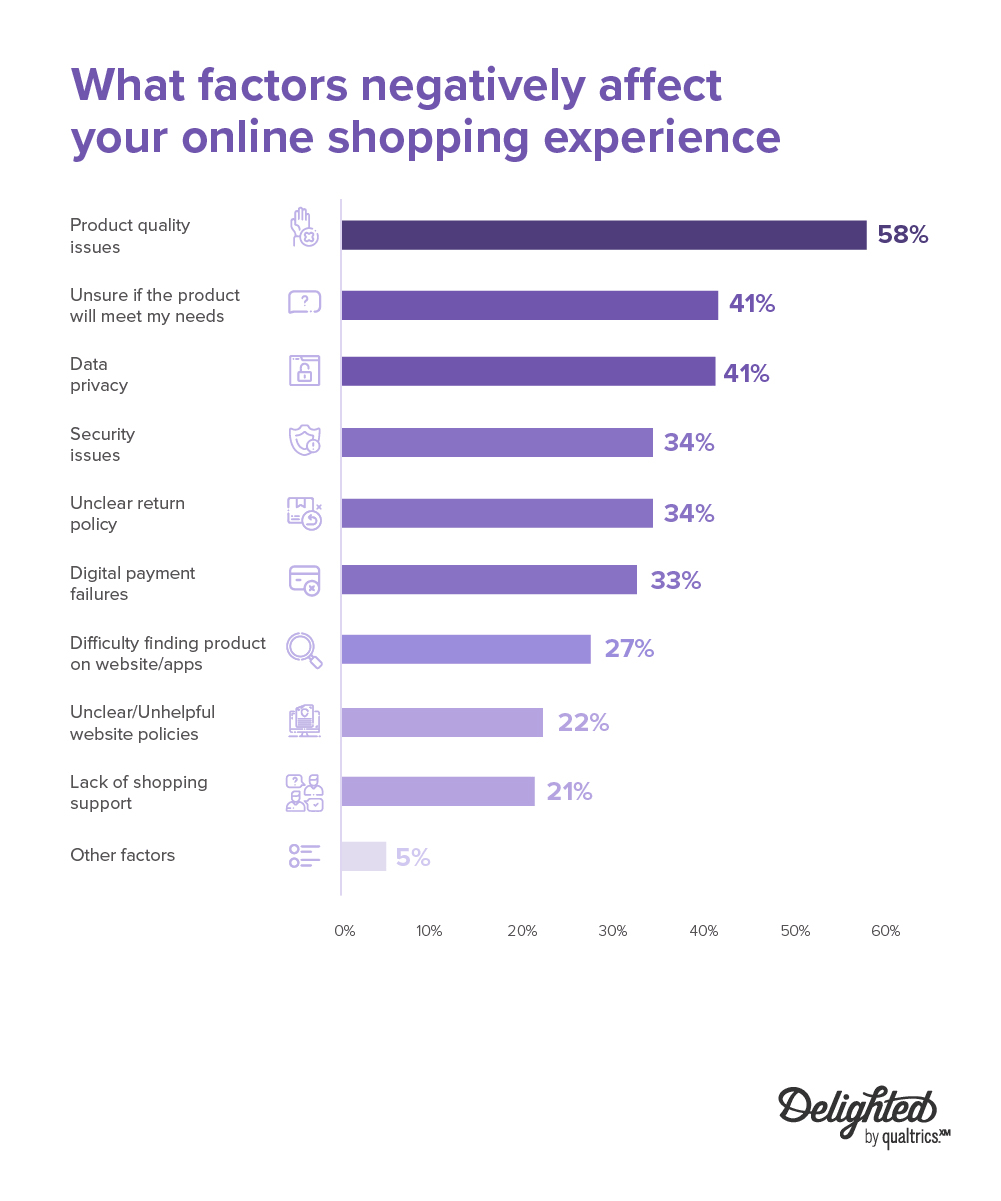 This may explain why despite online shopping affording convenience (70%), ease of delivery (56%), and the obvious benefit of avoiding exposure to COVID (66%), consumers still shop in-store.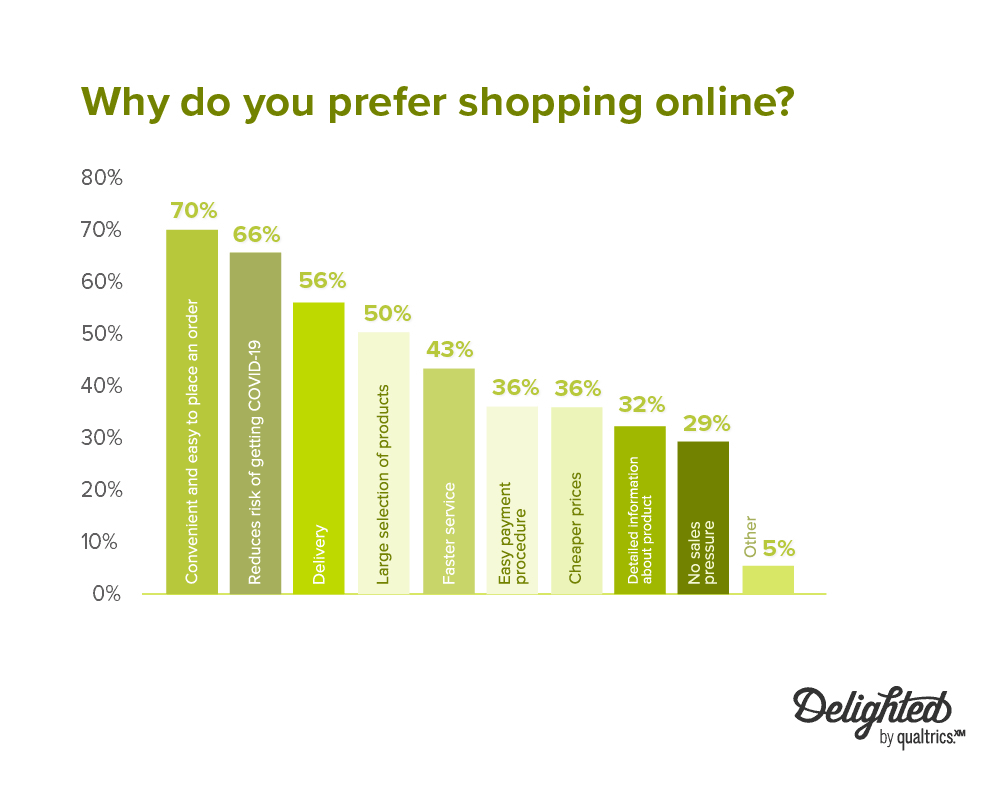 Retailers with premium pricing are also in luck: cheaper prices were ranked lower on customers' priority list at 36%. This goes to show how much shoppers value convenience over discounts or sales.
Consumers prefer to buy groceries and household essentials in-store
Depending on the type of product a customer is buying, however, the sales channel they choose may vary. One example is that groceries are best bought in-store: both women (86%) and men (81%) listed household essentials as the top category to purchase in person. The same goes for women's clothing as 73% will shop in-store for functional or recreational reasons while only 65% of men do the same.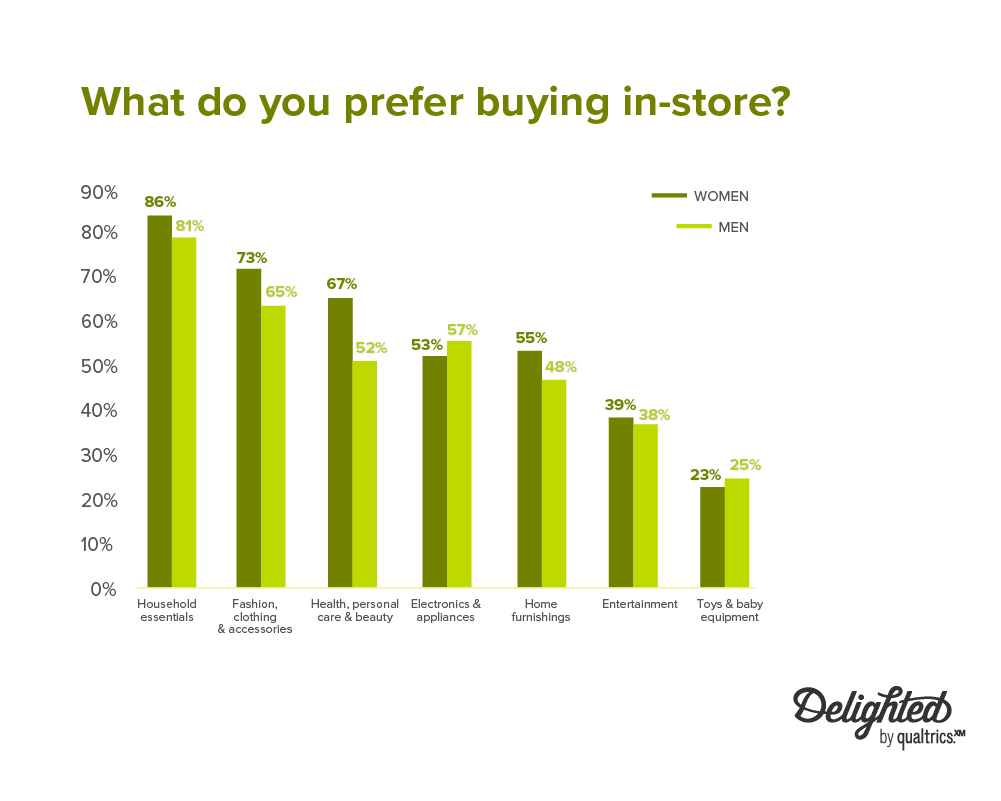 Top concerns for men and women when it comes to in-store vs online shopping
No sales channel is perfect: just like with online shopping, in-store shopping can have some drawbacks. When shopping, men were more concerned about COVID (71%) while women were put off by product unavailability (57%) and long checkout lines (51%).
Some of the most common drawbacks of online shopping included unclear return policies (34% of men and women), digital payment failures (36% of men and 27% of women), and difficulty finding the product on the website or app (27% of men and 28% of women). Men reported greater privacy concerns (45%) than women (35%) by 10%.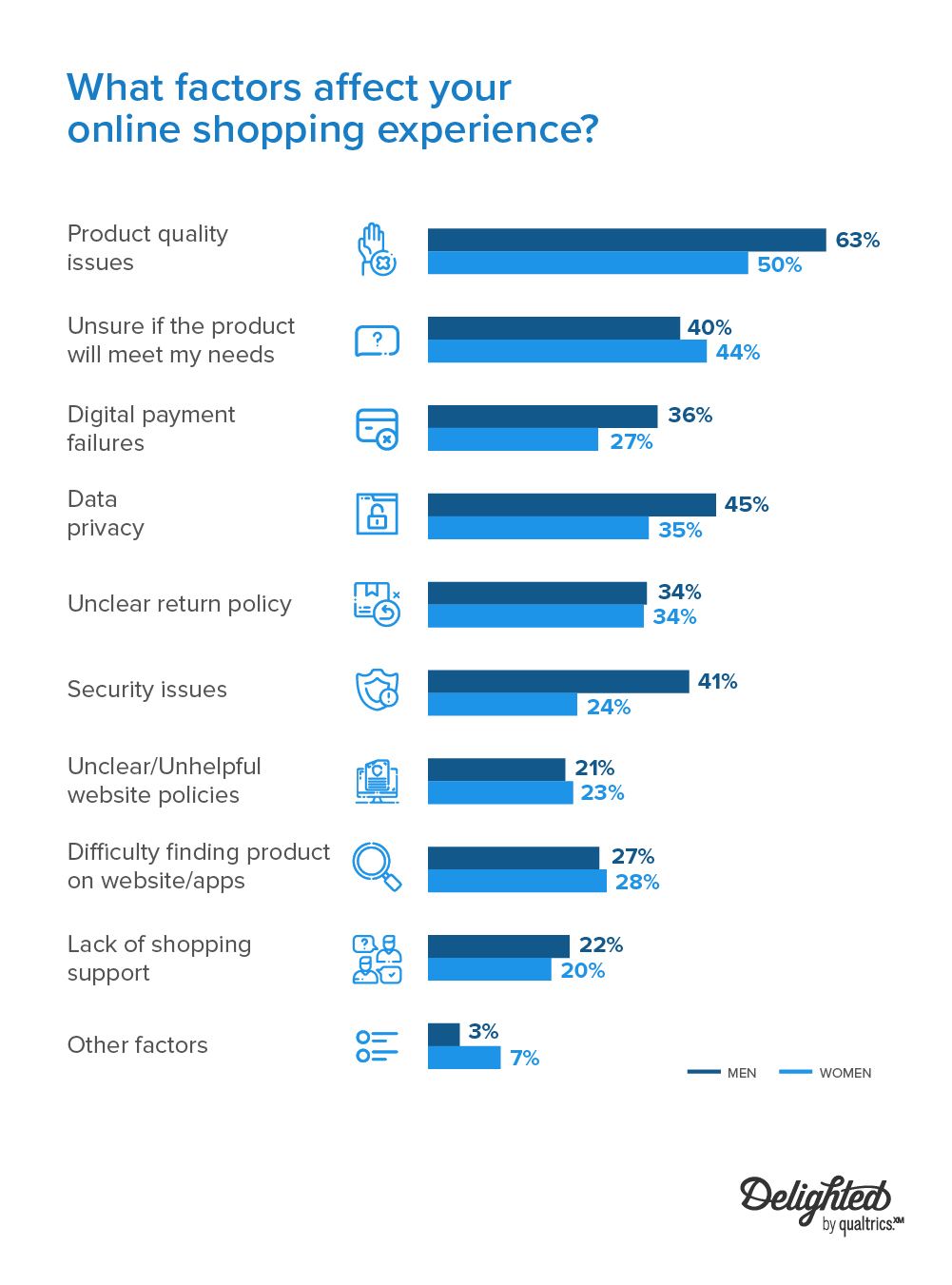 Social commerce: the newest channel
Since the rise of social media, it was only a matter of time before retailers capitalized on their digital presence to sell their products on social media platforms like Instagram, Facebook, and Youtube.
In fact, 81% of Americans ages 15-25 use Youtube, 79% of those ages 18-29 use Facebook, and 75% of 18-24 year olds use Instagram. And with 92% of Instagram users reporting that they either clicked on an ad, followed a brand, or made a purchase because of an Instagram ad, it's hard to deny its effectiveness.
Businesses spent record amounts on advertising on social media sites in 2020, increasing their spending on social media ads to $41.5 billion, accounting for nearly 30% of all internet advertising revenue.
Even during unprecedented economic turmoil at the height of the pandemic, social commerce has proven that it's here to stay, quickly becoming one of the next big channels in omnichannel retail strategy.
Considerations for small and medium-sized enterprises
Note that this type of business model is incredibly hard to pull off: larger brands have the budget and resources to build IT infrastructure and AI-driven distribution algorithms.
Smaller and mid-sized enterprises (SMEs) shouldn't fret: the heart of succeeding at omnichannel is understanding the consumer, like knowing where they like to spend time online and how they like to shop. This makes social media an excellent tool to connect with customers, paired with a great product and authentic values.
Also keep in mind that a full-fledged omnichannel retail strategy never happens overnight. Startups like Cotopaxi began as purely an ecommerce shop, and then expanded to physical locations for customers who preferred an in-store experience. You can learn more about their retail customer experience journey in our on-demand webinar.
One of the easiest ways to start learning about your customers' preferences is to ask. An omnichannel survey solution like Delighted can help you get the information you need to improve your omnichannel retail experience, since you can easily ask for feedback via email, in-app, on your website, or in-store.
Guiding principles to build an omnichannel retail strategy
Now that we've covered the basics of omnichannel retail and the current landscape, you might be left wondering how to get started on your omnichannel retail strategy. Here are some steps to follow when integrating omnichannel retail into your business model.
1. Understand your audience and their behaviors
Feedback is instrumental when it comes to measuring success. Whether or not your customers are satisfied and if they would recommend your product or service to a friend can be a valuable metric for your company.
Collecting this data is easy with customer satisfaction survey software or NPS software to gather insight at different points in the customer journey, both pre- or post-purchase.
2. Unify key stakeholders around KPIs
Prioritizing business goals and making sure that internal processes are supporting those goals is the key to seamless omnichannel retail flow.
Your KPIs – just like your channels – should be integrated across departments from marketing, to sales, to IT. If your company goal is to seamlessly integrate all sales channels for a frictionless experience, define that goal and work backwards to meet the company objectives.
3. Identify pain points within the customer experience
Analyze customer pain points by gathering data at different stages in the customer journey to determine what went wrong in cases of negative feedback.
Identifying trends in feedback can lead to system-wide improvements: you'll be able to see where common points of friction are, and think of ways to resolve issues for everyone, not just for the individual customers who are bringing them to your attention. With the help of CSAT or NPS surveys, you can close the loop and create positive customer experiences overall.
4. Provide an exceptional customer experience during pre and post-purchase activities
As shoppers grow increasingly independent, 75% of customers want the ability to get their questions and concerns addressed by their own research. To cater to self-serve customers, businesses will want provide the resources necessary to help customers troubleshoot and solve problems themselves.
One way to capture how well your company adheres to the preferences of independent shoppers is by sending Customer Effort Score (CES) surveys. CES surveys are designed to evaluate how easy you've made it for customers to do something, whether that's making a purchase or resolving a support issue. Check out our guide to learn more about what Customer Effort Score is and how it's been tied to improvements in customer loyalty.
5. Gain the insights you need to create a successful omnichannel retail experience
By surveying customers across the entire customer journey, you'll be able to surface where the friction is at all points in your omnichannel retail experience: whether that's browsing in-store, placing the order online, or requesting support.
Measuring the success of your omnichannel retail strategy comes down to analyzing customer experience data and implementing the necessary improvements to keep customers returning and promoting what you have to offer.
The importance of a strong omnichannel customer experience
At the crux of good retail customer experience is omnichannel strategy: shoppers are not only more loyal to brands that meet their needs, but are also willing to spend more when presented with an integrated shopping experience.
Collecting customer feedback with a survey feedback tool can highlight and prioritize the parts of your omnichannel customer experience that need to be improved.
Ready to start surveying? Collect omnichannel feedback with Delighted Survey Templates.