Shopping patterns in the US have changed dramatically since January 2020, when the first coronavirus case was reported in the US.
Consumer spending plunged amidst lay-offs and shelter-in-place orders. Over a 100 retail chains pulled down their shutters temporarily in March and April 2020 and unemployment skyrocketed. However, this decrease in spending did not affect all retailers equally.
Niche and boutique stores without an online presence suffered the most, as consumers migrated to big box stores and online shopping to satisfy all their shopping needs in fewer trips.
Shoppers also started to prioritize their in-store spending, preferring to shop for groceries in store while relying on online shopping for non-essentials such as electronics and clothing or cutting them out entirely.
And yet, age-old complaints about online shopping such as poor product quality and having to wait for delivery continue to persist.
So what does this mean for retail? A year after the pandemic began, in April 2021, we're seeing a resurgence in consumer spending with the US vaccine rollout and as businesses reopen.
Which of the pandemic trends will stick?
We surveyed 1,200 shoppers across the US to learn more about their shopping habits and preferences. What we found is that a majority of US consumers are shopping online either via websites (41%) or apps (16%). And with the effects of the pandemic likely to stretch beyond the near future, this trend is unlikely to change.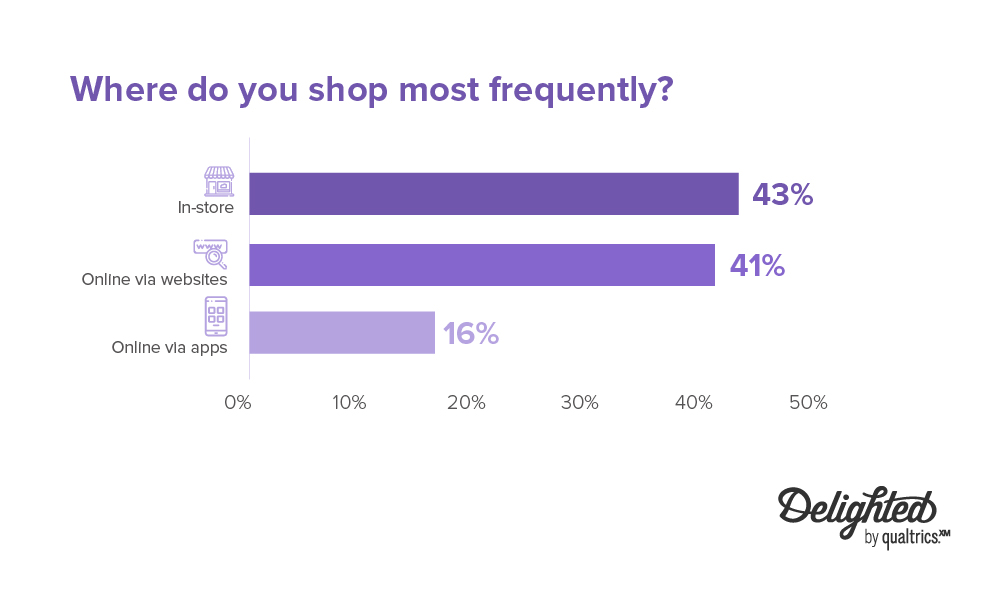 Omnichannel retail will be the new normal
The unprecedented conditions caused by the coronavirus pandemic threw the spotlight on a trend that has been around for over a decade: omnichannel.
Omnichannel retail not only implies a brand's presence in multiple channels (e.g. ecommerce and brick-and-mortar stores), but the integration of inventory, customer service, and sales to offer a seamless transition between channels based on what the consumer finds most convenient. Consumers now expect to hop back and forth across channels:
See the product in-store and shop online (the showroom experience)
Research online and then buy in-store (to touch and feel the product)
Read reviews and compare products while in the store
See the product in-store and reserve a variant (different color/size) in a different store
Order on the phone and complete the payment on the website
Buy online and pick up in person or curbside
Buy online and deliver from the store
While previously, omnichannel retail strategy was considered too expensive or complicated to execute, two major developments are forcing retailers to consider it as not just an option but a necessity:
On the one hand, the pandemic has forced consumers to adopt new shopping behaviors they may not have otherwise. A phenomenal number of Americans turned to online shopping to stock up while staying at home in 2020.
On the other, recent developments in IT infrastructure and data analytics have made it possible to track a customer's journey across multiple touchpoints, from social media ads and interactions, to the website, app, chat, customer service calls and email, and finally back to the brick-and-mortar store.
We're already seeing rising consumer expectations regarding omnichannel retail in action. 2020 saw an explosion in curbside and in-person pick-up as consumers sought new ways to shop.
And it's not just Gen-X and millennials who're driving omnichannel retail. Older shoppers are opting for in-person and curbside pickup to get products faster while adhering to social distancing norms.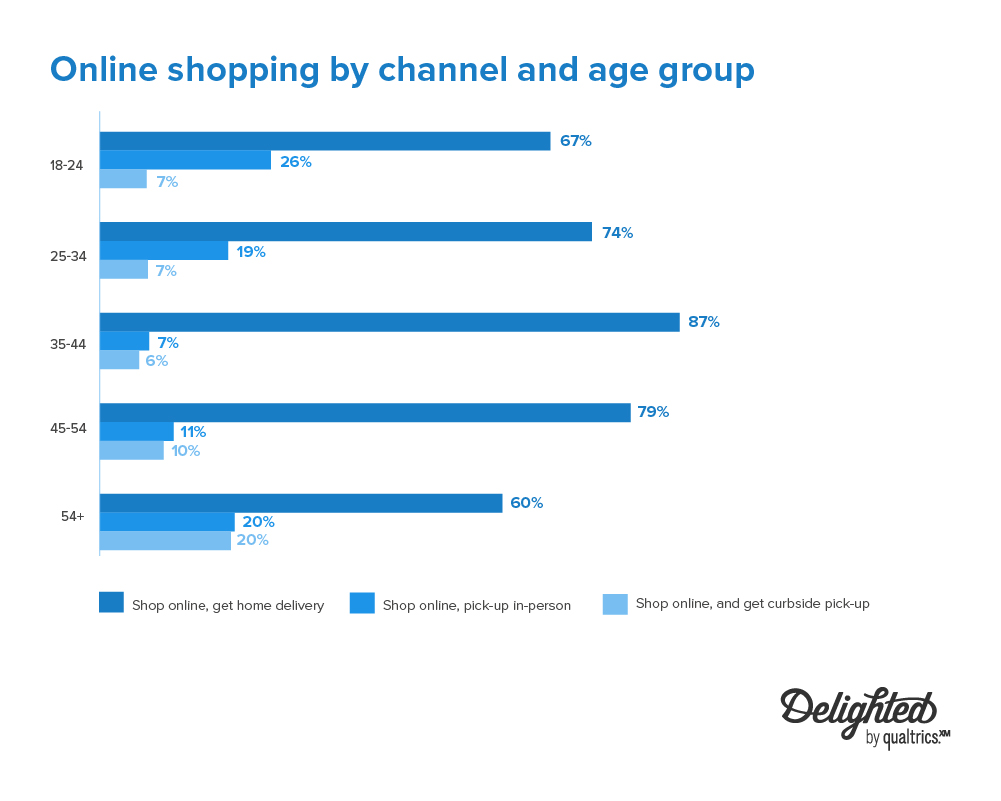 Curbside delivery also offers retailers the additional benefits of slashing last-mile delivery costs while giving customers the joy of same-day delivery.
According to a study by McKinsey, 90% of shoppers expect online deliveries in 2–3 days and 30% except same-day deliveries. As consumer expectations rise, retailers who've successfully managed to pivot to same-day deliveries made windfall profits last year.
Retailers including Target, Macy's, Kohl's, and Nordstrom recorded phenomenal increases in online sales while in-store sales fell.
The biggest success story is perhaps Target, which introduced its curbside delivery service in 2019. In 2020, the service saw a 500% growth, which drove a nearly $10 billion increase in the company's digital sales in 2020.
Older shoppers more likely to return to stores
Despite this boom in online shopping, it's not quite the end of brick-and-mortar either. What we see is that specific groups of consumers are motivated to return to store for perhaps very different reasons.
Though the majority of consumers opt for online shopping at the moment (57%) due to COVID-related concerns, a significant share who currently shop in-store intend to continue to do so when conditions are safer (79%).
Also, there are clear differences in shopping patterns by age group, with the youngest (18–24) and older age groups (45+ preferring in-store shopping compared to shoppers aged 25–44.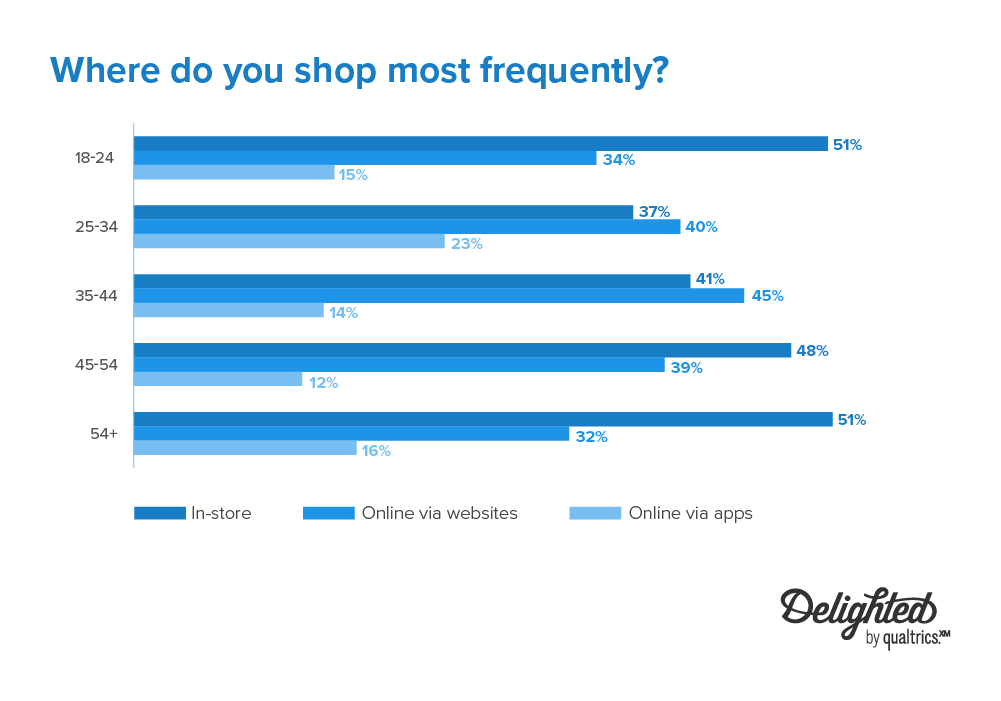 This finding is not peculiar to 2020. A consumer survey by Retail Dive in 2017 showed that young shoppers and older shoppers opt to do their shopping in-store, perhaps for different reasons.
Middle-aged and older shoppers are more likely to opt for in-store shopping since they prefer to "touch and feel" products before purchasing (76%) and take items home immediately (66%).
Younger shoppers are less keen on immediate consumption and perhaps see shopping more as a leisure activity, where they can browse through a variety of products and handpick what works best for them.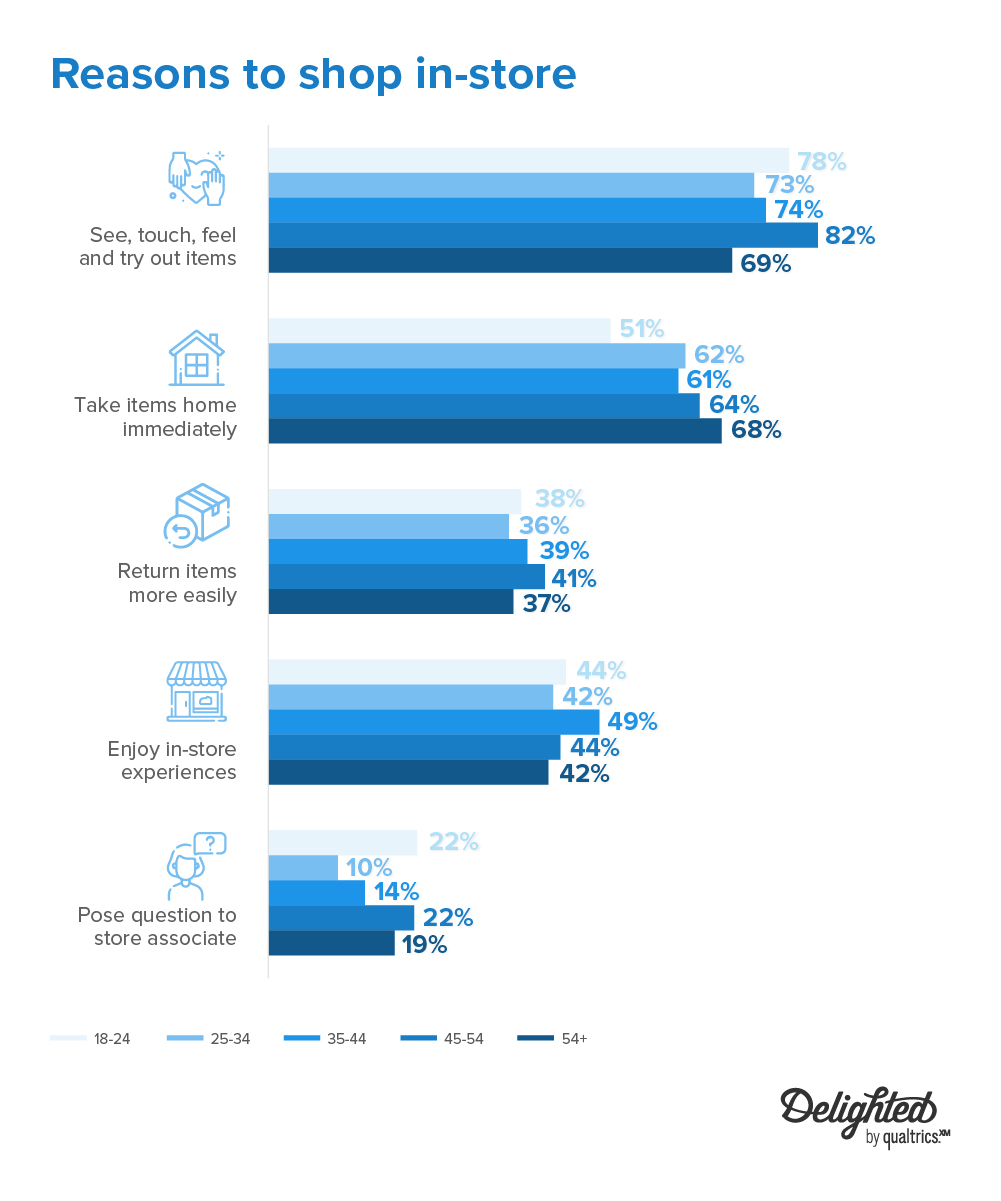 Now that most shoppers can research products, read reviews, and compare products right from their smartphones, access to store associates is less of a concern (16%) for all age groups.
Instead, home isolation has made us all a bit more appreciative of the human element of shopping — the experience of being out and around other people; the sensoriality of immersive shopping experiences; and the joy of discovering new products we may not have known of otherwise.
In addition to the tactility of touching and feeling products, in-store shopping also allows shoppers to browse and catch up with friends.
Creating an innovative, distinct, and vibrant in-store experience that puts the browsing process front and center can be a way to woo back shoppers who may otherwise be more drawn to the convenience of online shopping.
Consumers like the "touch and feel" of shopping in-store
What we see is that despite the accelerated growth of ecommerce over the last year, consumers like shopping in-store since it gives them the opportunity to handpick items, whether it is groceries or clothes.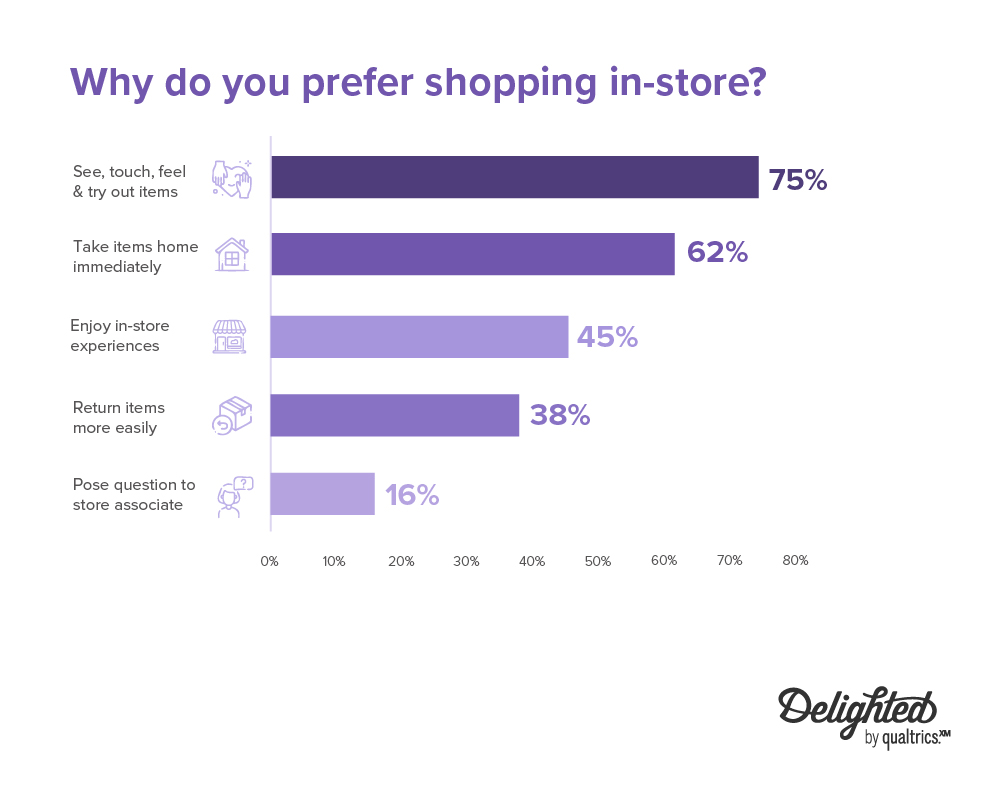 The pandemic has shaken up traditional retail experiences such as trying out clothes, lining up at checkout counters, and touching public surfaces like keypads and shopping carts.
Yet, despite our collective increased caution regarding hygiene, it looks like consumers are unwilling to give up the experience of feeling products and trying them out before purchase.
This remains one of the biggest drawbacks of online shopping: shoppers remain uncertain about the actual quality or fit of the product until it arrives at their doorstep. Combined with sometimes complicated returns processes, online shopping can feel like playing a slot machine: the anticipation is exciting, but the outcome, underwhelming.
This connects with the biggest grievance in-store shoppers have against online shopping: product quality is perceived as poor compared to what's advertised once consumers have their order in hand (58%). Or, consumers are unsure if what's shown online will be suitable for them (42%). Delays in shipping, outdated information about stock, and shipping costs add more friction to the shopping experience.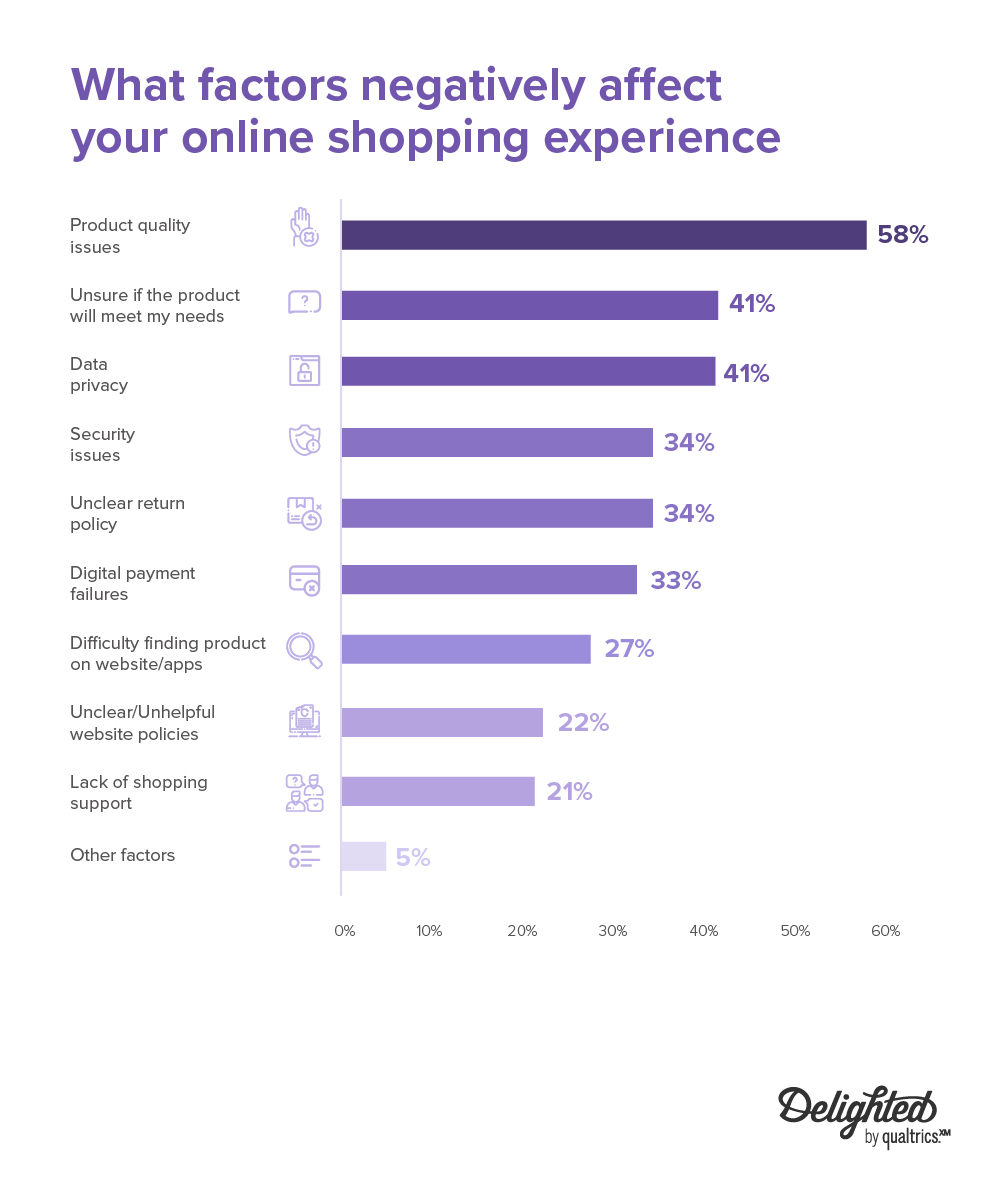 This may explain why despite the convenience of shopping (70%) and ease of delivery (56%), besides the obvious benefit of avoiding exposure to the coronavirus (66%), a significant share of shoppers are looking forward to returning to stores.
Surprisingly, cheaper prices ranked pretty low on the priority list (36%), indicating that convenience matters more to online shoppers than price. Removing friction in the shopping experience can make a bigger difference to consumers than massive discounts or sales.
In-store is still the most convenient option for daily groceries
Household essentials (83%) continue to dominate in-store shopping, as consumers like handpicking items and the convenience of "grab-and-go."
Fashion and clothing is another segment where customers prefer to try on products first before buying them. Women in particular prefer shopping for fashion in-store (73%) either for functional reasons (sizing differences) or recreationally (as self-care).
Given all the makeup tutorials on Youtube, Instagram, and TikTok, it is no surprise that health, personal care and beauty are a major segment for online shopping for women.
Interestingly, middle-aged women (45–54) are more likely to spend on health and beauty products online (79%) compared to young women (52%).
More men prefer to buy household essentials (69%) and home furnishings (46%) online compared to women, both of which categories women prefer to buy in-store.
One category that stood out in the gender-wise break-up of online shopping was that men were significantly more likely to shop for electronics online (64%) compared to women.
More men express COVID-related health concerns
Though both women and men are shopping online more during the pandemic, the reasons keeping them out of stores are strikingly different.
While men are more worried about COVID-related health concerns (71%) women were put off by product unavailability (57%) and long lines at checkout counters (51%).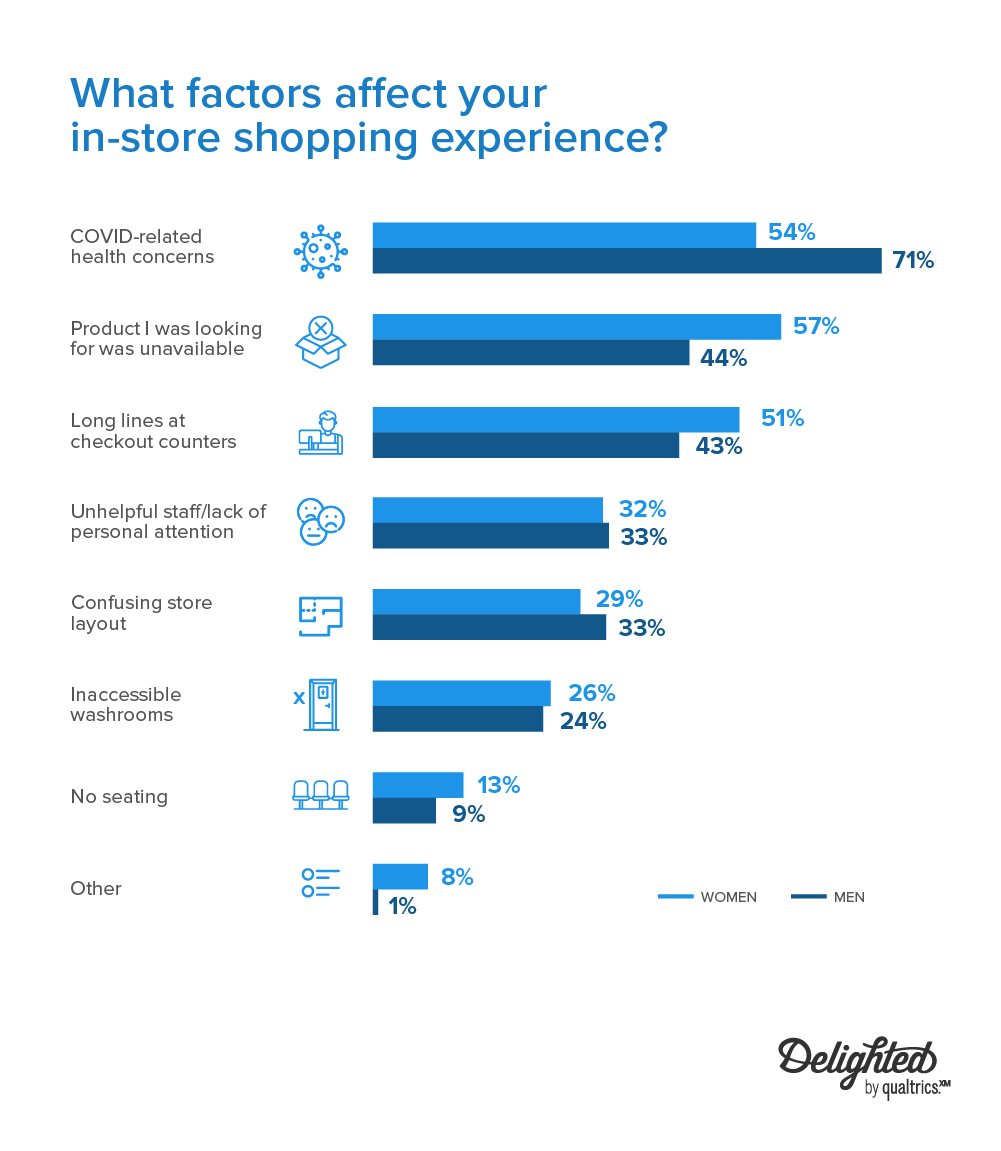 Men more concerned about data privacy and security
Though consumers of all ages are both spending more time online as well as shopping more on social media sites, they expressed concerns about sharing data to make this customization possible.
This is especially so among men, who reported greater data privacy (45%) and security concerns (42%) than women.
While on the one hand, people's entire lives moved online in 2020, from schooling to grocery shopping to telehealth consultations, on the other, there has been increased media coverage on the antitrust violations of Big Tech.
Consumers are now increasingly aware of how their online lives are being tracked by giants like Google and Facebook and sold to advertisers to create personalized ads.
This presents one of the most significant obstacles to a truly omnichannel experience: that users don't want their online activity to be tracked and we may soon see legislation preventing the same.
Users may also move to other search engines like DuckDuckGo and messaging apps like Telegram and Signal to protect their data. However, the usage of these services is still limited compared to that of Google or Facebook.
Other issues that can make online shopping a frustrating experience include unclear return policies (34%), digital payment failures (32%), and difficulty finding the product on the website or app (27%).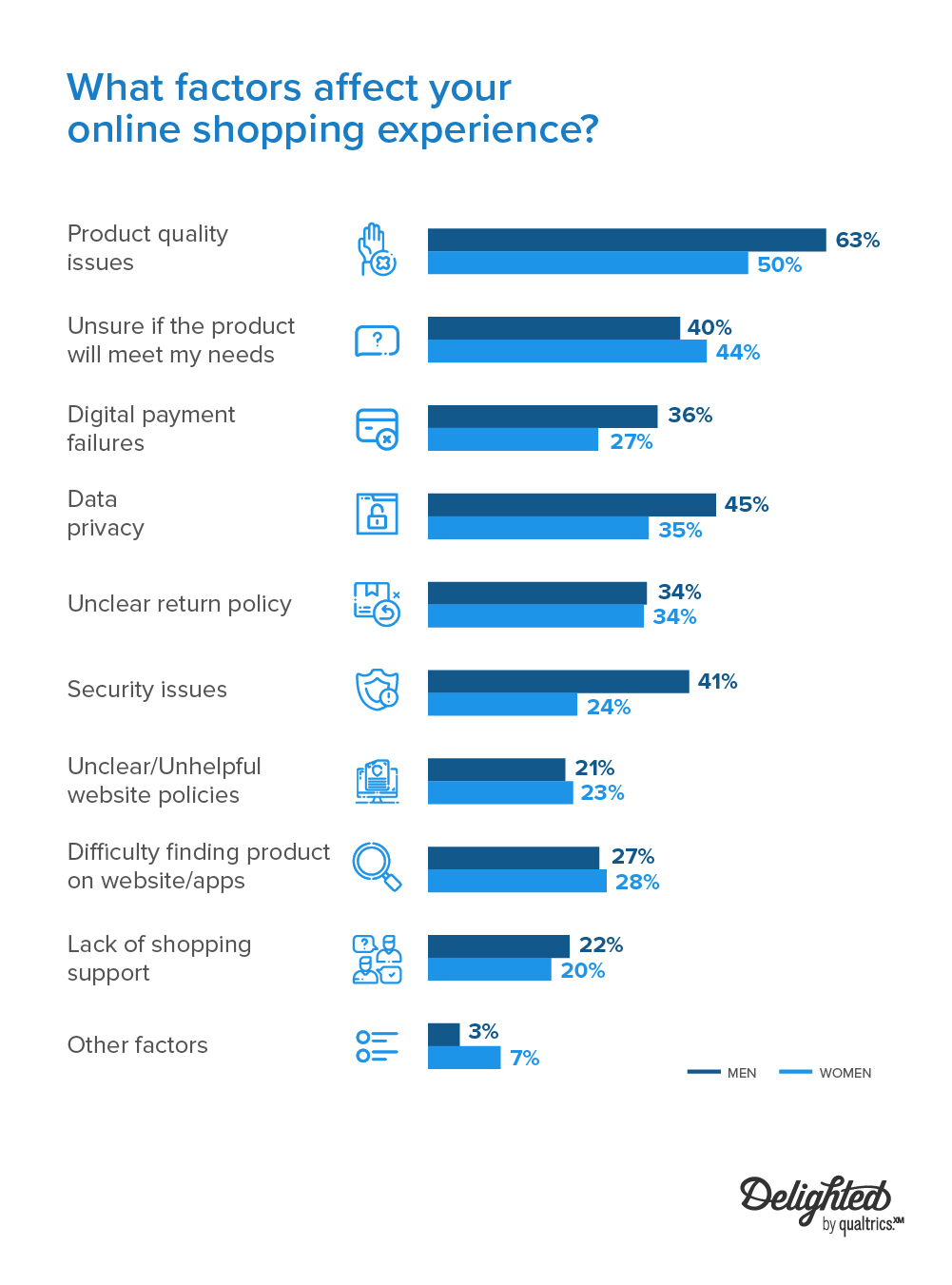 Social commerce: The next big trend
Despite these reservations, with people stuck for longer hours at home and in front of screens, the amount of time young Americans are spending on social media is only increasing.
To put it in context, 81% of Americans in the 15–25 age group use Youtube, 79% of 18–29 year olds use Facebook, and 75% of 18–24 year olds have an Instagram account.
With the rapid rise of fashion, beauty, and food influencers, the boundaries between entertainment and advertising are blurring even more. Astonishingly, 92% of Instagram users stated that they clicked on an ad, followed a brand, or made a purchase based on an Instagram ad.
Businesses spent record amounts on advertising on social media sites last year, increasing their spending on social media ads by 20% to $40 billion despite the economic downturn caused by the coronavirus pandemic.
Omnichannel retail is incredibly hard to pull off, which is why so few brands are good at it. At scale, it requires millions of dollars in investments in building IT infrastructure that would allow centralized inventory management, data analytics, AI-driven distribution algorithms for optimized logistics, integrated customer service, and more.
It may make sense for an Amazon, Target, or Costco to invest that kind of capital, but what about small and mid-sized retailers? Does omnichannel make sense for them?
At the heart of succeeding at omnichannel, is understanding the consumer. It doesn't mean investing in every touchpoint to bombard the consumer 24/7, but knowing where your customers like to hang out online and which channels they prefer and why.
Given the granular data each person's cyber footprint generates at the moment, it's going to be possible to design even more tightly integrated social media campaigns that transcend digital and in-store interfaces in the future.
This presents a unique opportunity for smaller brands to communicate their story to younger users. Several studies show that Gen Z shoppers are more likely to be motivated by a brand's values compared to older generations, especially those surrounding sustainability, diversity and inclusion, and authenticity.
In a market where we're seeing increased consolidation to leverage scale, an omnichannel presence with a strong emphasis on social media offers hyper-niche and agile brands an opportunity to connect with young people who share their values.
For example, our study found that women may feel inadequately represented by limited store inventory. Targeted ads on social media that communicate body positivity and inclusivity may make these users feel more seen, driving brand loyalty toward niche brands.
A huge investment is not required to make a big impact — a great product, authentic values, and a strong social media presence to connect with like-minded consumers will do.
The pandemic condensed changes in consumer behaviour that should have taken years to unfold into a few weeks. Just as individuals needed to learn to cope with isolating at home, retailers had to learn to pivot to new models like in-person and curbside pick-up to simply stay afloat.
Now, a year later, as slow signs of recovery emerge, it's clear that some of those behaviors are going to stay for good. As smartphones and social media become increasingly entrenched in our lives, it's apparent that the online world is going to be an extension of our physical reality, but not a replacement.
Instead, we're going to see greater integration of our digital and offline lives, with brands using a phenomenal number of data points to track each customer's journey from discovery to purchase across multiple channels from social media, to the brand's website, to physical stores to offer them a customized experience.
But first, it is important to start a conversation. Delivering a superlative shopping experience that meets your customers' expectations is possible only if you know what they want and why.
Delighted makes it possible to derive actionable insights from real-time feedback collected from consumers via email, a link, in-app, through your website, or an in-person kiosk. For customers who are constantly swapping devices and searching for memorable experiences, Delighted is a great way to reach them wherever they are.