Reputation marketing is becoming more and more prominent with the rise of review sites and consumer choice. Nearly every shopper (97%!) today considers online customer reviews in their buying decisions.
Clearly, increasing the number of positive reviews and decreasing negative reviews should be a priority for your business. But, how exactly do you achieve these objectives?
You know you have happy customers, but why aren't more of them sharing testimonials and reviews?
And when negative reviews pop up, it's too late. It's now in the public sphere, and the best you can do is react. How do you stop bad reviews from happening in the first place?
The answer to these questions is to create a proactive reputation marketing strategy powered by customer feedback.
By consistently gathering customer feedback, you can drive more positive reviews and testimonials while stopping negative reviews in their tracks.
In this post, we show you how to get more customer feedback and turn that feedback into positive customer reviews and testimonials — even when the original feedback is negative.
---
Reputation marketing vs reputation management
You've likely heard about reputation management. There are entire businesses and consultants dedicated to "managing" your online reputation.
Most of the time, this work involves getting negative reviews taken off the web, or hiding them as much as possible. This practice is reactive.
In other words, the damage has been done, and the task is to hide the evidence. This doesn't solve the core problem that caused the negative reviews: poor customer experiences.
Until the customer experience is improved, the negative reviews will keep popping up like a game of whack-a-mole!
On the other hand, reputation marketing focuses on leveraging positive reviews, testimonials, and brand advocates to drive new business and customer loyalty.
---
How to gain and leverage customer feedback for reputation marketing
Now that you know the difference between reputation management and reputation marketing, let's dive into how to get more positive reviews and testimonials to promote while stopping negative reviews from happening in the first place. We've broken it down into 5 steps.
1. Collect customer feedback with customer surveys
At the risk of stating the obvious, customers want your company to meet and exceed their expectations.
You just need to make it easy for customers to tell you when you are exceeding their expectations and when you are missing the mark.
Fortunately, there are established customer experience surveys you can send customers throughout the customer journey to proactively collect feedback. This way, customers share feedback with you first, giving you the opportunity to properly address and leverage the feedback.
Here are 3 customer experience survey types to get started: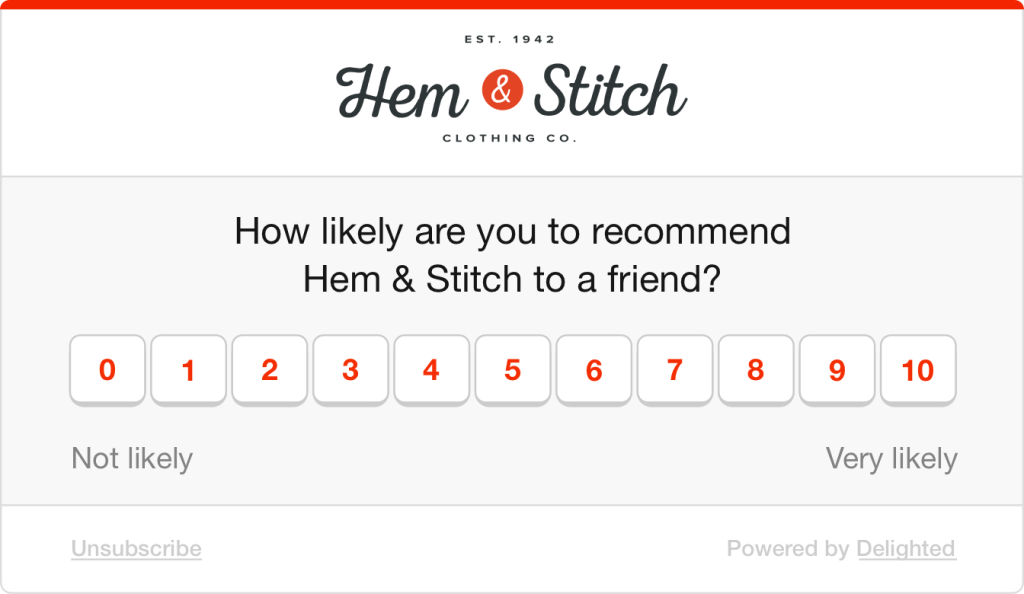 Deliver these surveys to customers at the perfect time and place in the customer journey and watch as feedback rolls in. Choose the right survey questions and get high-quality feedback you can take action on.
2. Turn positive customer feedback into testimonials
Positive customer feedback shouldn't just make you feel all fuzzy inside and sit idle in your email inbox.
Your customers' words of affirmation can be turned into public-facing customer testimonials that allow your customers to be the champions of your company.
"This is why customer testimonials are so important. Instead of "taking your word" for it that your product or service is going to impact their lives positively, it lets real customers hear from other real customers why the decision they're about to make is a good one."

– Strategic Factory
Without incoming customer feedback, you typically would have to reach out directly to customers to ask them for a review or testimonial. It can be difficult to determine which customers to ask and how. On top of that, you'd be creating work for your customers that really only benefits you.
With customer feedback flowing in from your customer experience surveys, customer testimonials are ready-made, with very little extra work required from you or your customers.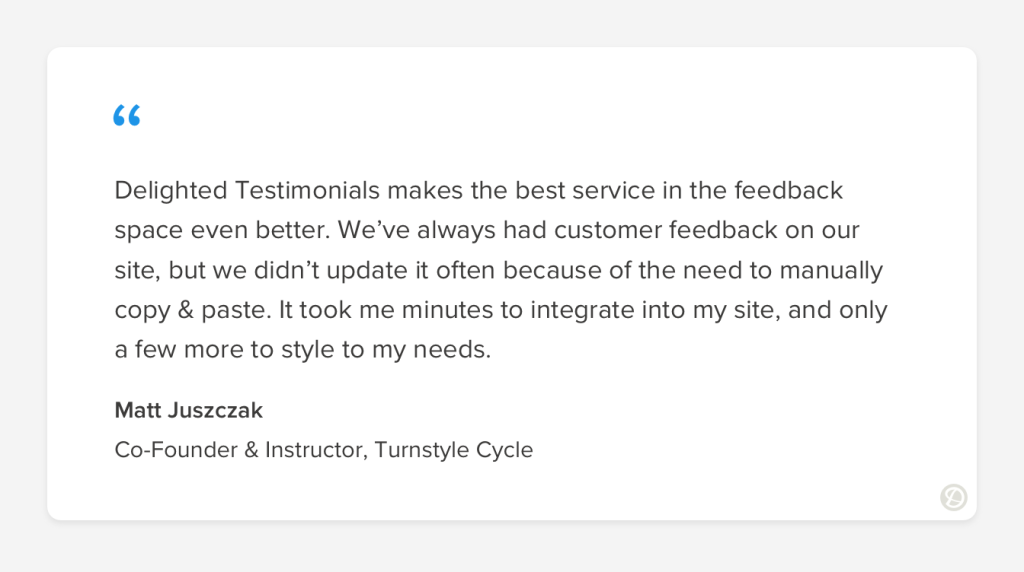 You simply need to ask customers for permission to share their feedback publicly.
3. Showcase customer testimonials on your website
With your newly approved customer testimonials in hand, you need to decide where and how to showcase them for the biggest reputation marketing impact.
The most prime real estate for customer testimonials? Your website.
Website visitors who view testimonials are 105% more likely to make a purchase and spend 11% more than those that don't.
After deciding where to showcase customer testimonials on your site, the typical challenge is with designing how the testimonials should look and then having a developer update your site. Not to mention, ensuring the testimonials look good on a variety of devices and screen sizes.
And, every time you have a new testimonial you want to feature, you may need to have your designer and developer go through the process all over again.
The solution is to use customer testimonial software that makes it easy to design how testimonials should look on your site and automatically updates to include new testimonials.
4. Encourage fans to share on review sites
If a customer is happy to have their testimonial public on your website, there's a good chance they'll be perfectly happy for that testimonial to be public elsewhere as well.
Product and service review sites have become a major source of influence for consumers, with 90% of customers claiming a review has made a positive impact on their decision to buy.
The more positive reviews you have on these sites, the higher your business will be listed in the review site's search results and category pages. And, the more consumers will feel compelled to choose you over the competition.
Since the testimonials have already been written as a result of steps 1-3 above, it isn't that big of an ask for customers to post their feedback on relevant review sites for your industry. Simply ask them if they will.
Here are top third-party review sites you may want to focus on, depending on your industry:
*Disclaimer: some review sites discourage soliciting reviews from customers, so proceed with caution.
Focus on driving ratings and reviews for one review site at a time, and you'll have a new channel consistently driving new customers to you in no time.
5. Proactively respond to issues BEFORE they go public
The most successful reputation marketing strategy is proactive, ensuring negative reviews rarely go public in the first place.
If you can do this, you won't need to hire an expensive reputation management company to attempt to remove or hide bad reviews.
Customer experience surveying allows you to consistently monitor customer sentiment and identify problems customers are having so you can proactively respond using our experience management software.
The quickness and quality of your response could even turn detractors into promoters of your business that spread positive word of mouth and reviews.
In the process, you might uncover issues that entire customer segments are experiencing. Fix those customer experience issues and every customer benefits, leading to more positive reviews and testimonials from customers that may not have otherwise spoken up.
---
Conclusion
Key takeaway: Collect and take action on customer feedback to improve customer experiences, and you will get more positive customer testimonials and reviews and fewer negative ones.
If you follow this reputation marketing blueprint, you'll soon have a repository of highly valuable social proof on your website and 3rd-party sites to win over more customers, while keeping existing customers from ever considering the competition.
Everything detailed in this post can be done with our experience management software, Delighted — from collecting feedback to publish as website testimonials, to proactively engaging customers that provide negative feedback. Get started with your reputation marketing strategy today for free.