First things first — what is a voice of the customer (VoC) program and why should you have one?
A VoC program is the way a company gathers, analyzes, and acts on customer feedback to create a customer-centric culture. A successful voice of the customer program puts your customers' needs center stage, and ultimately drives brand, product, and service improvements for an unbeatable customer experience.
When most companies want to improve their customer experience with a VoC program, they often start with just one customer survey type—usually a Net Promoter Score (NPS) or Customer Satisfaction Score (CSAT) survey, delivered with experience management software. However, for a voice of the customer program to reach its full potential, you'll need an understanding of how your entire audience feels at every stage of the customer experience lifecycle.
If you're capturing feedback from the right people, at the right time, through the right channel, you'll be able to make meaningful improvements to your customer experience that will differentiate you from your competitors and lead to revenue growth. In fact, when the Temkin Group calculated the ROI of customer experience, they found that a moderate increase in customer experience can lead to an industry average of $775 million dollars in revenue growth over 3 years for a typical billion dollar company.
Here are 7 tips for designing an effective VoC program that ensures you'll get actionable feedback for improving your customer experience.
1. Ensure your VoC program is set up for success
A strong VoC program includes customer feedback collection and analysis, which results in a list of actionable, prioritized insights that can be implemented across your organization. Constant monitoring of your customer experience metrics will let you know whether the changes you're making are moving the needle.
If you're embarking on surveying thousands of people with different survey types, make sure you're following survey design best practices. Using a dedicated voice of the customer platform is also an option. VoC platforms generally include proven CX survey templates, and can help you manage and analyze all of the incoming feedback. Get your program off the ground with our Voice of the Customer and send surveys for free.
2. Use both relationship and transactional surveys
Customer experience surveys fall into one of two buckets: relationship or transactional. A relationship survey measures how your customers feel about your overall brand experience, while transactional surveys get feedback for a specific interaction (i.e. transaction).
Think of a relationship survey as the big picture benchmark, and the transactional survey as the nitty-gritty tactic that helps you accomplish your overarching customer experience goals. Of the customer experience survey types, Net Promoter Score (NPS) surveys tend to be used as relationship surveys, while Customer Satisfaction Score (CSAT) and Customer Effort Score (CES) surveys tend to fall into the transactional bucket.
If you're just starting your voice of the customer program, run a relational NPS survey to get a feel for how customers perceive your overall brand experience. When you have identified some trends in your feedback, say a product issue that keeps cropping up, or a fulfillment delay that everyone's complaining about, use a transactional survey to dig into the details.
3. Consider your customer experience lifecycle and the teams responsible for each stage
Document your customer experience lifecycle to help you understand all of your customer touchpoints, and identify milestones where transactional feedback would help you improve a specific experience.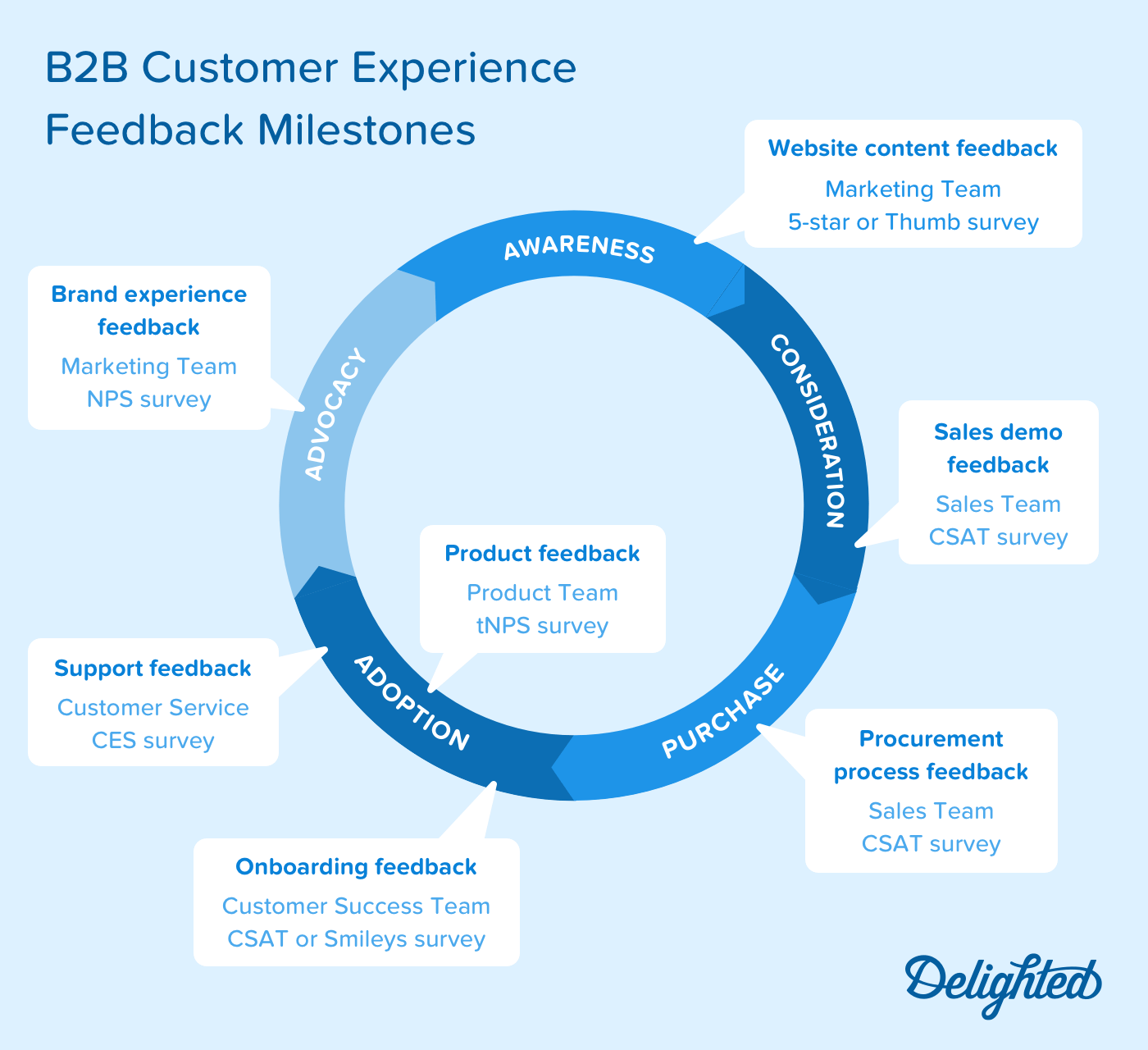 For example, in the Adoption phase immediately post-purchase, would the customer success team like feedback specific to the onboarding process via a CSAT survey? For support ticket feedback, would the customer service team like to benchmark their performance with a CES survey?
Your customer experience survey type, distribution channel, and survey timing can all be customized for a particular touchpoint in our customer satisfaction survey software. With the right CX platform integrations, you can easily trigger surveys to send based on interaction and funnel feedback directly to the teams who can follow up with customers.
For example, to capture feedback after a customer meeting automatically, you can integrate Delighted with appointment scheduling software providers like Appointlet. Prompt meeting attendees to provide feedback for any stage of the customer lifecycle, from sales meetings to support sessions.
4. Collect feedback based on customer segmentation
Your company's user personas can also influence how your gather feedback. For B2B and SaaS companies, the account owner who makes the purchase decision can likely provide different feedback from the everyday users who are in and out of your platform on a daily basis.
For B2B2C companies, gather insights from both your direct consumers as well as your partners. Customizing your surveys for each audience will help you determine how to make your service stickier for your entire customer base.
5. Survey your employees as well as your customers
Your direct customers aren't the only people who can provide feedback on your product and business—your employees can, too.
As studies have increasingly found that a positive employee experience leads to a stronger customer experience, gathering employee feedback through an employee NPS (eNPS) survey has become just as necessary as getting feedback from customers.
You can easily customize a Delighted NPS survey to ask the eNPS question, "How likely are you to recommend working here to a friend or family member?" to surface employee insights and start improving employee engagement through our NPS software.
6. Catalog your customer interaction channels
Depending on your business, there are likely multiple ways for a customer to interact with you.
Do you run an ecommerce website as well as a brick-and-mortar location? Do you meet with customers at a yearly conference? Leverage web intercept surveys, link surveys for printed marketing materials, or a customer satisfaction survey as an event survey to gather feedback from customers at any or all of these touchpoints.
7. Build reporting and customer follow-up into your plan
While the ability to gather feedback at will is enticing, make sure there are clear goals in mind for each of the surveys you plan to send out. When you're choosing a voice of the customer platform, look for one that can easily manage multiple survey projects for your entire organization.
It is also important to make sure the impacted teams are set up to take in and act on that feedback. Delighted's Reports and Integrations help broadcast actionable insights wherever you need them to go, so that the teams that can make a difference know what they need to do.
If you take all of 7 of these tips into account when designing your VoC program, you'll be able to surface experience gaps in every stage of the customer journey, and track impact over time.
Get your program off the ground with our Voice of the Customer tool and send surveys for free.